4 MIN READ – Various metrics in the Loop—including pedestrian activity, hotel occupancy, parking volumes, and office workers on-site—are showing a gradual increase. If you're coming #BackInTheLoop after months at home, here's what's new.
---
"We're grateful for the essential workers who never left the Loop, including our very own Chicago Loop Ambassadors who've been hard at work keeping State Street clean and safe all this time," said Chicago Loop Alliance President and CEO Michael Edwards. "We look forward to welcoming back those who may be returning; they'll be met with a variety of changes and improvements."
Clean, safe, and beautiful
Those who work in the Loop may be used to seeing Chicago Loop Alliance's Street Ambassadors in their yellow uniforms, providing clean and safe services to State Street seven days a week. During COVID-19, these ambassadors, contracted by Chicago Loop Alliance through Streetplus, have increased their cleaning efforts with an emphasis on disinfecting any touch points at the street level, including bike racks, garbage cans, door handles, etc. And State Street power washings by Pressure Washing Systems, contracted by Chicago Loop Alliance, now include a virucide in an effort to kill lingering strains of COVID-19. Street Ambassadors have also ramped up their outreach to people experiencing homelessness.
New banners and street-level signage don State Street as part of a new initiative, Everyone's Neighborhood by Chicago Loop Alliance. And artists are transforming boarded up storefronts with hopeful murals as part of "Paint the City," a project by Barrett Keithley and Missy Perkins, who have worked on various ACTIVATE events with Chicago Loop Alliance. Public art has also made a new home on the Chicago Riverwalk, with the new installation, "The People In Your Neighborhood," spotlighting everyday Chicagoans that make the city "go."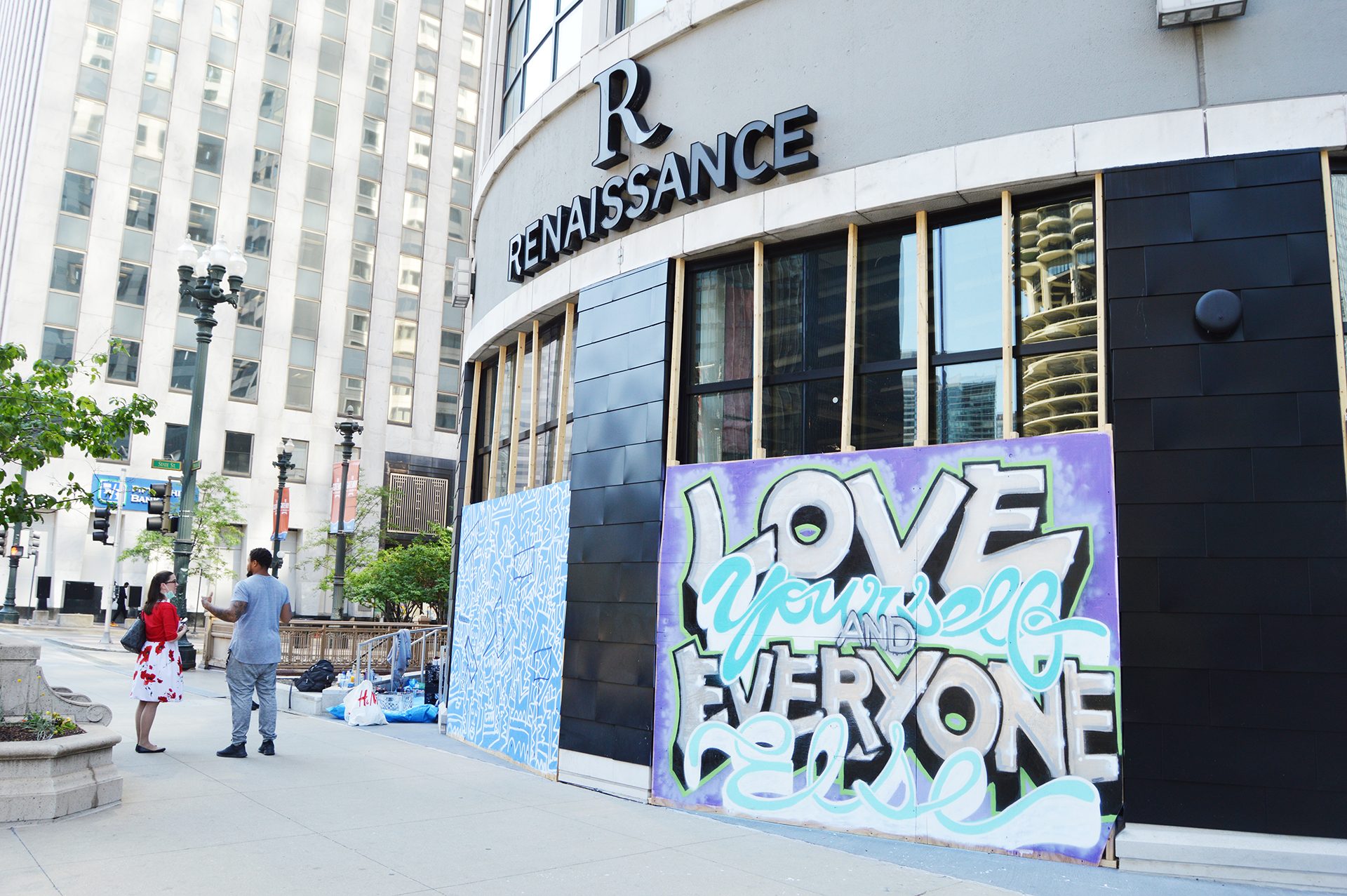 New businesses and developments
A variety of commercial developments have been underway the past several months. Construction is in process for the first Primark store in the Midwest at 35 N. State St., a space last occupied by Gap. An opening date for the international fashion retailer is yet to be announced, but work is underway on the three-level store. Additionally, work is underway at Macy's on a new entry feature on Washington Street for the new office space on Macy's upper floors.
Work has also continued at Catalog, the 300,000-square-foot, five-story curated dining, entertainment, and community experience evolving at the base of Willis Tower. Most recently, EQ launched Catalog Cares, an initiative that allows the 15,000 people who work at Willis Tower in Chicago, as well as the public, to give meals to health care workers on the frontlines of the fight against COVID-19, while supporting restaurants at Willis Tower. Catalog retailers include Shake Shack, Brown Bag Seafood, Do-Rite Donuts & Chicken, Sweetgreen, Starbucks, and Tortazo. Future retailers, including Sushi-San, Urbanspace, Convene, Joe & the Juice, and Market Creations, are expected to open later this year.
Other recent openings include Big City Optical and a fourth location of Goddess and the Baker, at 181 W. Madison. This Goddess and the Baker spot opened June 10 and features a large patio ideal for dining during COVID-19. And LM Restaurant Group made the decision to close their coffee shop, Petite Vanille, which was attached to Grant Park Bistro. Instead they've relocated their sushi bar, Taketei Sushi, from its River North location to take its place. Taketei is open 5-9 p.m. Wednesday-Sunday with limited indoor and outdoor dining and offers both pickup and delivery options.
Residential development is underway at two sites on Wabash, a street that has been injected with new energy over the past few years through hotel and residential developments, beginning with the Washington and Wabash CTA station's completion in 2017. Parkline Chicago, at Randolph and Wabash, will offer condos and luxury apartments. Before COVID-19, the structure was about two stories high, so those returning to the Loop may be surprised by its progress. And construction has begun on the City Club Apartments at 63 E. Lake St., a new apartment development next to Parkline Chicago.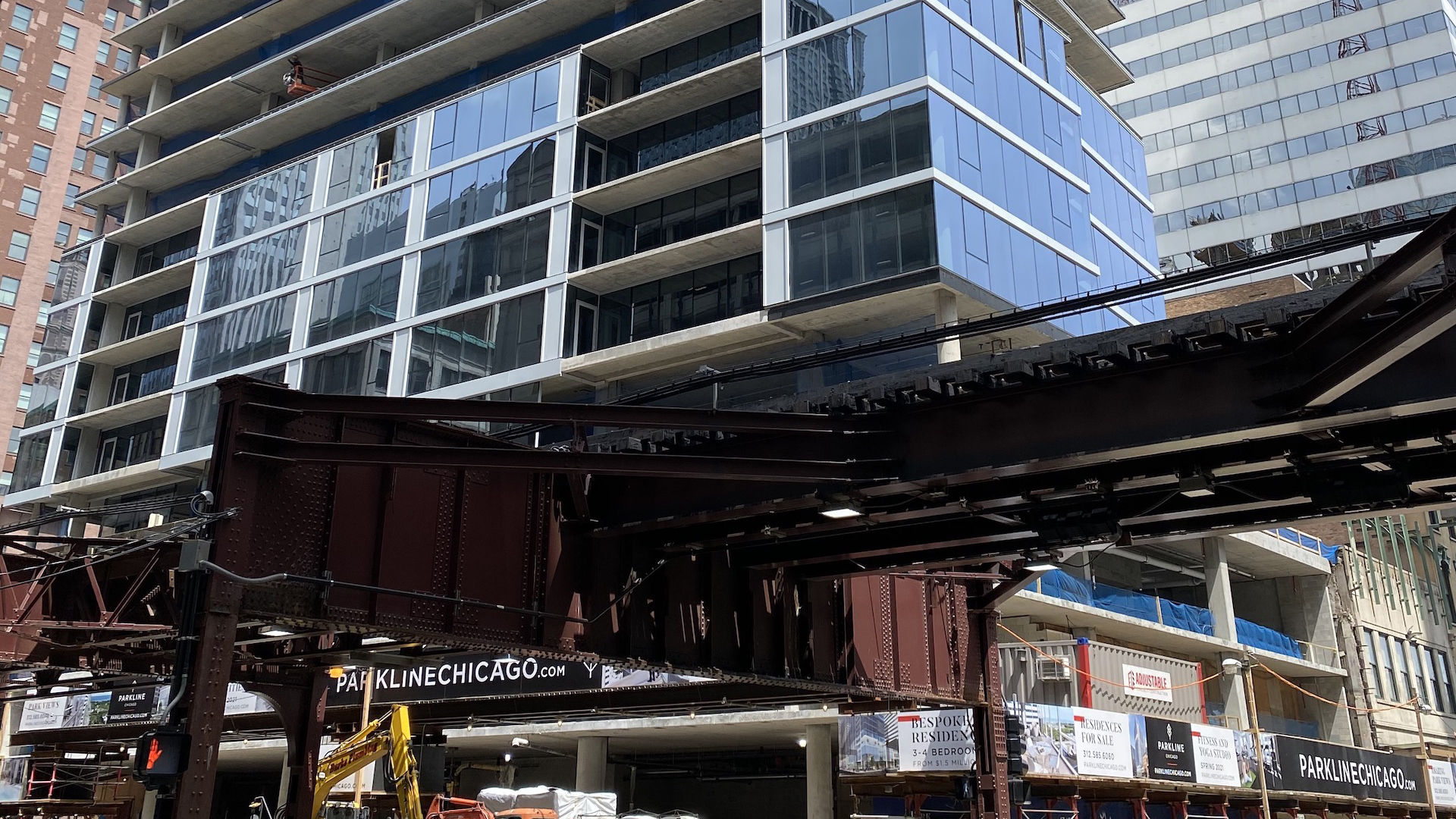 New shopping and dining procedures
Many restaurants in the Loop are open for limited indoor and outdoor dining, takeout and delivery, and many non-essential retailers in the Loop are currently open for in-store shopping, curbside pick-up and delivery.
Transportation changes
All the same transportation options for getting in the Loop exist now as before—public transportation, cycling, driving, ride hail, and walking—but each has seen some changes over the past two months. Frequent cleanings, updated schedules, mask and social distancing requirements, parking deals, and more will await commuters.
Improved roads
Resurfacing work, curb and sidewalk improvements and pavement patching has been underway on Michigan Avenue from Ida B. Wells Drive to Monroe Street. In addition, workers have been waterproofing over the Grant Park South parking garage roof structure, between Jackson and Van Buren. Resurfacing work on State Street between Madison and Randolph has also been underway. And the Dearborn bike lane has received a fresh coat of green paint and lane markings.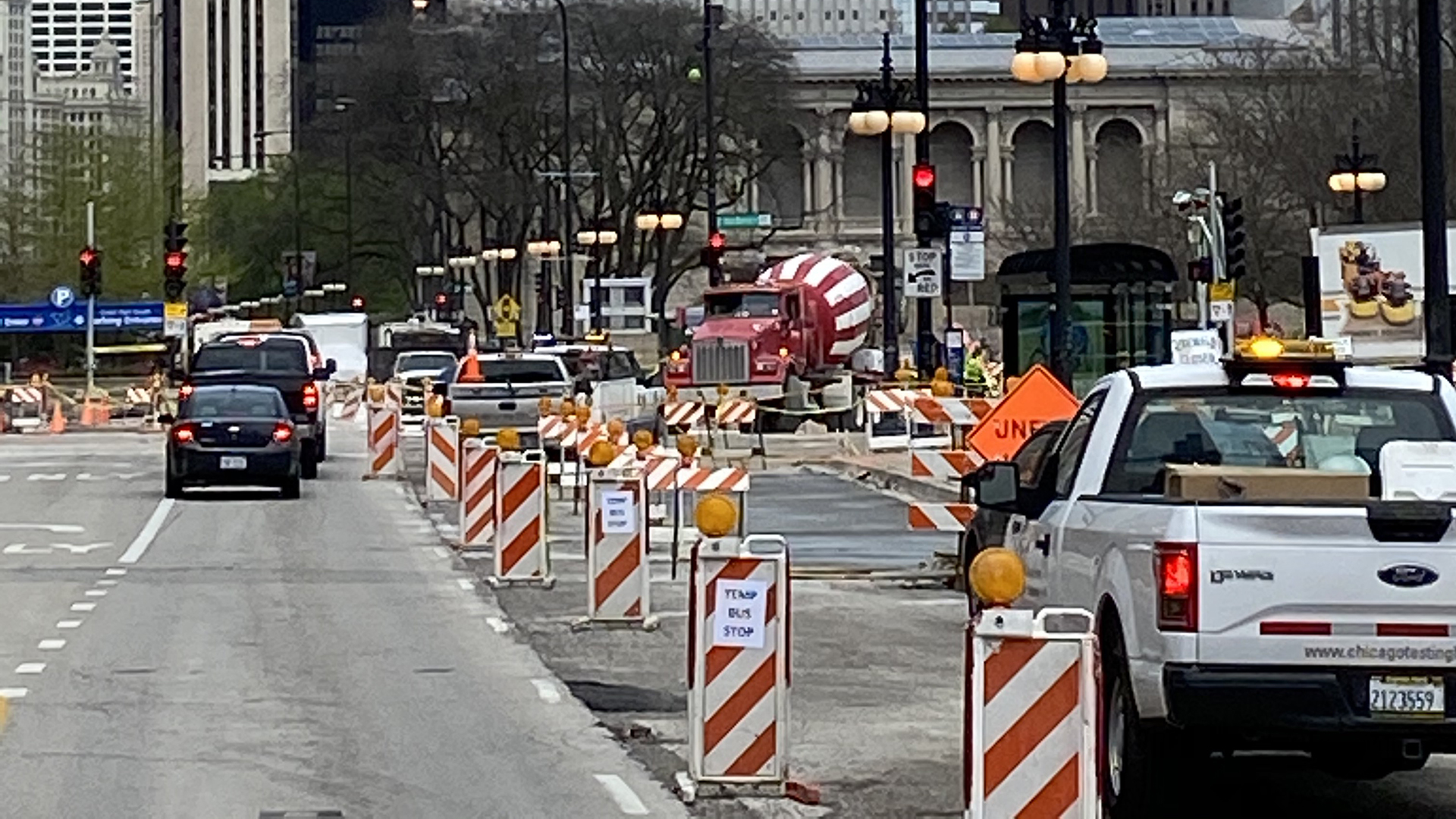 #BackInTheLoop
See something missing here? Chicago Loop Alliance encourages the public to share anything new or interesting in the Loop on social media using #BackInTheLoop.
You Might Be Interested In: