The Chicago Loop is periodically affected by construction work, public events, filmmaking, and other projects. Stay up to date on current advisories, and view the latest updates and regulations related to COVID-19, including links to real-time data tracking by public health officials.
---
Last updated on April 15 at 2:30 p.m.
COVID-19

Chicago enters Phase 1C of COVID-19 vaccine rollout: what you need to know
Chicago today entered
Phase 1C
of its vaccine rollout. Find more information on the COVID-19 vaccine in Chicago
here
. Under this phase, Chicagoans 16-64 with underlying medical conditions and all essential workers are now eligible to receive the vaccine. This means about 84 percent of Chicago's adult population is now eligible for vaccination.


Eligible underlying conditions include:


Cancer (current diagnosis)

Cardiac, cardiovascular, and cerebrovascular disorders (including heart disease, coronary artery disease, and hypertension or high blood pressure)

Chronic Kidney Disease

Chronic respiratory disorders (including cystic fibrosis, moderate to severe asthma, pulmonary fibrosis, and chronic obstructive pulmonary disease/emphysema [COPD])

Diabetes (Type 1 and Type 2)

Disability: physical, developmental, visual, hearing, or mental

Neurologic conditions (including dementia)

Down Syndrome

Immunocompromised state (weakened immune system) including from blood or bone marrow transplant, immune deficiencies, HIV, use of corticosteroids, or use of other immune weakening medicines

Liver disease (including hepatitis)

Pregnancy

Obesity: BMI ≥30 kg/m2

Schizophrenia spectrum disorders

Sickle Cell Disease

Thalassemia
Essential workers include:


Clergy and religious organizations

Energy

Finance

Food and beverage service

Higher Education

Information Technology and Communications

Legal

Media

Other Community- or Government-based Operations and Essential Functions

Personal Care Services and hygiene

Public health

Public safety

Retail

Shelter and Housing

Transportation and Logistics

Water and wastewater
View a more detailed list and more information about Chicago's phased vaccine rollout
here
.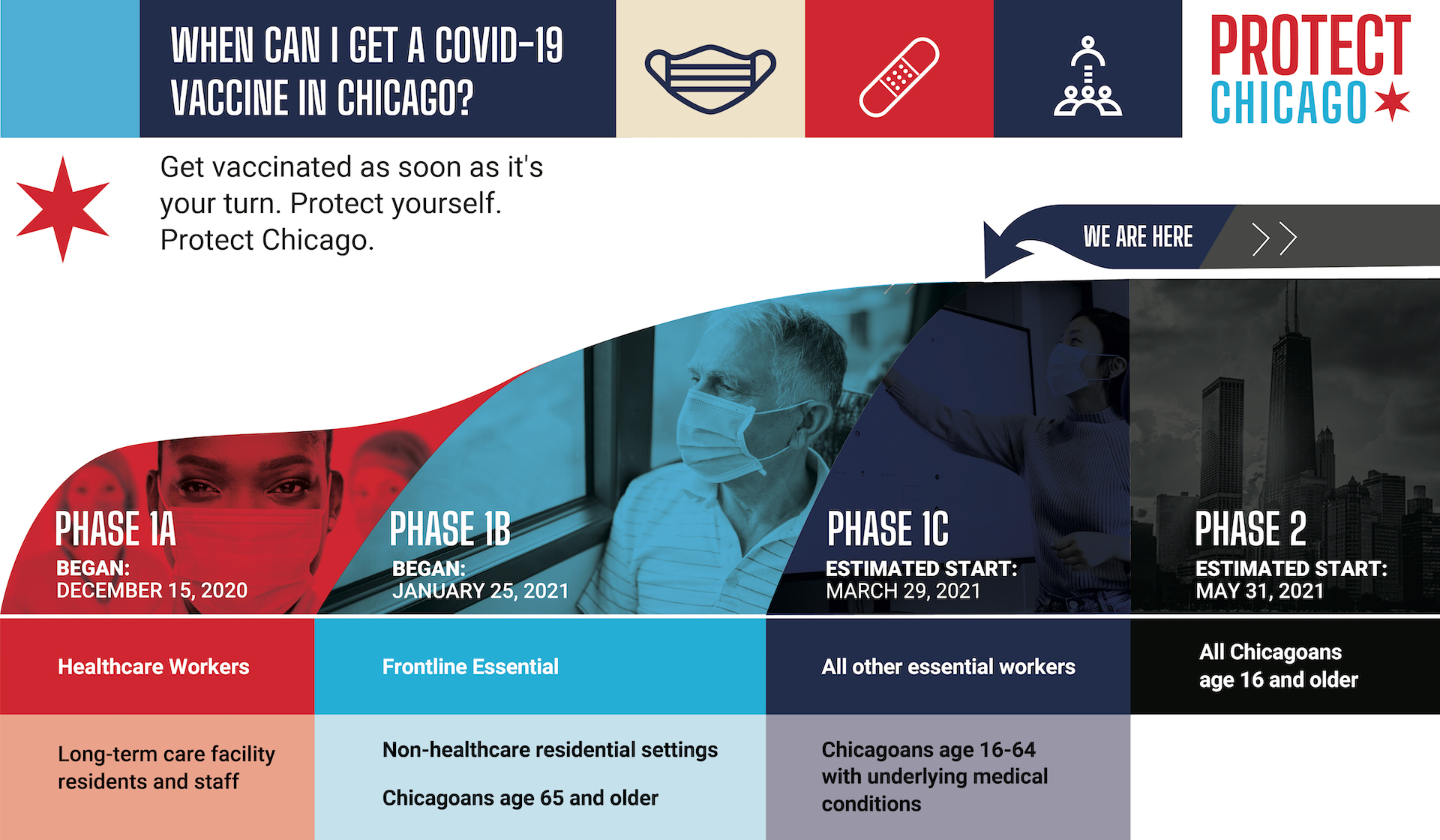 OUTDOOR CAPACITIES EXPANDED

On March 25, the City of Chicago announced loosened restrictions for outdoor activities. These guidelines are:
Bars and Restaurants: Maximum outdoor table size can increase to 10 people, with tables set up so that patrons are 6 feet from patrons at other tables.
Social Events (e.g. weddings, potlucks and other community events): Total outdoor capacity can increase to the lesser of 50 percent or 100 people.
Performance Venues, Theaters and Seated Spectator Events: Outdoor venues with capacity greater than or equal to 200 can operate at 25 percent capacity. Smaller venues can operate at no more than 50 percent capacity or 50 people.
Outdoor Recreation: Maximum groups of 50; Multiple groups permitted
Places of Worship: No outdoor capacity limit provided that 6 feet of social distancing is maintained between parties.
Health and Fitness Centers: Outdoor classes can increase to 100 people.
Details of the full regulations can be found at chicago.gov/reopening. For a full overview of the statewide plan to combat the COVID-19 pandemic, read the Restore Illinois Mitigation Plan here. To track Chicago's progress on the fight against the COVID-19 pandemic, visit chi.gov/coviddash.
Phase 4 COVID-19 regulations LOOSEN

Beginning Tuesday, March 2, capacities for a variety of industries loosened to 50% or 50 people, whichever is fewer. Bars and restaurants can now stay open until 1 a.m. (previously 11 p.m.) Packaged alcohol sales can now occur until 11 p.m. (previously 9 p.m.). See below for a complete list of reopening guidelines.
Restaurants and Bars: Can reopen indoors at lesser of 50% or 50 people per space. Food must be available at all times in order to offer indoor service. Bars, taverns or breweries without a food license can reopen indoors as long as they partner with a food establishment (e.g., making menus available and allowing delivery, allowing patrons to order from third-party delivery services). Table size limited to no more than six people per table indoors. Bar seating allowed with 6ft distance between parties.
Indoor events allowed at 50% capacity with no more than 50 individuals, while following indoor dining guidelines. Bars, restaurants and other establishments with a Tavern or Consumption on Premises-Incidental Activity license must have all patrons off premises by 1 a.m.
Retail stores: 50% capacity.
Grocery stores and pharmacies:

50% capacity. Liquor stores, grocery stores and other establishments with a Package Goods license must cease alcohol sales at 11 p.m.

Places of worship:

Limit each indoor space to 50 individuals, while practicing social distancing, or 50% capacity (whichever is fewer). Special events such as weddings, potlucks, and other community events are limited to 50% capacity with no more than 50 guests indoors.

Health and Fitness Centers:

50% capacity with no more than 50 people per space; group classes allowed with no more than 20 individuals per group; Locker rooms and showers can remain open if strict and frequent cleaning measures are in place; Close ancillary accommodations, including saunas, hot tubs, and steam rooms, where social distancing is not possible.

Personal Services:

Limit to 50 individuals or 50% capacity, whichever is fewer. If a service requires the removal of face coverings (e.g., facials, beard trimmings) employee must wear both a mask and eye protection (e.g. face shield, protective glasses). Physical, occupational, and massage therapy allowed.



Out-of-School Programs:

Indoor group exercise or fitness classes capped at 20 individuals (e.g., dance, yoga). Programs in which participants are primarily seated/stationery may continue in cohorts of up to 20 people (e.g., painting, creative writing, homework help). Day camps are still limited to 50% of facility capacity with no more than 15 participants per group.

Libraries:

Considered an essential service as they support Chicagoans needing support with remote learning, job searching, temporary refuge for weather relief, securing needed benefits and resources. Libraries may remain open at 25% indoor capacity with protective measures in place to ensure the health and safety of the public and staff. See chipublib.org for more details.
Details of the full regulations can be found at chicago.gov/reopening. For a full overview of the statewide plan to combat the COVID-19 pandemic, read the Restore Illinois Mitigation Plan here. To track Chicago's progress on the fight against the COVID-19 pandemic, visit chi.gov/coviddash.

COVID-19 VACCINE DISTRIBUTIONS
There will be a phased roll-out of the COVID-19 vaccine in Chicago. Everyone is encouraged to get vaccinated as soon as it's their turn. Supplies will increase over time, and all adults will be able to get vaccinated in 2021. Once a vaccination phase begins, people in that phase are eligible to receive the COVID-19 vaccine indefinitely. Tentative dates are dependent on vaccine supply. Learn more about the COVID-19 vaccine and how to get it in Chicago here.
Effective January 15, the Chicago Department of Public Health's Emergency Travel Order has been modified. Under the new system, states are categorized as Yellow or Orange.
Anyone traveling from a state on the Orange list is directed to obtain a negative COVID-19 test result no more than 72 hours prior to arrival in Chicago or quarantine for a 10-day period (or the duration of their time in Chicago, whichever is shorter). Read the full breakdown of states here.
Latest data
Chicago Loop Alliance recommends consulting the following websites for the most up to date information regarding the virus:
COVID-19 resources from Chicago Loop Alliance:
COVID-19 TESTING IN THE LOOP
Testing for COVID-19 is available at Michigan Avenue Primary Care, 181 N. Michigan Ave., Suite 1720. A video consultation with a provider to determine the appropriate test and timing is required. Testing is then by appointment. They offer both tests for active COVID infection, and IgG antibody testing for prior COVID infection. Information on statewide testing sites can be found here. Testing is also available at 170 W. Washington. Walk-up patients are welcome daily form 8 a.m. to 8 p.m. Both rapid and RT-PCR tests are available. More information on testing can be found here.
Sign up for emergency alert system for businesses
The city of Chicago is rolling out a new program to provide emergency alerts to businesses. Local business owners can text "CHIBIZ" to 67283 or visit chicago.gov/chibizalerts to opt in to get the alerts. Businesses will be asked to submit some details specific to their business so that the Chicago Department of Business Affairs and Consumer Protection and the Office of Emergency Management and Communication can send targeted alerts to specific areas of the city, as needed.
Transit updates
CTA


PACE

Metra
View Metra updates here.
South Shore Line
View South Shore Line updates here.

Divvy Bike Sharing
View Divvy Bike updates here.
TRAFFIC IMPACTS, CLOSURES, PROTESTS & RALLIES
Please be advised of traffic impacts.
Protests
Thursday, April 15 (6 p.m.)
Justice 4 Daunte Wright…"Say His Name
This group will assemble at Cloud Gate "The Bean" in Millennium Park - 201 E. Randolph.
Friday, April 16 (9 a.m.)
Demand Cook County State's Attorney Kim Foxx Re-Open Michael Wesley Case Murdered by Chicago Police Dept. in 2013
This group will assemble at the Cook County State's Attorney's Office, 69 W. Washington.
Friday, April 16 (7-10 p.m.)
End Student Loans Now!!!
This protest and rally will take place at Federal Plaza - 230 S. Dearborn.
Traffic Impacts
Ongoing
Road construction is affecting traffic at and around the intersection of State Street and Monroe Street.
Film Notices
In order to park the necessary vehicles and equipment for filming, the following streets will be posted as a NO PARKING / TOW ZONE:
Tuesday, April 20 (noon) - Wednesday, April 21 (1:00 a.m.)

Both sides of Wabash from Washington to Randolph
Tuesday, April 20 (6:00 p..m.) - Wednesday, April 21 (1:00 a.m.)
North side of Washington from State to Michigan
Please note there will be INTERMITTENT TRAFFIC CONTROL during filming:
Tuesday, April 20 (7:00 p.m.–11:00 p.m.)
Wabash from Washington to Randolph
Tuesday, April 20 (9:00 p.m.)-Wednesday, April 21 (11 p.m.)
North side of Monroe from Columbus to Michigan
If you have any questions, concerns, or special needs, PLEASE CONTACT:
Location Manager
Patrick Muldoon
773-277-8044
You Might Be Interested In: