The Chicago Loop is periodically affected by construction work, public events, filmmaking and other projects. Stay up to date on current traffic advisories and happenings.
---
Last updated on July 8 at 10:30 a.m.
COVID-19
Travelers from some states ordered to quarantine
The Chicago Department of Public Health has issued an Emergency Travel Order directing travelers entering or returning to Chicago from states experiencing a surge in new COVID-19 cases to quarantine for a period of 14 days. The order mirrors action taken in New York and other states to further contain local spread of COVID-19. It applies to states that have a case rate greater than 15 new COVID-19 cases per 100,000 residents, per day, over a seven-day rolling average. When the order goes into effect on July 6, travelers from the following states, including Chicago residents returning from these states, will be directed to quarantine upon arrival in Chicago:
Alabama
Arkansas
Arizona
California
Florida
Georgia
Idaho
Louisiana
Mississippi
North Carolina
Nevada
South Carolina
Tennessee
Texas
Utah
Expected Easing of Gathering Size Restrictions
Chicago is currently categorized as "Moderate-high" risk. Stay up-to-date with the city's progress toward "Moderate" risk according to the CDPH tracker. Residents are welcome to track the City's progress by visiting the CDPH website. The City's risk category is determined by CDC guidance that states you must be in the new risk level for 14 consecutive days to officially move to a new risk level.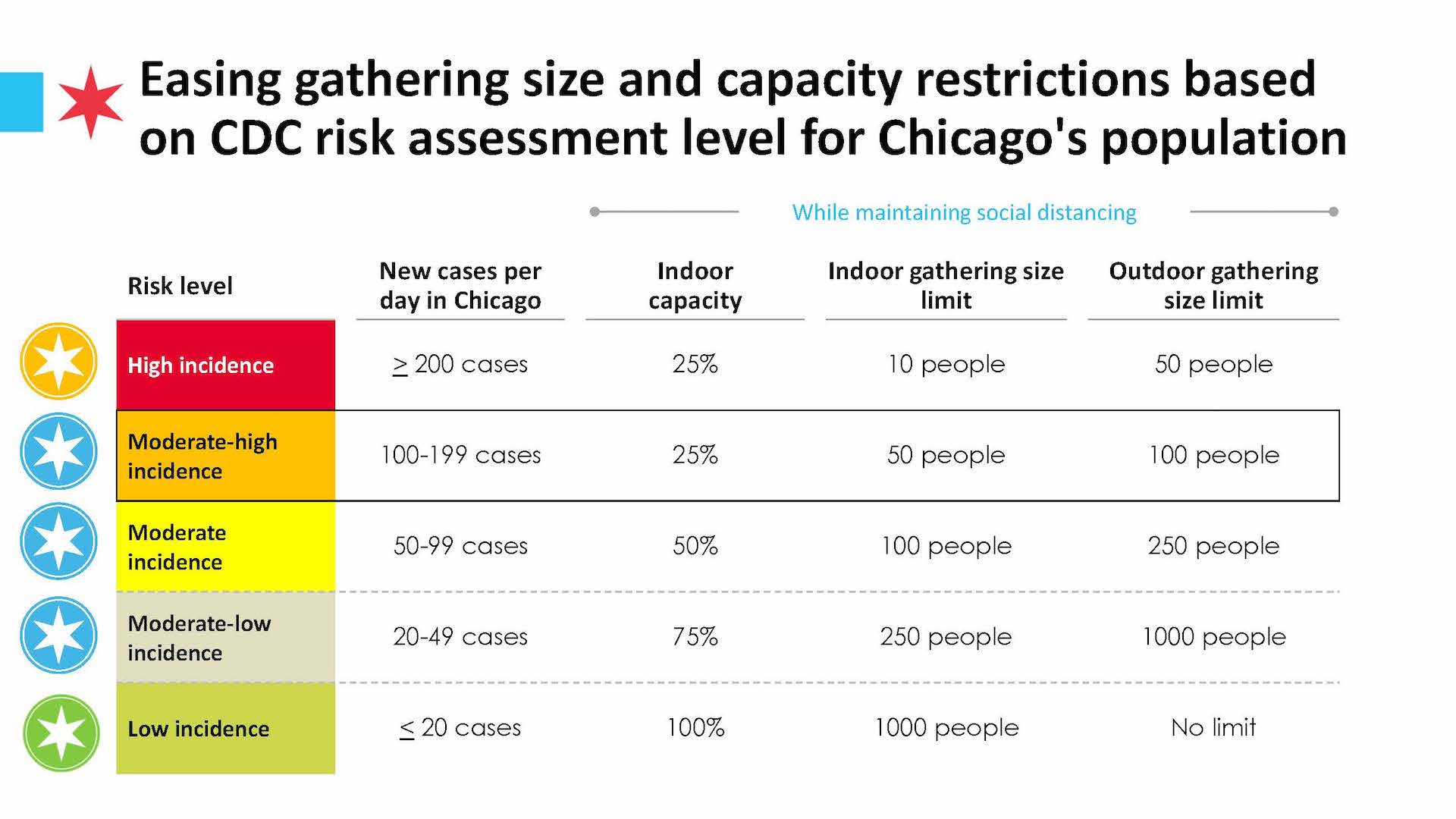 Chicago 'Gradually Resumes'
As of June 26, Chicago will operate within phase four of the "Protecting Chicago" framework, following industry-specific guidelines. This aligns with the State of Illinois, which will also operate within phase four of the "Restore Illinois" framework beginning June 26. All residents over the age of 2 are still required to wear masks in public places where they can't maintain a 6-foot social distance.
The following industries will open under industry-specific guidelines and restrictions for the first time at the beginning of phase four in Chicago:
Indoor seating in bars and restaurants
Museums and zoos
Performance venues
Summer camps / youth activities
Phase four will also include adjustments to other industries that have previously reopened.
To inform businesses of the new guidelines for phase four, the Department of Business Affairs and Consumer Protection (BACP) will hold a series of educational webinars the week of June 22. Webinars will be held for newly reopening industries such as arts/performance venues and museums and industries that will be following new guidelines in phase four, such as health and fitness centers and personal services. To register and learn more, visit chicago.gov/businessworkshops.
Lakefront Trail Reopens
Beginning Monday, June 22, the Lakefront Trail will open east of Lake Shore Drive from 6:00 a.m. to 7:00 p.m. daily, however beaches and parks east of Lake Shore Drive will remain closed. The 18-mile Lakefront Trail will be open for exercise and transit only, and no other recreational activities will be allowed. Chicagoans must abide by a "keep it moving" strategy where only walking, running, biking, and rollerblading will be allowed. Social Distancing Ambassadors will be stationed along the trail to educate the public and manage the flow of traffic. Ambassadors will actively engage park patrons providing guidance on appropriate social distancing, the importance of face coverings as well as other health and safety guidelines.
Millennium Park and Maggie Daley Park Reopen
As of Monday, June 15, Millennium Park and Maggie Daley Park partially reopened. Areas include the Chase Promenades, the Boeing Galleries, and Lurie Garden. The Crown Fountain and Wrigley Square reopened without water features. Cloud Gate is able to be viewed from a distance. Within Maggie Daley Park, the fieldhouse opened for shelter and restroom use. Green spaces, walkways, Rink Cafe and miniature golf also opened for visitor use. The roller blade and scooter ribbon are available to use with your own equipment, but the playgarden remains closed until further notice. Visitors will be required to enter at Michigan Avenue and Madison Street and exit at Michigan Avenue and Washington Street, and access to the parks via the BP Bridge is unavailable. The park will be closed temporarily if capacity is reached. Social distancing ambassadors are reminding visitors to be vigilant of social distancing guidelines.
Chicago Riverwalk Partially Reopens
As of Friday, June 11, the Chicago Riverwalk partially reopened. The Riverwalk is open daily from 5 a.m. to 9 p.m. Between 5 a.m. and 10 a.m., those using the Riverwalk will be able to run, jog, walk, and bike along the path between Lake Shore Drive and Lake Street. At 10 a.m., the Riverwalk will be closed for cleaning. Starting at 11 a.m. through 9 p.m., the Riverwalk's concession vendors will be open by reservation only. Between 11 a.m. and 9 p.m., a limited number of "passive recreation" areas on the Riverwalk also will be open for people who want to spend time outdoors. Riverwalk paths will be blocked under the bridges between LaSalle and Columbus, and visitors should use stairways. Access to the Riverwalk will be limited to access points at Lake Street and ADA ramps between Lake Street and Columbus Drive. Access to the lakefront from the Riverwalk will remain closed.
Protecting Chicago Phased Reopening
Mayor Lori Lightfoot unveiled a five-phase reopening plan for Chicago in alignment with Gov. J.B. Pritzker's "Restore Illinois" plan.
Learn more about the plan here.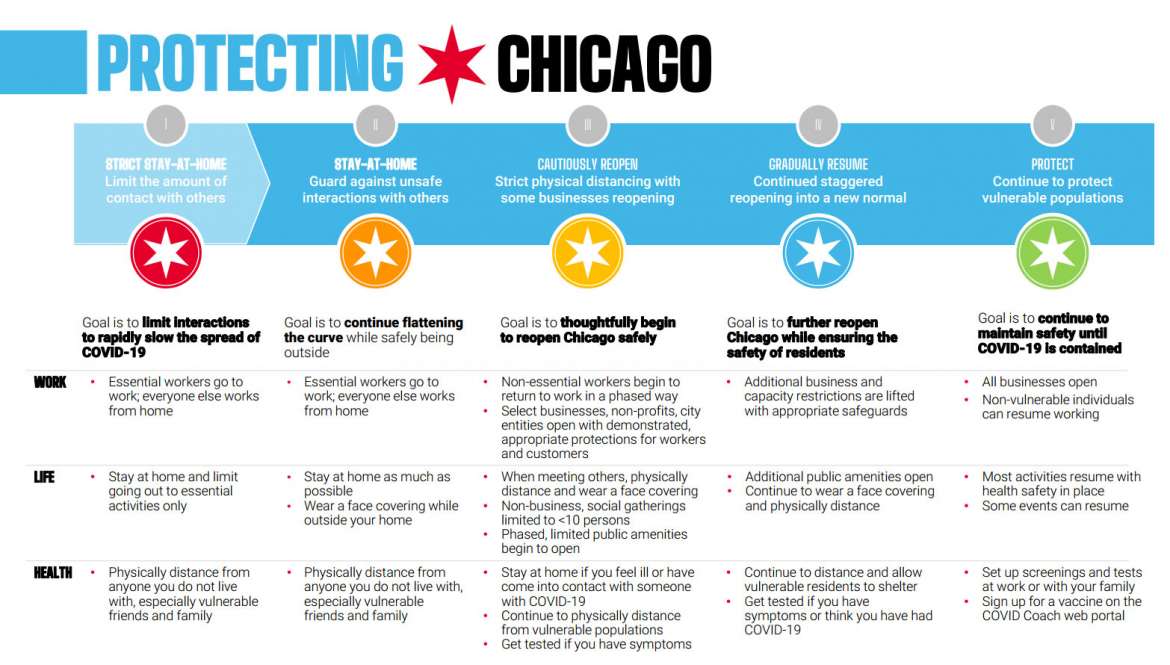 Restore Illinois Phased Reopening
Governor J.B. Pritzker has announced a phased reopening plan, Restore Illinois. The plan divides Illinois into four main regions, with a five-phased approach to revitalization for the state. The State of Illinois will operate within phase four of the "Restore Illinois" framework beginning June 26. All residents over the age of 2 are still required to wear masks in public places where they can't maintain a 6-foot social distance. Read industry specific state guidelines on Phase 4 here.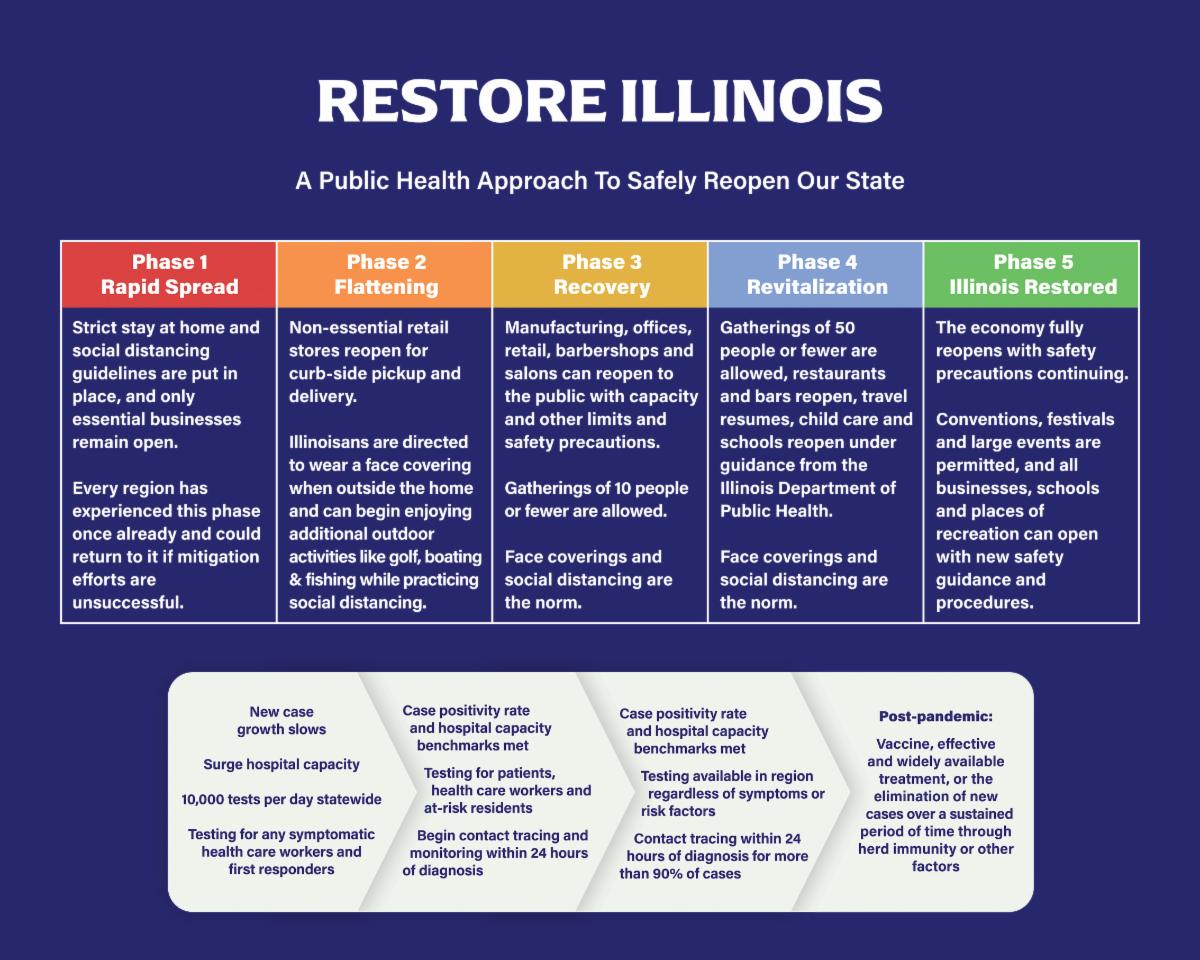 Latest data
We recommend consulting the following websites for the most up to date information regarding the virus:
COVID-19 resources from Chicago Loop Alliance:
Sign up for new emergency alert system for businesses
The city of Chicago is rolling out a new program to provide emergency alerts to businesses. Local business owners can text "CHIBIZ" to 67283 or visit chicago.gov/chibizalerts to opt in to get the alerts. Businesses will be asked to submit some details specific to their business so that the Chicago Department of Business Affairs and Consumer Protection and the Office of Emergency Management and Communication can send targeted alerts to specific areas of the city, as needed.
Transit updates and suspensions
CTA

PACE

Metra
View Metra updates here.


South Shore Line
View South Shore Line updates here.


Divvy Bike Sharing
View Divvy Bike updates here.
Traffic Impacts
Roadwork
CDOT's work on resurfacing southbound Michigan Avenue is progressing to the final stage. This Tuesday, June 30, traffic is expected to be moved to the eastern-most southbound lane to allow for work to occur in the western curb lane of Michigan Avenue. The duration of this stage is expected to be approximately three to four weeks, at which time all work will be completed.
Saturday, July 11 (7 a.m.)
Footaction Helicopter Lift

A helicopter lift will take place on the roof of Footaction. Street closures begin at approximately 7 a.m., with the lift occurring at 9 a.m. The lift will last between 30 and 60 minutes. Be advised to secure or remove loose items on the roofs of your buildings.
Film Notices
There are currently no film notices. Please check back periodically.
You Might Be Interested In: