The award-winning Sundays on State event series will return for select Sundays in the summer of 2022!
---
Named "Best New Event in 2021" (Time Out Chicago), one of "eight great spots [in Chicago] to hit while the weather is hot" (The New York Times), and a national finalist for "Best in a Crisis" (PRWeek US Awards), Sundays on State returns with an expanded footprint when portions of Chicago's most iconic street, State Street, close to vehicular traffic for select Sundays this summer. Join neighbors from every Chicago community and beyond for this free, interactive block party, while safely enjoying art, culture, active recreation, food, drinks, shopping, and local attractions in the heart of everyone's neighborhood – the Loop. Chicago Loop Alliance's Sundays on State series accelerates the economic recovery, unites the community, and creates joy! Nearly 80% of this year's Sundays on State activation participants are from underrepresented business owners. Learn more about the full impact of last year's Sundays on State events here. #SundaysOnState

Summer 2022 event dates:
July 24, 11 a.m. - 6 p.m.
August 7, 11 a.m. - 6 p.m.
August 21, 11 a.m. - 6 p.m.
September 4, 11 a.m. - 6 p.m.
Register
Register to attend Sundays on State for FREE today, and get automatically entered for a chance to win a $1000 Loop Staycation package with a hotel stay at theWit Hotel Chicago, exclusive hotel partner of Sundays on State!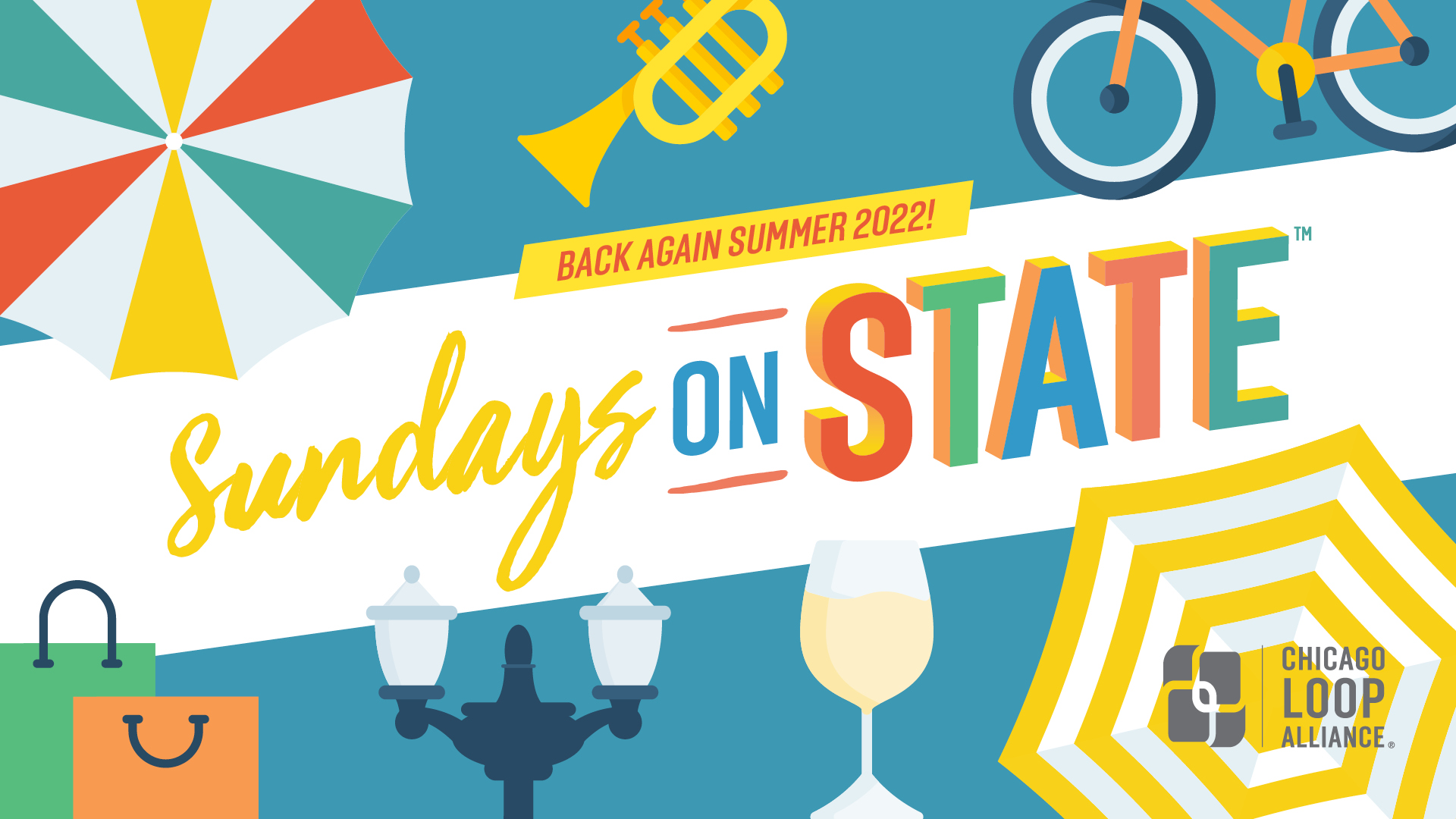 #SundaysOnState
Sundays on State is a project of Chicago Loop Alliance in partnership with Chicago Loop Alliance Foundation, City of Chicago, and SSA#1-2015. Supporting sponsors are Macy's and Target. Event sponsors are Allstate, Divvy and Walgreens. Community sponsors are Block 37, Clayco + Lamar Johnson Collaborative, Comcast, Millennium Garages, Shoreline Sightseeing and Streetplus. Star Events is the event production company for Sundays on State. The official hotel partner is theWit Hotel Chicago.
Media partners include CBS Chicago, Chicago Transit Authority, Chicago Tribune, Concorde New Media, The Crusader Newspaper Group, ESPN 1000, Firefly, Heritage Outdoor Media, Midway Broadcasting Corporation, NDIGO, OUTFRONT, Power 92.3, Reflejos Publications, Rejoice 102.3, Soul 106.3, Uber OOH, Univision Chicago Local Media, View Chicago, LLC, Vocalo, WBEZ, and WGN Radio.
Have a question about Sundays on State? Ask us here.

Become a sponsor
You Might Be Interested In: