6 MIN READ - The mural, by Chicago artist Dwight White, pays homage to Loop-wide workers who won the organization's neighborhood-wide Loop Employee of the Month awards.
---
As part of Chicago Loop Alliance's Loop Employee of the Month program—which honors a different Loop worker each month for being great at what they do, contributing to their community, and inspiring those around them—a mural honoring the Loop workforce has been installed downtown. The mural, by Chicago artist Dwight White, incorporates symbols that represent Loop Employee of the Month award winners from March 2019-February 2020. It is located at 40 W. Ida B. Wells Drive and was completed Oct. 26.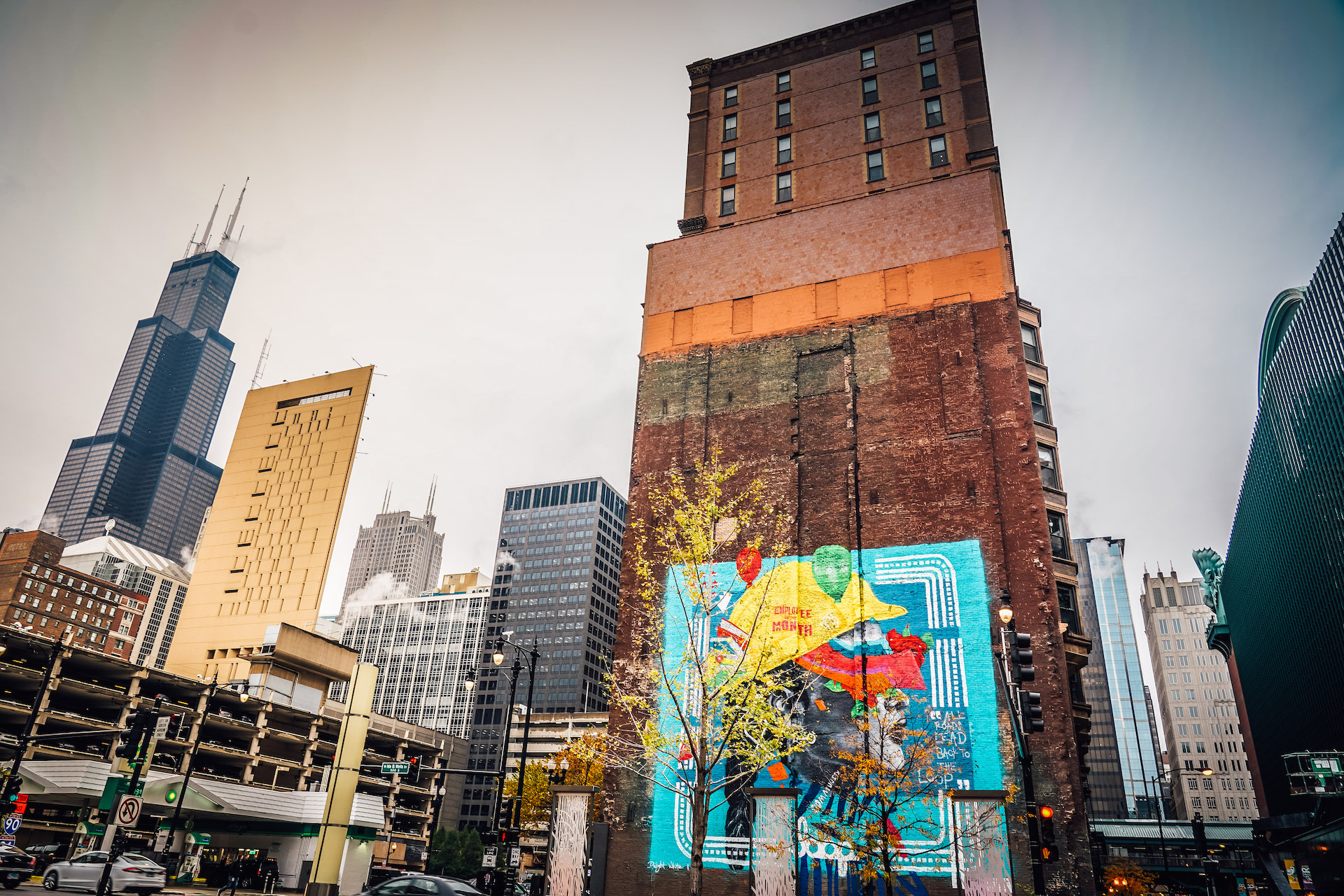 "Chicago is the city that works, and the Loop is at the center of Chicago's powerful workforce," said Chicago Loop Alliance President and CEO Michael Edwards. "We would like to recognize the 370,000 Loop workers who contribute their heart, talent and tenacity to their job each day. COVID-19 has put a strain on workers—whether furloughed or laid off, working from home, or deemed essential. There has never been a more important time to honor the workers who make the central business district great. They are paramount to the survival of downtown's storefront economy, and we look forward to welcoming more of them back to work in the Loop."
"This mural is a fantastic representation of the Loop workforce," said Chicago Loop Alliance Marketing Director Kiana DiStasi. "The Loop Employee of the Month winners referenced in this mural represent office workers, government employees, small business owners, hospitality professionals, non-profit powerhouses and more. They come together in the Loop from all across the city, just like the larger Loop workforce. This mingling of Chicagoans is why we call the Loop Everyone's Neighborhood, and we can't think of a better time than now to offer something beautiful in their honor."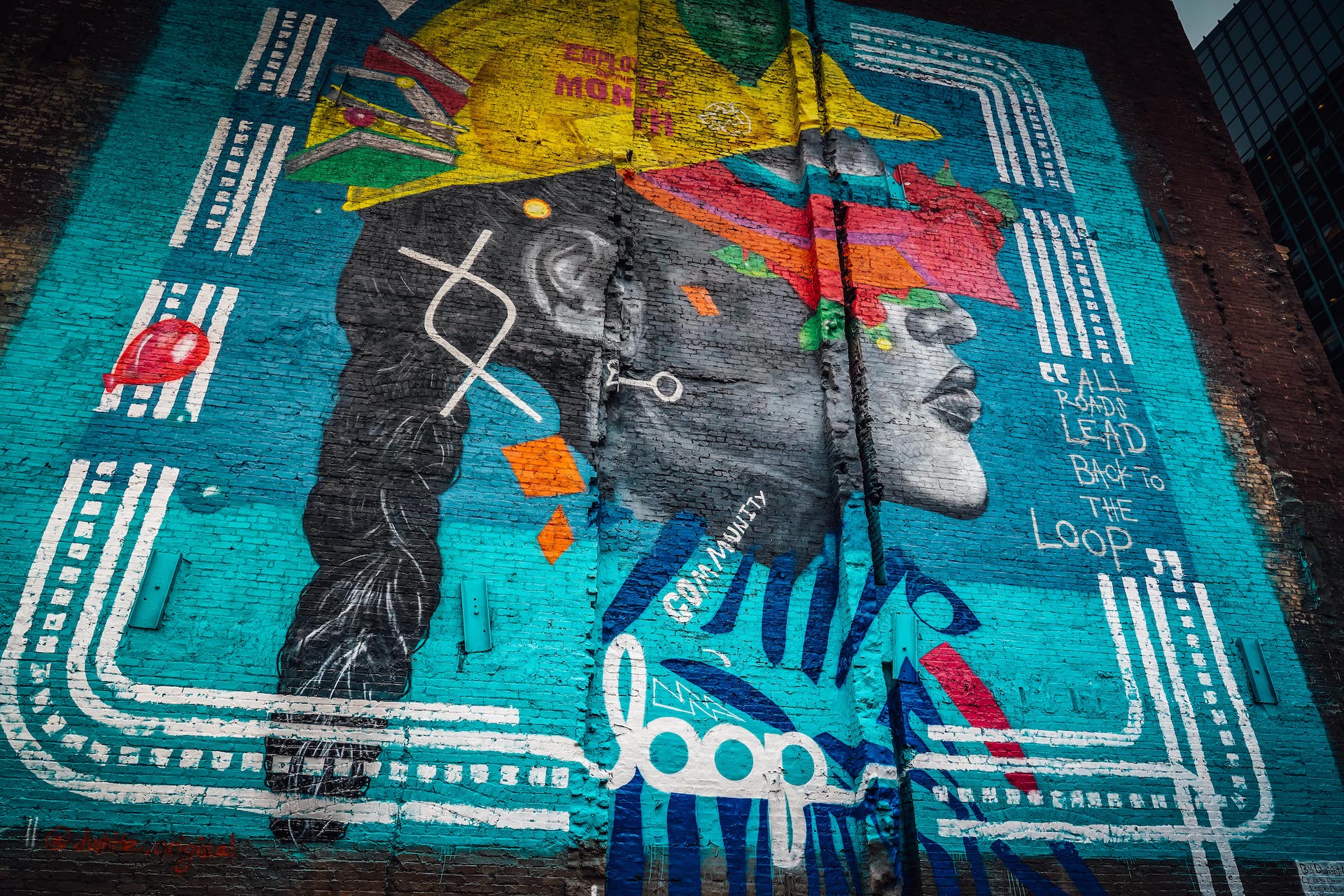 "When first approached in March, I was excited that Chicago Loop Alliance chose to honor the winners with a large public display of art in this high traffic area of the city," said Dwight White. "I loved the design process as I was challenged to creatively weave a tribute to each winner into the artwork. You will see that each element of the mural has a significant meaning. After the global pandemic and months of quarantine, I believe this mural will have an even greater impact and meaning to all who work in the Loop."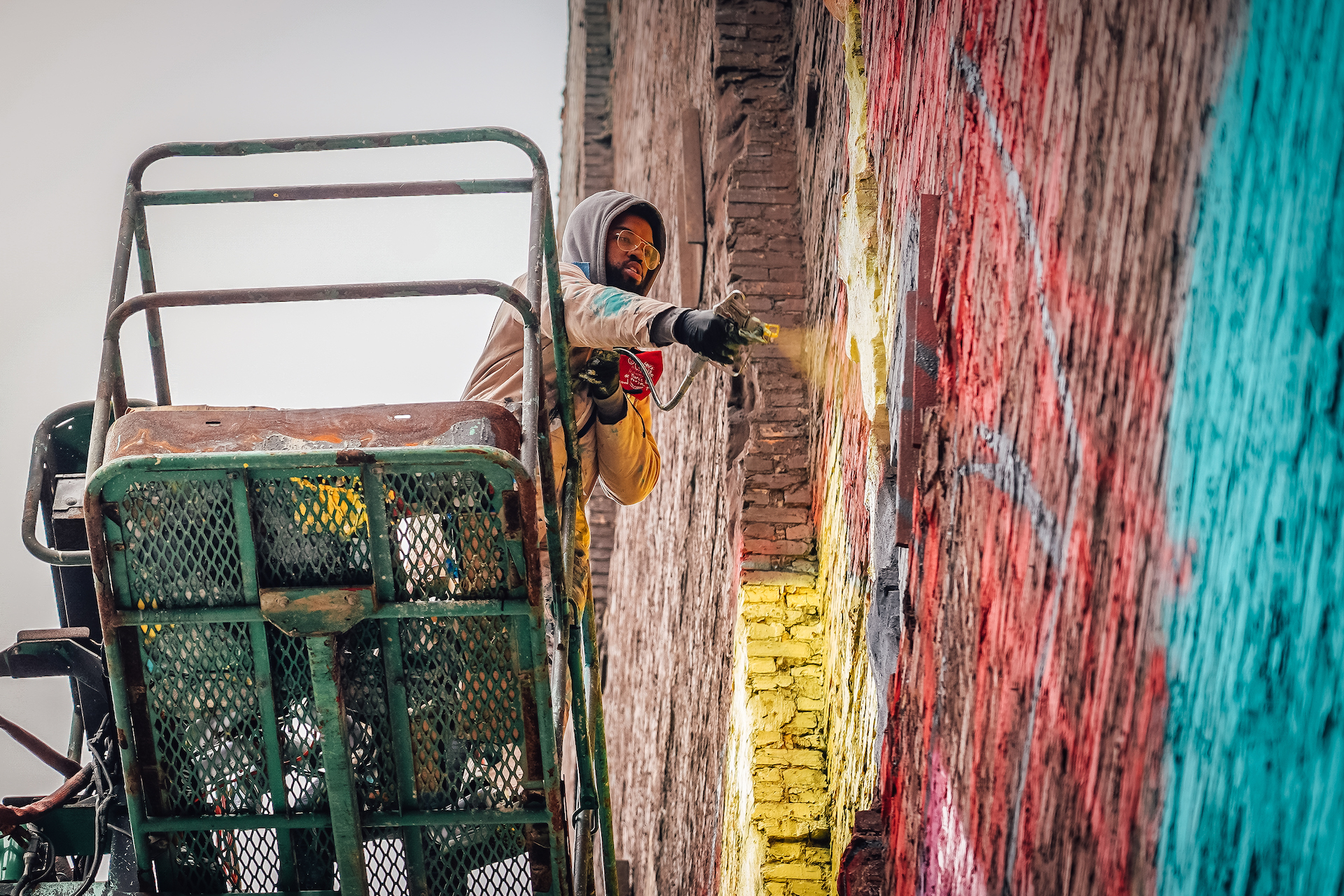 In addition to placing their first names on the stars at the top left corner of the mural, White read the stories of the Loop Employee of the Month winners and came up with the following symbols to represent each winner in the mural.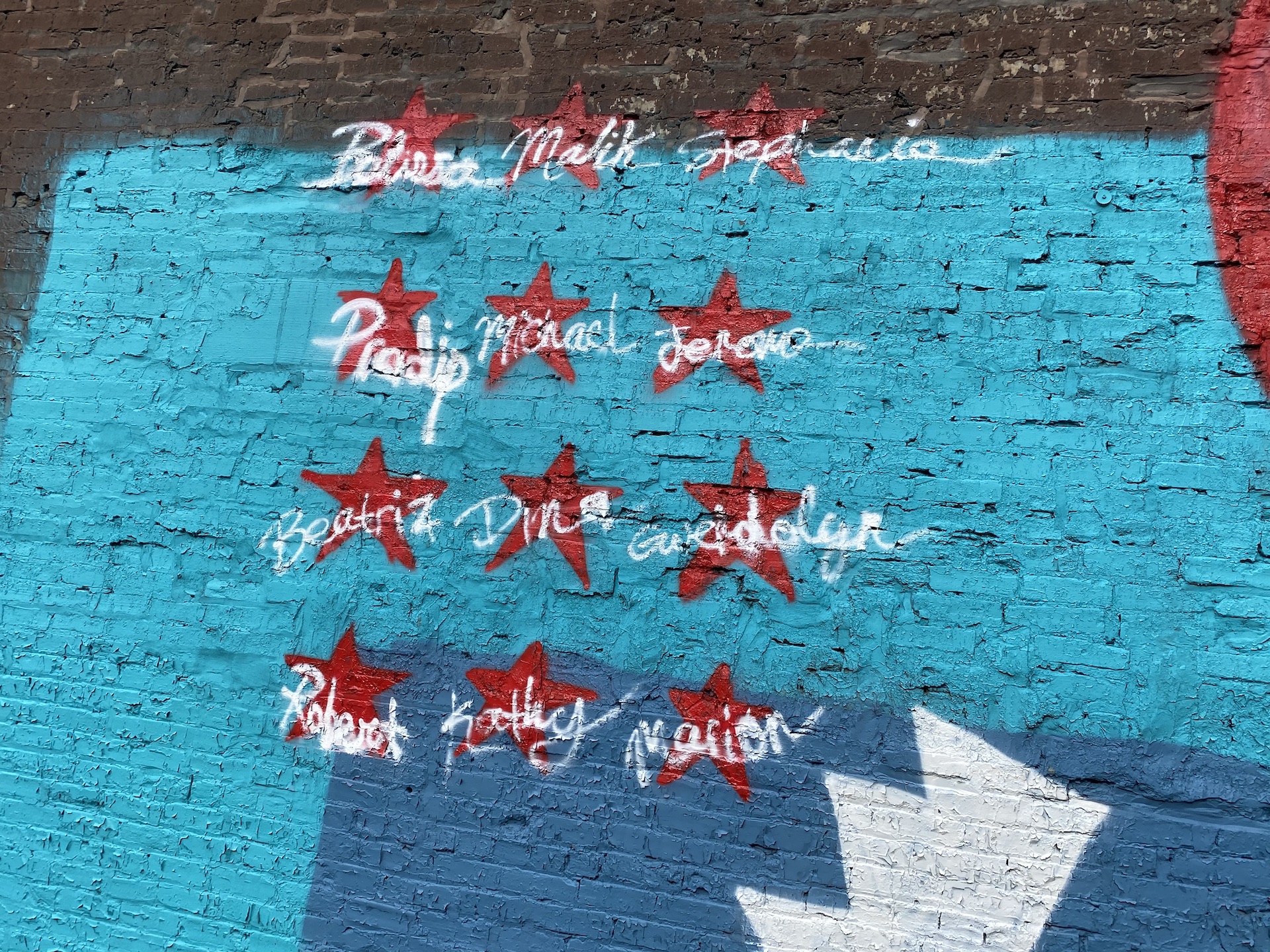 "Having a unique symbol on the new mural representing my Chicago Loop Employee of the Month honor is special to me because it also symbolizes my 20 years of working in the Loop," said Kathy Bliss, who is now working for Roosevelt University. "To fellow honorees and to all Chicago Loop workers, as we enjoy the new installation, let's continue to celebrate the many reasons we love working in the center of this great, vibrant, bustling city with its rich and acclaimed history, as we anxiously await its full reopening."
"My husband, Malik Gillani suffered a heart attack and stroke; his expressive capacities are temporarily impaired, so he asked me to write this statement for him," said Jamil Khoury, Co-Founder and Co-Executive Artistic Director for Silk Road Rising. "For 18 years, Malik has been working tirelessly at expanding the American story to include Asian, Middle Eastern and Muslim Americans. As someone who creates, produces and lives in the Loop, Malik understands intuitively that this neighborhood is 'Everyone's Neighborhood.' It's where a Brown, Queer, Muslim, disabled, immigrant man can build a nationally recognized arts organization, and give voice to the voiceless, even while struggling to recover his own voice."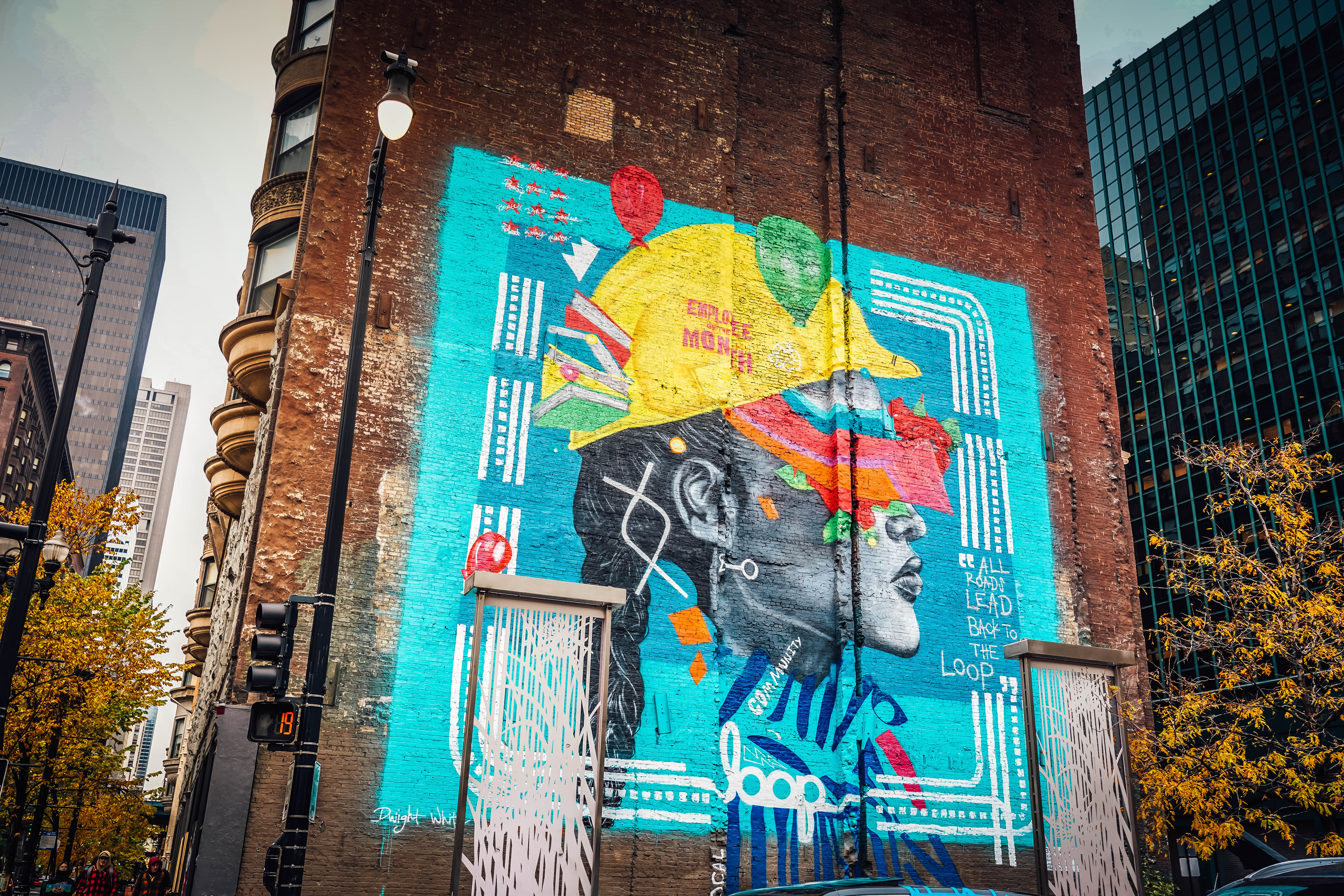 The Loop Employee of the Month program is ongoing. Every winner receives a $1,000 prize package from Loop businesses, a professional photo shoot, and an article on LoopChicago.com. Nominate yourself, a co-worker or anyone who works in the Loop and is great at what they do, contributes to their community or inspires those around them. Nominees need only be at least 16 years of age and work in the Chicago Loop. The Loop boundaries are the Chicago River to the north and west, Ida B. Wells Drive on the south and Lake Michigan on the east.
You Might Be Interested In: