4 MIN READ - The June Loop Employee of the Month shows that with talent and tenacity, one can work her way to the top in even the most competitive industries.
---
Beatriz Jara makes being a member of the executive committee at ROOF on theWit look easy, but getting to her position as Events Director was more than 15 years in the making. She learned the ropes of the restaurant industry the old-fashioned way—by starting at the bottom with a work permit at 15 years old. At her stepfather's urging, she got a job as a hostess in a suburban restaurant. There, she eventually had the opportunity to work as a server, and after moving to Chicago about 10 years ago, her experience in hospitality offered her a built-in community. What started out as a way to make pretty good money as a teenager turned into a beloved career.
"I like creating experiences for people," Jara said. "We do everything from birthdays, to weddings, to award ceremonies for big companies—I love it. It's just making people happy. And I love food, I love beverage, and to be able to make people happy through those vessels, it just makes me feel good."
Jara has been at theWit for eight years now, working her way up from a server position at ROOF. She has also worked as a Banquet Captain, then Events Manager, before being promoted to her current role as Events Director. Now, Jara oversees a multimillion-dollar operation and makes sure all events run smoothly. This includes everything from A/V, to food, to timing and logistics, plus managing a team of more than 40 employees. Jara's degree in advertising, PR, marketing, and business has allowed her to take on even more responsibilities, with theWit's full support.
"TheWit Hotel has always been very good to me; they've let me be creative," Jara said. "I've always had a passion for fashion and design, so they let me take on a lot of the design aspects for our buffets, like buying equipment and décor. They also let me style out part of ROOF as well, and part of the banquet space with things like floral, which is really fun. I do all the uniforms for the ROOF staff and banquets. Those are the more fun aspects of the job."
The work itself is rewarding, challenging, and in line with Jara's unique skill set, but she said her favorite part of working at theWit is the sense of family she feels with her coworkers. Her favorite memory was a recent birthday, when the staff gave her 100 roses and a bottle of her favorite champagne.
"It's kind of a family," Jara said. "It's really interesting how many people I know now just in so many different areas, whether it's a bartender, a manager, or a chef, or even other professionals like sales managers. It's its own little family."
Jara has lived in or near the Loop since moving to Chicago about 10 years ago. She said her favorite part about spending time in the Loop is being at the heart of everything.
"Everything is here," she said. "It's fast-paced, you can run into anybody, and it's just a really great area for everyone. I love being near the Theatre District, all the restaurants, the river, it's just amazing. You get a little bit of everything."
By working her way up from a 15-year-old hostess to a member of theWit's executive committee, it is obvious that Jara is great at what she does. But beyond just her skill set, she is the kind of person who inspires those around her. She said one of her favorite parts of the job is watching her staff grow and achieve their own career goals. But she's not in it for the glory.
"I always feel embarrassed with these things," Jara said with a laugh. "I'm a very low-key person. I work really hard, and I do a lot of things for lots of different outlets in the venue. I just kind of like to fly under the radar a little bit. But I'm just really proud, and it's always very flattering whenever anyone nominates you for something like this. It is really nice."
We are the city that works. And the Loop is at the center of Chicago's powerful workforce. Chicago Loop Alliance would like to recognize the over 300,000 Loop workers contributing their heart, talent, and tenacity to their job each day. Each month from March 2019 to February 2020, a Loop Employee of the Month will be recognized for being great at what they do, contributing to their community, and inspiring those around them. For more information on award selection, rules and conditions, and a full list of prizes, please visit loopchicago.com/nominate.
Photo by Hummingbird Studios
You Might be Interested In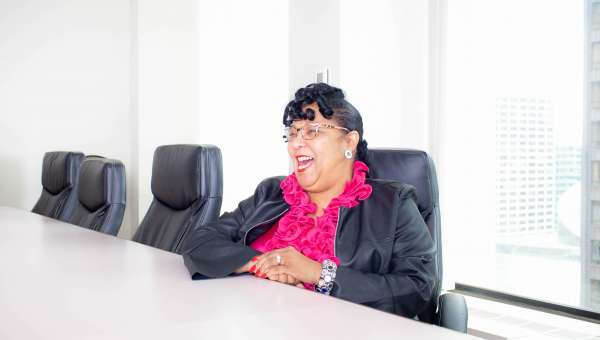 March Loop Employee of the Month: Marion Batey
4 MIN READ - "When I am on the street, and a person comes up to me and tells me they got employed, that is my favorite part about this work." - Marion Batey