6 MIN READ - Over a year into the COVID-19 pandemic that rocked downtowns around the world, signs of a recovery in the Chicago Loop are beginning to emerge. As the weather warms, and the city and state continue administering thousands of COVID-19 vaccinations per day, Loop data like pedestrian activity, parking volumes, CTA ridership, office human occupancy, and hotel occupancy are all on the rise. The Loop's Comeback was explored at Chicago Loop Alliance's April 14 Downtown Futures Series webinar. View a recording of the full presentation here.
---
Despite a recent jump in Loop activity, the majority of office workers are still apprehensive about returning to the workplace, and companies are largely unsure when their work-from-home policies will change. The Loop's recovery from the pandemic depends on the return of this downtown workforce, which is about 18 times larger than the Loop's residential population. In Downtown Futures Series: The Loop's Comeback, professionals in the city's vaccination campaign, public transportation, and office cleanliness and safety discussed what will be needed to build confidence in the return to work, and what employees can expect for when they do come back.
Claire McCombs, First Deputy for Economic and Neighborhood Development for the City of Chicago's Office of the Mayor; Janice R. Thomas, Chief of Staff for Metra; and Kimberly A. Carter, Managing Director of Environmental, Health and Safety Services for Hygieneering, Inc., addressed virtual attendees from around the world and answered questions moderated by David Broz, Principal for Gensler and member of the Chicago Loop Alliance Board of Directors.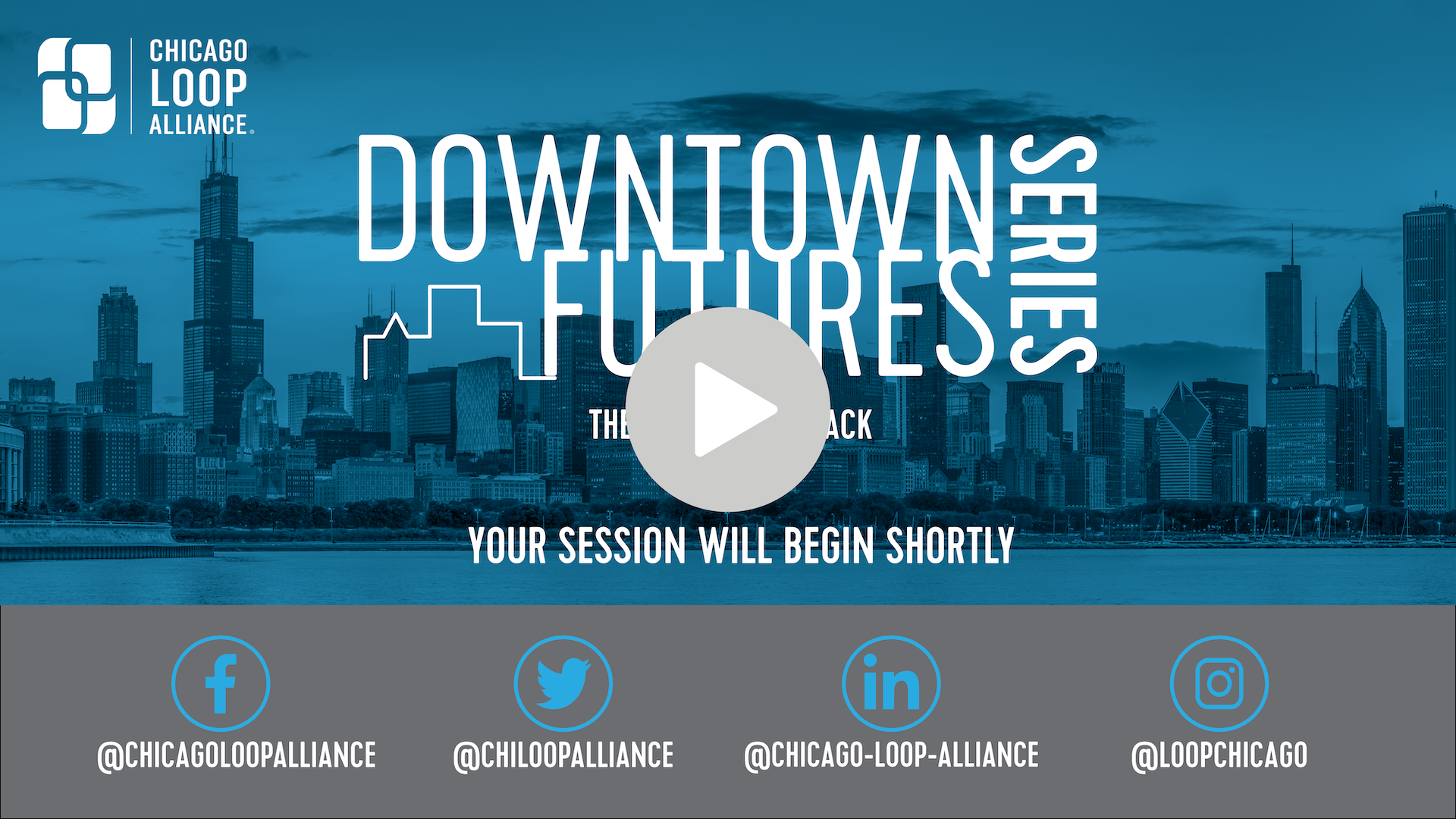 The event began with Claire McCombs sharing the City's focus on recovery from the pandemic, and how recovery efforts are directly tied to successful distribution of the COVID-19 vaccine. She said the recovery of the Central Area, including the Loop, is critical for the recovery of the city. This is why a recovery task force was started last year. In partnership with the Chicago Central Area Committee, the City of Chicago formed working groups to focus on the Central Area's recovery. In May, these working groups will issue a report summarizing ideas and implementation strategies.
Part of recovery is simply drawing people back downtown. The City is exploring opportunities to safely support outdoor programming, including Chicago Loop Alliance's Sundays on State open streets initiative, set to take place for up to 12 Sundays this summer.
The Loop's recovery, and the city's as a whole, is dependent on the COVID-19 vaccine. Chicago is the only major city in the U.S. focused on equitable distribution, with a focus on areas of the city most burdened by COVID-19, thereby quickly reducing transmission risk. Over 40 percent of first doses are going to Black and Latinx Chicagoans, who are more likely to live in COVID-burdened communities and more likely to work frontline jobs. That said, the City is on track to expand eligibility to all Chicagoans 16 and older beginning April 19. McCombs encouraged everyone to get vaccinated, and encouraged employers to engage with employees by utilizing an online toolkit and communication tools to help get their workers vaccinated.
Next, Janice R. Thomas, Chief of Staff for Metra, spoke about the safety of public transportation during the pandemic. Soon after COVID-19 hit the U.S., a popular narrative—with little data to back it—sprung up that public transportation was unsafe. But in September, Harvard University found that with proper precautions, flying in an airplane can be safer than grocery shopping. The same can be said for buses and trains. For example, there were 212 million rides taken on subways and buses in New York City from June-August 2020. As ridership increased, average COVID-19 cases dropped by 55 percent. And Metra saw 5.4 million rides throughout the pandemic, without one single case of COVID-19 contact traced back to their trains. That there is no correlation between increased transit use and increased cases has been consistent across the country.
This may seem counterintuitive, but there are many reasons why: short duration of trips, masks, the fact that people generally aren't speaking on transit, social distancing, deep cleaning, and ventilation and air filtration. Metra cars replace air 15 times per hour (about once every four minutes), which is more frequent than the CDC's guidelines. These trains also make stops on average every 5.2 minutes, opening doors and flooding the cars with fresh air. The trains are also equipped with hospital-grade air filters.
All of these efforts to keep Metra trains clean and safe are supported by robust communications. Sharing information with passengers about the safety of public transportation is key to getting ridership back up.
Last, Kimberly A. Carter from Hygieneering, Inc., spoke about what office building managers and employers can do to keep employees safe and get them comfortable with the idea of getting back to work. Hygieneering has a Healthy Building Institute program, providing expert indoor environment health and safety inspection, testing, and consulting services that support a healthy building verification program for air quality, water quality, and contact surface hygiene.
Carter said the key steps recommended to safely occupy office buildings in a post-COVID-19 world are air testing, HVAC system inspection and performance evaluation, water testing, contact surface hygiene/cleaning/disinfection program review, written COVID-19 management program review, and public outreach and communication.
"Trust matters more than ever," Carter said. "Building owners and operators around the world are seeking to establish trust with their staff, tenants, and the general public. To develop and maintain this much-needed trust, once the Healthy Buildings Institute (HBI) has a verified healthy and safe indoor environment, the HBI provides the building with an entranceway sign for indoor air quality, water quality, and contact surface hygiene that has a QR code." Anyone can scan the QR code and be taken to information about the building's HBI verification.
The event concluded with a Q&A led by David Broz, using questions submitted by attendees. One of the questions was regarding pinch points for getting Chicagoans vaccinated. McCombs said the first is that the city simply needs more doses, as they are capable of administering more than they are currently, but they're held back by supply. Another is vaccine hesitancy, which can be addressed in a variety of ways, but she recommends having one-on-one conversations with colleagues and loved ones to encourage vaccination.
One attendee asked when Metra would return to normal service. Thomas said they have been adding service as ridership increases. "Metra drastically reduced service at the onset of the pandemic, but each month we're increasing and ramping up to what was normal," she said. "I encourage riders to keep checking the schedule."
One of the major themes of the event was the importance of communication in all of this. It's important to share accurate information about the COVID-19 vaccines and encourage the people in your lives to get an appointment when they can. It's important to dispel the myth that public transportation is unsafe, through social media and everyday conversations with colleagues and friends. And it's important for building owners and managers to communicate about all of the health and safety protocols they've put in place so that workers feel confident in coming into the office.
"I say, spread the word," Thomas said. "Constant communication."
You Might Be Interested In: