4 MIN READ - Over the last 20 years, post-disaster cities have shared a common thread — the use of public art to heal communities. The transformative power of public art was explored at Chicago Loop Alliance's August 27 Downtown Futures Series webinar. View a recording of the full presentation here.
---
In the face of COVID-19 and community response to police violence against Black Americans, art is once again used as a way to move toward recovery, prosperity, and unity. Panelists Patricia Walsh (Public Art & Civic Design Senior Program Manager, Americans for the Arts) and Barrett Keithley (Chicago artist and Co-founder, Paint the City) addressed hundreds of virtual attendees from around the world and answered questions moderated by David Broz (Principal for Gensler and member of the Chicago Loop Alliance Board of Directors).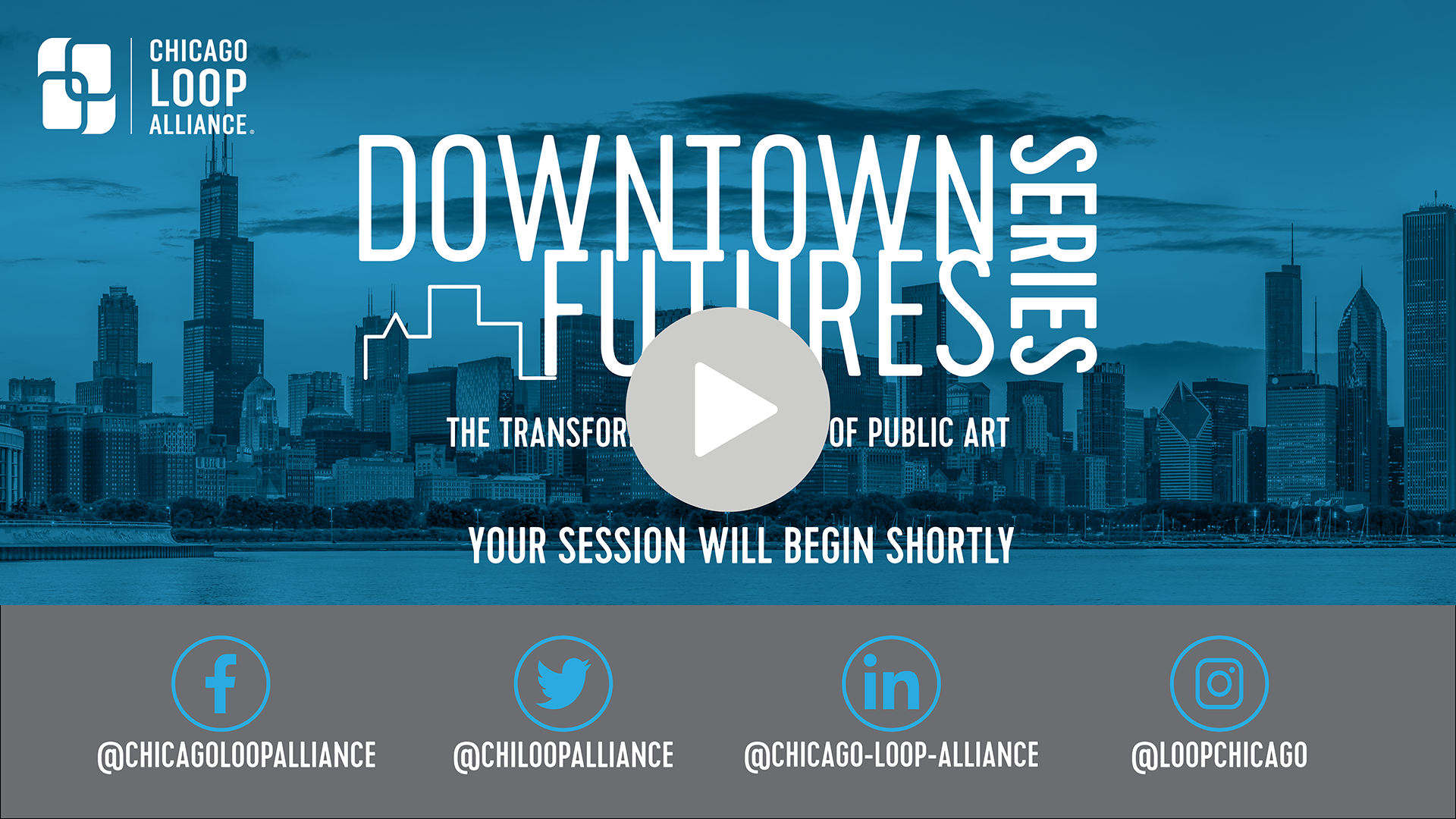 The event began with Patricia Walsh offering an overview of Americans for the Arts, a nonprofit organization whose primary focus is advancing the arts in the United States, and its advocacy arm, the Americans for the Arts Action Fund. She then described how public art intersects with COVID-19 across the country.
"One of the ways cities used public art was to express this notion of public safety," Walsh said. "Encouraging the use of masks, social distancing, and using these assets of public art to help deliver that message." One local example includes masks placed on The Chicago Picasso and the Art Institute lions.
Public art was also used across the country to help kick-start drive market tourism and lure locals back downtown. Apps and other marketing initiatives cataloged and collected public art pieces in a city, making it easy for people to make trips to visit the works. Chicago Loop Alliance used blogs and other digital marketing to remind its audience of the Loop's iconic works.
Despite these efforts, public art has taken an economic hit just like any other industry during this pandemic. Americans for the Arts began tracking these impacts and found from 23,800 survey responses:
$10.2 billion in estimated loss for nonprofit arts and culture organizations
94% of artists reported loss of income (average loss: $22,100 each in creativity-based income)
63% of artists became fully unemployed
66% of artists were unable to access supplies, resources, spaces, and/or people necessary for their work
76% of artists use their art to raise morale and create community cohesion
In addition to the COVID-19 disaster, cities are also experiencing pain from police brutality against Black Americans and other systemic inequities. As part of a new social justice revolution, people use public art to express their thoughts, feelings, and their need to be heard. Around 100 "Black Lives Matter" street murals have been identified throughout the country. And conversations around monuments and statues are heating up as the public arts field grapples with whether "tagging" is art or vandalism.
Next, Barrett Keithley spoke about his experiences as a Chicago artist and curator/producer. He said he had to carve out space for himself when he was first getting started.
"When I first got into the art game, I noticed that there weren't a lot of platforms for myself and people who look like me," he said. "I kind of felt marginalized because I wanted to go to these galleries, and I wanted to go to these artist events, and I did not feel they spoke to me. So I took it upon myself to start producing my own art shows and started to build my own following. From that point, I've always had a bit of activism in me. It's the way I was raised on the South Side of Chicago. that could've happened for me is that I was taught the history of Black people, the diaspora, on all different continents. So I never felt like I didn't know who I was or where I came from."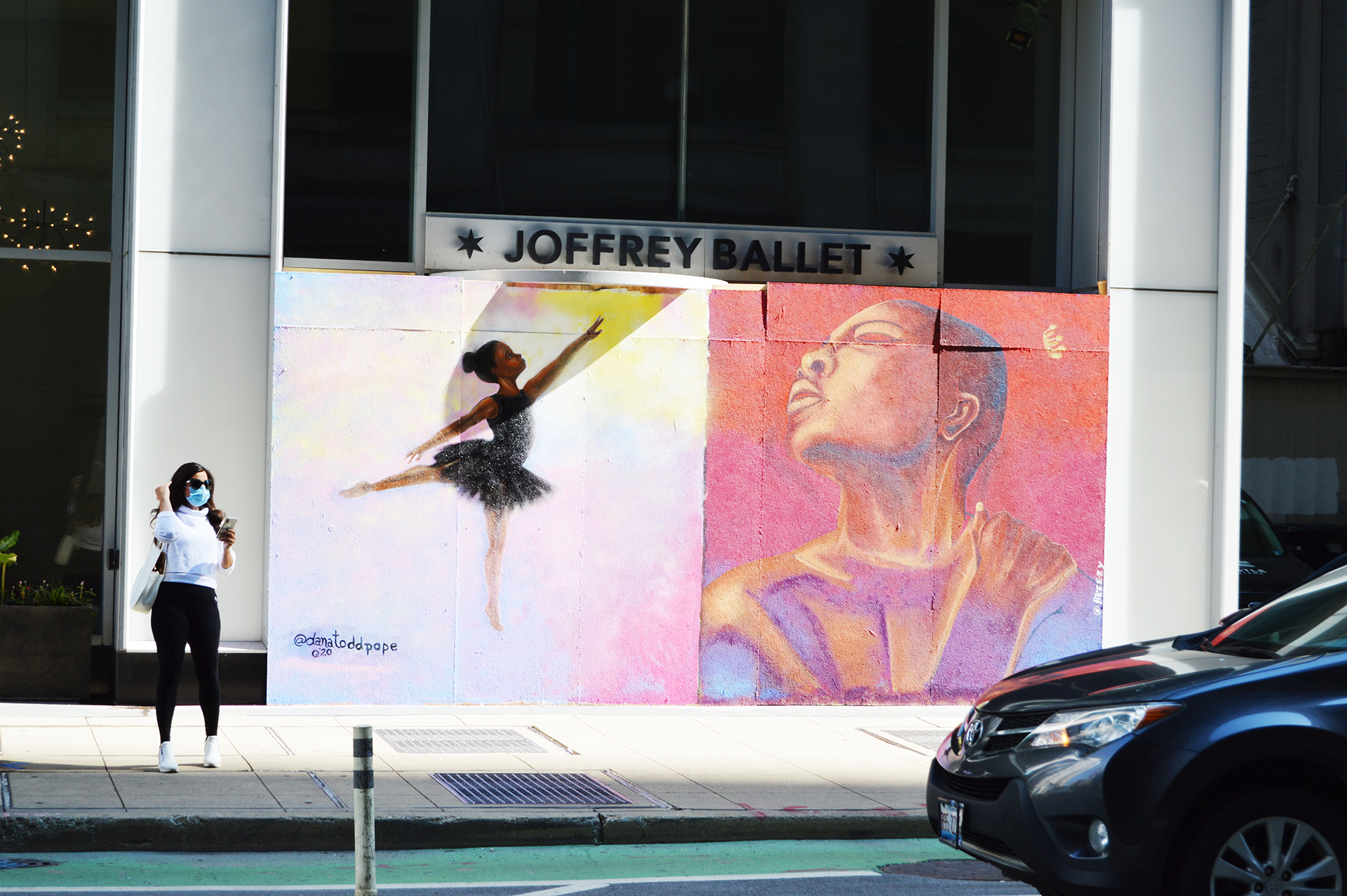 With Missy Perkins, Keithley co-founded Paint the City, a nonprofit launched in the wake of the George Floyd protests. They founded Paint the City in an effort to bring work to the artists they knew in Chicago who were struggling due to COVID-19, and to find an outlet to express themselves amid the tragedy of Floyd's killing. The boarded up windows of damaged properties in downtown Chicago and throughout the city looked like canvases to Keithley and the artists he knew. The project also allowed Black artists to connect with business owners across the city. So far, about 60 artists have painted about 70 businesses throughout Chicago and in some suburbs. Anyone can contribute to Paint the City through their GoFundMe campaign, and anyone interested in a Paint the City mural for their business can email paintthecity312@gmail.com.
After Keithley's presentation, David Broz led a Q&A session using audience questions. The panelists discussed the value of art for children as a creative outlet; the idea of "create with us, not for us" and the importance of engaging with communities to address their needs rather than making assumptions; how public art can better capture marginalized perspectives and help acknowledge a fuller history; and how technology can be used to connect people with public art.
The role of downtowns in all of this is a gathering place; the Chicago Loop has always been the city's go-to spot for protests and demonstrations, which is one reason why Chicago Loop Alliance recently nicknamed the Loop "Everyone's Neighborhood." Art's role in recovery from disaster is multifaceted, but perhaps the most important part it plays is telling a story, and starting a conversation.
You Might Be Interested In: