Panelists Salma Ghanem (Interim Provost, DePaul University), Ron Jackson (Past Chair, International Town & Gown Association), and Peter Isaac (Senior Vice President of Campus Partnerships, CA Ventures) addressed hundreds of virtual attendees from around the world and answered questions moderated by David Broz (Principal for Gensler and member of the Chicago Loop Alliance Board of Directors).
The event began with Salma Ghanem offering an update on DePaul's plans for the upcoming fall term. Safety is the university's top priority, and the ability to be nimble is paramount. Plans put in place one day may change overnight as the details of the pandemic shift. At the moment, DePaul plans to ensure classes that require face-to-face learning, such as any labs, are set up in a way that is safe. And classes that do not require in-person instruction are being offered online. Unnecessary travel for faculty, staff, and students has also been eliminated. And the university has created a tool for density analysis that tracks how many students are in any building, on any floor, in any classroom, down to the hour.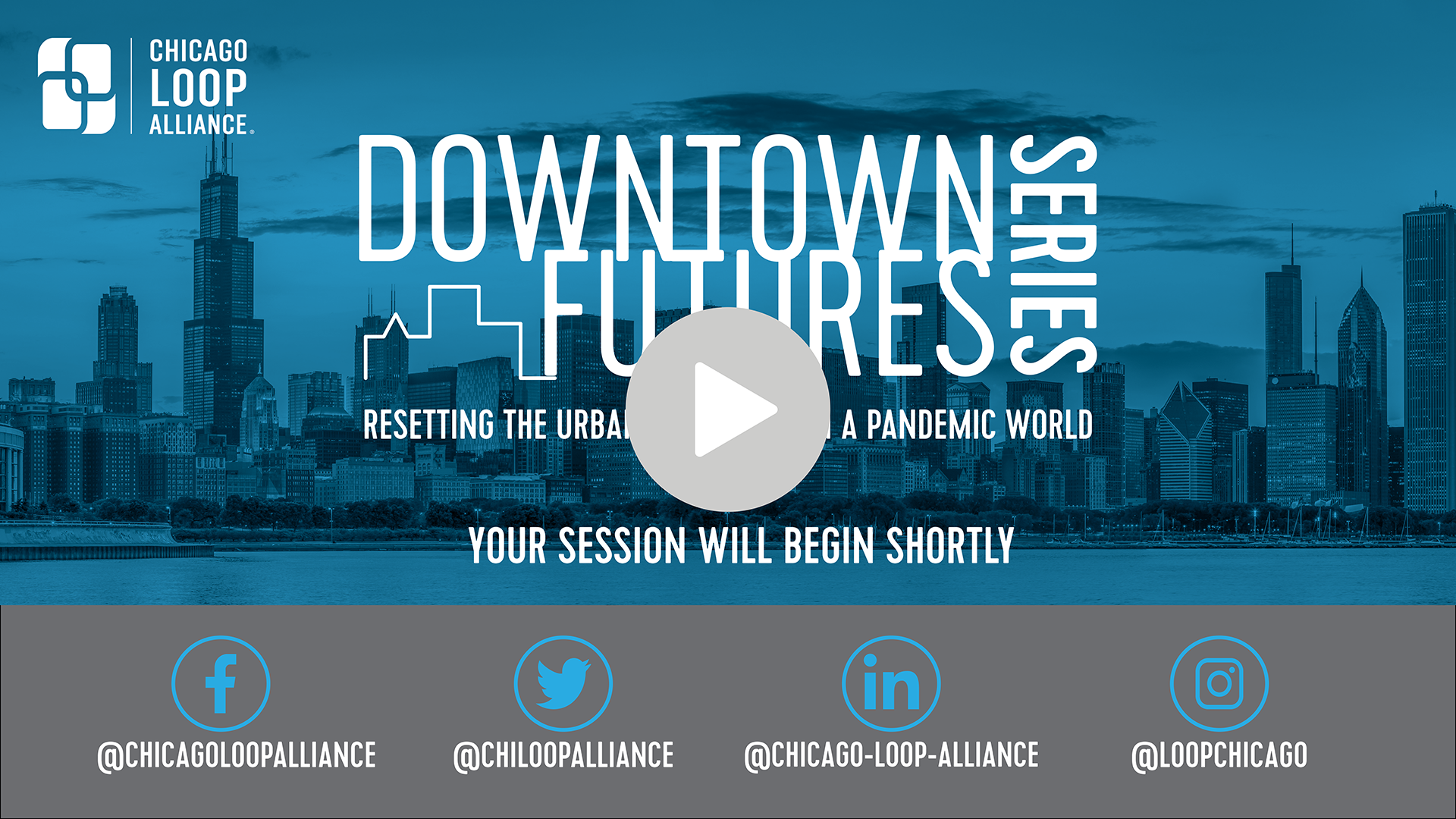 Ghanem said one of their challenges is taking everyone's concerns into consideration—from faculty and staff to students and parents. Some favor online instruction, while others still feel in-person learning is necessary. But in the end, any decisions are guided by health and safety.
Another challenge is addressing how these changes may affect enrollment, how remote classes can still integrate "service learning," and how the university's quickly changing plans can be effectively communicated to all stakeholders.
Specific challenges DePaul is facing due to its urban setting include ensuring students, faculty and staff have a safe way of getting around the city, as fears over public transportation persist. International students also must grapple with whether they will even be able to travel to or from the U.S. And even out-of-state students now must consider Chicago's 14-day quarantine order for anyone traveling from a list of 22 states and counting. DePaul is making student housing available two weeks early in order to accommodate these students.
Next, Ron Jackson of the International Town & Gown Association spoke on national trends. "We're seeing that universities are making decisions on a day-to-day basis, and even recently, some universities are changing their decisions that they made even just a month ago," Jackson said. "Universities know the immersion model is the best model for student learning, so we really want that, and the students want that. They want to be in spaces with other students sharing ideas, in addition to having in-class instruction. But we understand the dynamics of this coronavirus in that it tells us the opposite."
Some universities nationwide have pushed back start dates, some will only allow freshmen in on-campus housing, and some are taking a phased reopening approach in the same way cities and states are. Some are reducing capacity by staggering who's in the classroom. And all are grappling with dorms, which are traditionally set up in a way that does not allow for social distancing.
On the topic of student housing, last up was Peter Isaac, Senior Vice President of Campus Partnerships for CA Ventures, which has 20,000 beds of student housing in its portfolio across the country. Isaac said when schools were shutting down on-campus housing in March, he saw an uptick in the number of applications for short-term housing in off-campus properties, showing that students wanted to stay in their college towns, among their friends and in line with the habits and systems they'd spent the school year building. While there is much buzz about what universities will do with students as far as instruction goes, it's equally important to figure out how to keep them safe and engaged outside the classroom.
"The future looks like partnership," Isaac said. "I'm seeing programs that are really inventive coming forward. Off-campus partnerships are really prominent."
After the panelists presented, David Broz led a Q&A. One attendee asked if universities planned to incorporate COVID-19 guidelines into their codes of conduct. Ghanem said DePaul does plan to ask students to agree to certain precautions, including wearing masks on campus and checking in with an app to screen for COVID-19 symptoms. "What we're hoping is to create this idea of campus safety, and we really need to remind everybody that what they do doesn't only endanger themselves, but endangers those around them," she said.
Another attendee asked if DePaul was creating partnerships with hotels to provide more student housing. She said so far they have not worked with hotels, but are preparing for the possibility that even students who will not engage in face-to-face learning may still want to live in Chicago. They are working on configuring dorms safely and strengthening relationships with off-campus housing.
Universities in Chicago are also strengthening their relationships with one another, Ghanem said, staying in communication about reopening plans and sharing ideas in a collaborative manner. Each university has different considerations, but there is a great sense of community.
The question also arose as to how faculty are responding. Ron Jackson said while some faculty thrive with in-person instruction, one upside to virtual learning is the ability to include guest speakers from around the world very easily and seamlessly, offering perspectives students wouldn't necessarily get in a classroom setting.
And on that note, the panelists explored the idea that online learning may be more equitable. Jackson and Ghanem said universities had already been pushing online learning before COVID-19 in order to reach more students, and more diverse students. The pandemic just made that more urgent. It has forced universities to look at what students want, and what they need in order to enroll. "Universities were developed for the privileged, the elite," Jackson said. "That's what some institutions were built upon. And now, we're working on making sure universities are available to everyone."
You Might Be Interested In: