2 MIN READ -- Since July 2020, Chicago Loop Alliance (CLA) has released monthly reports on downtown activity using a variety of data sources to track operations during COVID-19, and today released its September report, which also includes data for Sundays on State. The report tracks COVID-19 positivity rates, pedestrian activity, parking volumes, hotel occupancy, number of office workers on-site and more. View the full September report here. Some highlights include:
---
After a decline in pedestrian activity in August likely due to a Delta variant surge, pedestrian activity in September improved, especially over Labor Day weekend, remaining over 50 percent of normal levels.
Sundays on State pedestrian counts compared to the same Sundays in 2019 are within an 11-percentage-point range of 2019 levels, showing the event has been effective at bringing vibrancy back to the Loop. The two Sundays on State events in September met or exceeded normal pedestrian levels.
Chicagoland's office human occupancy rose back to 35 percent of normal, matching the record in July 2021 for the highest rate since the pandemic began. This is likely due to the decline in COVID-19 positivity and workers returning from summer vacations. The recent news that SMS Assist, LLC, signed a long-term lease to move from the Magnificent Mile to the Loop in Q1 2022 is further indication of growing confidence in the Loop office market.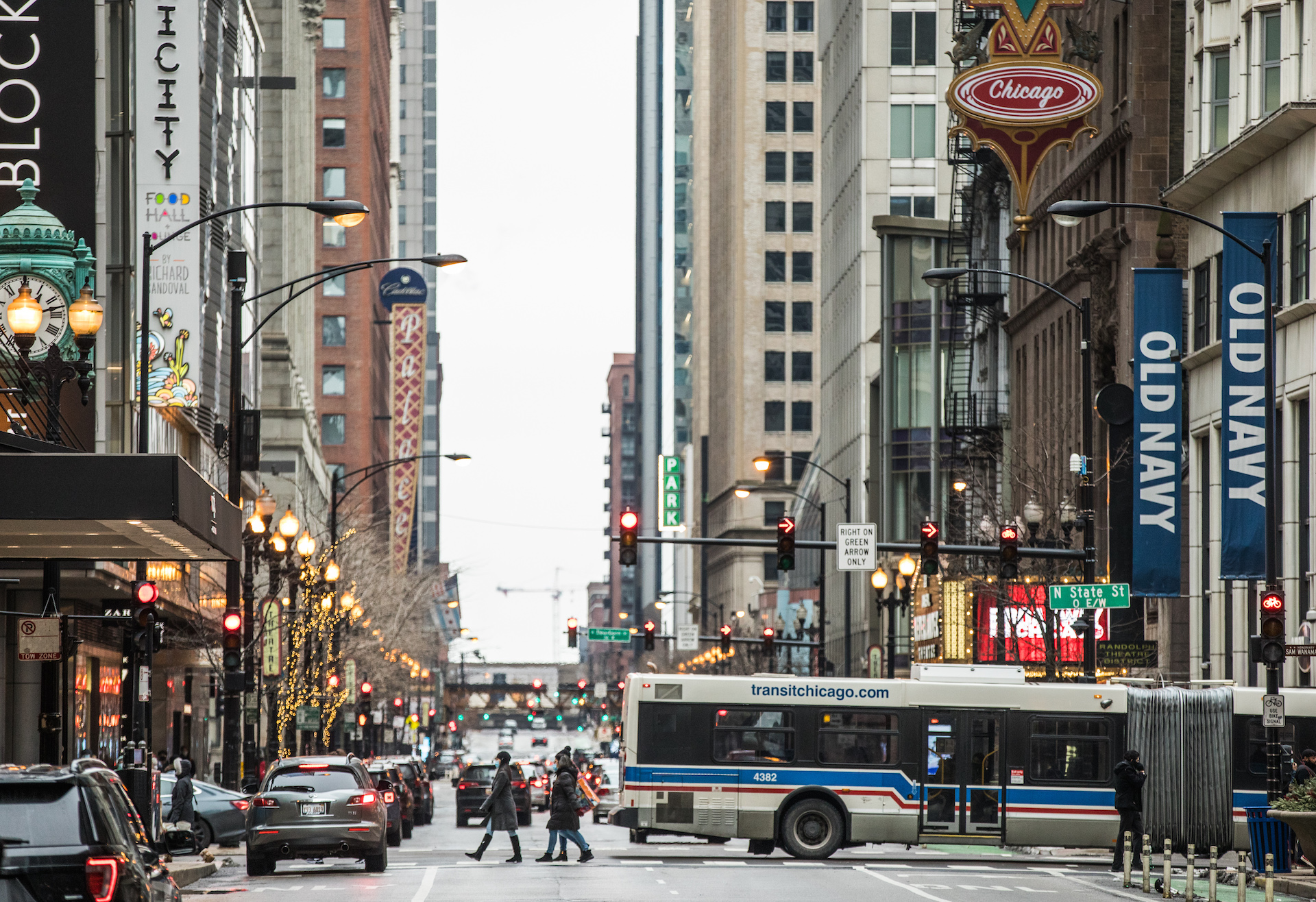 Along with office occupancy rates, parking garage occupancy rates increased to 62 percent of 2019 levels. Digital parking bookings have been over 100 percent of normal levels for eleven weeks, showing that the Loop continues to attract visitors to the many open venues and experiences downtown. As theaters kicked off their 2021-22 seasons in October, parking and pedestrian metrics are expected to rise, all other factors remaining equal.
Preliminary CTA data suggests that ridership also trended upward in September, hitting 57 percent of normal.
The opening of Urbanspace's first Chicago food hall at State and Washington is expected to contribute to continued increases in foot traffic on State Street.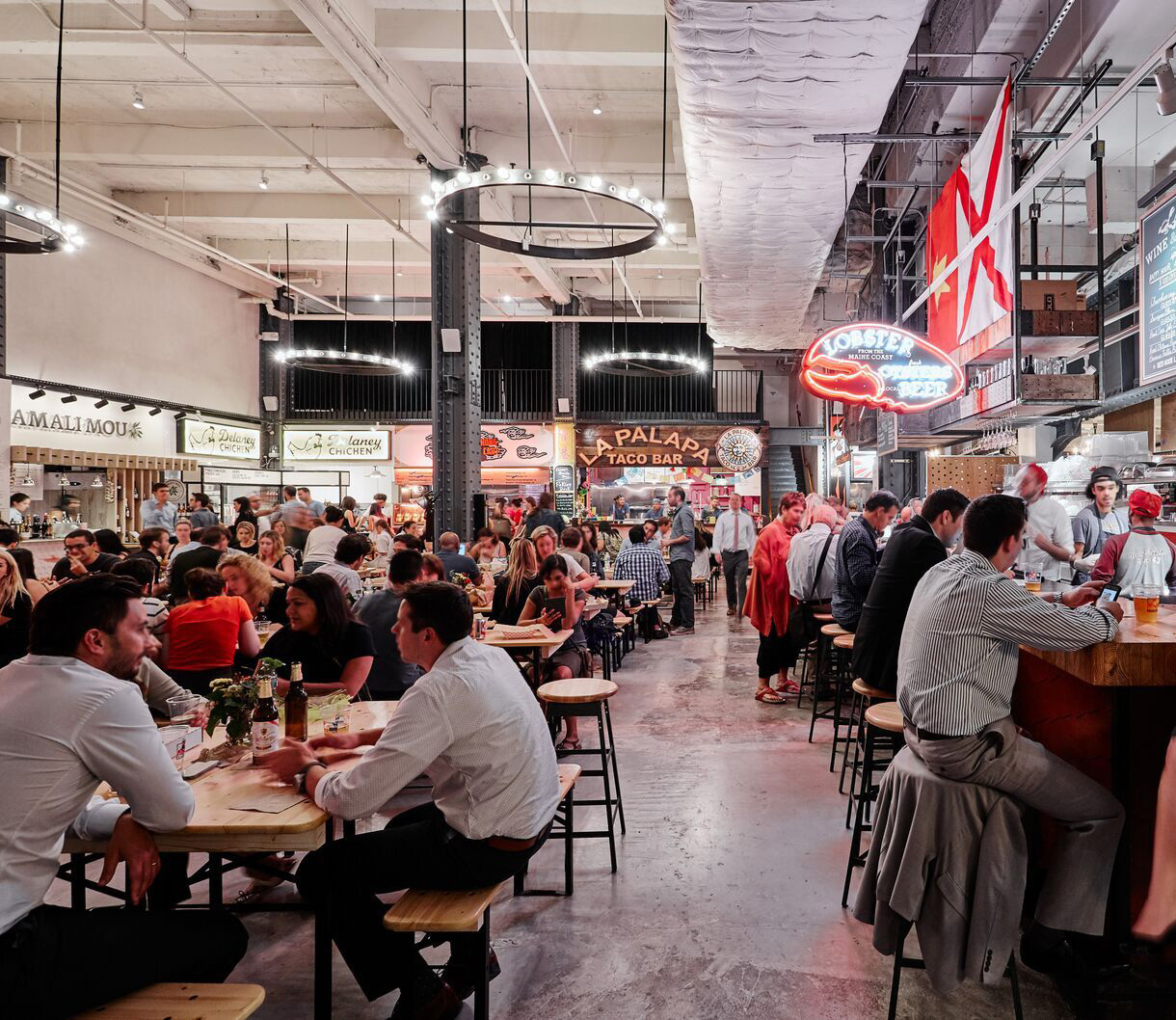 Hotel occupancy in August fell but stayed above 50 percent of normal, which was expected after major July events like the Chicago Auto Show and Lollapalooza. This hotel data is always provided one month behind.
"September and the early weeks of October brought a variety of good news for the Loop," said Chicago Loop Alliance President and CEO Michael Edwards. "Not only did Urbanspace open the first of two locations in the Loop, but Petterino's reopened with a brilliant reconcept, and theaters that have been dark for a year and a half opened their doors to audiences once again. Businesses continue to show interest in and sign leases for Loop office space, and the city's COVID-19 numbers are trending downward in an encouraging way. As vaccines become available for children younger than 12, and as the city continues to make progress with adult vaccinations, we are very encouraged that we'll see a continued recovery for the Loop."
Sundays on State, which has significantly boosted pedestrian activity during each event, wrapped up on Sept. 12. Chicago Loop Alliance recently released a comprehensive report on the event series' impacts, including that attendees came from every Chicago neighborhood and beyond, and that the event had an economic impact of over $12 million. Read the full report here.
For those Loop workers who continue to return downtown, Chicago Loop Alliance has created a Back to Work Toolkit that can be found at LoopChicago.com/BackToWork. The toolkit includes insider tips for working downtown in the Loop for those who never left, as well as those who are returning for the first time. Find useful information on how to safely get downtown; what's new in the Loop; what the Loop looks like these days; lunch and happy hour spots; and more.
Chicago Loop Alliance invites people to share their experiences downtown on social media using #BackInTheLoop.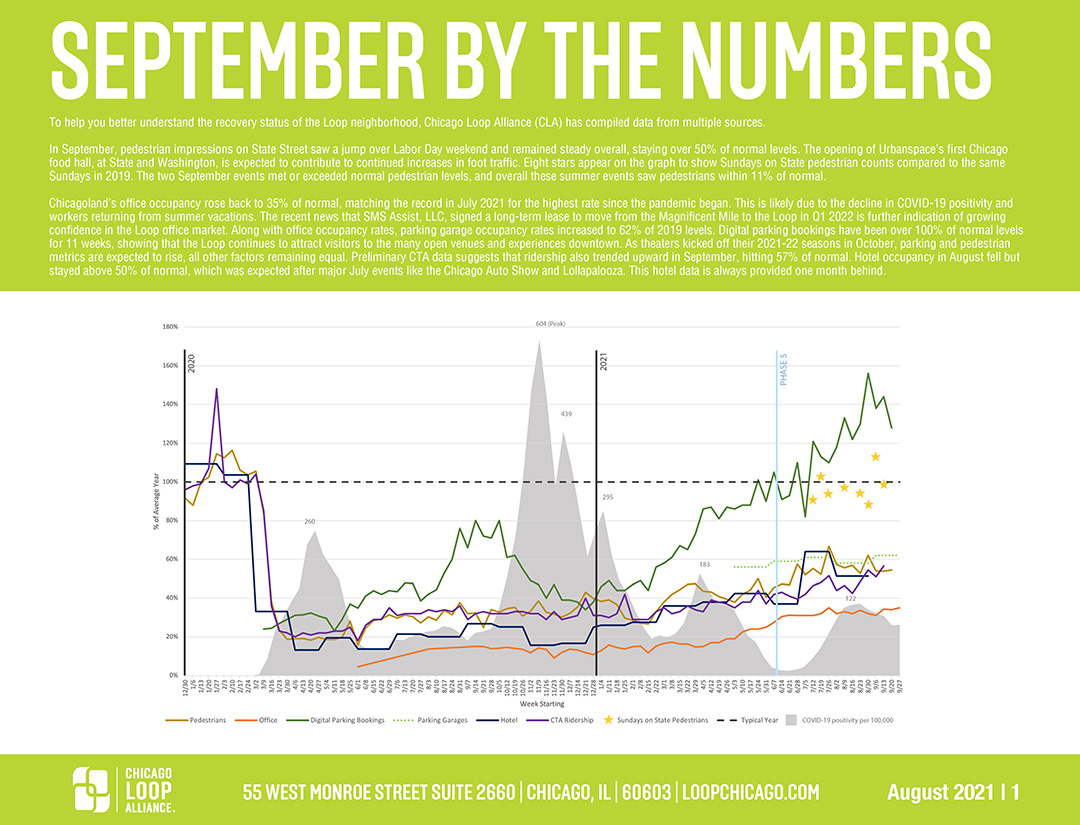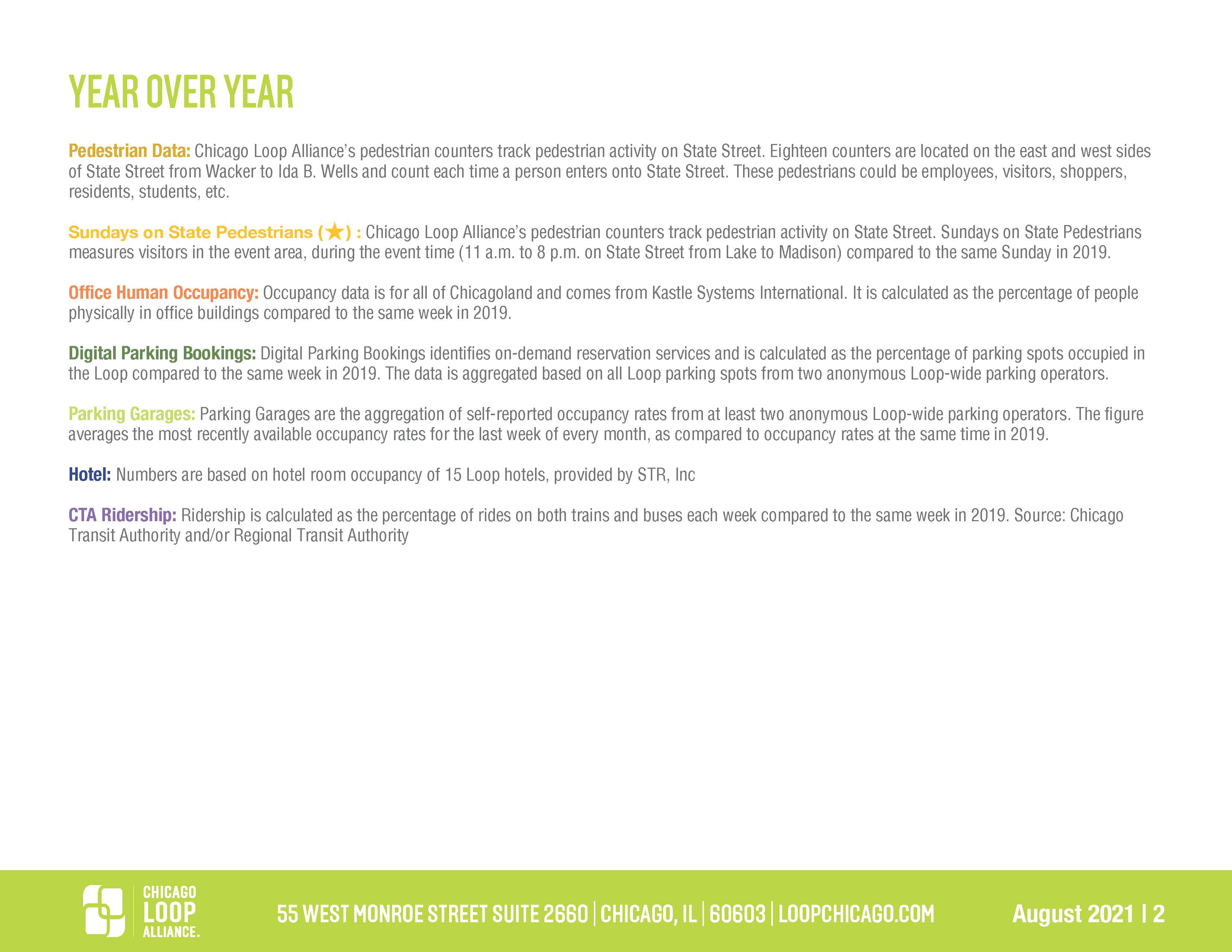 You Might Be Interested In: