2 MIN READ – You can enjoy some of the best tours and attractions downtown in the Loop. Whether by foot, boat, skate, or bike, get outside and learn something new about the city.
---
Skydeck Chicago at Willis Tower reopened to the public on April 23 after completing an extensive redevelopment. The revamped Skydeck Chicago—already rated a Top 10 destination by Tripadvisor.com—provides a can't-miss, one-stop attraction to discover and see all that the city of Chicago offers from an incomparable vantage point. The complete transformation encompasses the attraction's lower level, delivering an interactive experience that celebrates the unique personality, history, neighborhoods, and sites of Chicago. The lower-level museum is further complemented by a visit to the internationally recognized observation deck to take in the city from 103 floors up and step out on The Ledge; the four thrilling glass floor balconies extending from the Tower.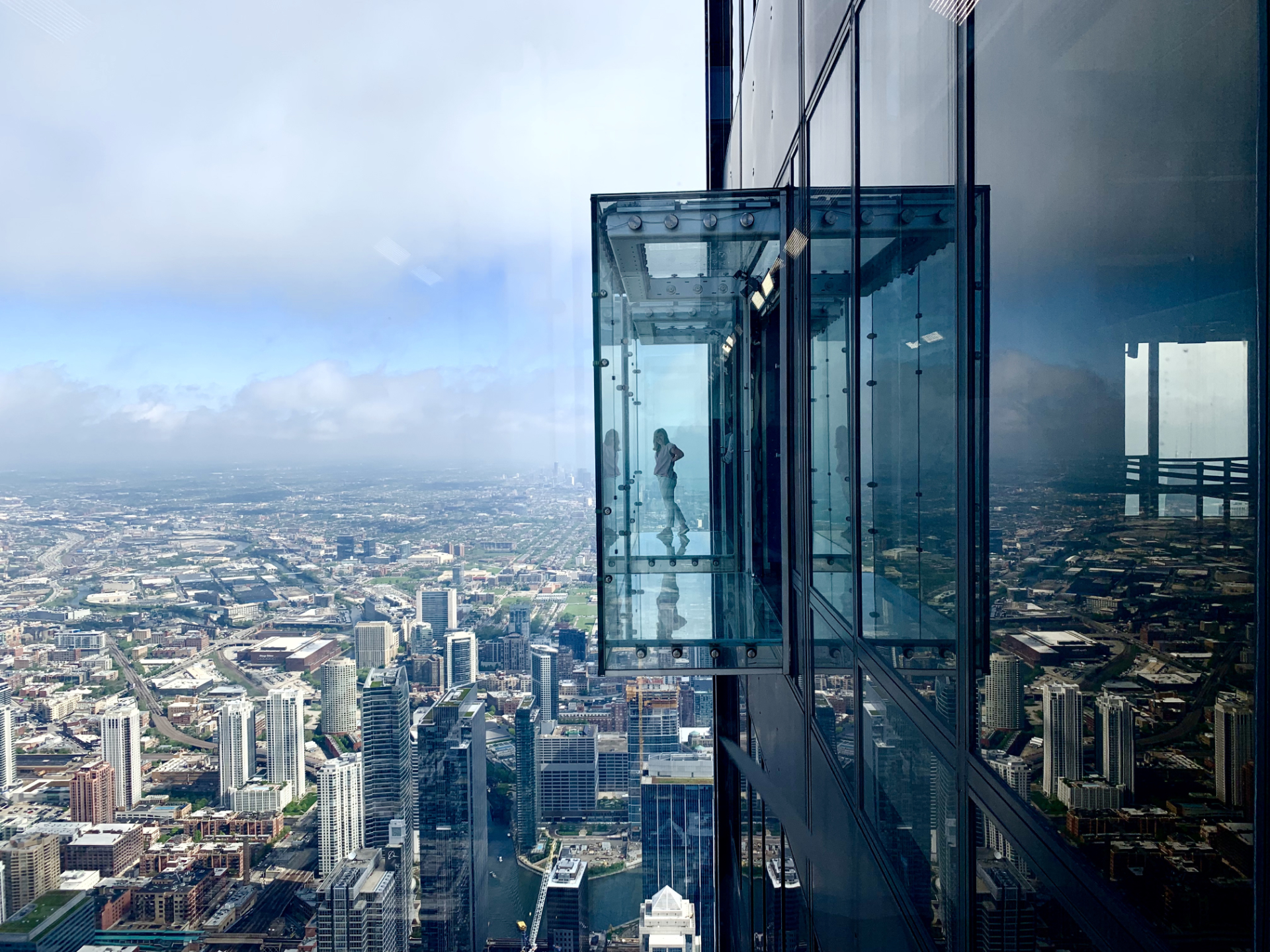 360 CHICAGO Observation Deck and TILT thrill ride re-opened January 29. Mask up and enjoy the memorable panoramic views and the highest thrill ride in Chicago. Until additional indoor dining restrictions are eased, BAR 94 will maintain its temporary closure. All state health protocols are strictly observed to ensure the health and safety of all visitors and staff.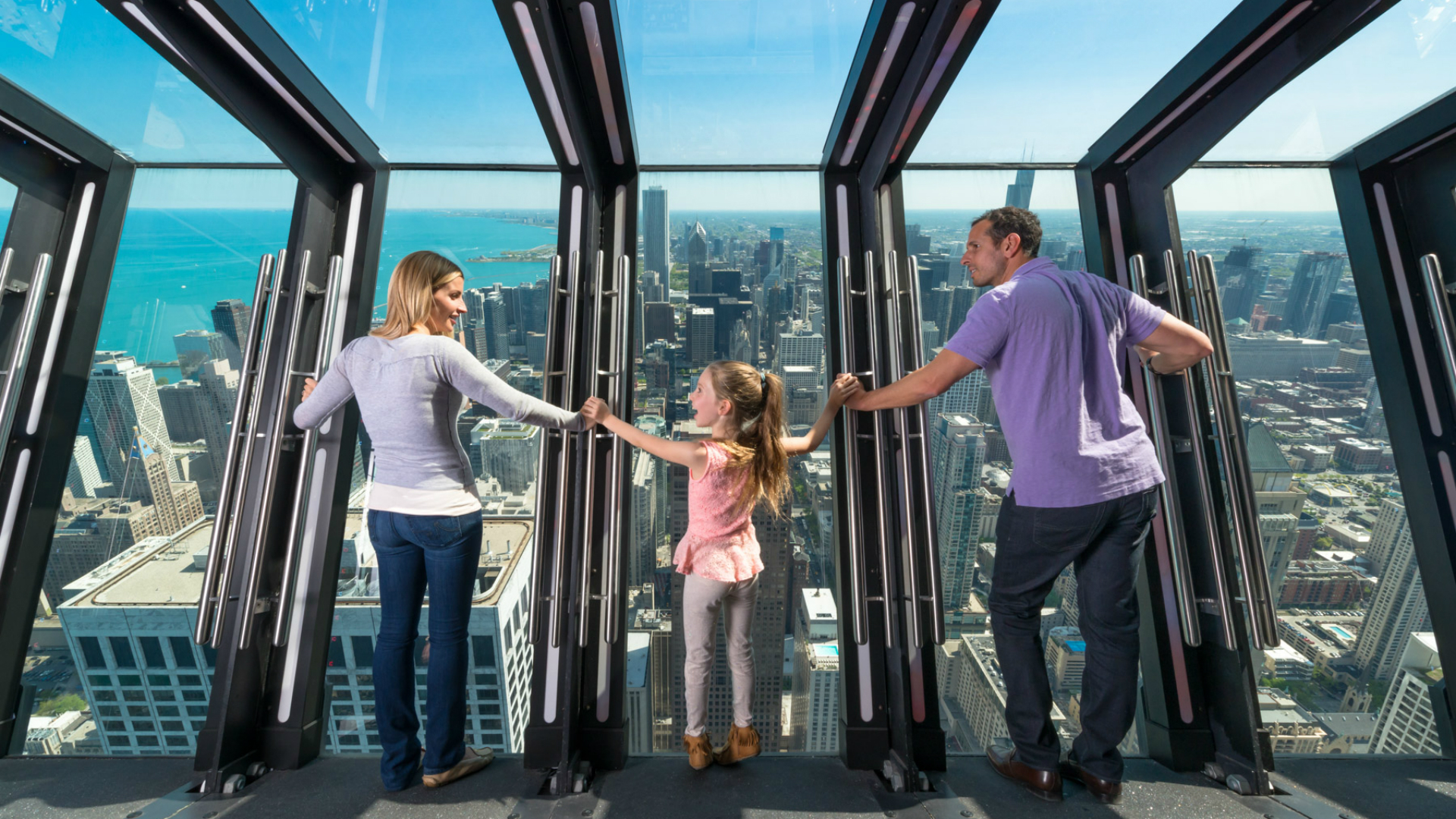 There's nothing like strolling through one of the myriad museums in the Loop. From major players like the Art Institute of Chicago to more low-key gems like the Museum of Contemporary Photography, downtown Chicago has a spot to meet any interest. Be sure to check visitor information for hours, COVID-19 protocols, reservation requirements, and more before your visit to a Loop museum.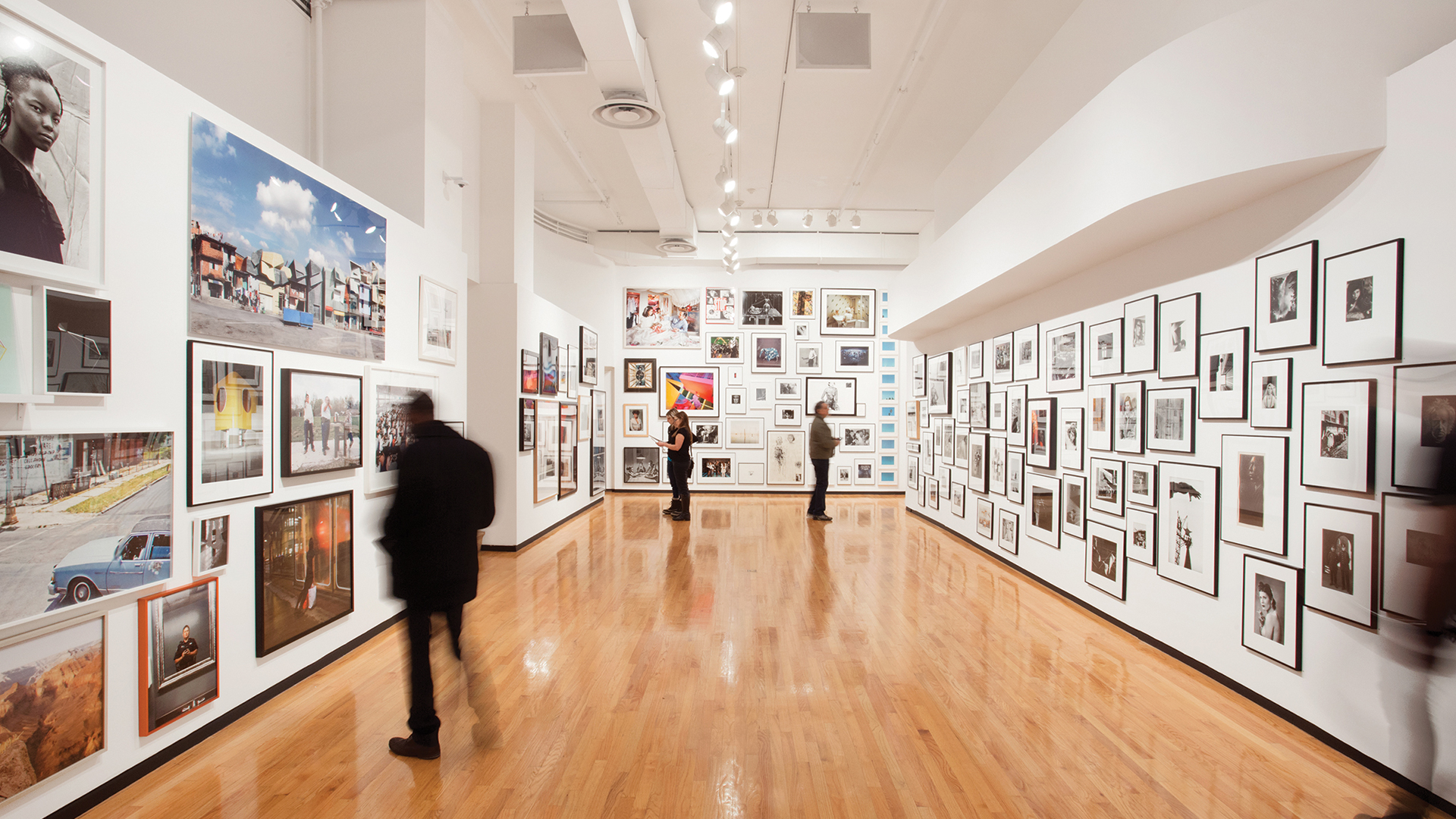 Experience the beauty of Chicago and learn about Chicago's deep architectural history. Part of CAC@Home, CAC Live online events bring the world of architecture and design to you—wherever you are. Additionally, select Chicago Architecture Center walking tours are available. Those who attend CAC walking tours departing through April may request vouchers for complimentary Center admission once exhibits reopen in May. Chicago Architecture Foundation Center River Cruises aboard Chicago's First Lady resumed on April 17. Tickets for the river cruise are on sale as of April 1. For the time being, all walking tours—including custom and private bookings—are limited to small groups only, with face coverings and advance reservations required. Learn more.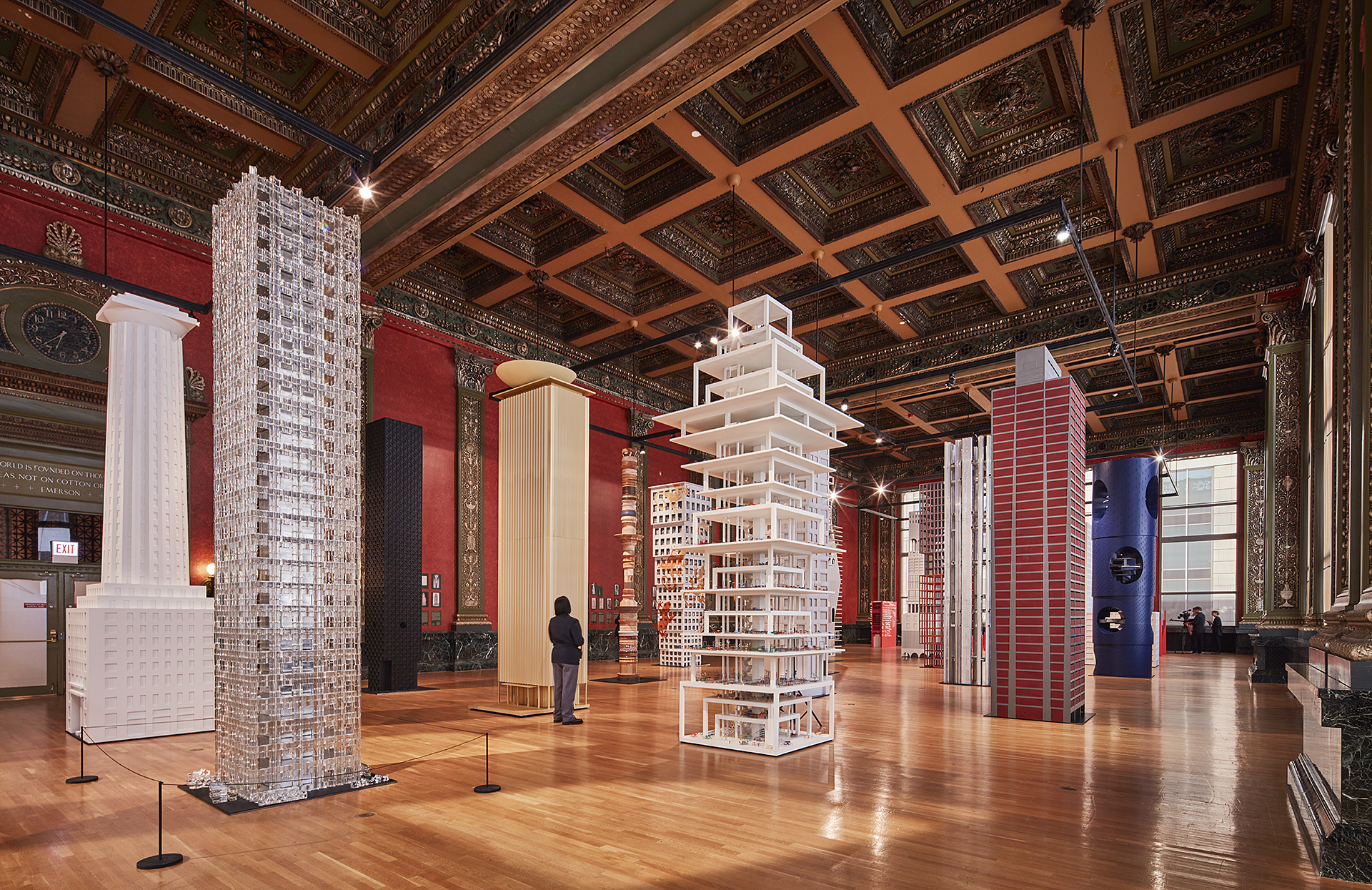 Big bus chicago
Big Bus Chicago tours are back! With a completely new tour format, the iconic Loop experience is a must-do. Three energetic tour guides take you on a fantastic storytelling adventure on board an open-top bus tour of downtown Chicago. From the top deck you can enjoy wind in your hair and sunshine on your face as we bring to life the people, history, art, and culture of this great city. Daily Hop-on Hop-off city tours with 1 or 2-day tickets are available departing from 12 locations downtown including the Chicago Riverwalk, Navy Pier and Willis Tower, and 75-minute Panoramic Evening Tours begin and end at Navy Pier, nightly at 7:30 p.m. through October 31. Learn more.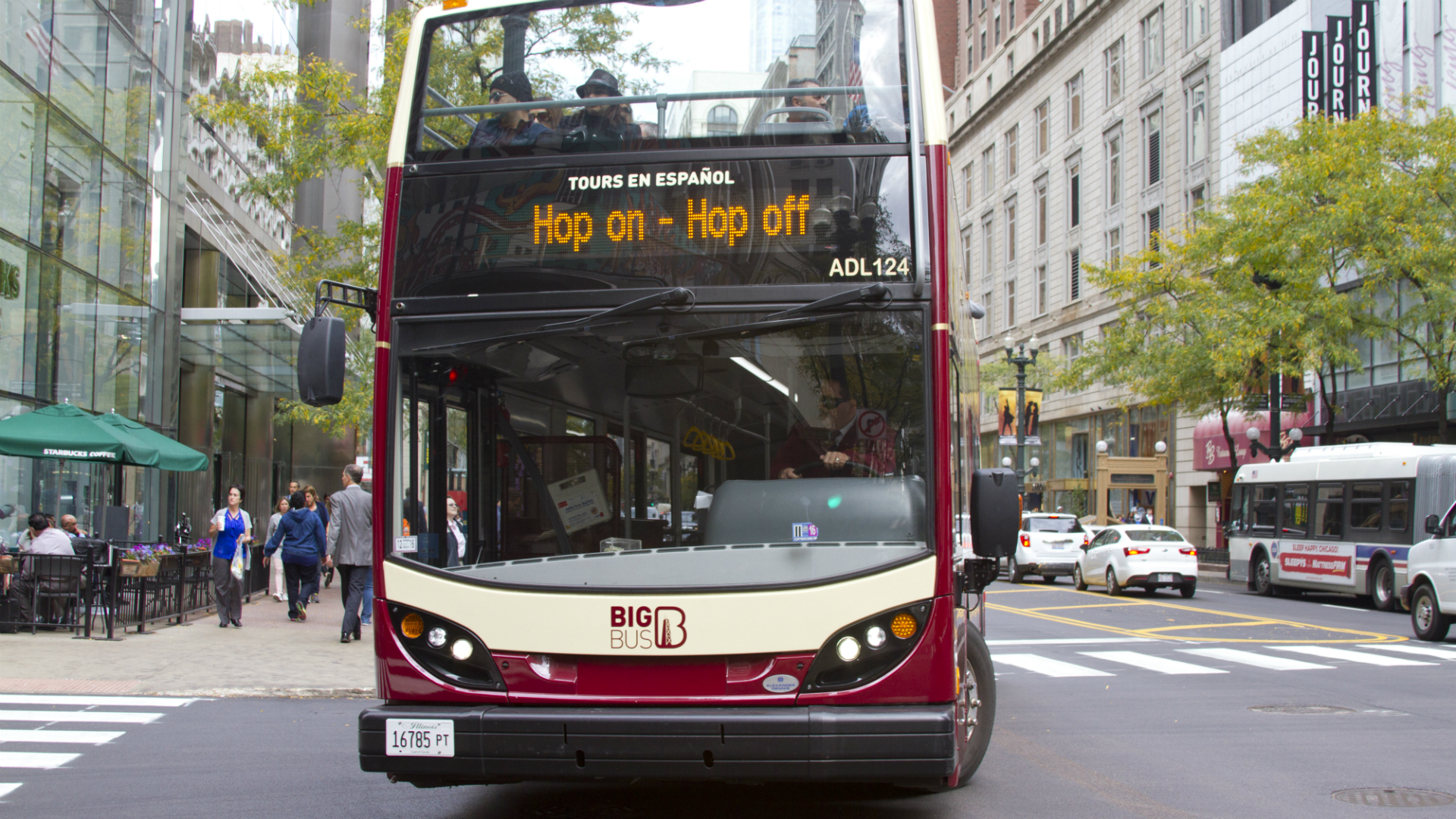 The Auditorium Theatre's Historic Theatre Tours are back. The Auditorium Theatre, designed by famed architects Louis Sullivan and Dankmar Adler, opened on December 9, 1889, and was declared a National Historic Landmark in 1975. Historic Tours take patrons behind the scenes to view it as few do. The tour includes legendary accounts of how and why the theatre was built; stories of the many artists who graced the historic stage; and a closer look at the brilliant 24-karat gold-leafed ceiling arches, hundreds of Sullivan's beautifully restored intricate stencil patterns, the stained glass muses at the entrance, and murals by Charles Holloway and Albert Fleury. Tours are approximately 60 minutes in length. Individual tickets cost $15 each, and private tours start at $250 for up to 6 people.
If you're staying at home, enjoy the Auditorium's 20-minute virtual tour, hosted by Auditorium Theatre CEO Rich Regan.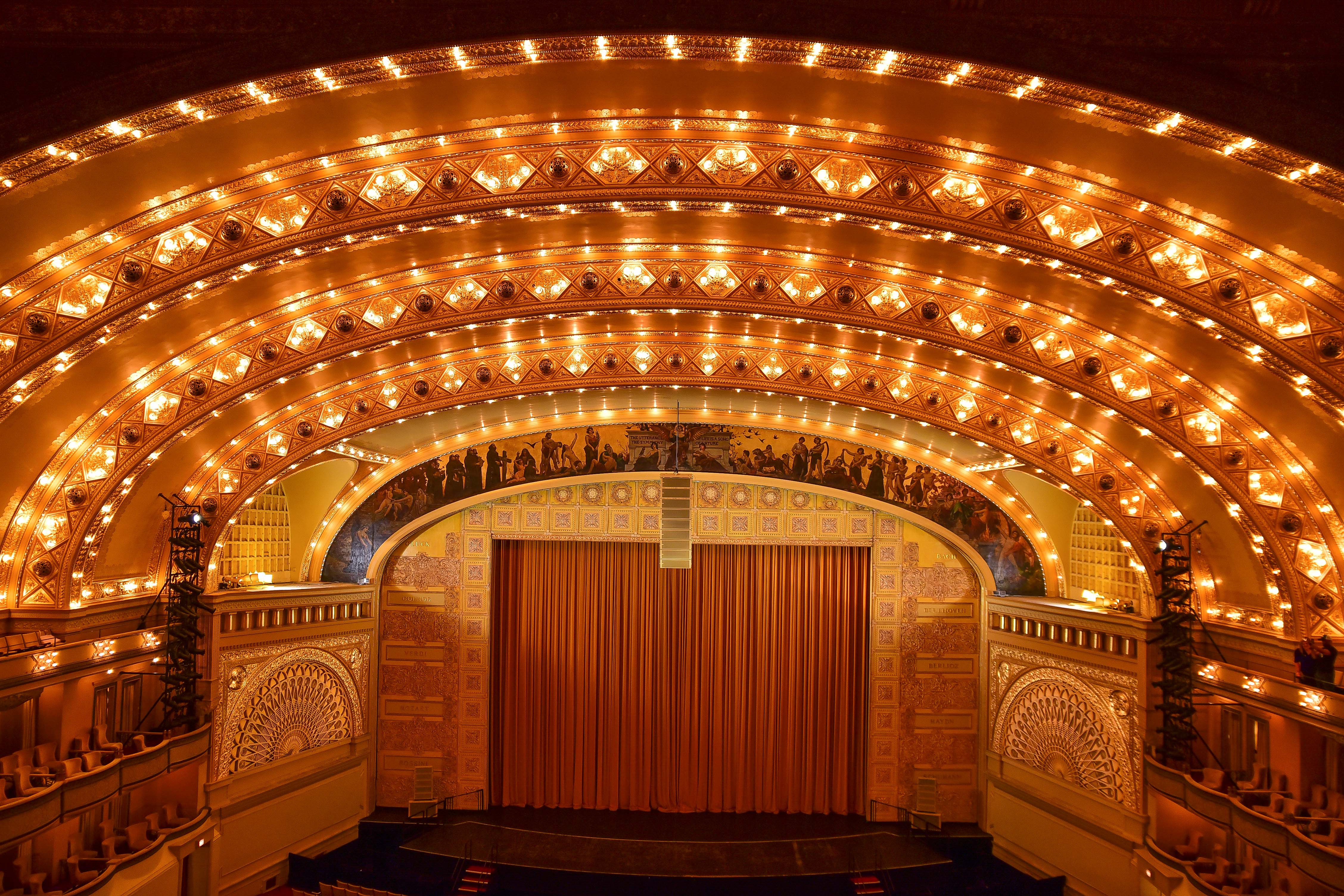 Architecture River Tours highlight over 40 iconic Chicago buildings lining the Chicago River. Tours meander through the Chicago River for 60 minutes. With the city's largest fleet and dozens of architectural guides, Shoreline Sightseeing is one of Chicago's most popular tours. Departures from Michigan Avenue are available on weekends. Enjoy Navy Pier's fireworks on their Architecture Fireworks Tours and Lake Fireworks Tours through September 4. Their popular Spanish-language Architecture River Tours have also returned. The tours are currently limited to Saturday mornings departing from Michigan Avenue or Navy Pier, with plans for an expanded schedule throughout the summer.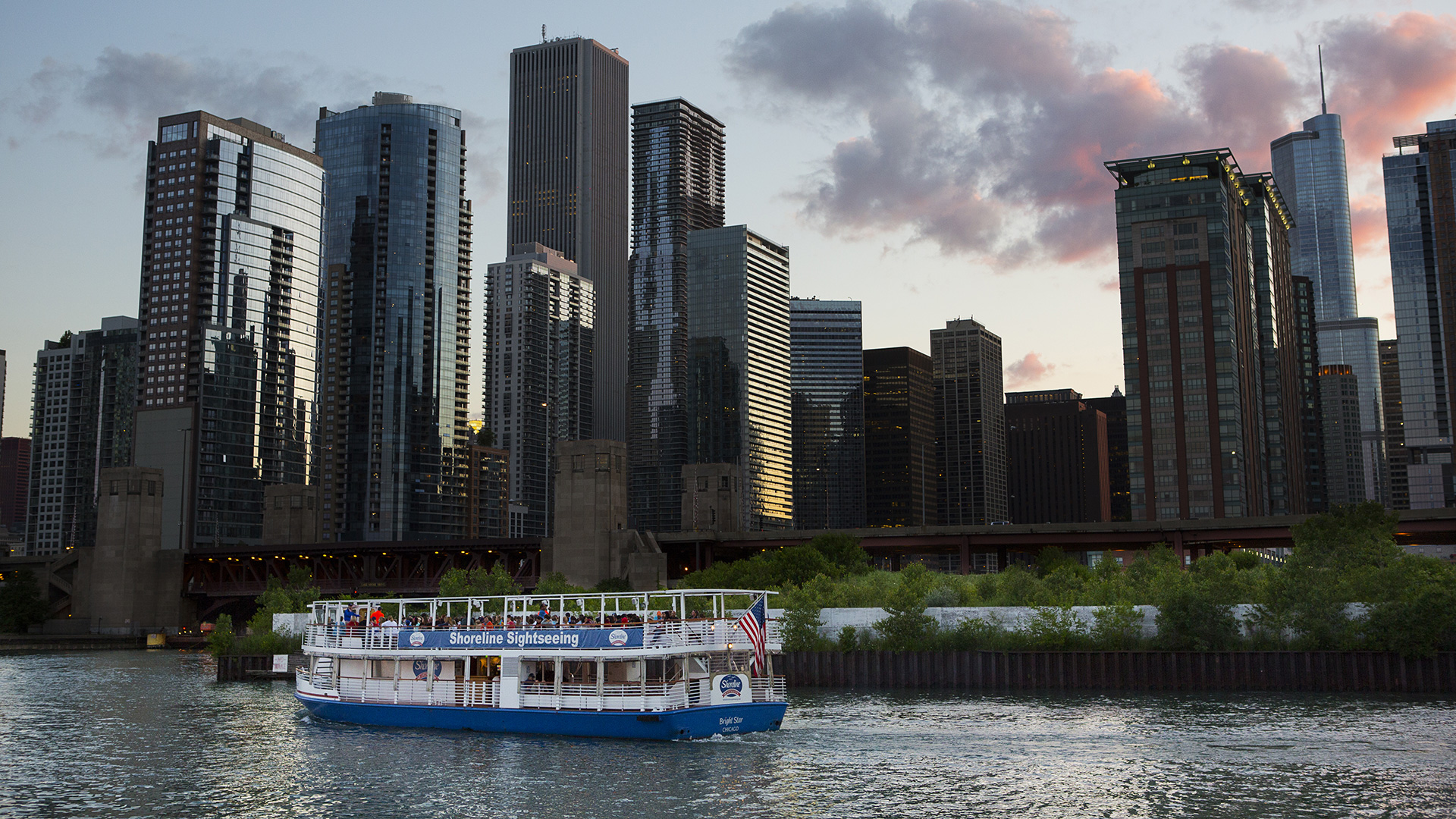 So much to do outdoors! The Roller Blade and Scooter Ribbon will reopen April 30. From April 30-May 27 and September 7-26, the ribbon will be open Monday-Sunday from noon-6 p.m.; May 28-Labor Day, the ribbon will be open Sunday-Thursday from noon-6 p.m., and Friday and Saturday from noon-8:00 p.m. The Climbing Wall and Play Garden will reopen Memorial Day Weekend. Stay up-to-date with precautions on their social media and website.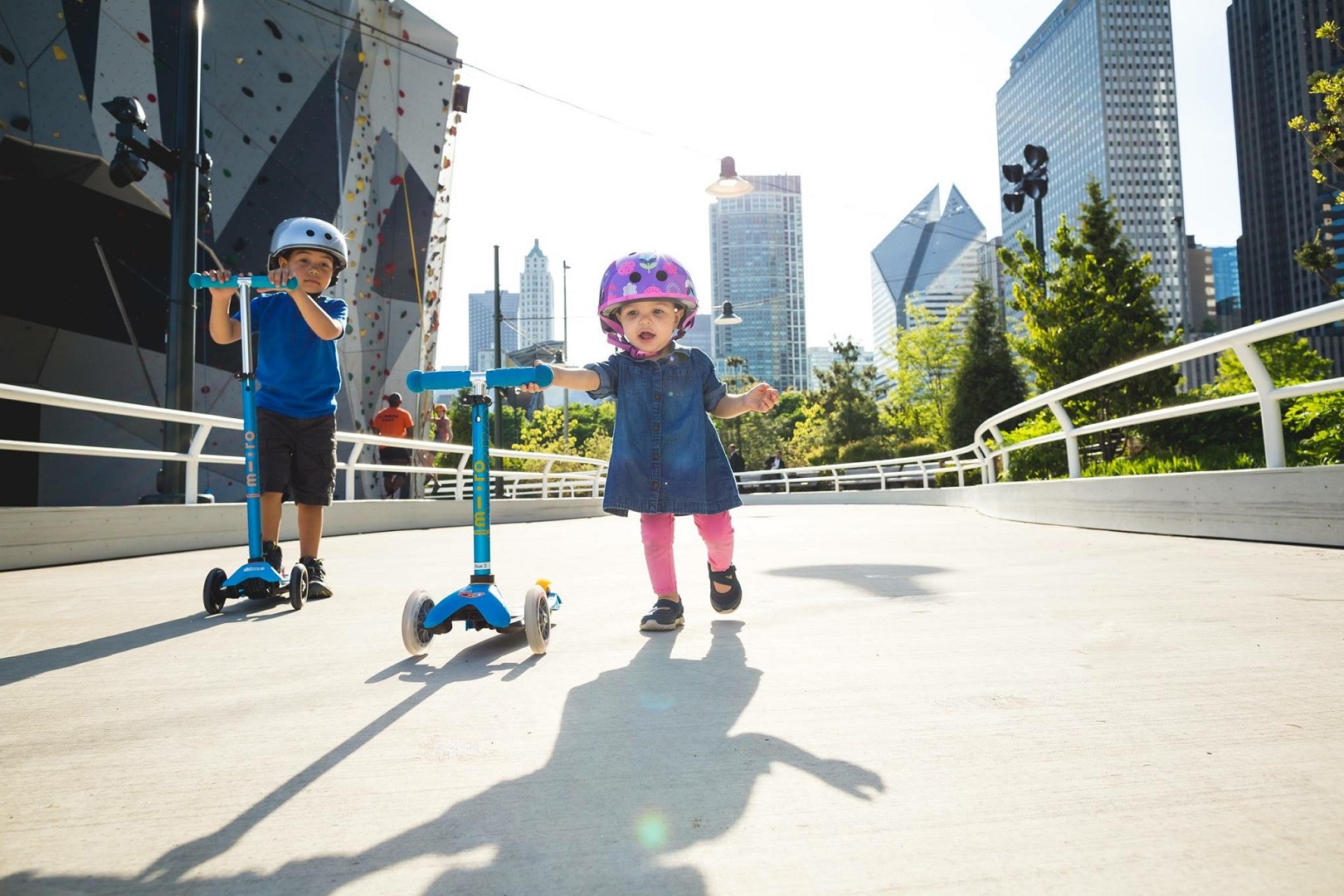 Tour the city's most iconic attractions and glide along the Lakefront, eating through some of Chicago's most renowned delicacies along the way. Now accepting reservations for the Bikes, Bites & Brews – Signature Dishes tour, Bobby's Bike Hike offers the perfect socially distant activity.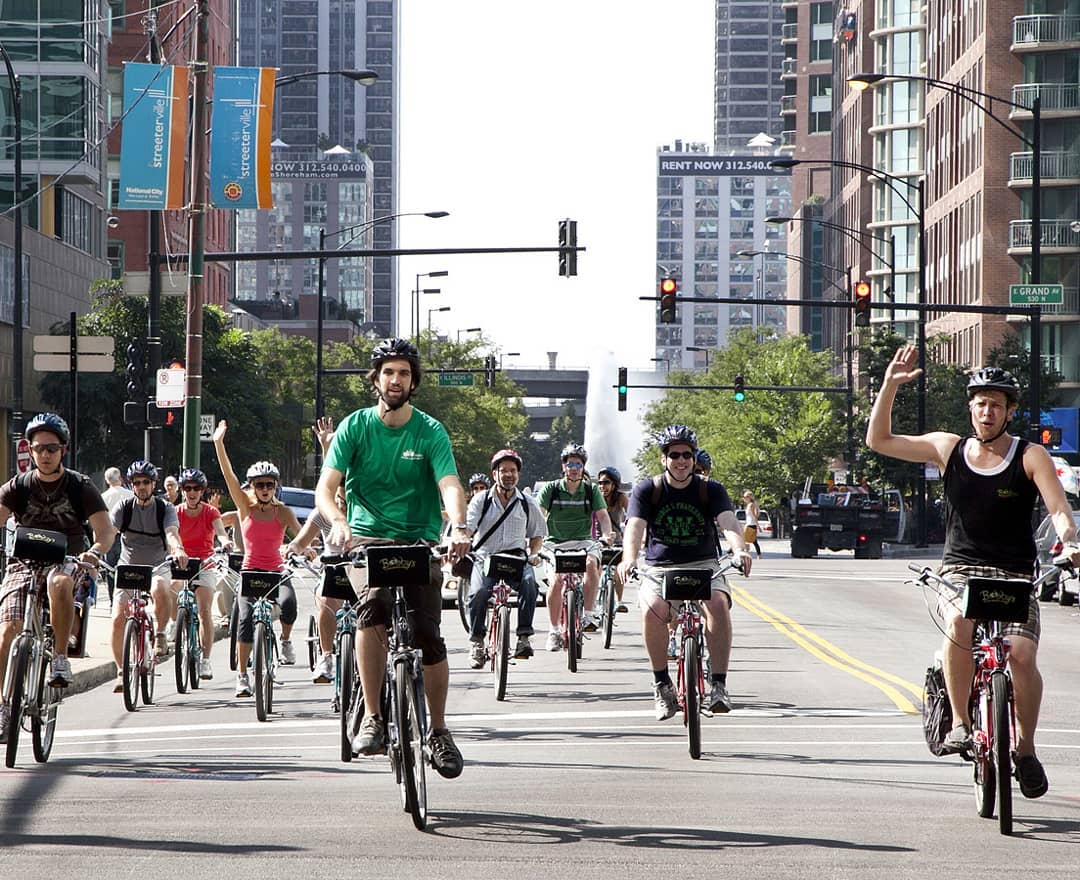 You're the captain now on this one-of-a-kind cruise along the Chicago River. Drive yourself down the historic waterway with your friends or request a licensed captain or tour guide for a curated experience.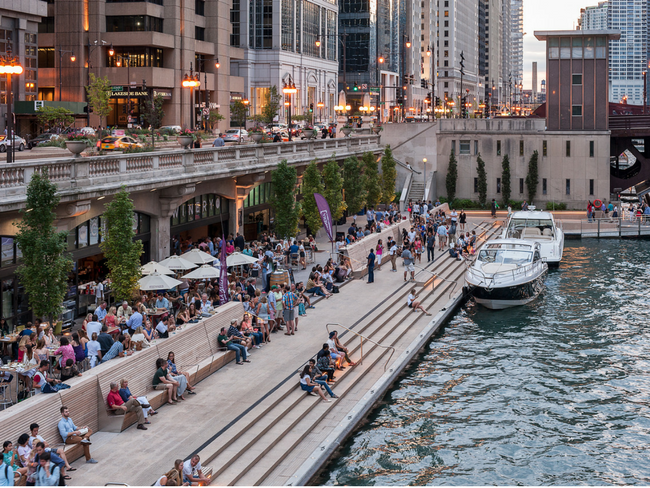 As of March 12, Chicago's original architecture tour is back on the water! Wendella Boat Tours provide visitors with unrivaled views of the city on the 45-minute or 90-minute cruises. Along with this traditional tour experience, take in the sights and sounds of the Loop with the sunset and fireworks cruises with stops on the Chicago River and Lake Michigan.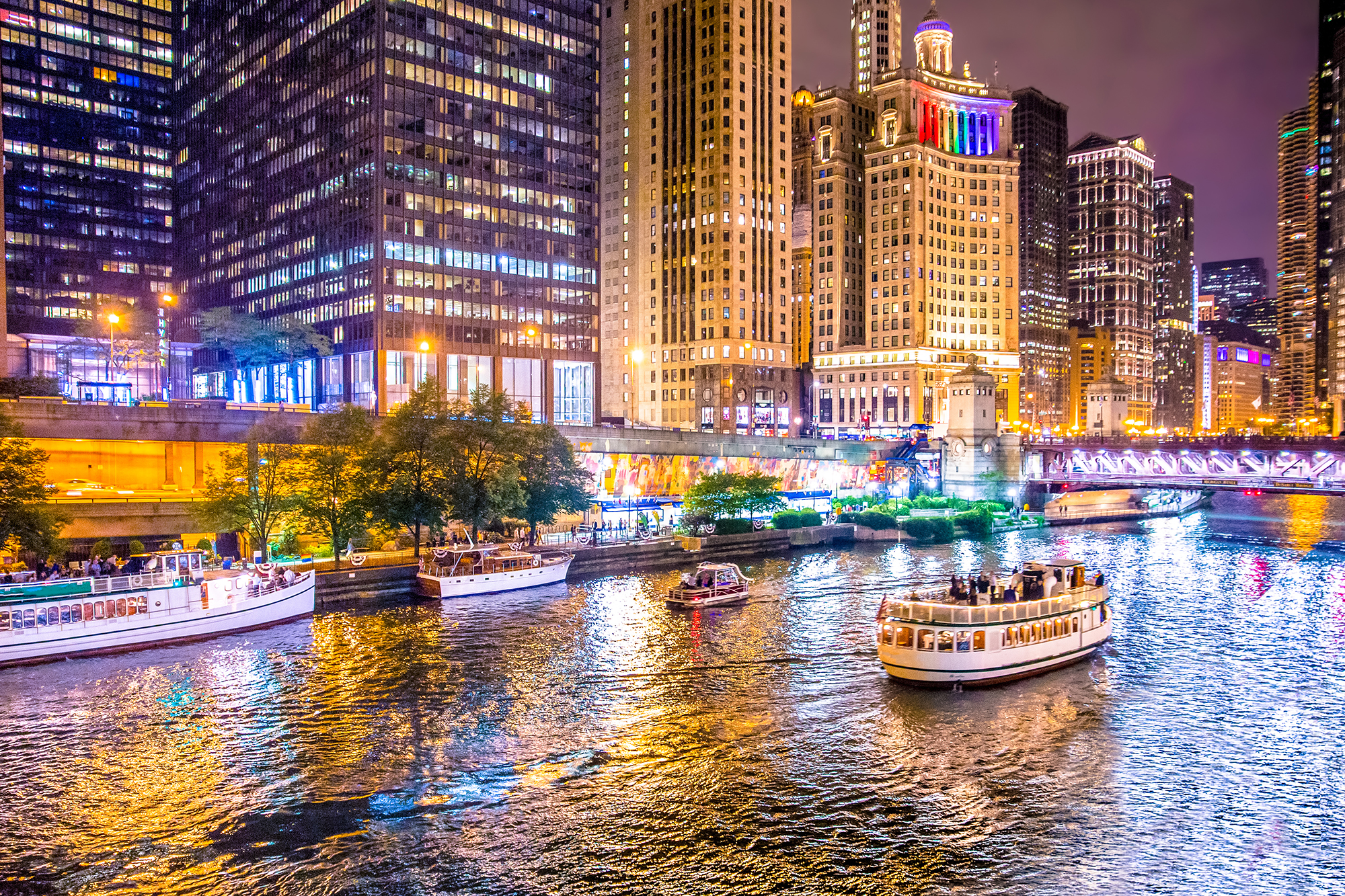 You Might Be Interested In: