5 MIN READ - The COVID-19 pandemic has rocked downtowns across the U.S., including the Chicago Loop. After enduring a statewide stay-at-home order through the end of May, Chicagoans are now beginning to make the journey back to work in the Loop. How to make this journey safely during the pandemic was explored at Chicago Loop Alliance's October 29 Downtown Futures Series webinar. View a recording of the full presentation here.
---
While Chicagoans who've witnessed the last decade of the Loop's prosperity may feel the district is invincible, the truth is downtown needs a safe return of workers to reactivate the economy. Currently, a daily average of only about 15 percent of the Loop's office workers are coming downtown. After seven months of working from home, many are ready to take the plunge, but aren't sure exactly how to do so. In Downtown Futures Series: The Journey Back to Work, professionals in public health and office design laid out what a safe return to work looks like, offering information and recommendations anyone can use. Dr. Robert Murphy, John Philip Phair Professor of Infectious Diseases at Northwestern University, and Sheryl Schulze, Principal at Gensler, addressed virtual attendees from around the world and answered questions moderated by David Broz, a member of the Chicago Loop Alliance Board of Directors.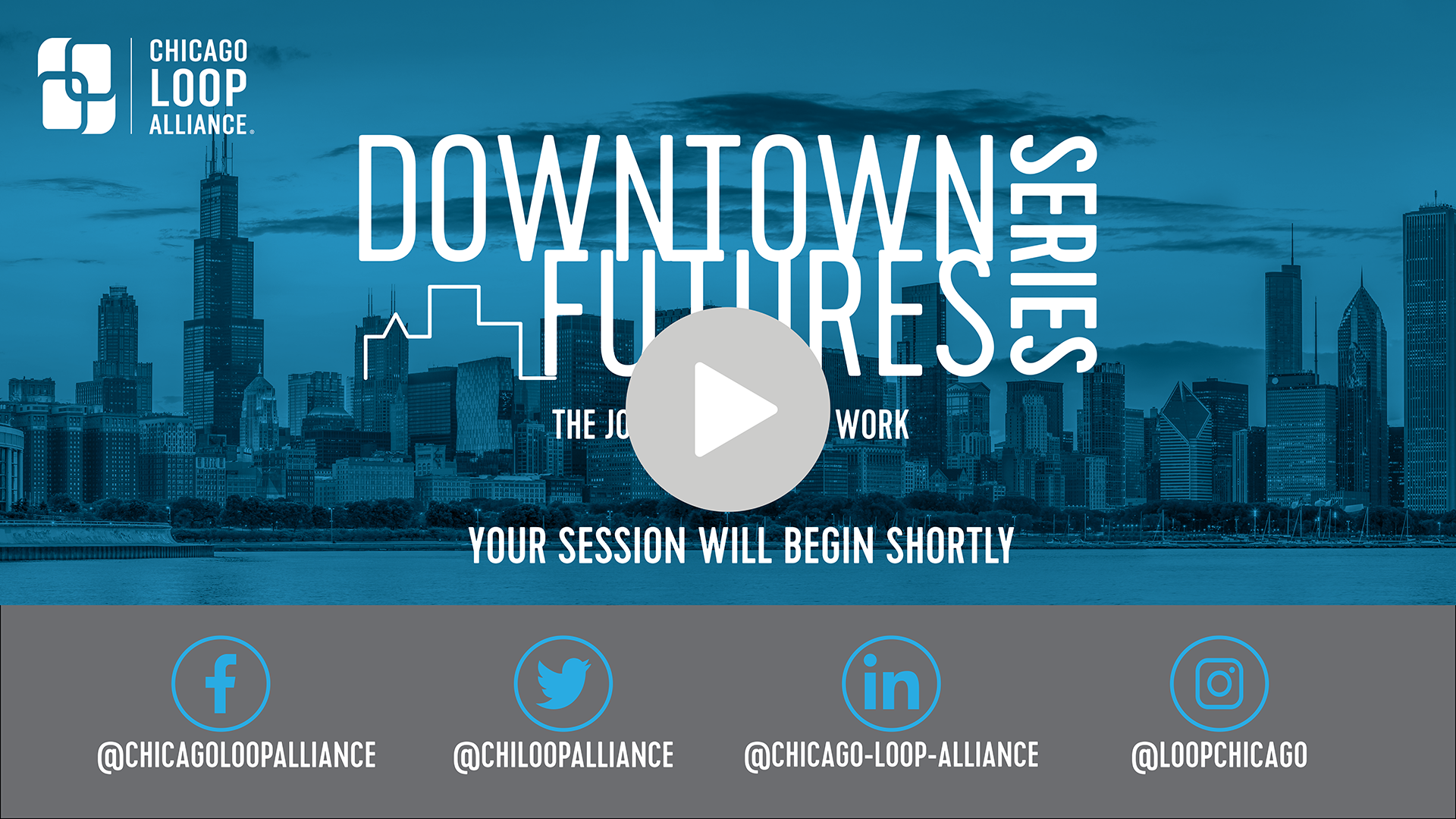 The event began with Dr. Robert Murphy assuring viewers that a return to work can be made safely, and that it is happening in other countries around the world already. He laid out what the scientific community now knows about COVID-19: It's indisputable that wearing masks, social distancing, and washing your hands frequently works very well in preventing the spread of the coronavirus. According to dozens of studies, these three things combined actually work better than the projections from the current vaccines that are being developed.
Dr. Murphy said it is very rare for someone to be infected with COVID-19 from touching surfaces, and overwhelmingly the virus is spread through large droplets that are expelled when someone is talking, shouting, singing, coughing, etc. without wearing a mask. Most of those large droplets drop within 3 feet of that person, so social distancing is key.
He also said it is very likely that we will have a vaccine with emergency use approval by the end of this year or early next. Whatever vaccine(s) end up on the market may not be as effective as those we're used to—the measles vaccine is 97 percent effective, but a COVID-19 vaccine may end up being only around 50 percent effective; that is still to be seen. Hundreds of millions of doses will be developed and distributed, a process that Dr. Murphy predicts will take about a year. In the interim, he said other drugs will likely be available to manage the virus.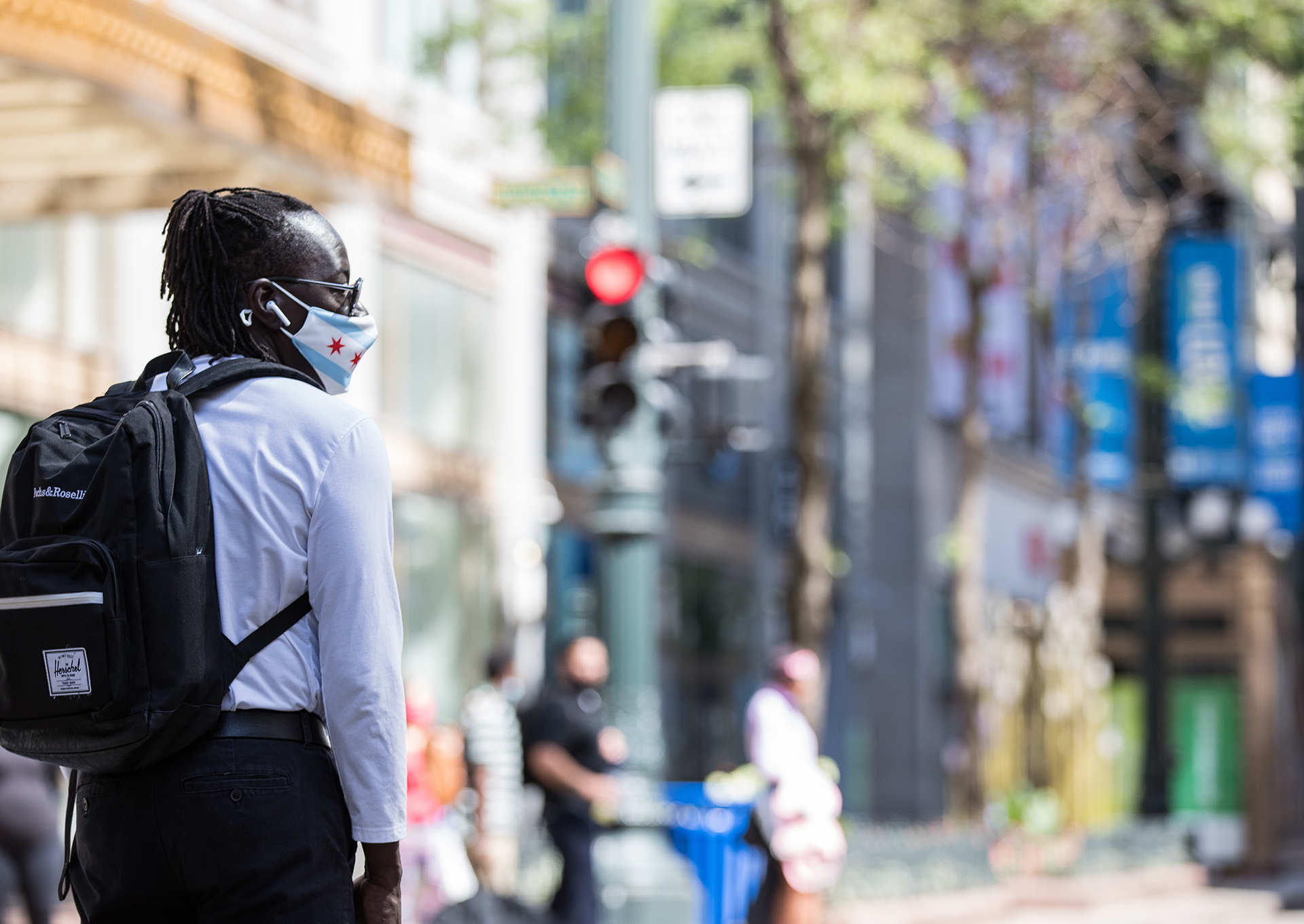 "It's a challenging time," Dr. Murphy said. "It is a pandemic, but there is light at the end of the tunnel. It's going to come faster than you think."
Next, Sheryl Schulze of Gensler spoke on what building owners and managers are doing to make offices safe now, and how office design is adapting to be more resilient to infectious diseases in the long-term. She emphasized that flexibility is key, and a willingness to continue evolving as we learn more about COVID-19 will make for the most successful office environments.
Schulze shared that in a work from home survey Gensler distributed over the summer, 70 percent of respondents said they wanted to return to the office full-time. Some of the adjustments building owners and managers are making include: touchless building entry and managing the number of people in lobbies at one time; adding or upgrading bike facilities to accommodate a boom in bike commuters; touchless elevators with social distance markers and other efficiency technologies; enhanced ventilation and filtration systems that increase air changes; operable windows that allow outside air to flow through the office; breathable facades incorporated into new construction to allow fresh air into the building; wayfinding and signage to communicate building conditions, protocols, and procedures every step of the way; outdoor amenities and green space; utilization of stairs or other elevator alternatives; and recessed balconies to create exterior space.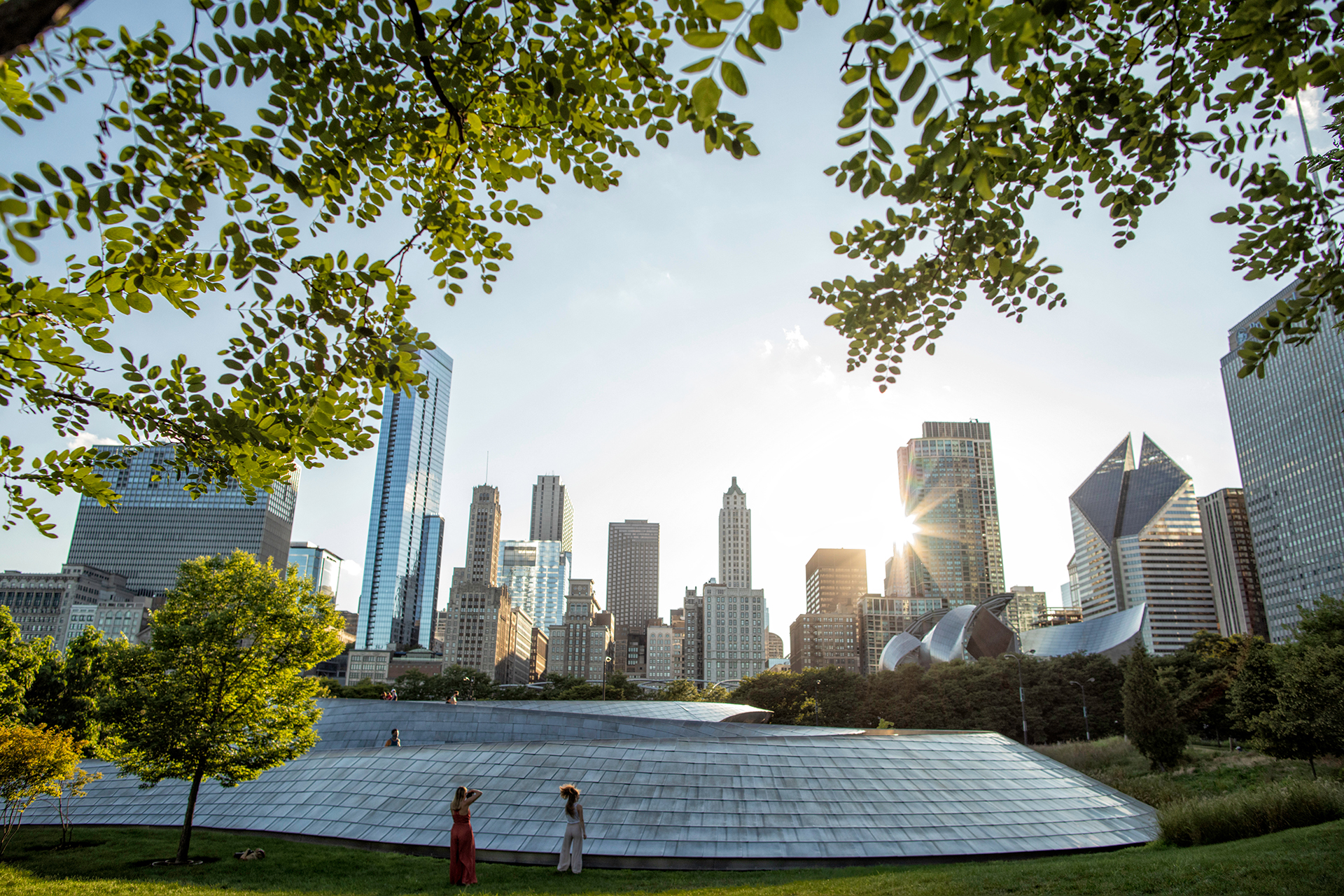 The event concluded with a Q&A led by David Broz, using questions submitted by attendees. One of the main concerns from people interested in going back to work is the process of getting there, even more than the office itself. Dr. Murphy said public transportation is quite safe, so long as everyone riding it is masked. He said agencies like Metra and CTA must enforce a mask mandate in order to protect riders and employees, and if he were in a train car with someone who wasn't properly wearing a mask, he would switch cars immediately.
Schulze and Dr. Murphy also discussed best practices once you're in the office. Beyond what building owners and managers are doing to keep buildings safe, companies also need to implement policies that align: masks should be worn in common areas and/or whenever you're within 6 feet of someone else.
Schulze said long-term impacts on office design may include an increase in flexible space and a decrease in "hard wall" design. Spaces that can be reconfigured to suit a variety of needs and densities will be more resilient to any future pandemics.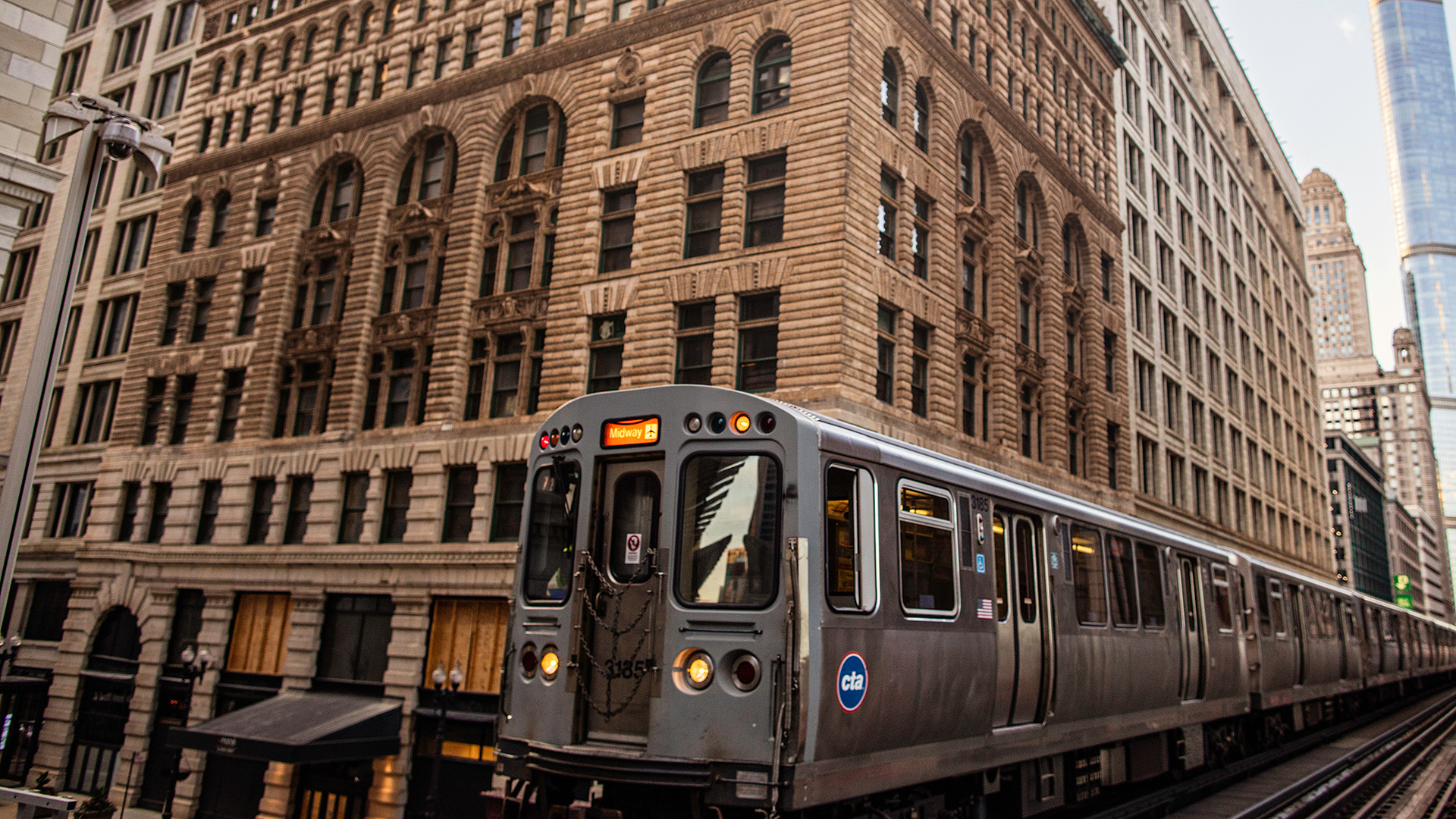 Dr. Murphy said frequent, fast, and accessible testing in the future could also make it safer to return to work. Some schools, especially when it comes to athletes, mandate regular testing. That could translate well to the working world.
Dr. Murphy also said we're no longer seeing significant spread of COVID-19 from air travel, and anyone who has an essential reason to travel should feel confident doing so, now that airlines have established, and are enforcing, mask mandates. In his closing remarks, Dr. Murphy said, "The enemy is the virus. We have to attack the virus, and we actually know how to do it. We have to get into the culture of social distancing and mask wearing."
At the end of the event, David Broz announced Re-ACTIVATE, a virtual fundraiser to support the Chicago Loop Alliance Foundation and to inspire Chicagoans to return to the Loop safely. The event takes place from 5-6 p.m. CST on Thursday, December 3, and is open to the public and free to attend. Live painting, compelling conversation, and surprise guests await! Learn more and RSVP now.
YOU MIGHT BE INTERESTED IN: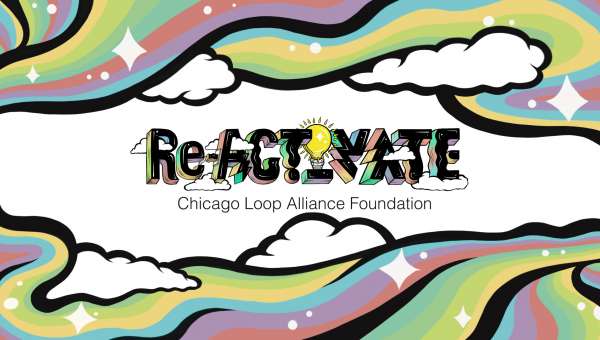 Re-ACTIVATE - A virtual fundraiser
Chicago Loop Alliance is proud to present Re-ACTIVATE, a virtual fundraiser to support the Chicago Loop Alliance Foundation and to inspire Chicagoans to return to the Loop safely.