3 MIN READ – As a membership organization for Loop businesses, Chicago Loop Alliance (CLA) offers valuable networking opportunities that enhance the experience of doing business downtown. But beyond business connections, CLA also takes pride in acting as a connector for community service. And on Martin Luther King Jr. Day, CLA members Mid-America Club joined more than 100 volunteers for a day of service with ChiGivesBack, in partnership with the 59th Presidential Inaugural Committee and Martin Luther King Jr. College Preparatory High School on Chicago's South Side.
---
ChiGivesBack was co-founded by Sandi Robinson, Chicago Loop Alliance member and Area Director of Sales & Marketing for the Godfrey Hotel and Hotel Essex. Its mission is improving the well-being of the Chicagoland community by giving back. The organization prides itself in offering hands-on opportunities for Chicagoans to connect with their community and make a real impact.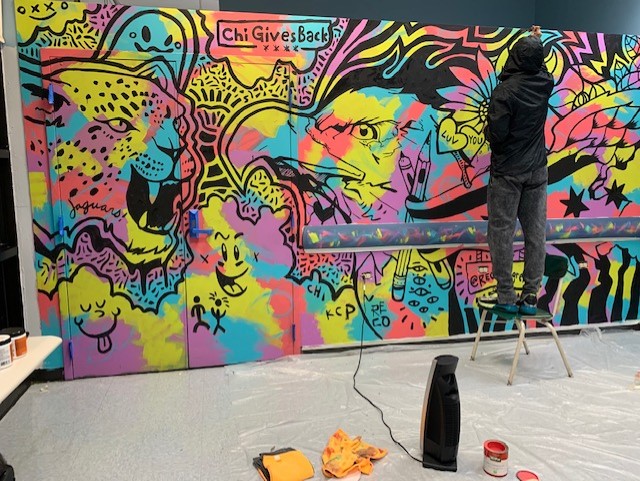 On Monday's Day of Service, a group of 120 volunteers safely gathered, after undergoing the Chicago Public School COVID-19 screening, to help paint multiple murals across the school. The volunteers also reorganized the library and other rooms in the school. As a part of this project, ChiGivesBack also donated a refrigerator to the school to be utilized by the special learning and needs department, to help teach students life management skills associated with cooking and managing a household.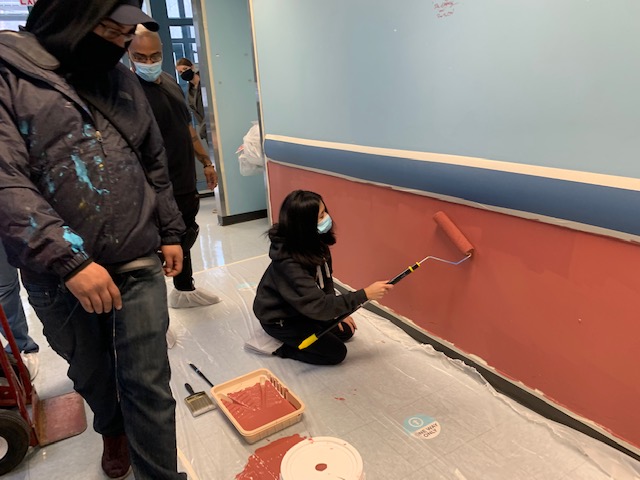 ChiGivesBack partnered with Paint the City, a local collective of artists with a mission "to create inspiring works of art that support the equality of all people and show that BLACK LIVES MATTER." Paint the City has also worked with Chicago Loop Alliance to paint hopeful murals on board-up last summer and beautiful winter scenes on storefront windows over the holiday season.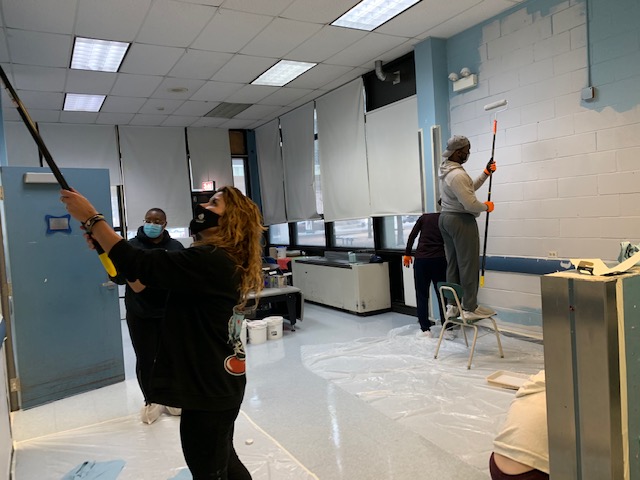 "Dr. Martin Luther King Jr. said, 'Life's most persistent and urgent question is: What are you doing for others?'" Robinson said. "Our Vision at ChiGivesBack and my personal vision are one and the same. We want to encourage and inspire others to give back to their community and other communities that are in need. It's simple: It's just the right thing to do."
Rick Kroner, General Manager of Chicago Loop Alliance member The Mid-America Club, was looking for volunteer opportunities for a group of his colleagues to participate in. CLA suggested ChiGivesBack's MLK Jr. Day of Service.
"It was an amazing afternoon," Kroner said. "We spent the day painting to a live DJ! There was some serious artistic talent painting murals all over the school. I look forward to participating in future events!"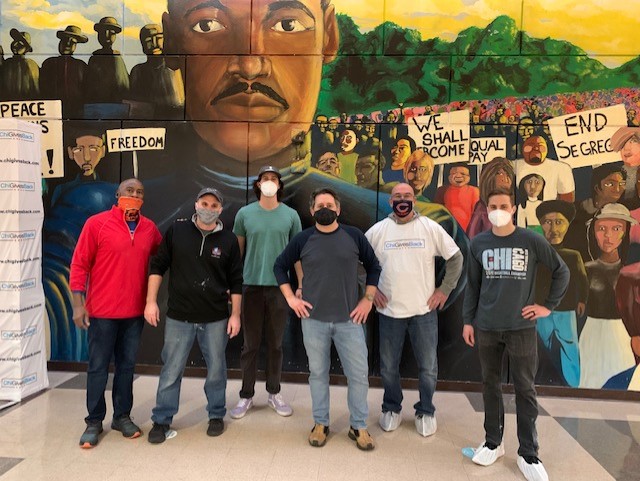 CLA's Membership Relations and Events Director Sarah Morse said making connections between members for community service is an important part of her job.
"Chicago Loop Alliance operates under the belief that strong neighborhoods will lead to a strong downtown," Morse said. "We've coordinated volunteers for a variety of organizations, including My Block, My Hood, My City and ChiGivesBack. Not only does this give our members a chance to get to know each other in a new context, but it helps connect them to the city as a whole, beyond the Loop."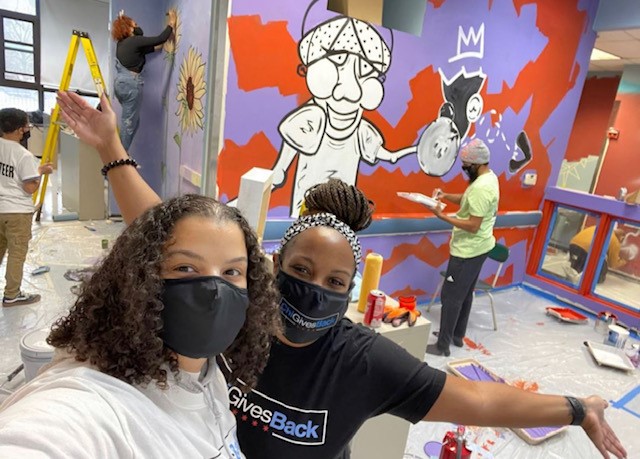 Chicago Loop Alliance members have also performed community service downtown. After vandalism and looting in May 2020, Morse (a Loop resident) and others helped clean up. CLA President and CEO Michael Edwards said acting as a connector in this way is important to CLA's vision for the Loop as a vibrant destination.
"It just feels like part of our responsibility," Edwards said. "The Loop is Everyone's Neighborhood, and that means in addition to keeping the Loop great, we need to engage with all parts of the city. We're always happy to link our members up and participate in these volunteer opportunities that make a real impact."
YOU MIGHT BE INTERESTED IN: