2 MIN READ – Riccardo Muti, Music Director of the Chicago Symphony Orchestra (CSO), and Jeff Alexander, President of the Chicago Symphony Orchestra Association (CSOA), announce programming for the CSO and Symphony Center Presents (SCP) 2020/21 season—the Orchestra's 130th season, Muti's 11th as music director, and the 90th season of Symphony Center Presents. More information and season subscriptions are available online.
---
During the season, the Orchestra performs a wide array of significant works from the symphonic repertoire including Bartók's Miraculous Mandarin Suite, Bernstein's Three Dance Episodes from On the Town, Copland's Appalachian Spring, Dvořák's Symphony No. 9 (From the New World), Shostakovich's Symphonies Nos. 10 & 12, Saint-Saëns's Symphony No. 3 (Organ), Stravinsky's The Rite of Spring, and Vivaldi's Gloria.
In two artistic highlights of the season, Riccardo Muti conducts Beethoven's Missa solemnis as part of the culmination of the CSO's yearlong commemoration of the 250th anniversary of the composer's birth, as well as the Orchestra's first performances of Luigi Cherubini's Mass for the Coronation of Charles X. Both programs feature a roster of distinguished soloists, and the Chicago Symphony Chorus, prepared by Chorus Director Duain Wolfe.
The Orchestra also performs two world premieres of CSO-commissioned works by American composer Gabriela Lena Frank and Finnish composer Magnus Lindberg, as well as the first CSO performances of Her Story, by Pulitzer Prize–winning composer Julia Wolfe. Co-commissioned by the CSO and four other major U.S. orchestras, the new work commemorates the 100th anniversary of the 19th Amendment granting women the right to vote. In addition, internationally renowned singers including mezzosopranos Anita Rachvelishvili and Alice Coote, as well as soprano Krassimira Stoyanova and tenor Francesco Meli join Muti and the Orchestra for vocal repertoire including orchestral art songs and opera selections.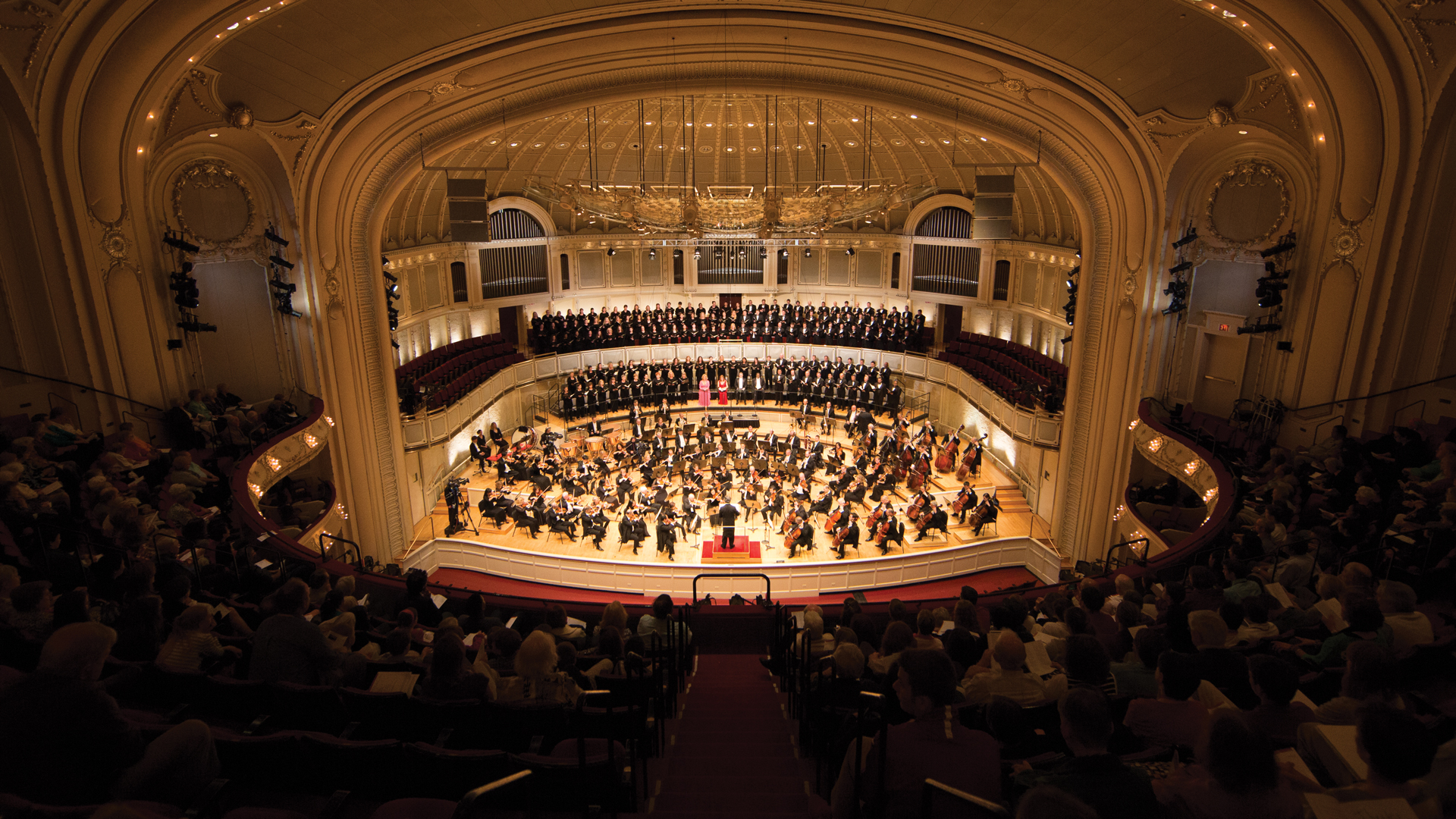 Several programs led by Muti feature members of the CSO as soloists. Principal Flute Stefán Ragnar Höskuldsson and Principal Harp Sarah Bullen are soloists in Mozart's Concerto for Flute and Harp in the opening program of the season. Concertmaster Robert Chen is soloist in Mozart's Violin Concerto No. 4 in March and for tour performances. Muti also leads the first CSO performances of two contemporary concertos—William Kraft's Concerto for Timpani with Principal Timpani David Herbert and Lalo Schifrin's Tuba Concerto with Principal Tuba Gene Pokorny. Other CSO musicians making solo appearances this season include Principal Oboe William Welter appearing with guest conductor 2 Jane Glover in Mozart's Oboe Concerto and Principal Clarinet Stephen Williamson performing Copland's Clarinet Concerto, with guest conductor Bramwell Tovey.
Symphony Center Presents (SCP) marks its 90th season in 2020/21. Originally established by Chicago impresario Harry Zelzer as Allied Arts in 1930, the series continues to bring leading artists and ensembles to Chicago.
This season, the SCP Piano series features 10 acclaimed pianists performing solo works in recitals by composers such as Brahms, Chopin, Schubert, Schumann, Debussy, Ravel and Scriabin. This season includes series debuts for pianists Seong-Jin Cho and Anna Vinnitskaya with returns for Richard Goode, Leif Ove Andsnes, Emanuel Ax, Maurizio Pollini and Evgeny Kissin, among others. The SCP 3 Chamber Music series features Joshua Bell and the Jerusalem Quartet with guests Pinchas Zukerman, violin/viola, and Amanda Forsyth, cello, as well as series debut appearances for the ThibaudetBatiashvili-Capuçon piano trio and Mahler Chamber Orchestra. The SCP Orchestras series welcomes three world-class orchestras in the 2020/21 season including the return of the Berliner Philharmoniker with its new chief conductor Kirill Petrenko and the Mariinsky Orchestra with its artistic and general director Valery Gergiev.
You Might Be Interested In: