Chicago Loop Alliance's award-winning Sundays on State series returns for select Sundays this summer! Join us by creating your own unique offering on State Street during the events. Applications are now open for interested participants. More details below.
---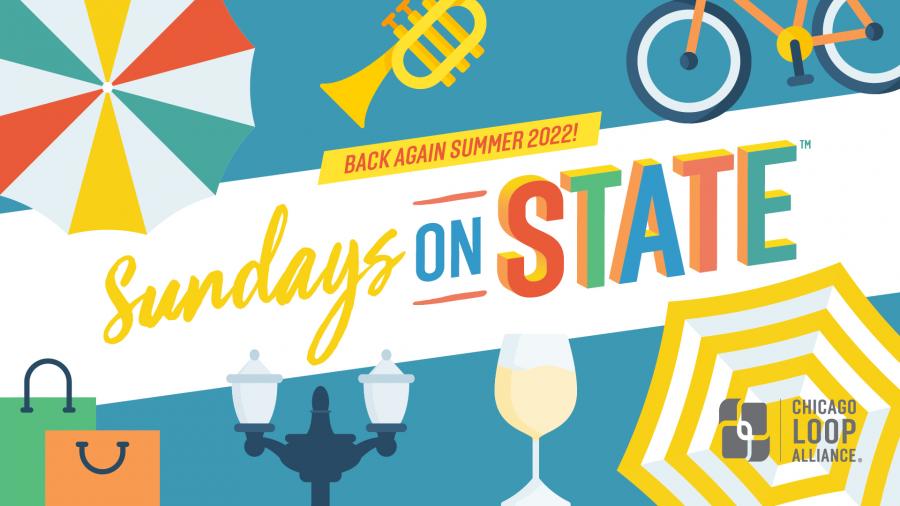 About Sundays on State: Sundays on State, the "Best New Event of the Year" (Time Out Chicago, 2021), returns to Chicago's most iconic street by popular demand. On select Sundays this summer, State Street will close to traffic with an expanded footprint from Lake to Monroe and transform into an open street full of surprises. Neighbors from every Chicago community and beyond will once again unite for this free, interactive block party, while safely enjoying art, culture, active recreation, shopping, food, drinks and local attractions. Experience everyone's neighborhood, the Loop, like never before! Find more information and register here. #SundaysOnState
Potential applicants: This application is free and open to all individuals and organizations who wish to create an on-street activation during Sundays on State. Below are some examples of possible participatory art and interactive offerings, but this is only a start. Please feel free to be creative and propose ideas that are not on this list:
● Active Recreation - Teach a fitness class or lead outdoor games for children and/or adults
● Transform the street - create a transformative or interactive space on State Street (perhaps a lounge area with chairs, art, grass, or whatever your imagination can design!)
● Street performer - stilt walking, juggling, poetry slam, magic, dance, acoustic music, etc.
● Library or bookstore - set up a comfy space to do a book reading for children
● Artists and/or arts organizations - set up a live painting demo or a pop-up gallery
● Community organizations or businesses - set up an outdoor living room in the middle of the street
● Retailers - create a fashion show of your latest merchandise
● Coffee shops - roll up a cart and serve cold brew to passers-by
● Restaurants - set up outdoor dining or concessions on the street, subject to permits and regulations. Food trucks welcome (must be approved in advance).
What we are (and are not) looking for: Chicago Loop Alliance is seeking creative proposals to showcase Chicago's diversity and culture. We are not looking for activations that focus on advertisements or marketing opportunities.
Selection: Chicago Loop Alliance will review proposals to evaluate and select winning activations. Not all applications will be chosen to appear at the events. If selected, your organization will be given space at Sundays on State to set up your activation. You will not be charged for the space and there will be no fee to participate (unless rental equipment is needed/requested). Chicago Loop Alliance encourages proposals that are self-funded. Chicago Loop Alliance will not be able to dedicate any staff to manage partner activations, so you must be able to set up, manage, and clean up your site on your own.
Chicago Loop Alliance is interested in giving space to organizations that represent Chicago's diversity with regard to race, culture, age, ability, gender, sexuality, and more. We encourage organizations with specific cultural missions to participate and use the space to showcase their communities.
To apply: Complete this application by May 24, 2022. If you have any questions regarding your application, please reach out directly to: Allison@ChicagoLoopAlliance.com.
To sponsor: For more exposure, consider sponsoring the event for larger maximum exposure opportunities. More details here.
You might be interested in