2 MIN READ – On December 7, Time Out Chicago released their Best of the City Awards for 2021, and Chicago Loop Alliance's Sundays on State was named the Best New Event of the Year! Sundays on State saw Chicago's most iconic street, State Street, closed to traffic from Lake to Madison on select Sundays during the summer and transformed into an open street full of surprises.
---
In recognizing Sundays on State as the Best New Event of the Year, Time Out Chicago said, "With a shifting lineup of local entertainment presented during [Sundays on State's] eight editions, there was always something new to see in the Loop."
Sundays on State took place over eight Sundays from July through September and had an economic impact of over $12 million. The event series returned pedestrian visits to and above 2019 levels and saw an average of 67,000 people per event, with over half a million attendees across the series. Attendees were of all ages and were from over 20 states and over 200 zip codes (including every neighborhood in Chicago). Sundays on State brought people back to the Loop who hadn't been in a while. When they were here for Sundays on State, 74 percent of attendees visited a Loop landmark before, after, or during their visit, spending an average of $157 each. 88 percent of attendees would attend a future Sundays on State event, 85 percent would refer a friend, and 72 percent said Sundays on State positively affected their feelings about the Loop.
In addition to reaching a diverse attendee audience, Sundays on State featured diverse participants. Over 69 percent of activations came from underrepresented business owners. The event series truly represented the Loop as everyone's neighborhood. Learn more about Sundays on State's impact here.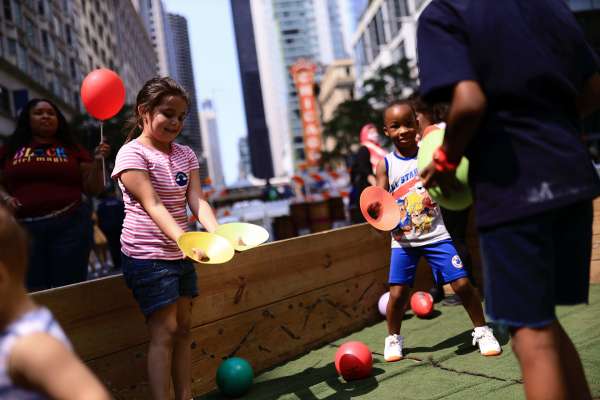 Time Out Chicago editors recognize the city's best restaurants, bars, festivals, cultural happenings and sustainable events each year. See the full list of 2021 winners here.
You Might Be Interested In