The festival's month-long showcase of Black stories will feature 19 feature films; 4 short film programs; and over 15 separate in-person and virtual filmmaker and cast appearances, alongside several anniversary screenings, restorations, and a multitude of receptions and special events.
Black Harvest Film Festival individual tickets and festival passes are available for purchase here.
Feature Film Programs: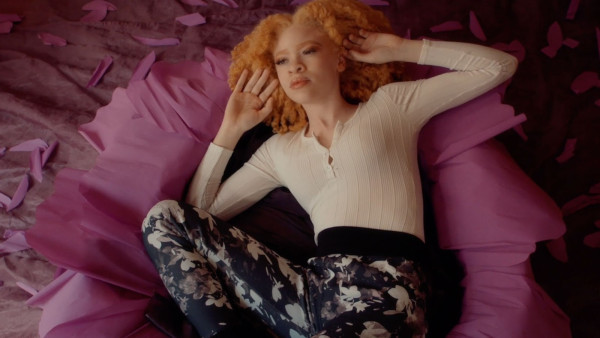 2022, dir. Jo Rochelle
USA, 58 min.
In English / Format: Digital
Saturday, November 5 at 4 P.M.
Saturday, November 19 at 5:15 P.M.
Jasmine is a sixteen-year-old with albinism (lack of pigment in the hair, skin, and eyes) who is determined to make it big as a professional model in her hometown of Minneapolis, while attempting to go unnoticed in every other aspect of her teenage life. As her family supports her best they can, Jasmine learns to untap her talents, embrace her identity, and find her voice. Available virtually November 21-27. Director Jo Rochelle scheduled to attend Saturday, November 19.
2022, dir. Elegance Bratton
USA, 95 min.
In English / Format: Digital
Saturday, November 5 at 8 P.M.
In Elegance Bratton's deeply moving film inspired by his own story, a young, gay Black man, rejected by his mother and with few options for his future, decides to join the Marines, doing whatever it takes to succeed in a system that would cast him aside. But even as he battles deep-seated prejudice and the grueling routines of basic training, he finds unexpected camaraderie, strength, and support in this new community, giving him a hard-earned sense of belonging that will shape his identity and forever change his life.
MARIAN ANDERSON: THE WHOLE WORLD IN HER HANDS
2022, dir. Rita Coburn Whack
USA, 64 min.
In English / Format: Digital
Sunday, November 6 at 6:15 P.M.
In this inspiring documentary from Emmy winner, and BHFF alum Rita Coburn Whack (MAYA ANGELOU: AND STILL I RISE), the life and legacy of Marian Anderson, the gifted American contralto, best known for her performance at the legendary Freedom Concert at the Lincoln Memorial in 1939, is explored. With unprecedented access to the Marian Anderson Estate, the film draws on rare archival footage, audio recordings, and Anderson's extensive personal correspondence to family and friends (including W.E.B. DeBois, Martin Luther King, Jr., and Shirley Chisholm) to reveal the woman behind the icon. Available virtually November 21-27. Director Rita Coburn Whack scheduled to attend.
2021, dir. Brandon Kramer
USA, France, 90 min.
In English / Format: Digital
Wednesday, November 9
On election night 2020, progressive activist and political commentator Van Jones spoke boldly regarding Donald Trump's victory, noting on CNN, "This was a whitelash against a changing country…against a Black president, and that's the part where the pain comes." Produced in association with Kartemquin Films, THE FIRST STEP intimately documents Jones as he faces a divided America (divided on politics, culture, and even what they think of Jones) to controversially work across party lines on landmark criminal justice reform and a more humane response to the addiction crisis. Attempting to be a bridge builder in a time of extreme polarization takes Van and a coalition of unlikely allies deep into the inner workings of a divisive administration, internal debates within both parties, and the lives of frontline activists fighting for their communities. Available virtually November 21-27. Directors Brandon and Lance Kramer, composer Joshua Abrams and editor Leslie Zimmer scheduled to attend.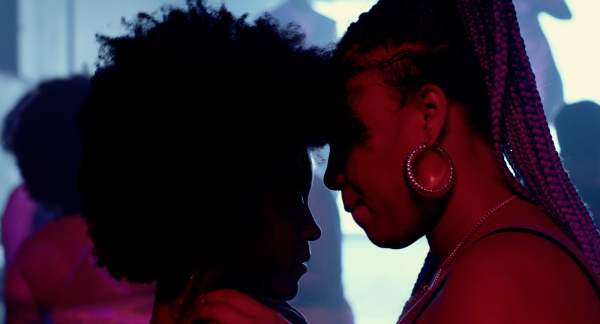 2022, dir. Gabriel Martins
Brazil, 115 min.
In Portuguese with English subtitles / Format: Digital
Friday, November 11 at 4 P.M.
Saturday, November 12 at 8:30 P.M.
In this tender and warm film the Martins, a lower-middle-class Brazilian family of optimistic dreamers must depend on one another while they manage the individual struggles, and the pressures of the world - including the election of right-wing president Jair Bolsonaro. A standout at this year's Sundance Film Festival and Brazil's submission to the Academy Award for Best International Feature Film consideration, MARS ONE is a quietly powerful film about the bonds of family, about what it means to dream and to fall in love, and how - even in the most challenging of times - home is where the heart beats.
REWIND & PLAY, preceded by SHUT UP AND PAINT
2022, dir. Alain Gomis
France, Germany, 64 min.
In English and French with English subtitles / Format: Digital
Saturday, November 12 at 4 P.M.
Sunday, November 20 at 1 P.M.
In 1969, famed jazz pianist Thelonious Monk performed at the 3,000-seat Salle Pleyel concert hall in Paris. Before the concert, he recorded an episode of the French television show "Jazz Portrait," hosted by pianist Henri Renaud. In this daring work of non-fiction filmmaking, director Gomis examines not the interview, but the raw archival footage - the moments not seen by the television audience - where it becomes painfully clear that the host and producer are only interested in the musician if he plays voiceless and silently, without speaking about his experiences as a Black artist during a time of social and political unrest. Despite the oppression, Monk plays on - his music, now in the context of REWIND & PLAY, all the more exceptional. Preceded by SHUT UP AND PAINT.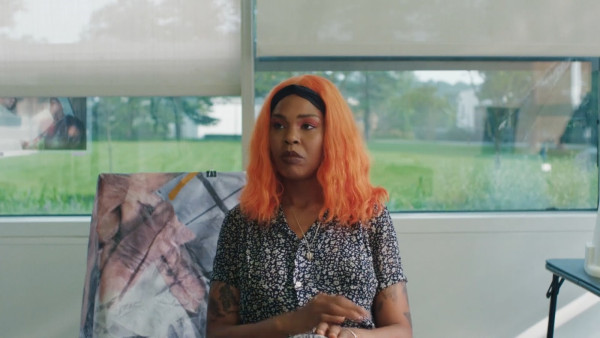 THE AFRICAN DESPERATE + reception
2022, dir. Martine Syms
USA, 100 min.
In English / Format: Digital
By Martine Syms
Saturday, November 12 at 6:00 PM
This engagingly scathing debut feature from SAIC alum Syms (BFA 2007) captures 24-hours in the life of Palace, a recent MFA grad. After a bizarre final critique from the micro-aggressive, all-white faculty, Palace plans to boycott graduation and head home to Chicago, but her plans quickly change. Frenzied and fresh, singular and shrewd, THE AFRICAN DESPERATE is a psychedelic, kaleidoscopic odyssey of art and identity. Director and artist Martine Syms scheduled to attend.
2021, dir. Jennifer Holness
Canada, 101 min.
In English / Format: Digital
Sunday, November 13 at 1:00 PM
Monday, November 14 at 6:15 PM
In this thought-provoking and eye-opening documentary, Holness comprehensively and unwaveringly explores the conventions, contradictions and representations of Black female beauty in history, culture and media. Alongside compelling archival footage and personal interviews, SUBJECTS OF DESIRE uses the 50th Anniversary of the Miss Black America Pageant - a pageant that was created as a political protest - as a backdrop to deconstruct what we understand about race and the power behind beauty. Content consideration: themes of racism, colorism and sexual assault. Available virtually November 21-27. Director Jennifer Holness scheduled to attend.
GET OUT ALIVE + pre-reception for local filmmakers
2021, dir. Roger Ellis
USA, 104 min.
In English / Format: Digital
Sunday, November 13 at 7:00 PM
In January 2020, Chicago multimedia artist Nikki Lynette's celebrated stage play "Get Out Alive" premiered in the LookOut Series at Steppenwolf Theatre, before the pandemic shut the stages of the city down. Electric and thrilling, this film adaptation of the show uses storytelling, song, dance and visual media to Nikki's offbeat and honest approach to share her mental health journey. GET OUT ALIVE is an unapologetic celebration of Black life, and a love letter to Black culture led by an intersectional team of queer, Black, trans, and women creatives. Content consideration: themes of depression, suicide and racism. Artist Nikki Lynette, director Roger Ellis, and additional cast and crew scheduled to attend.
2022, dir. Nikyatu Jusu
USA, 97 min.
English and Wolof with English subtitles / Format: Digital
Tuesday, November 15 at 5:45 PM
In this psychological horror fable of displacement, Aisha (Anna Diop), a woman who recently emigrated from Senegal, is hired to care for the daughter of an affluent couple (Michelle Monaghan and Morgan Spector) living in New York City. Haunted by the absence of the young son she left behind, Aisha hopes her new job will afford her the chance to bring him to the U.S., but becomes increasingly unsettled by the family's volatile home life. As his arrival approaches, a violent presence begins to invade both her dreams and her reality, threatening the American dream she is painstakingly piecing together. Followed by a pre-recorded Q&A with director Nikyatu Jusu, moderated by Arionne Nettles, Lecturer and Director of Audio Journalism Programming at Medill.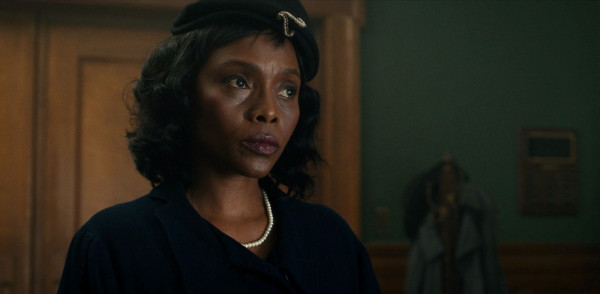 VOODOO MACBETH, preceded by REDBIRD
2021, dirs. Dagmawi Abebe, Victor Alonso-Berbel & Roy Arwas
USA, 108 min.
In English / Format: Digital
Wednesday, November 16 at 5:30 PM
Friday, November 18 at 3:15 PM
Before CITIZEN KANE, leading Broadway actress Rose McClendon and producer John Houseman convince an untested 20-year-old Orson Welles to direct Shakespeare's Macbeth with an all-Black cast in Harlem. Reimagined in a Haitian setting, this revolutionary 1936 production, which came to be known as "Voodoo Macbeth," would change the world forever, but the road to opening night proves to be a difficult one. Orson and Rose clash over everything from scene blocking to crew hires, while Houseman contends with a congressman hell-bent on shutting down what he deems "communist propaganda." The cast and crew must overcome political pressures, protests, and clashing personalities to realize their groundbreaking vision. Preceded by REDBIRD. Available virtually November 21-27.
2022, dirs. Bhawin Suchak, Ira Mckinley
USA, 79 min.
In English / Format: Digital
Thursday, November 17 at 8:30 PM
Saturday, November 19 at 1:00 PM
Family, football and history come to life in an intimate portrait of the Dean family, longtime residents of the historic town of Pahokee, Florida. As we take a journey back home, with filmmaker Ira McKinley, to the land of sugarcane, he reconnects with his niece Bridget and nephew Alvin and explores their shared family history that spans seven generations. Told through stories that transcend space and time, OUTTA THE MUCK presents an intimate portrait of a community that resists despair with love, remaining fiercely self-determined, while forging its own unique narrative of Black achievement. Available virtually November 21-27. Co-director Bhawin Suchak and producer Darian Henry scheduled to attend.
2022, dir. Laura Checkoway
USA, 94 min.
In English / Format: Digital
Friday, November 18 at 6:00 PM
At the Cave of Adullam Transformational Training Academy (CATTA) in Detroit, martial arts sensei Jason Wilson prioritizes emotional health over physical strength, endeavoring to give young Black boys the opportunity to speak and be heard, and to be vulnerable without judgment or fear. In this compassionate and inspiring documentary, four students - Daniel, Gabe, Kevin and Tamarkus - navigate young adulthood, process their grief, and confront their inner demons. Winner of Best Documentary Feature at the Tribeca Film Festival, and executively produced by Laurence Fishburne, THE CAVE OF ADULLAM is a heartwarming and powerful portrait of love.
2022, dir. Ellie Foumbi
USA, France, 108 min.
In French with English subtitles / Format: Digital
Friday, November 18 at 8:30 PM
Sunday, November 20 at 3:45 PM
African refugee Marie Cissé (Babetida Sadjo, in an astounding debut) works as the head chef at a retirement home in a sleepy mountain town in the south of France. Her simple but satisfying life is upended by the arrival of Father Patrick (Souléymane Sy Savané), an African priest who she recognizes as the warlord who slaughtered her family. As he further endears himself to her community and within the place she now calls home, Marie Cissé must decide her next move. A daring exploration of fear, trauma and revenge, Foumbi's feature directorial debut is a fearless and explosive modern-day thriller, rightly the winner of top awards at the American Black Film Festival and the Tribeca Film Festival, among others.
View the full program lineup for the 28th Annual Black Harvest Film Festival here.
You Might Be Interested In: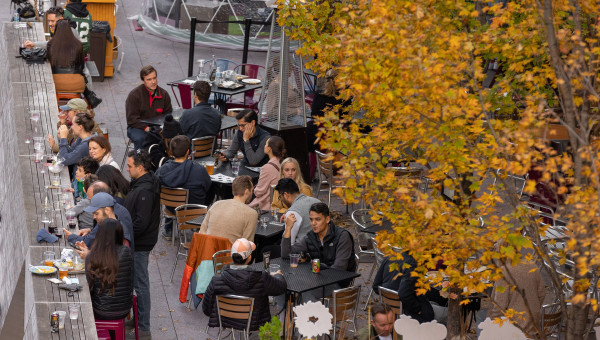 Office occupancy hits record recovery rate as summer tourism wanes
6 MIN READ -- Chicago Loop Alliance (CLA) released its September report on downtown activity, using a variety of data sources to track operations during COVID-19, as it has done…