2 MIN READ - Part of Chicago Loop Alliance's (CLA) responsibility in managing State Street from Ida B. Wells to Wacker drives is scheduling weekly power washings of the sidewalks. Now that the spread of COVID-19 is a worldwide concern, CLA and its power washing vendor, Pressure Washing Systems, are doing their part to curb the spread by disinfecting State Street's sidewalks, trash cans, and other infrastructure in the public way.
---
The power washing occurred at 8 p.m. Wednesday, March 25. Crews began at Ida B. Wells Drive and worked their way north. Following a thorough power washing to remove dirt and debris, the crews disinfected and decontaminated the sidewalk and its infrastructure.
"The Loop has seen 70-percent declines in pedestrian activity compared to this time in 2019, so we know Gov. Pritzker and Mayor Lightfoot's shelter in place order is being taken seriously," said CLA President and CEO Michael Edwards. "But there are still essential workers on the street, and our priority is their safety."
Pressure Washing Systems used a quaternary disinfectant cleaner called QuatSan, effective at killing a variety of bacteria and viruses, including COVID-19. The cleaner follows Centers for Disease Control guidelines and is an Environmental Protection Agency-approved product. Bill Mologousis, President of Pressure Washing Systems, said crews worked with the environment in mind.
"We're not just allowing this wastewater that's generated from these cleaning operations to enter the storm sewer system and maybe create an environmental impact," he said. "We're not just pressure washing; it's really an environmental cleaning process. Anyone can pressure wash this into the sewer; not many companies have equipment that will prevent it from going into the sewer system."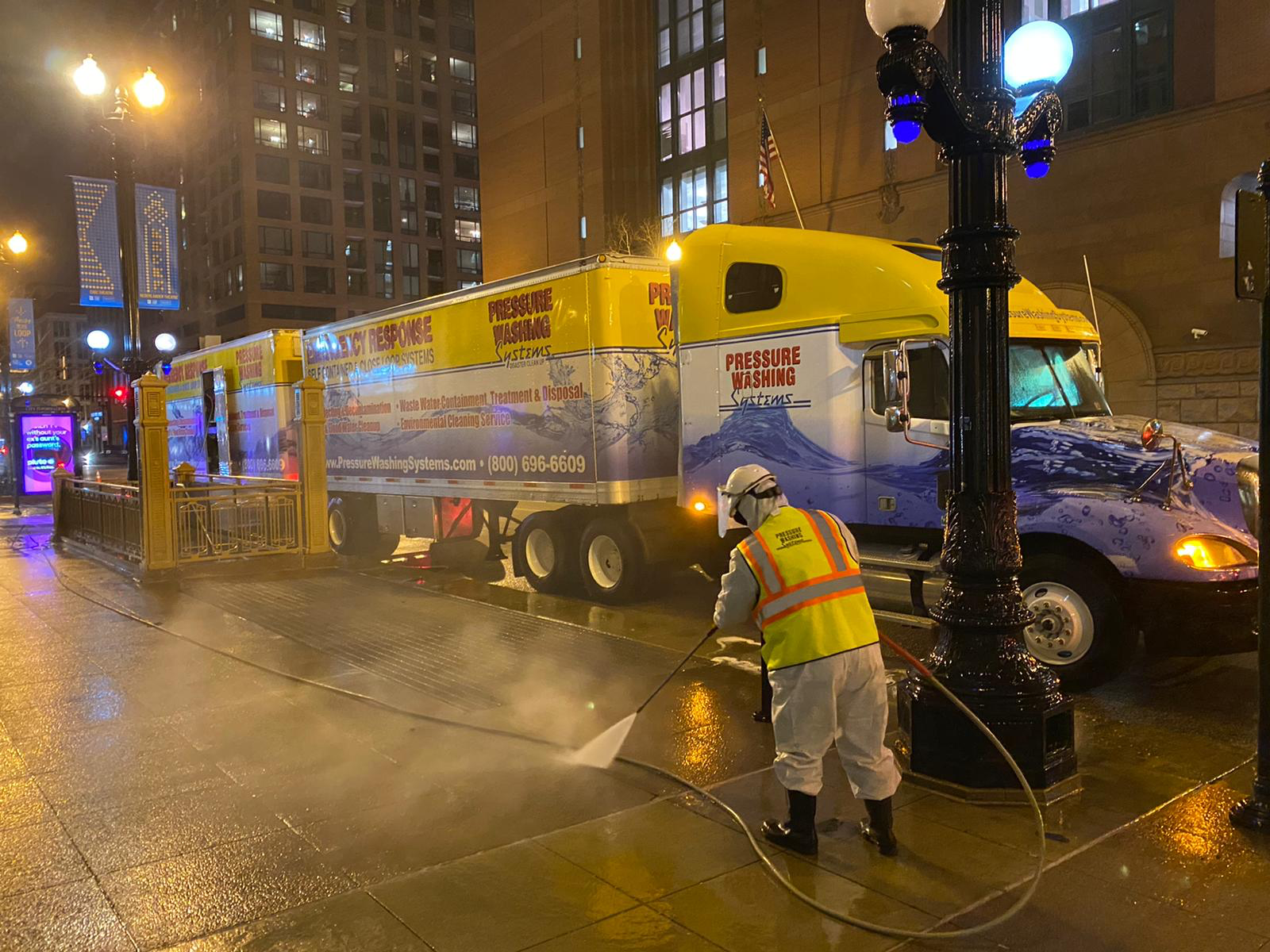 Pressure Washing Systems is the largest, most diversified full-service pressure washing company in the Midwest, offering a wide range of services to the Chicago Metropolitan Area, southern Wisconsin, northwest Indiana, and Los Angeles, Calif., regions. Over the past 31 years in business, the company has experience with similar situations to COVID-19, including cleaning and disinfecting 1,000,000 square feet of space in Houston, Texas, to prevent the spread of SARS, as well as various flood cleanups in Chicago.
"One division of our company is all emergency response," Mologousis said. "They handle everything from fires in California to hurricanes that hit our shores. When these flood waters come in, they mix with a lot of different things—sometimes sewage, sometimes biohazardous waste, sometimes chemical waste, sometimes a combination of all three. Depending on whether we're dealing with a virus or bacteria, we determine what the best product is to use in that environment. The same concept applies to this cleaning on State Street: We're cleaning so when people come back to reoccupy the space, it's free and clear of anything harmful."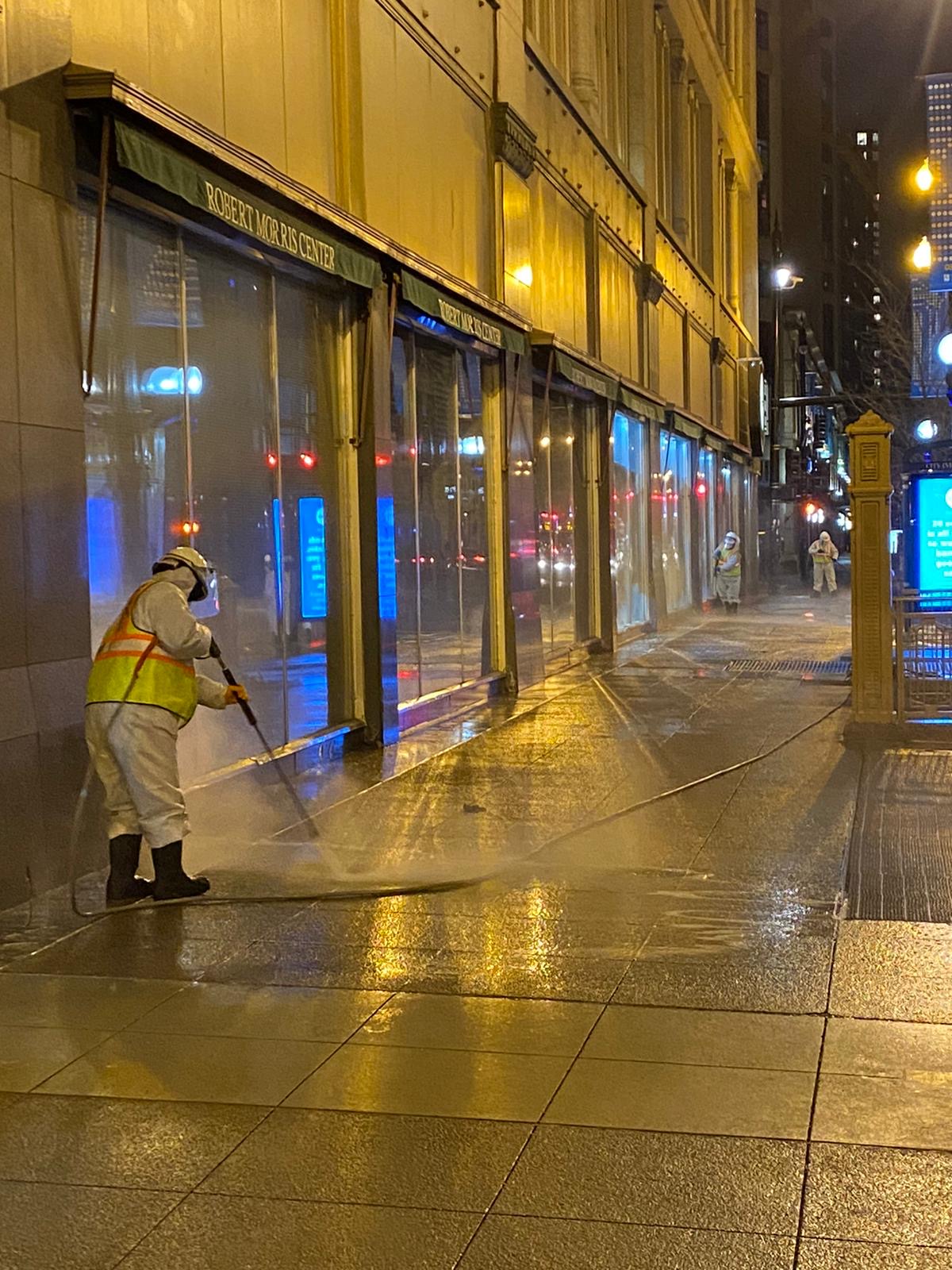 In addition to pressure washing and disinfecting, Chicago Loop Alliance is also utilizing its Street Ambassadors to keep State Street clean and safe. As pedestrian activity in the Loop declines by about 70 percent, members of Chicago Loop Alliance's Street Team and Clean Team, contracted through the company Streetplus, are shifting their focus from customer service to thoroughly cleaning all street furniture, street fixtures and equipment on State Street. All ambassadors have been equipped with rags and disinfectant to wipe down newspaper racks, trash cans, benches, and other fixtures in the public domain.
A statement from Streetplus reads, "Please take comfort in knowing that Streetplus is committed to the health, safety, and well-being of all our customers and the districts that we serve. We will do all that we can to help battle the transmission of COVID-19."
You Might Be Interested In: