3 MIN READ – The Center for Native Futures (CfNF) will host its grand opening celebration and exhibition on Saturday, September 16 from 4 to 7 p.m. and Sunday, September 17, 2023 from noon to 4 p.m. Located in the Loop's Marquette Building, CfNF serves as Chicago's only all-Native artist-operated fine arts organization.
---
"This initiative has been a long time coming and the outpour of support is a clear indication that the city wants more contemporary Native art," said Monica Rickert-Bolter, CfNF's Co-Founder and Director of Operations. "CfNF is an investment in the community and a reaffirmation of the need for Indigenous artists for future generations."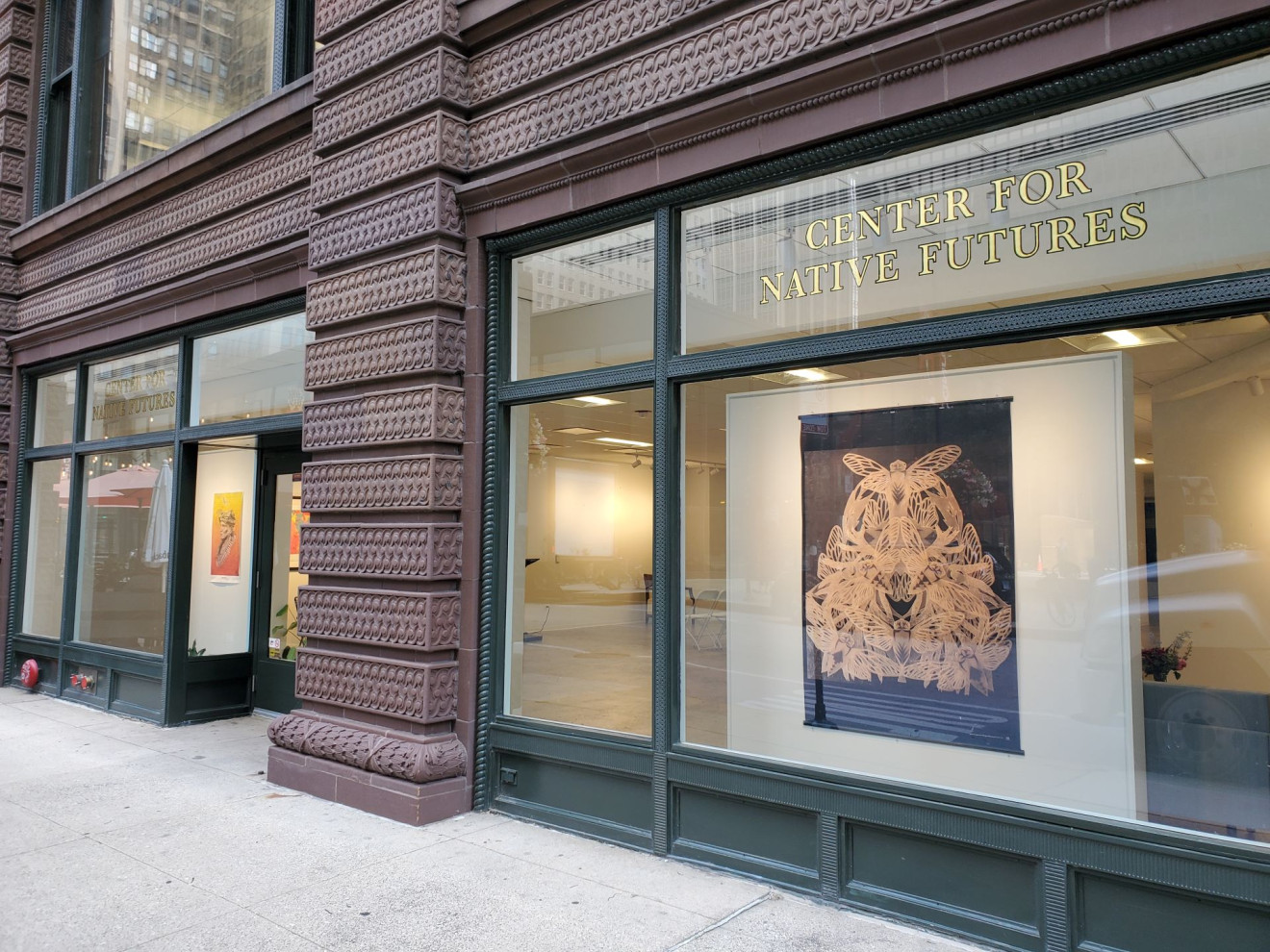 The inaugural "Native Futures" exhibition will feature more than a dozen established and emerging Native artists from the Great Lakes region, including works by CfNF co-founders, Noelle Garcia, Kelly Church, Jason Wesaw, Tom Jones, Holly Wilson, John Hitchcock, Camille Billie, June Carpenter, Codak Smith, Le'Ana Asher, Dakota Mace, Ji Hae Yepa-Pappan, Chelsea Big Horn, Lydia Cheshewalla, Hattie Lee, and TIES poets. Additionally, it will highlight women-owned businesses, and present a special guest performance by Lakota hip-hop artist Frank Waln.
The art gallery promotes Native arts, artists, and writers, who have been culturally displaced and underrepresented through exhibitions, residencies, programs, conferences, and partnerships. By offering a platform for these artists and writers, CfNF also challenges the definition and assumptions of "Native Arts" and encourages Indigenous Futurists.
"We're designing a foundation for working with Native artists and exhibiting their artwork within Chicago," Debra Yepa-Pappan (Jemez Pueblo), CfNF's Co-Founder and Director of Exhibitions & Programs. "Indigenous Futurism isn't only limited to science fiction; through art, we're turning visions into reality."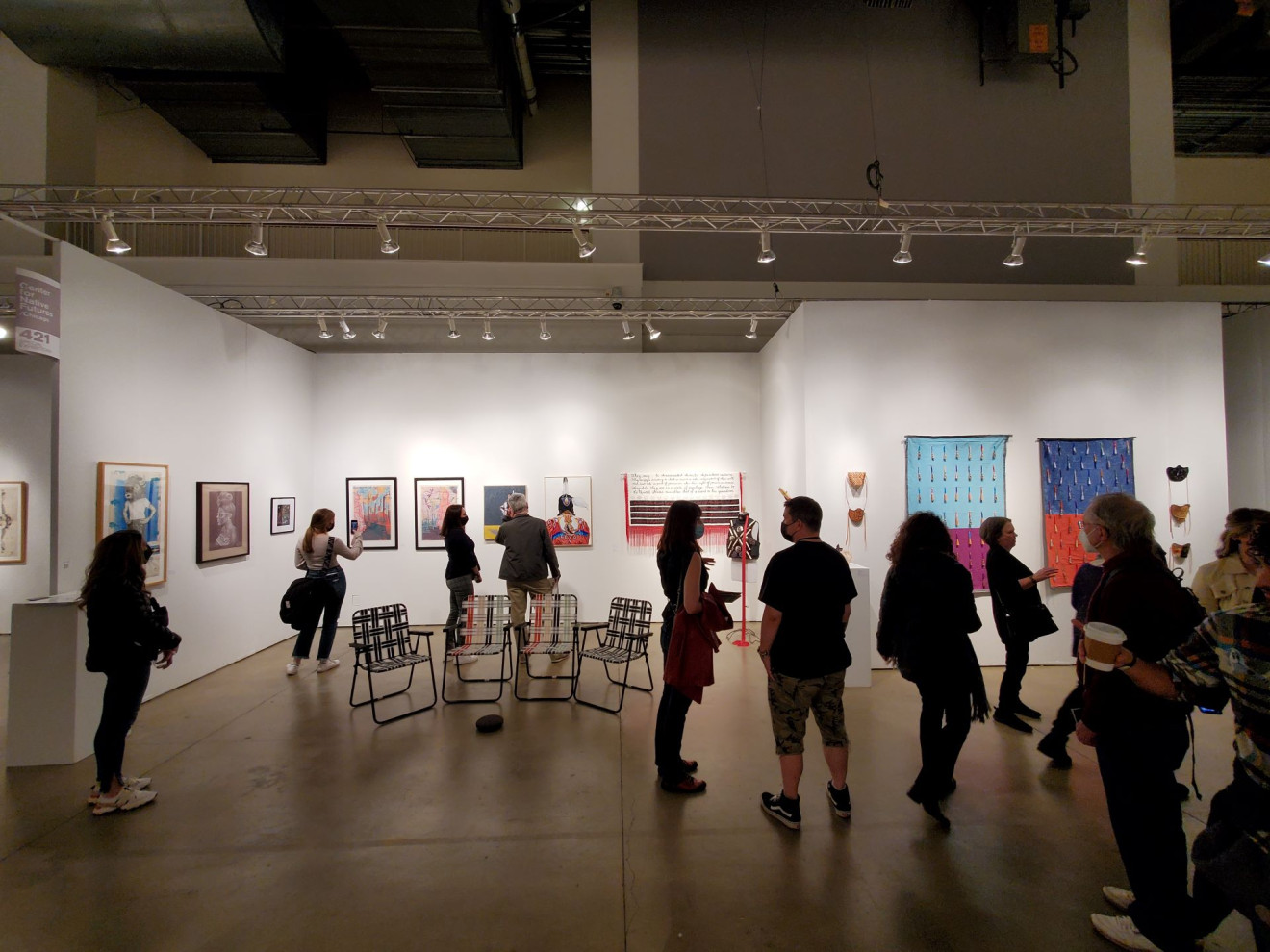 CfNF's co-founders are artists and writers, including Andrea Carlson (Ojibwe), Debra Yepa-Pappan (Jemez Pueblo), Chris Pappan (Kanza/Osage/Lakota), Monica Rickert-Bolter (Potawatomi), Patrick Del Percio (Cherokee descent), and River Kerstetter (Wisconsin Oneida), all of whom have revitalized their own cultural practices to keep specific art forms alive and adapted to incorporate more modern materials and styles.
About Center for Native Futures
Founded in 2020, the art center has hosted virtual artist talks and poetry readings, advised institutions and organizations, and nurtured artists within the Urban Native Community. In partnership with the Terra Foundation for American Art and MacArthur Foundation, CfNF moved into a 3600 sq ft storefront in the Marquette Building in June 2023. Since its inception, the art center has showcased over 30 Native artists and writers through programs, partnerships, and exhibitions such as EXPO Chicago, TIES, Big Read, Art Design Now, etc. The art gallery will be open to the public Wednesday through Friday from 10 a.m. to 6 p.m. and Saturday from 10 a.m. to 2 p.m.
You Might Be Interested In: