2 MIN READ - Pedestrians on Wabash Avenue between Lake and Monroe streets are experiencing a big pop of primary colors thanks to a new initiative by Chicago Loop Alliance.
---
"Wabash Windows" is a strategic placemaking project that activates four vacant storefronts on Wabash Avenue with murals. Installation for "Wabash Windows" was completed on December 11 at 129 N. Wabash Ave., 33 N. Wabash Ave., 28 S. Wabash Ave., and 17 S. Wabash Ave.
Brightly colored murals will beautify the windows of vacant storefronts along Wabash and bring positive attention to available retail space. Once the space has been rented, the mural will be removed.
"A lot of the economic development work Chicago Loop Alliance does is centered on the idea that if we make the Loop a vibrant destination, business will come," said Ian Zeitlin, public space manager for Chicago Loop Alliance. "Transforming vacant storefronts into art installations accomplishes multiple goals: It makes the street look more alive and attractive to the public, but it also, in turn, makes these spaces attractive to businesses."
"'Wabash Windows' combines a couple of Chicago Loop Alliance's program areas: placemaking and economic development," said Chicago Loop Alliance Director of Planning Kalindi Parikh. "Now that the window murals are completed, we've seen passersby look up from their phones to admire the artwork and be more aware of where they are, and more present in the moment. We're hoping this creates conversation, creates memories, and, ultimately, creates interest from business owners who may be looking for spaces to lease."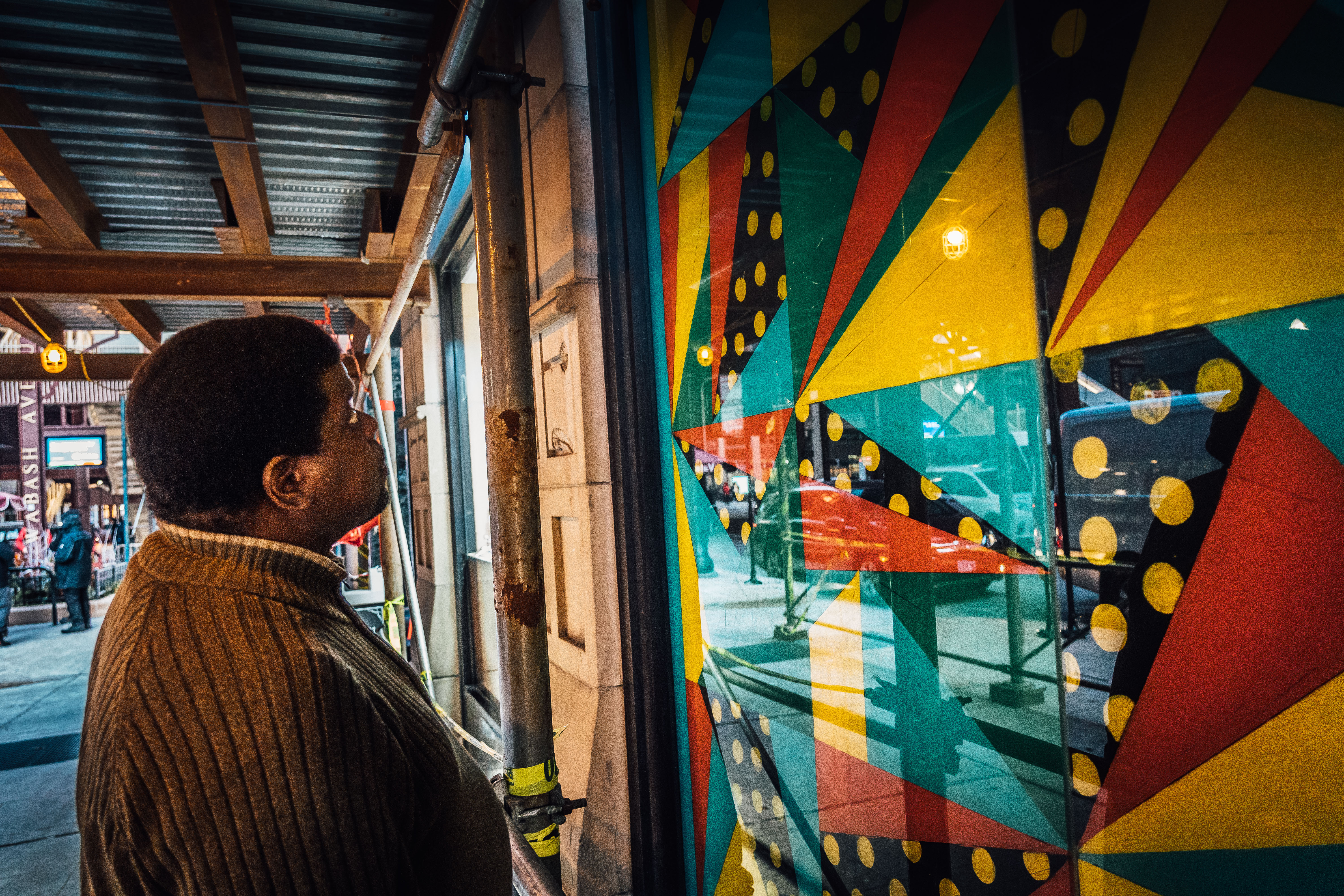 As part of Chicago Loop Alliance's broad Transforming Wabash initiative, CLA had an interest in activating vacant storefronts on Wabash with art and contracted Michelle Kliman of MK Studio, an Experience Design studio, to design the method for the activation. Kliman conceptualized painting murals directly on the glass and selected artists, created design guidelines and will oversee installation and removal of the murals. In celebration of the 100-year anniversary of the Bauhaus School, an influential German school of design, architecture and applied arts, "Wabash Windows" employs a primary color palette inspired by the school's revolutionary aesthetic. Muralists Jennifer Wandro, Carla Bank, Bee Harris and Ponnopozz will use these colors to create murals in their unique styles.
Through her design practice, Kliman creates interactive spaces, inspiring events, signature moments, engaging programming and playful products that take people offline and into the physical world where we all live.
"Working with Chicago Loop Alliance has been such a rewarding experience," Kliman said. "As project designer for Wabash Windows, I get the opportunity to provide local artists with a public platform to share their work, elevate the Wabash retail corridor, and inspire and connect people to the city of Chicago and the creatives that live here. Painting reverse on glass is challenging for even the most seasoned artist, but all of the talented women who created murals for 'Wabash Windows' did an amazing job. I hope their work and this project can continue to bring positive change to the Loop."
You might be interested in: