2 MIN READ – Since July, Chicago Loop Alliance has been collecting monthly survey data from its member businesses and stakeholders to track operations during COVID-19, and today released its April report. View the full April report here. Some highlights include:
---
There is a steep uptick in parking volumes, which reached 87 percent of a normal year—the closest to normal this metric has come since the start of the pandemic.
Pedestrian activity took a slight dip compared to March, but this coincides with overcast and chillier weather, and levels are still consistently closer to normal than they've been throughout the pandemic.
CTA ridership is trending upward, hitting about 40 percent of normal levels.
Hotel occupancy saw its greatest month-over-month increase between February and March (this data is always one month behind the other metrics), hitting around 36 percent of normal levels.
The greatest room for improvement is in office human occupancy, which rose marginally in April, hovering around 16 percent of normal. Large gains are expected here this summer, as BMO Harris, JPMorgan Chase, and Citadel have announced that, combined, they'll bring 10,000 workers back downtown in June and July. And according to survey respondents, the percentage of businesses "unsure" of when staff will return to on-site work has dropped dramatically over the past two months.
Only 14 percent of survey respondents reported their business is open with all staff working remote; the majority have some or all staff on-site.
When personal car and ride share are combined, it shows that cars are the most popular way to get downtown, followed by public transit (CTA and Metra combined).
Employers are feeling far more confident in a return to the office. Only 56 percent of respondents indicated "unsure" or "other" when asked when their full staff would return to the Loop for work (69 percent in March and 80 percent in February). 7 percent said all staff would return in Q2, and 21 percent said Q3 or later. 17 percent said all staff returned in Q1.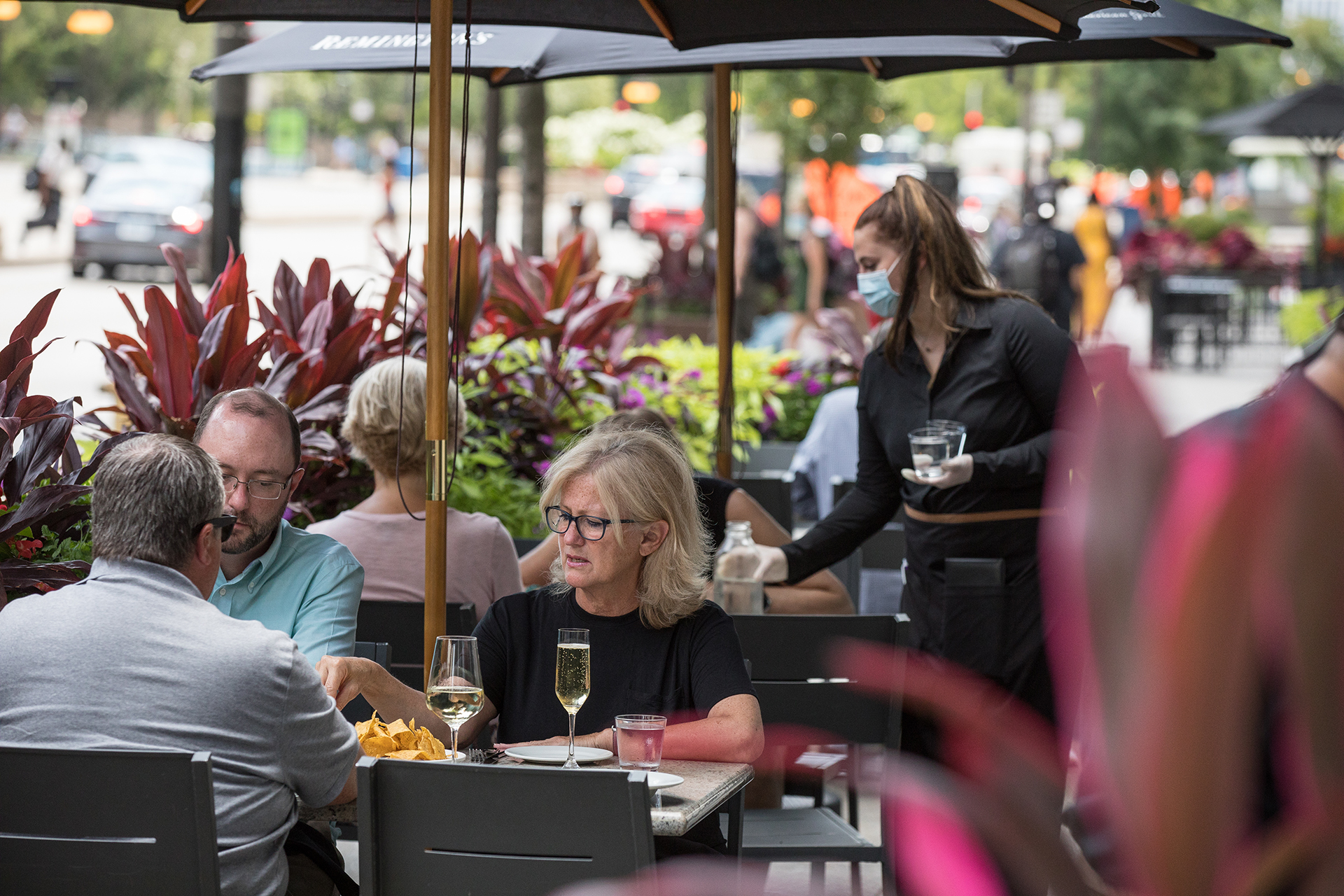 In April, outdoor activities like dining on a patio or visiting a park were more popular than indoor dining and visiting an indoor attraction. But shopping was the most popular in-person activity, indicating that retail in the Loop remains a strong draw.
"We are encouraged to see data that illustrates the Loop's steady recovery, and we expect it will only get better from here," said Chicago Loop Alliance President and CEO Michael Edwards. "We're seeing more headlines announcing large companies' plans to return to the office, and we know anecdotally that these stories are playing out at smaller businesses, too. In fact, Chicago Loop Alliance will invite all staff back to the office full-time beginning June 1. We know that the culture around work will shift to support flexibility and safety, as the COVID-19 pandemic is not yet over, but we anticipate a bustling Loop this summer. We can't wait."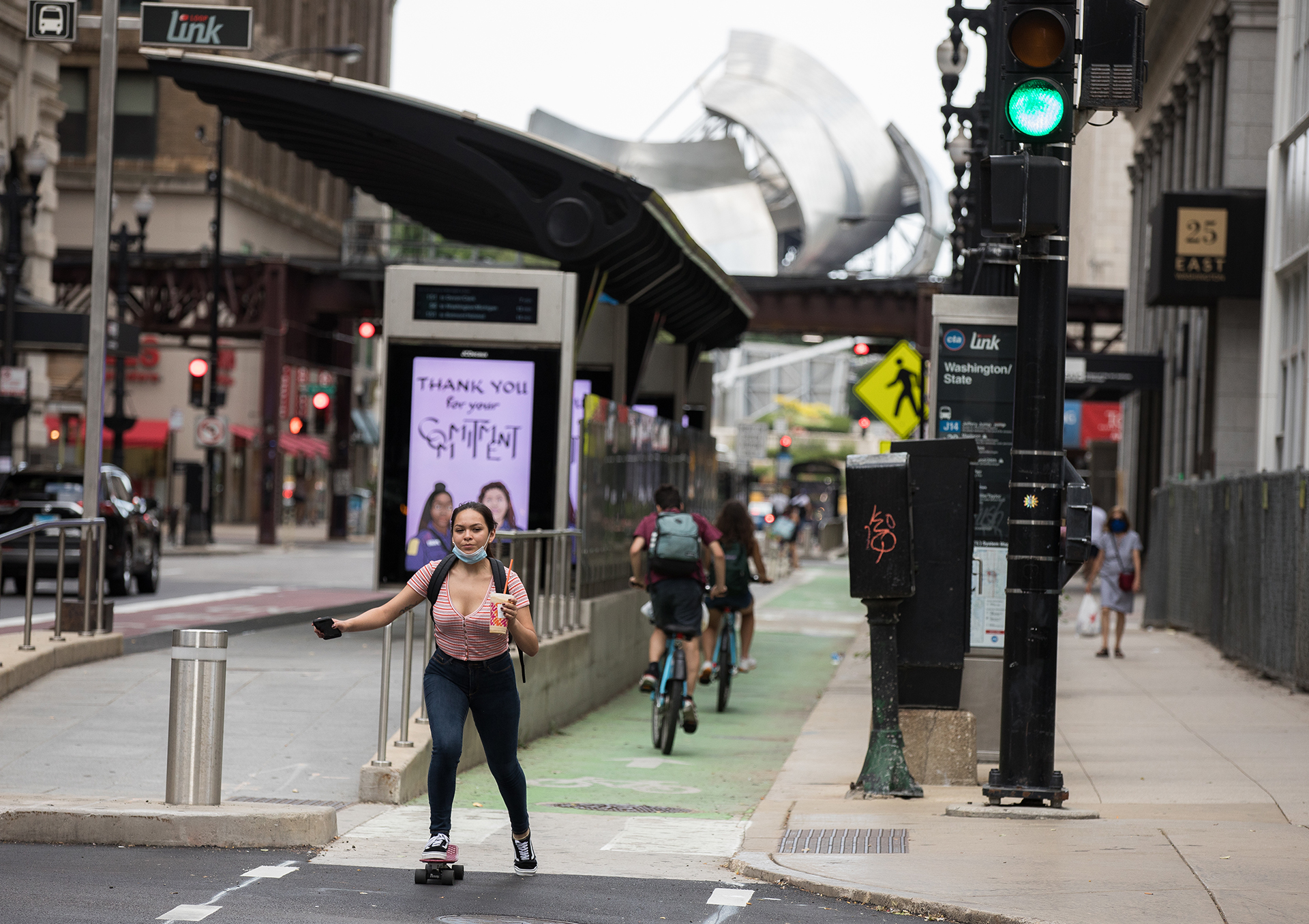 For those Loop workers who will soon return downtown, Chicago Loop Alliance has created a Back to Work Toolkit that can be found at LoopChicago.com/BackToWork. Perfect for those who never left, as well as those who are returning for the first time, the toolkit includes insider tips for working downtown in the Loop. Find useful information on how to safely get downtown; what's new in the Loop; what the Loop looks like these days; lunch and happy hour spots; and more.
Chicago Loop Alliance invites people to share their experiences downtown on social media using #BackInTheLoop.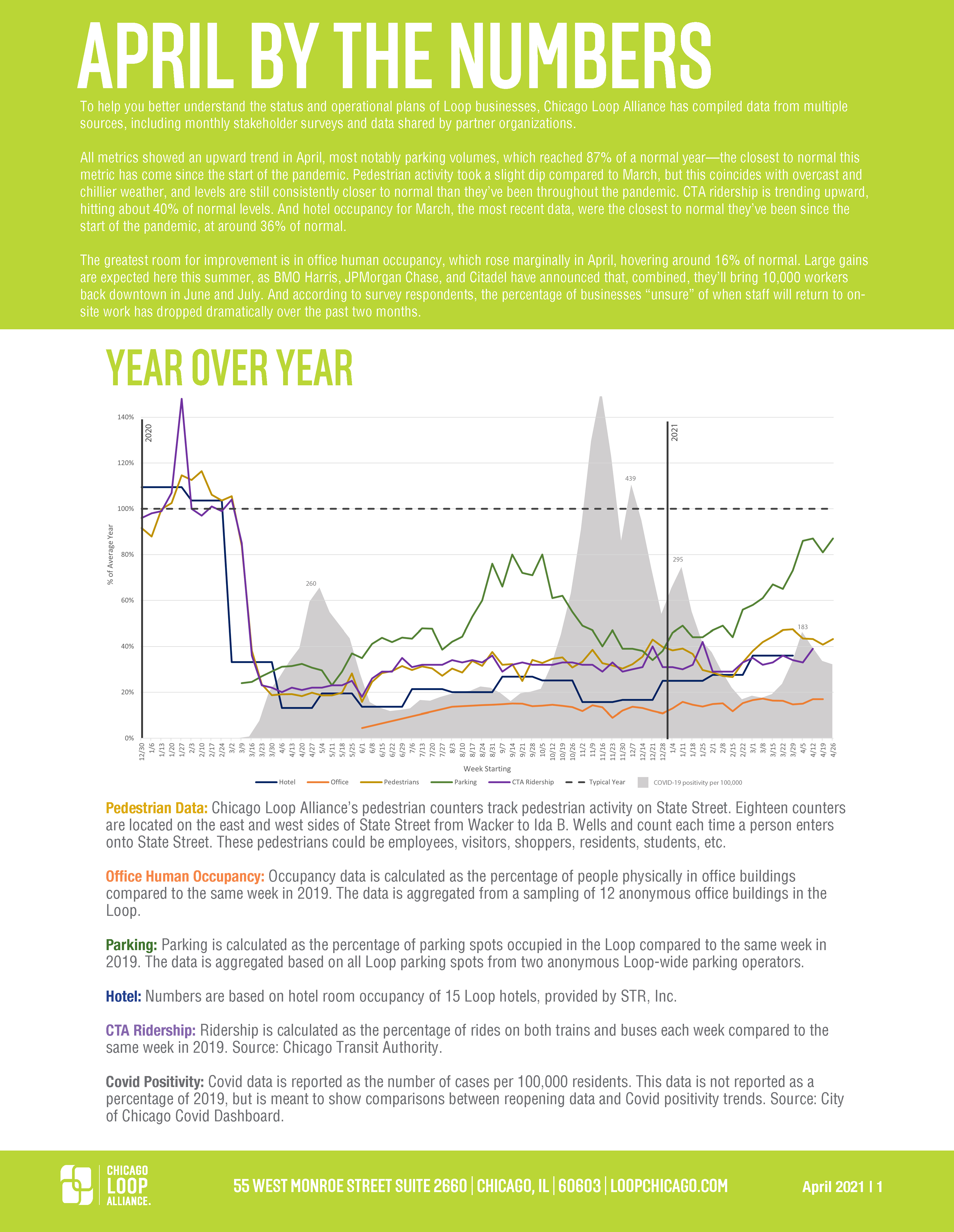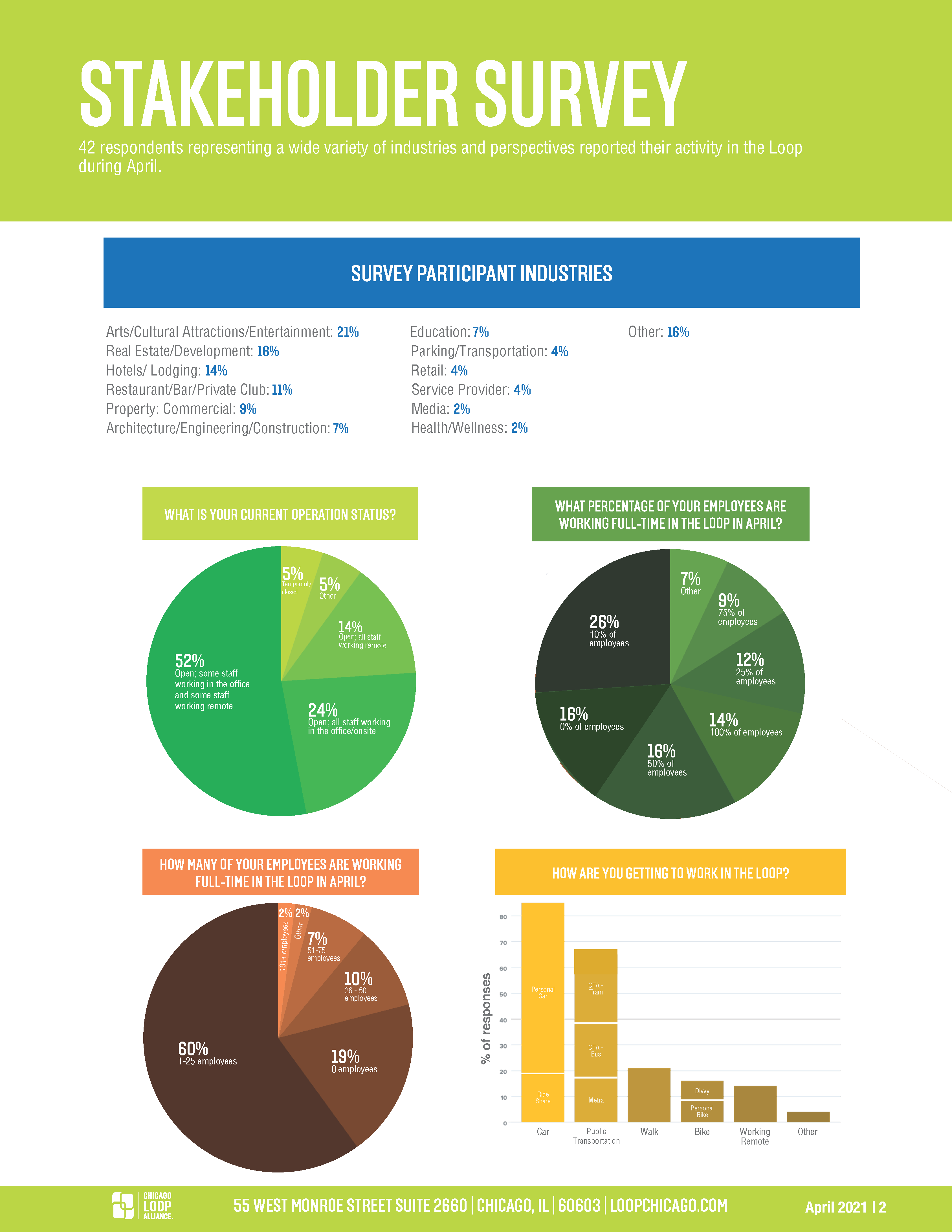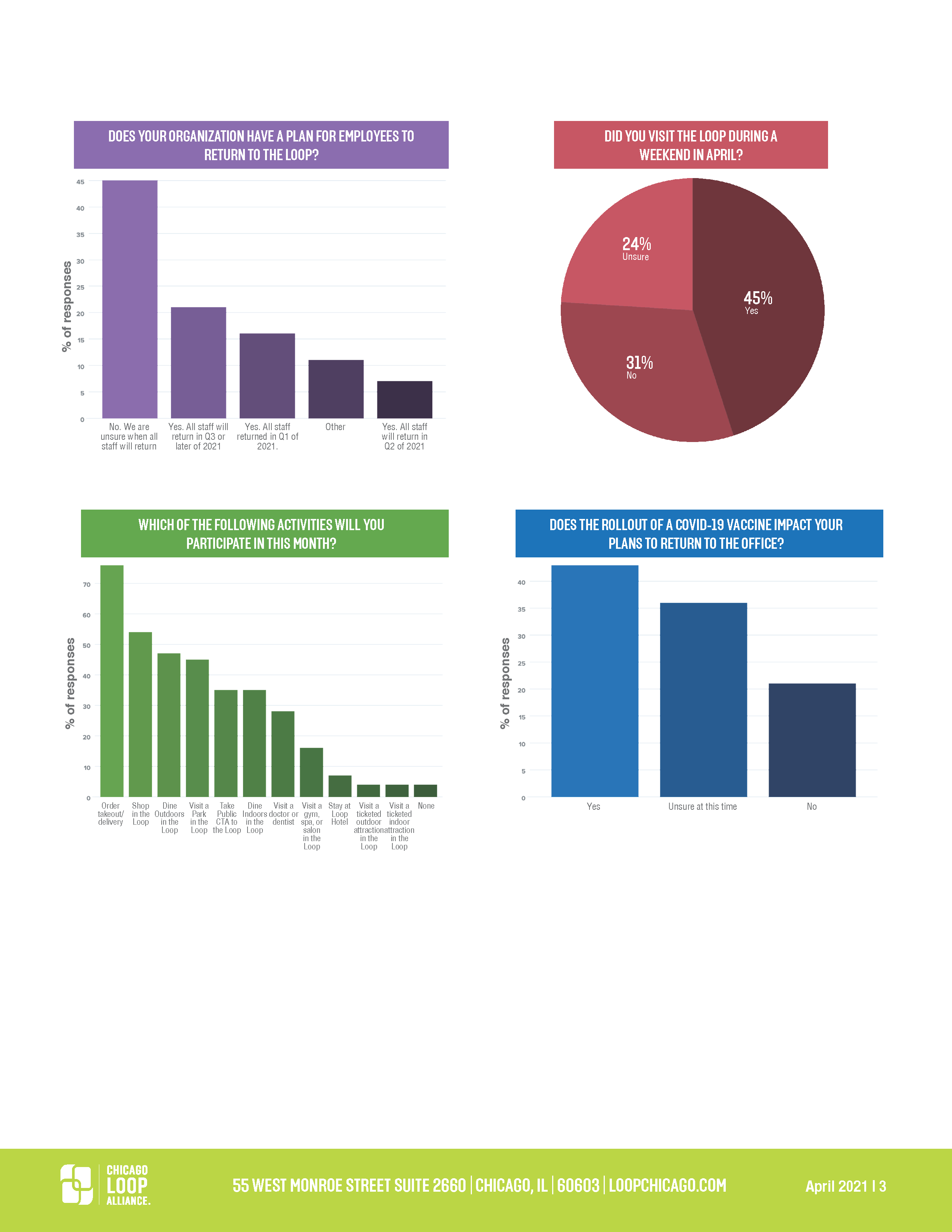 You Might Be Interested In: