5 MIN READ – Chicago Loop Alliance (CLA) has released its State of the Loop report for quarter three 2023 on downtown activity, using a variety of data sources, which the organization has produced since July 2020. The report tracks pedestrian activity, shared mobility and transit, hotel occupancy, office workers on-site, arts and culture, investment, and more. Sold-out and world-class events; an incremental increase in office workers; and record-breaking summer tourism contributed to a stable third quarter. View the quarter three (July-Sept. 2023) State of the Loop report here.
---
"The Chicago Loop's economic activity continued its return to pre-pandemic levels throughout quarter three. A general decrease in incidents of crime, coupled with consistently improved public transportation resulted in more workers returning to the office - albeit at a slower pace than hoped to meet projected recovery rates," said Michael Edwards, President and CEO of Chicago Loop Alliance. "More international and leisure tourism, major sold-out events, and a very strong residential market created increased pedestrian activity throughout the Loop. The shift to weekend and later day peaks further indicates a changing downtown providing new retail, dining, and beverage opportunities. Chicago Loop Alliance remains bullish regarding the next quarter of the Loop's economic performance."
Pedestrians
Loop summer events like Lollapalooza, NASCAR, and Sundays on State increased average pedestrian activity on State Street and Michigan Avenue to 75 percent of pre-pandemic levels. This higher average count translates to a 9 percent increase in total pedestrians in Q3 of this year compared to Q3 2022.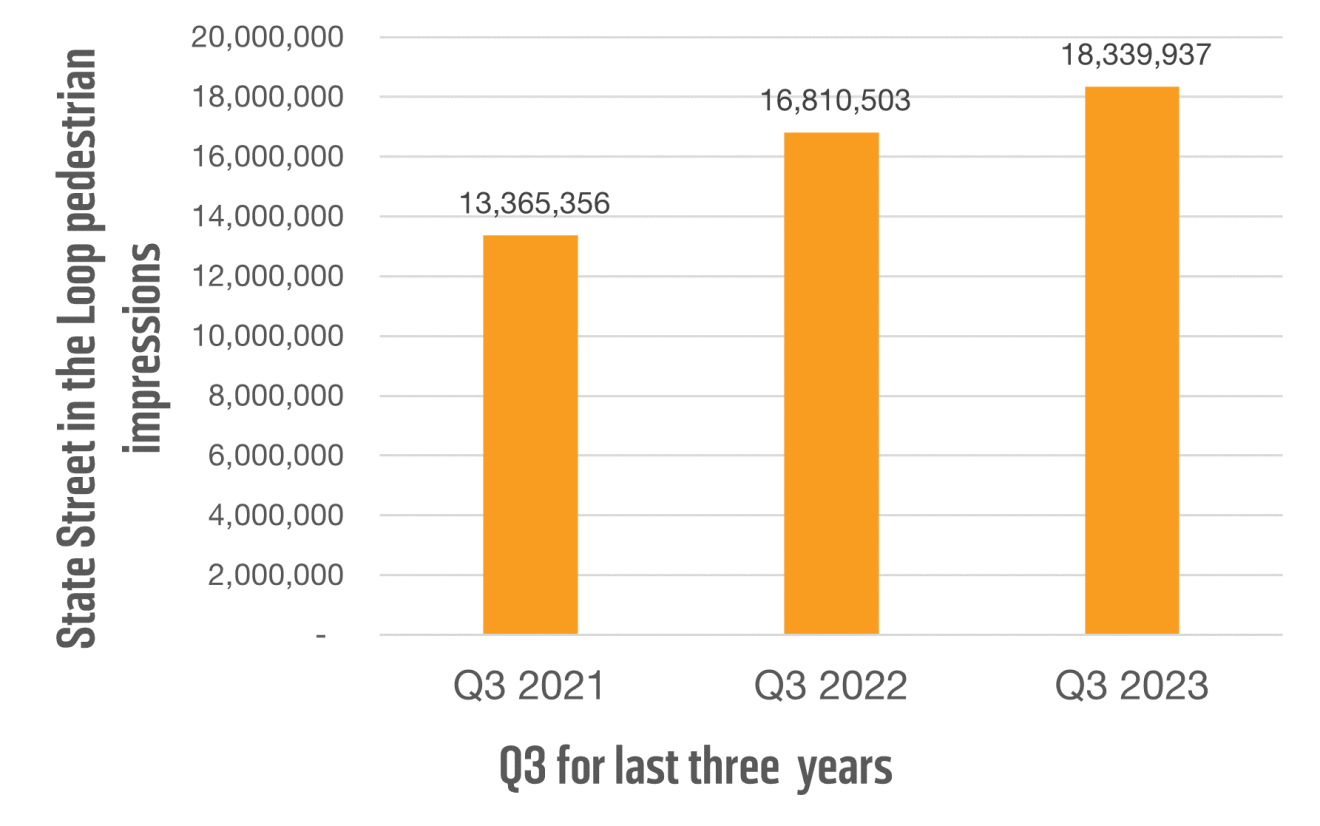 Arts and Culture
A robust arts and theater scene continued to attract visitors downtown, contributing over $200 million of direct economic impact. More than 800,000 people visited downtown arts and cultural institutions, with millions more attending record-breaking events such as Beyonce, Ed Sheeran, and Karol G at Soldier Field. Despite the hard times facing the theater industry in particular, arts and culture remains the Loop's secret sauce.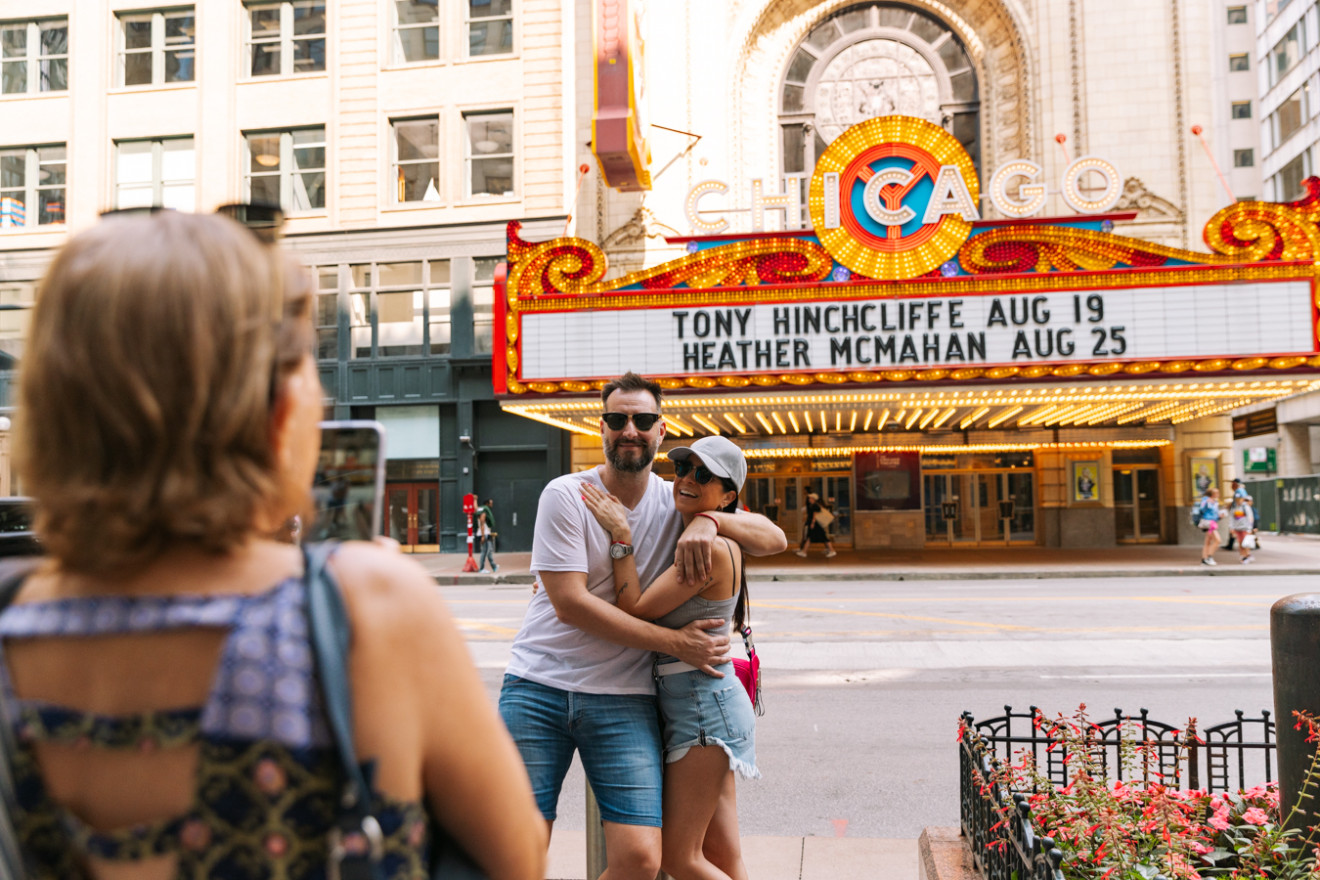 Hotels
This summer season saw the highest ever total occupancy in Loop history with an array of marquee concerts and cultural offerings at downtown venues. September's 77 percent occupancy rate surpassed the previous month's average, suggesting a measurable increase in business or international travel. September also recorded the second-best monthly hotel revenue of 2023 at $264 million.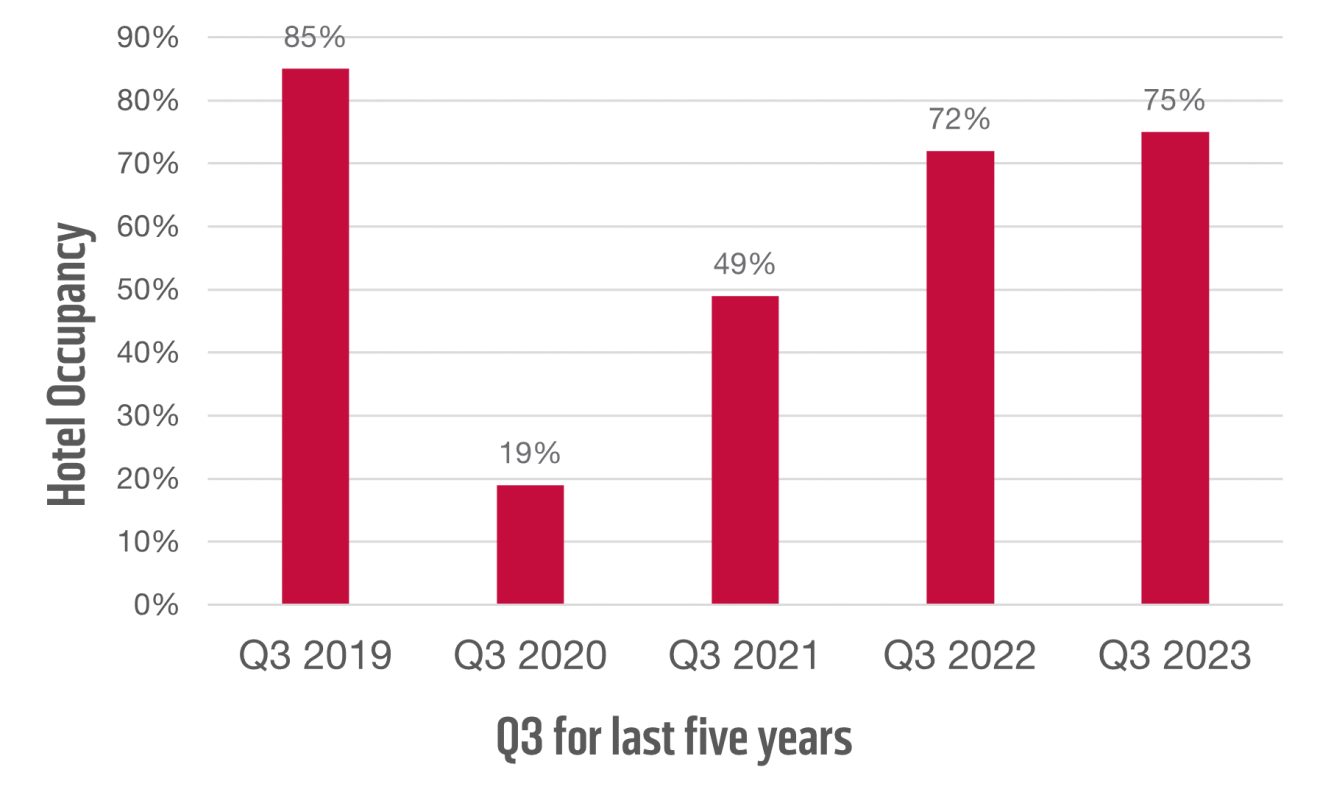 Metra and CTA
Metra provided over 8 million passenger trips in Q2 2023, a 34 percent increase from Q2 2022.
CTA reported the highest amount of trips since the start of the pandemic in Q2 2023 with over 68 million rides.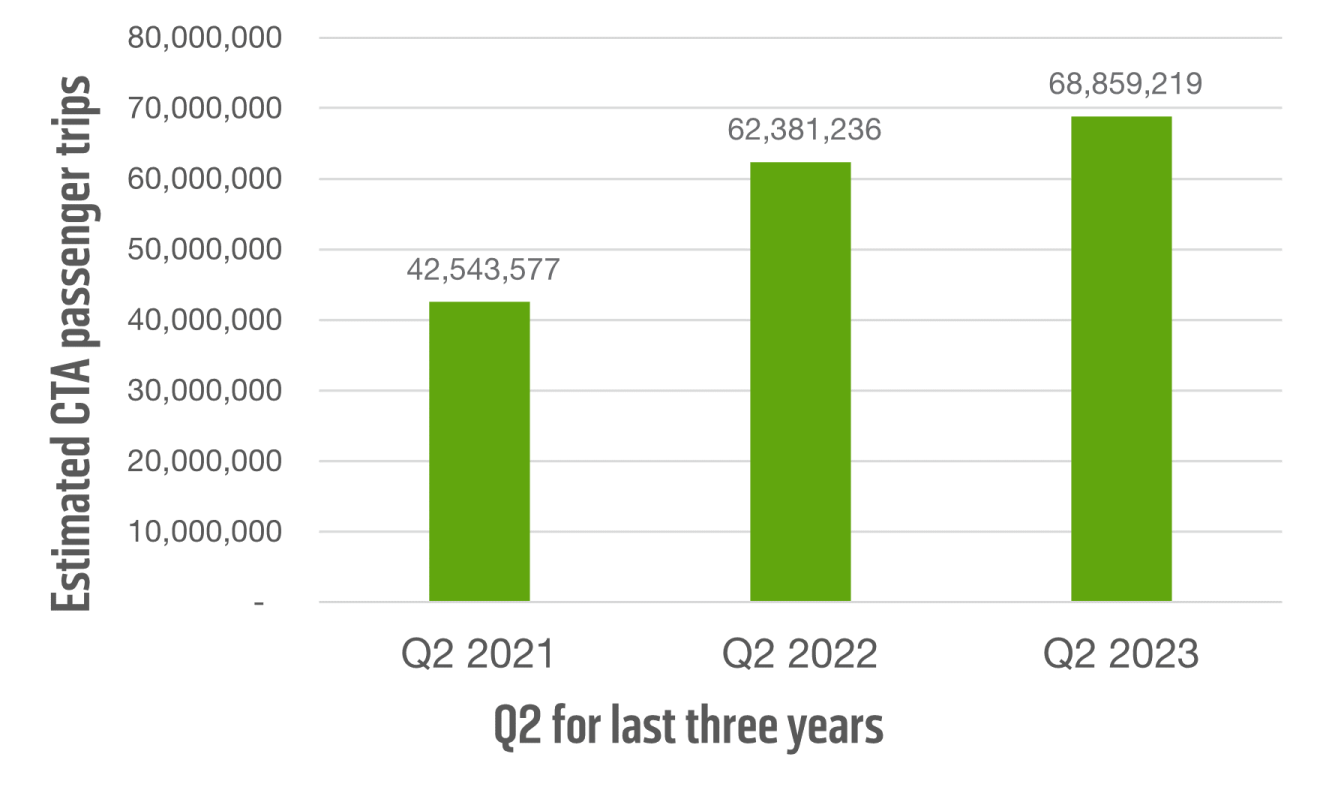 Office
Chicago office occupancy remains above the major US cities average for quarter three, trailing only behind Austin, Houston, and Dallas (in that order) by less than two percentage points.
Investment
Investment along the State Street corridor is projected to remain steady for 2023 by total number of permits issued. However, the projected total cost estimate of those permits remains lower than last year. Permit issuance suggests incremental investment and maintenance to the corridor. Of note, Museum of Illusions' recent renovation expands their footprint to allow for an increased visitor experience.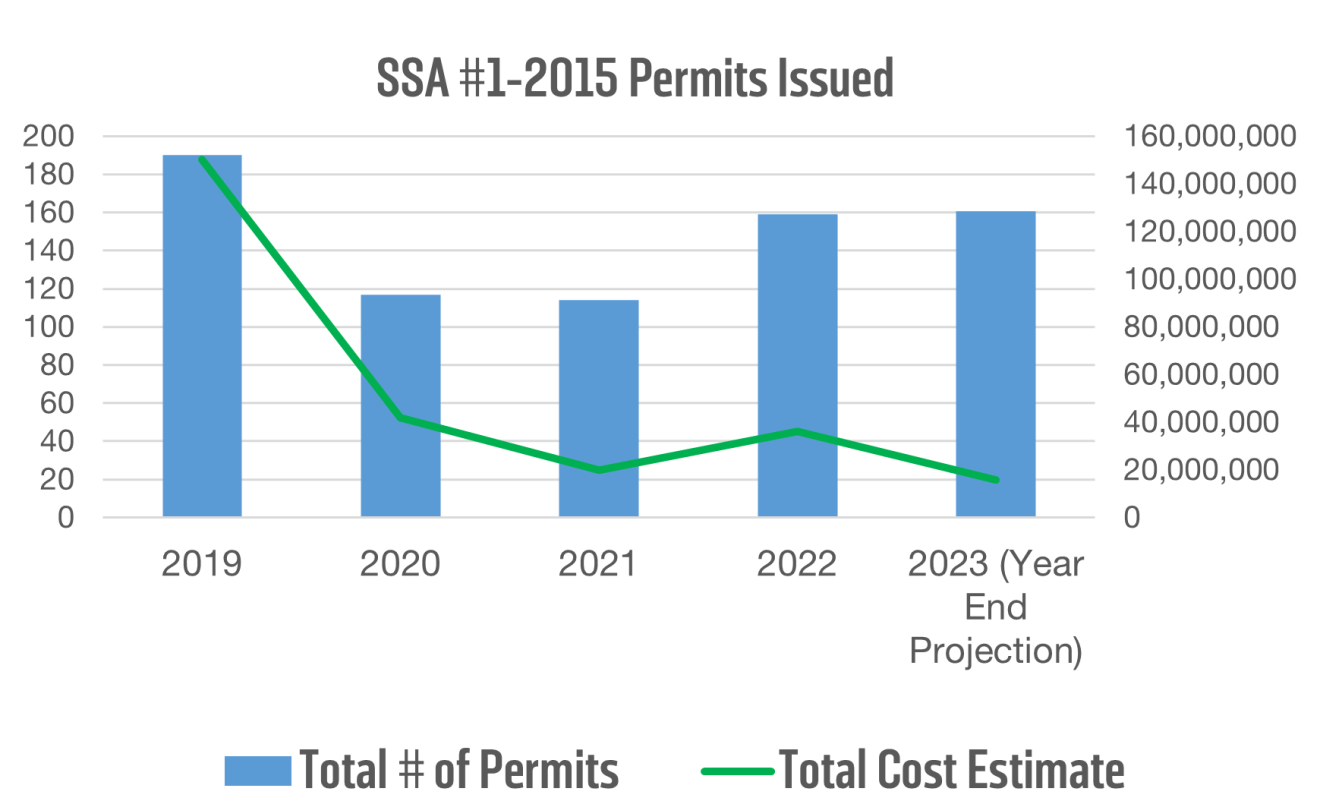 Shared Mobility
Shared mobility options are a growing, vital mode of transportation to and from the Loop, with Divvy reporting 536,338 total trips in quarter three. Thursdays and Saturdays were the system's busiest days, with the busiest time periods of 7-9 a.m. and 4-6 p.m.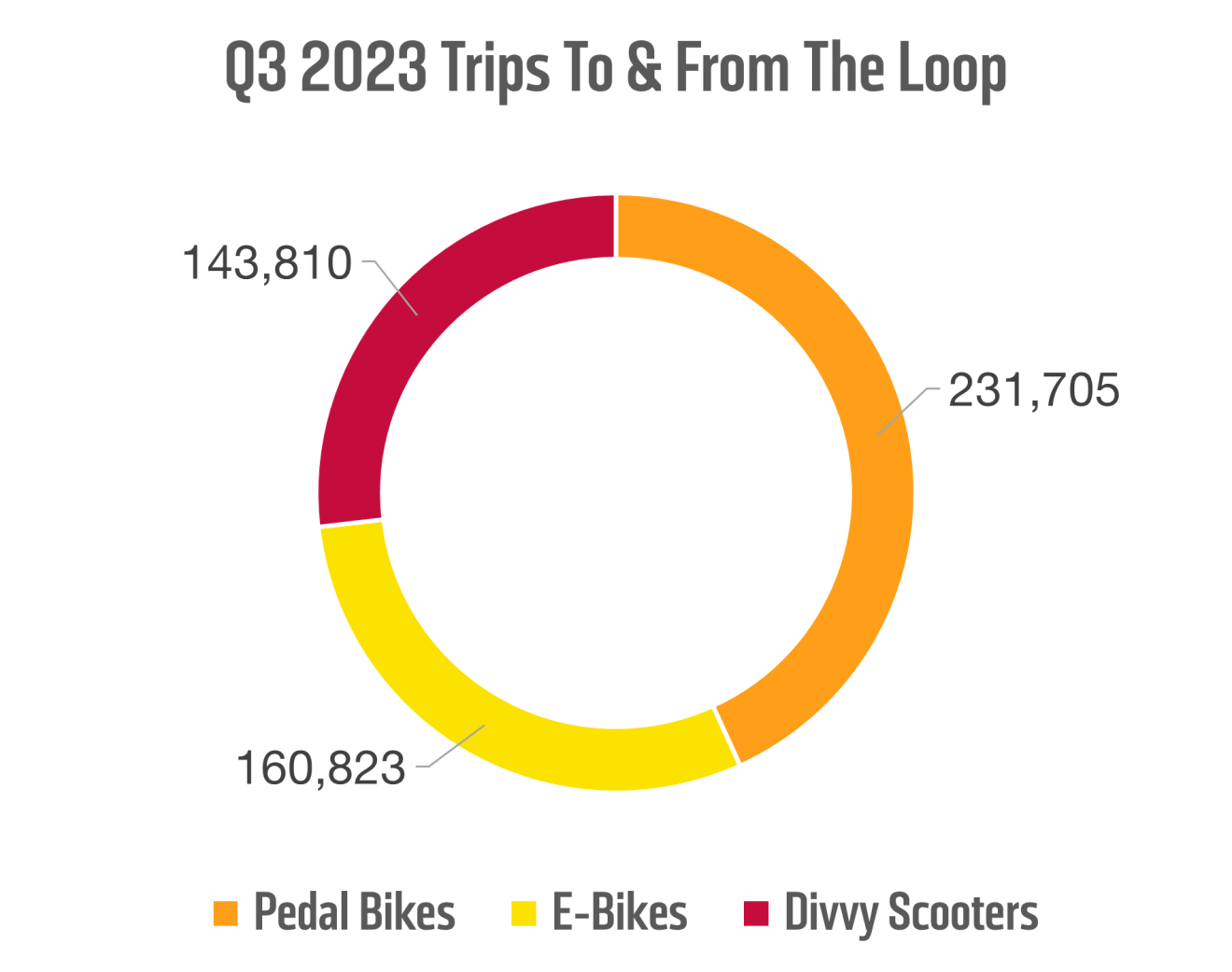 Methodology
Sources for pedestrian activity provided by Springboard; arts and culture provided by Choose Chicago and the Art Institute of Chicago; hotel occupancy provided by Choose Chicago; Metra and CTA provided by Regional Transportation Authority, Metra and Chicago Transit Authority; office occupancy provided by Kastle Systems; business permitting provided by Chicago Cityscape; and shared mobility ridership data provided by Divvy to the Chicago Department of Transportation and Sam Schwartz.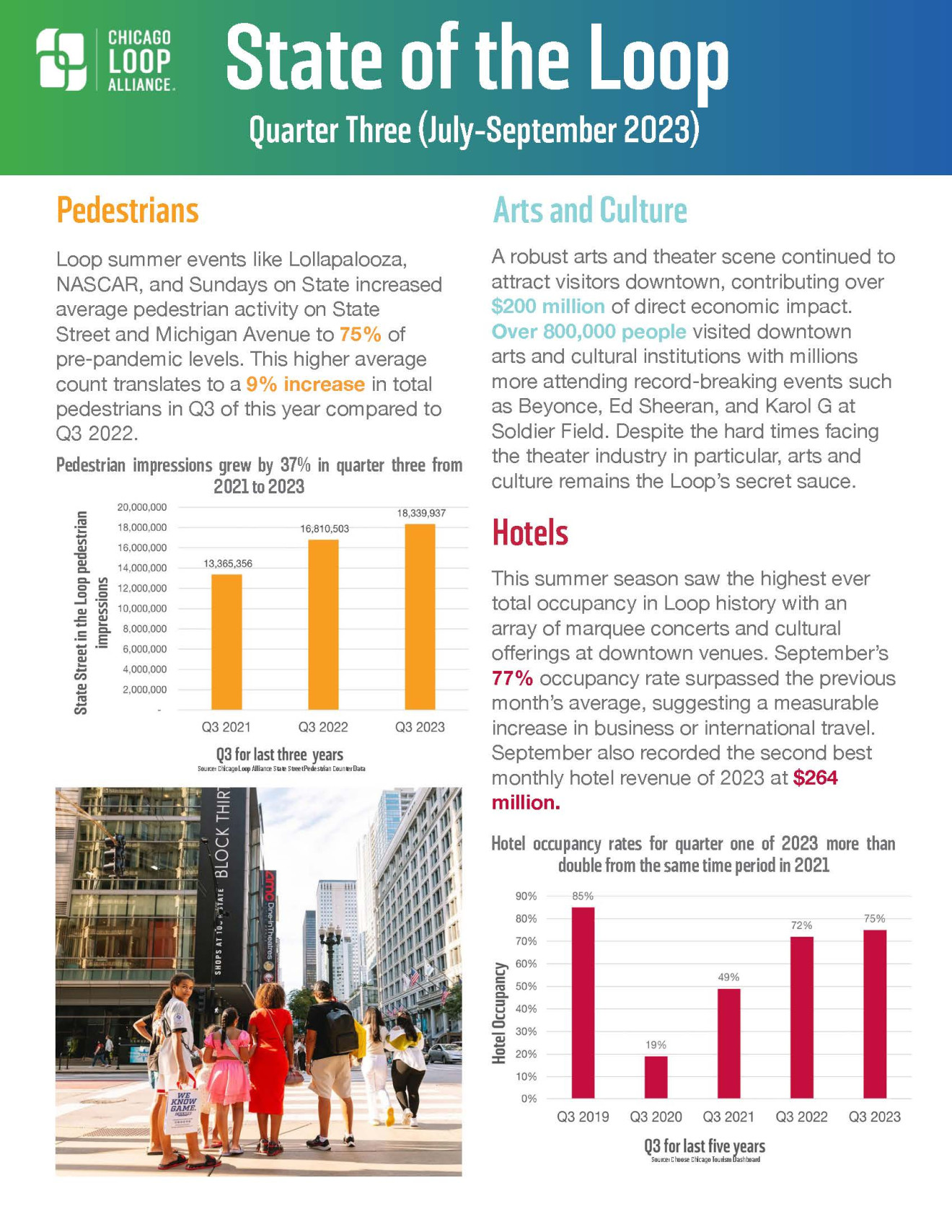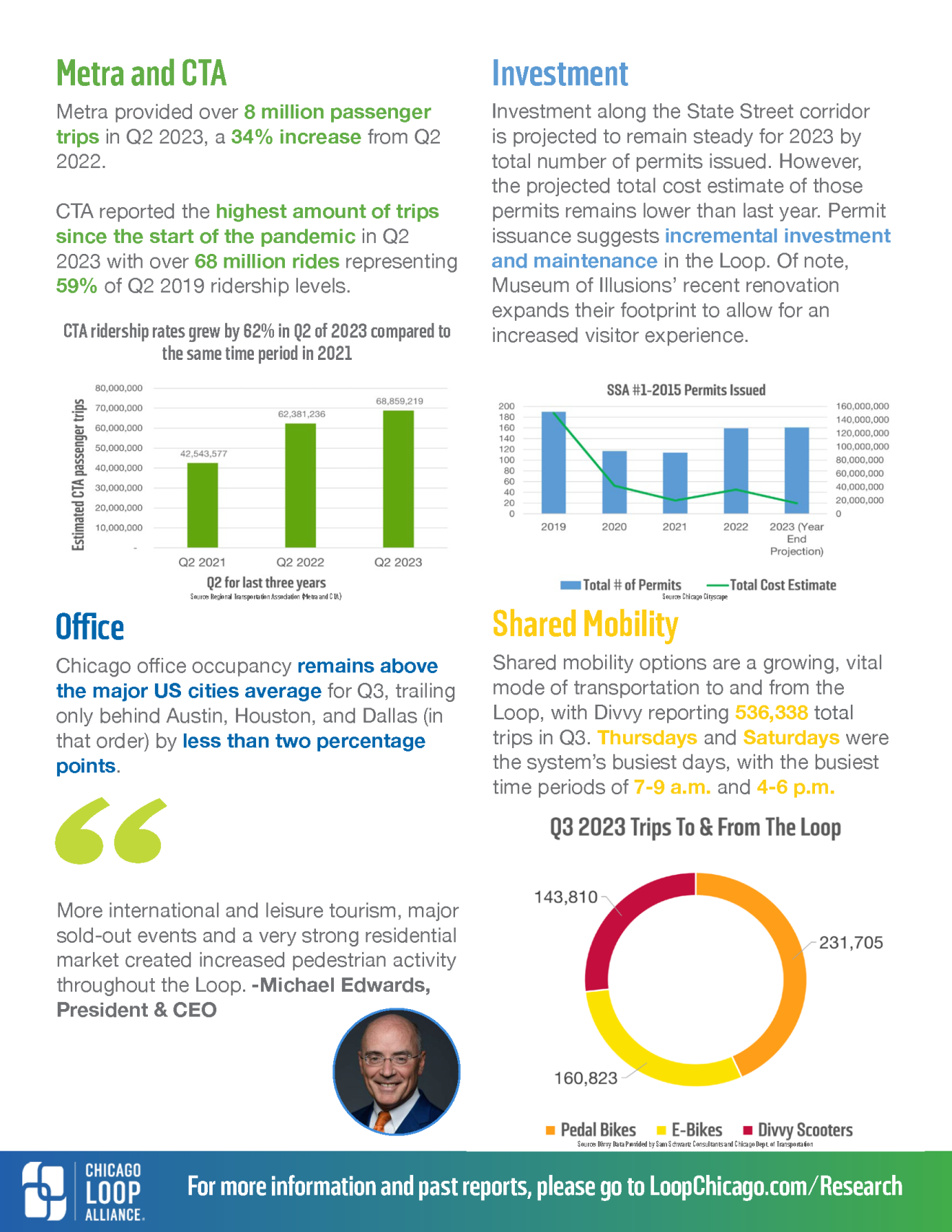 You Might Be Interested In: