4 MIN READ – Long gone are the days when a restaurant's only vegetarian option is a side salad. In fact, vegan and vegetarian dishes are becoming so abundant, it might be easy to miss the most mouthwatering offerings. So we've handpicked the must-try menu items from some of the best restaurants in the Chicago Loop.
---
Looking for something delicious, nutritious, and veggie forward? Grant Park Bistro offers something for everyone! Located on the ground floor of the Le Meridien Essex Chicago, Grant Park Bistro offers stunning views of Grant Park and an array of vegetarian choices on their menu including the Macaroni and Cheese served with a cheddar mornay sauce for $8; the Grilled Portobello Mushroom Sandwich with avocado, grilled peppers and onions, pickled chilis, and red pepper sauce slathered on two sliced on 9 grain bread for $15; and the Grilled Cauliflower served with quinoa, fried carrots, and a red pepper coulis for $18. Grant Park Bistro is also open for breakfast and lunch daily with their special Mimosa Brunch offered on Saturdays and Sundays.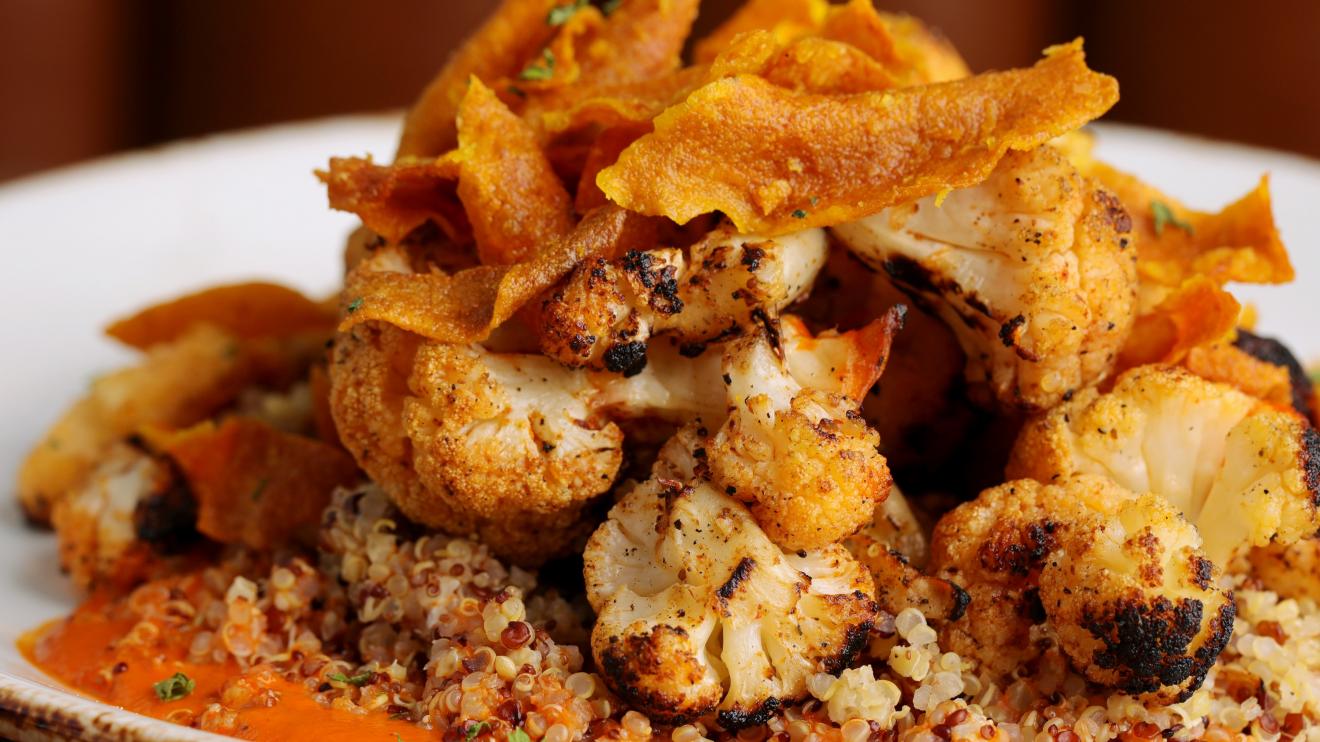 When eating as a vegetarian, the list of restaurants with vegetarian menus can be limited. Look no further than Land and Lake Kitchen! Located on the ground floor of the LondonHouse Hotel, the restaurant is just steps away from Michigan Avenue and the Chicago River making it the perfect place for lunch after a day of exploring the city. Land and Lake Kitchen serves a variety of approachable American classics using locally sourced ingredients. Their vegetarian items include the Grilled Caesar Salad with grilled romaine hearts, croutons, parmesan, and a house Caesar dressing for $11; the Pesto Fettuccine served with their house-made pesto and shaved parmesan for $16; and the Grilled Portobello Mushroom Sandwich with avocado, grilled peppers and onions, pickled chilis, and red pepper sauce slathered on two sliced on 9 grain bread for $15. Land and Lake Kitchen is also open for breakfast and lunch daily with their special Mimosa Brunch offered on Saturdays and Sundays and weekday happy hour Monday-Friday from 4:00 p.m.-7:00 p.m.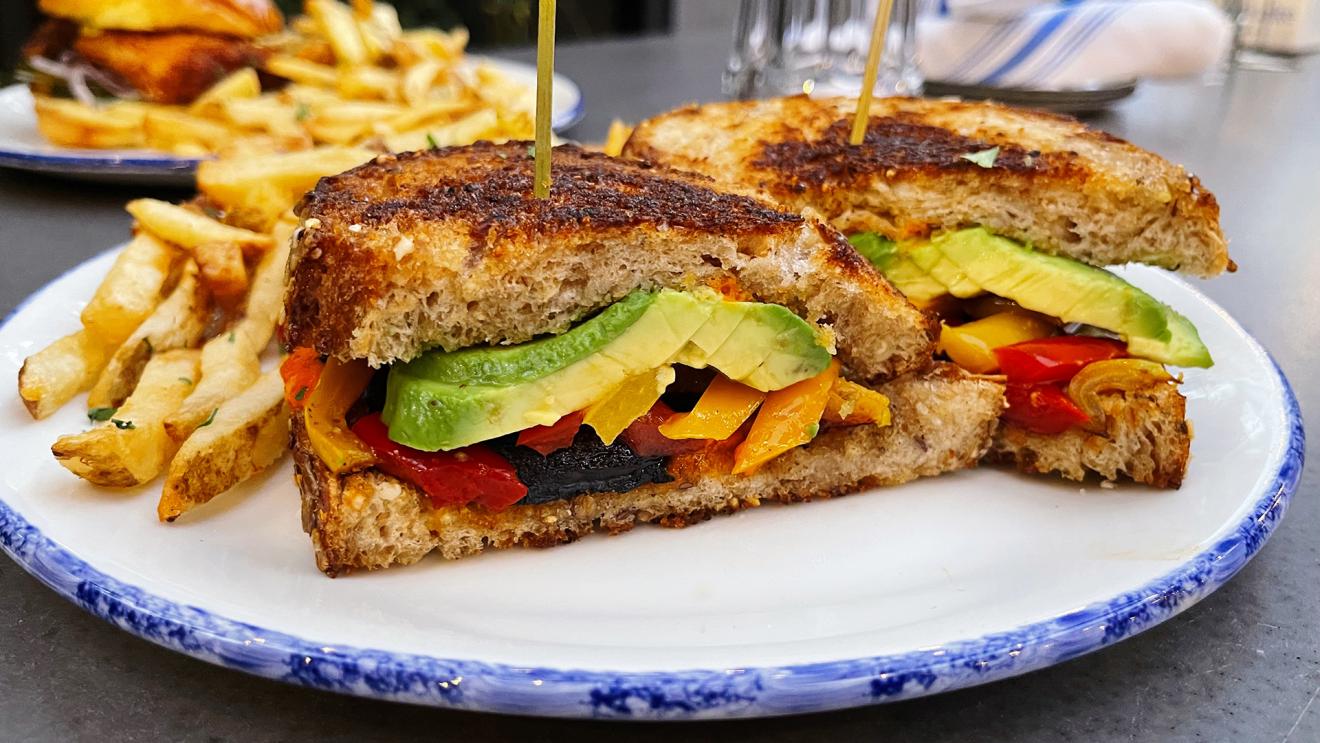 For extravagant rooftop dining 27 stories above it all, ROOF on theWIT is offering elevated service. Their venue features a stunning design, sweeping views of Chicago, private event spaces, entertainment, and a unique dining experience. Try Neapolitan-inspired pizzas made fresh in their hearth oven, along with classy cocktails and drifty city views. Start with an artichoke Marbella salad with Castelvetrano olives, dried plums, preserved lemons, oregano, and sourdough. There are also plenty of vegetarian options for pizza. Try the spinach and artichoke topped with cream sauce, artichoke, spinach, sundried tomato, and shredded mozzarella.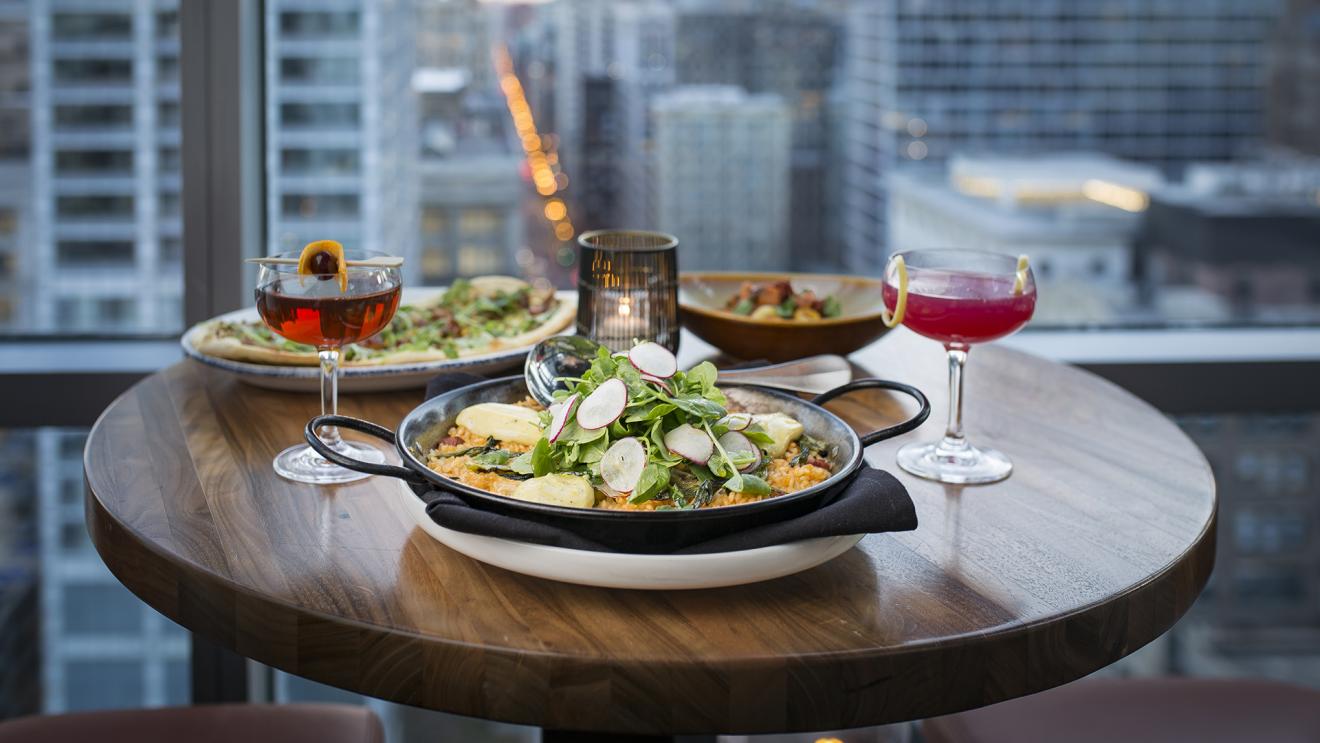 Raised is an Urban Rooftop Bar with exceptional service and breathtaking views of Chicago. Their venue features an industrial aesthetic with cabanas and fire pits to provide a relaxing atmosphere. For an afternoon overlooking the Chicago River, Raised welcomes you to their indoor/outdoor bar, open roof deck, and private outdoor areas. Try the raised frites—salt and pepper, rosemary parmesan blood orange aioli or caramelized mushroom aioli. Also try the Carr Valley-aged cheddar mac and cheese. And don't forget to grab a drink; there are several refreshing options, from Twist the Night Away to What are you Looking at, Nerd?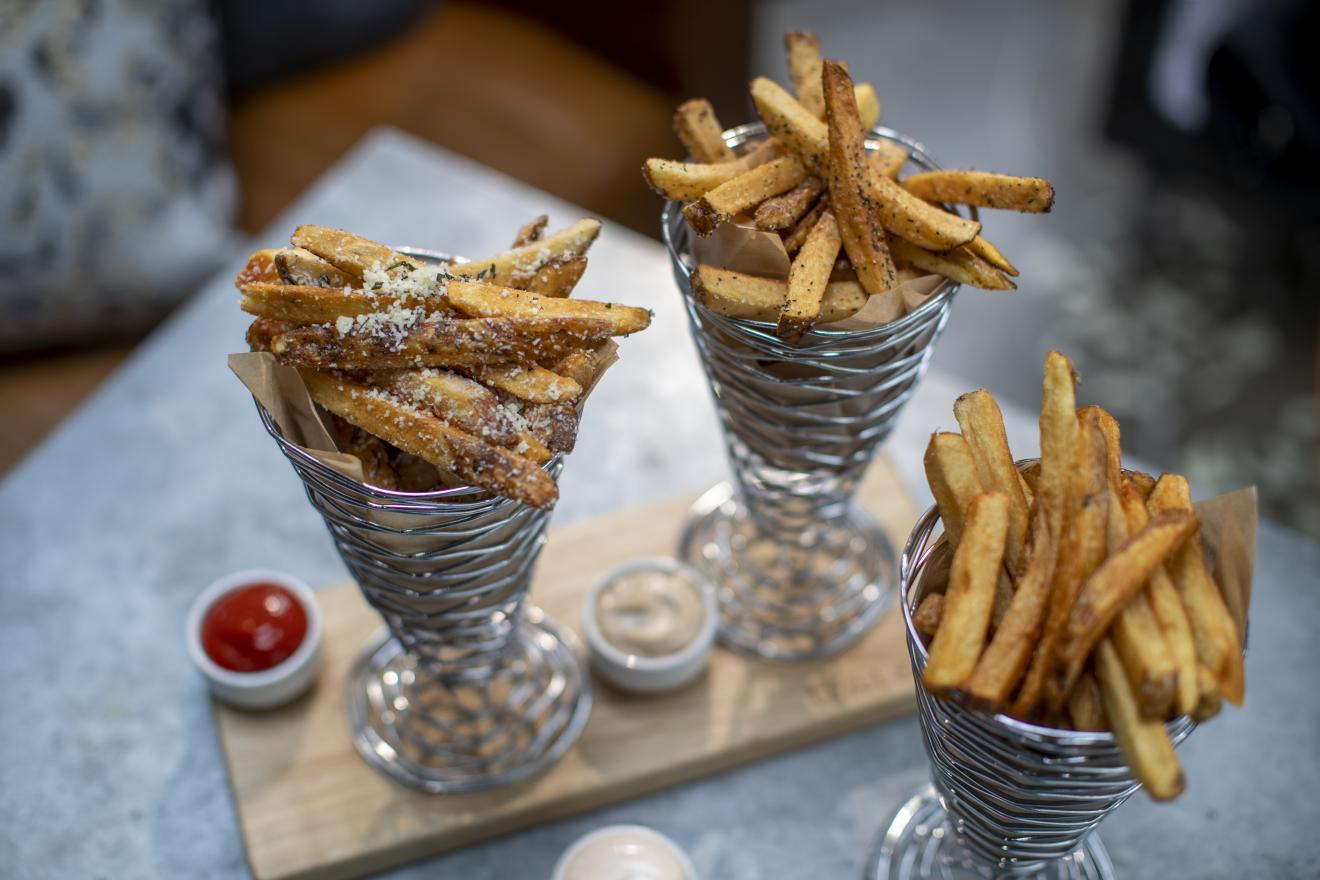 Italian Village is the oldest Italian restaurant in the city, with a fine reputation. They offer several pasta options for vegetarian dining. Try the agnolotti—half-moon-shaped pasta filled with cheese and spinach, topped with tomato basil sauce. Or have the four cheese ravioli with cherry tomato-garlic basil sauce. For a classic option, try the fettuccine alfredo with garlic, cream, butter, parmesan, and Romano cheeses. Pair with a glass of wine. Italian Village has the largest wine cellar in the entire Midwest with over 45,000 bottles.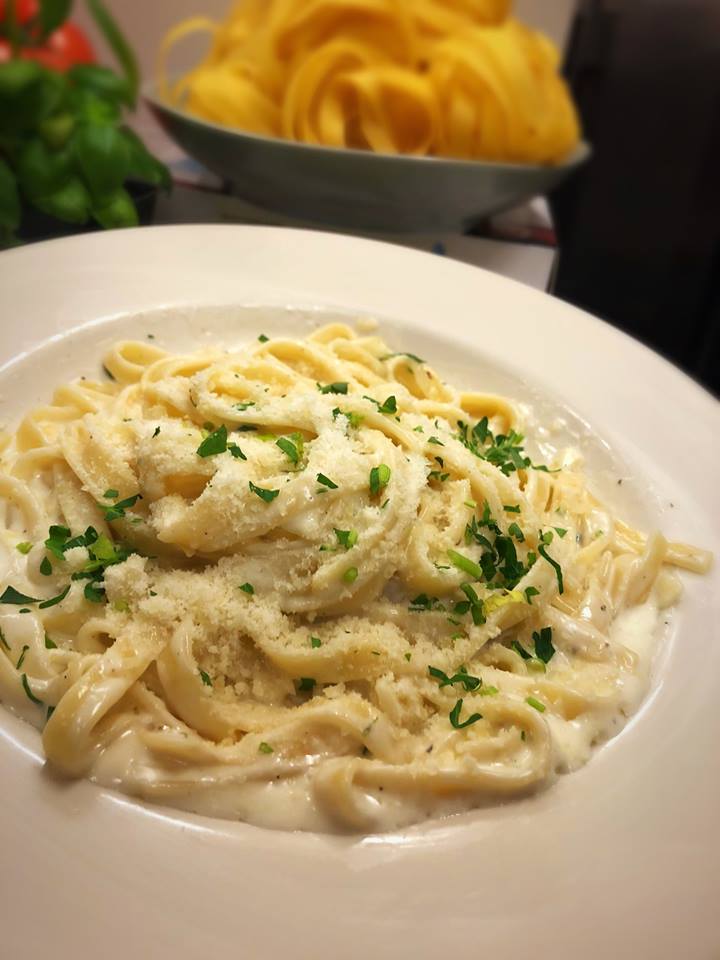 Native Foods is making craveable and delicious food with compassion for animal welfare and environmental sustainability. They have standards for high-quality, made-from-scratch food that can be enjoyed at reasonable prices. Their food is homemade with ingredients that are often bought locally or brought in from sustainable suppliers, non-GMO, and organic. From juicy burgers to savory sandwiches, everything is vegan, so choose anything on the menu.
Exchequer Restaurant and Pub has a vibrant history. Much of the original architecture remains from the 1920s. The old art deco decor and chandeliers still add character to this esteemed venue. Exchequer is rated #1 Deep Dish Pizza by the Chicago Tribune. Create your own pizza with several veggies to choose from. Pair with beer or signature cocktails.
Hit up Gayle V's Best Ever Grilled Cheese for grilled cheese made fresh, using only farmers market and locally sourced ingredients, supporting over 24 other small businesses! Eat the classic with Prairie Pure Butterkäse Cheese, Bennison's Bakery fresh baked white sourdough bread, and Nordic Creamery fresh butter. Or there's the River Valley with Prairie Pure Swiss cheese, fresh sautéed mushrooms, and smoked onion marmalade.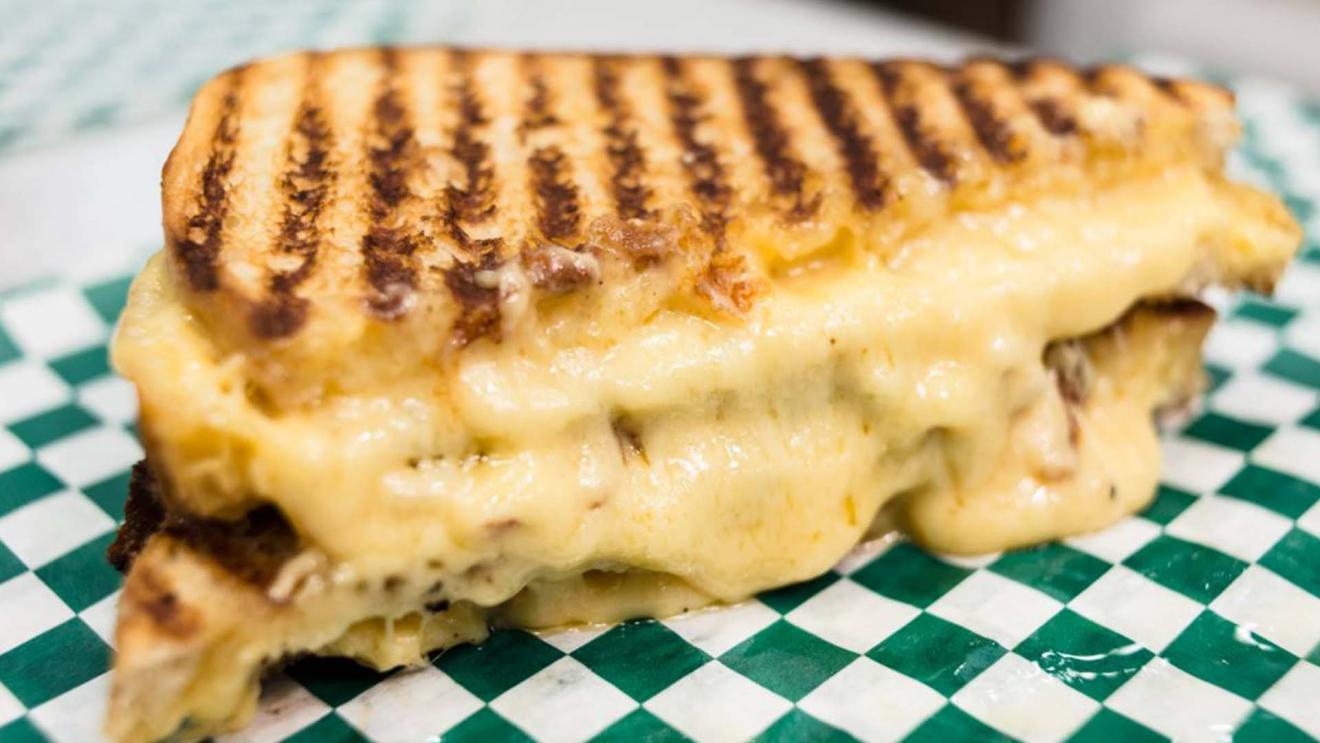 The Dearborn is a down-to-earth American tavern, featuring leather booths, subway tiles, vintage-inspired lights, and murals of Chicago's history. Try the roasted pear grilled cheese with fontina, Swiss, and brie, roasted pear, caramelized onion, and honey. Make the experience complete with drinks from the bar.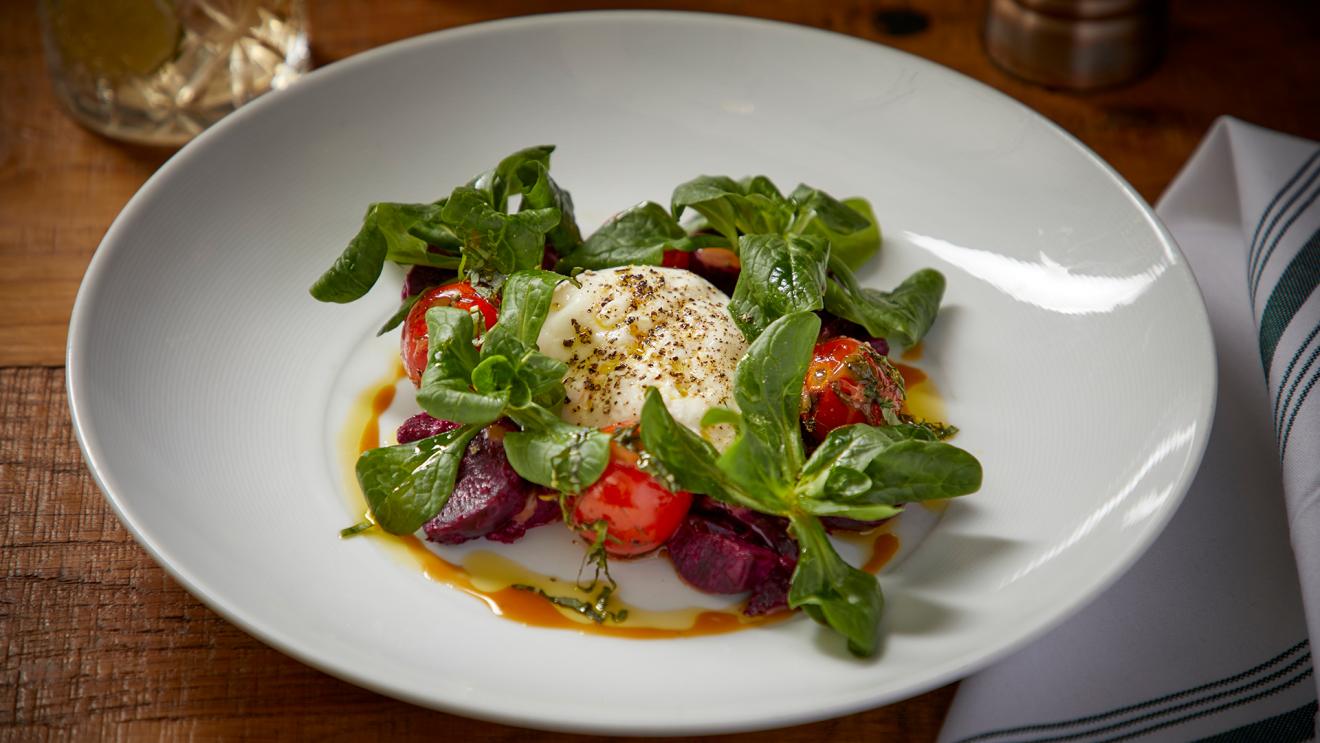 Café Bonhomme has the elegance of a European cafe with the casual atmosphere of a neighborhood restaurant. The brunch menu includes freshly squeezed juices, smoothies, locally roasted coffee, and pastries. At lunch and dinner, the Mediterranean cuisine is inspired by Spain, France, and Italy. Try the smoked burrata and avocado toast with hummus, sunflower dukkah, apricot black lime mostarda, arugula, and sourdough. The baba ghanoush has tahini yogurt, fig balsamic vinegar, pine nuts, and za'atar with pita. Café Bonhomme offers a variety of wines, sangria, local and imported beer, and classic cocktails.
This bohemian venue is an exotic escape with food from around the world and eccentric cocktails. The riverfront patio at Beatnik on the River is decorated with Indonesian daybeds, Moroccan lanterns, and plush greenery. Blending ingredients from around the world, choose bold flavors and original combinations. Enjoy All the Mezz with avocado shatta, hummus with harissa carrots, tzatziki, olives with curry pickled cauliflower paired with an Arabic salad. Shakshuka, a berber tagine of hen eggs poached in a spicy tomato sauce, includes Marcona almonds and herb salad with pita bread.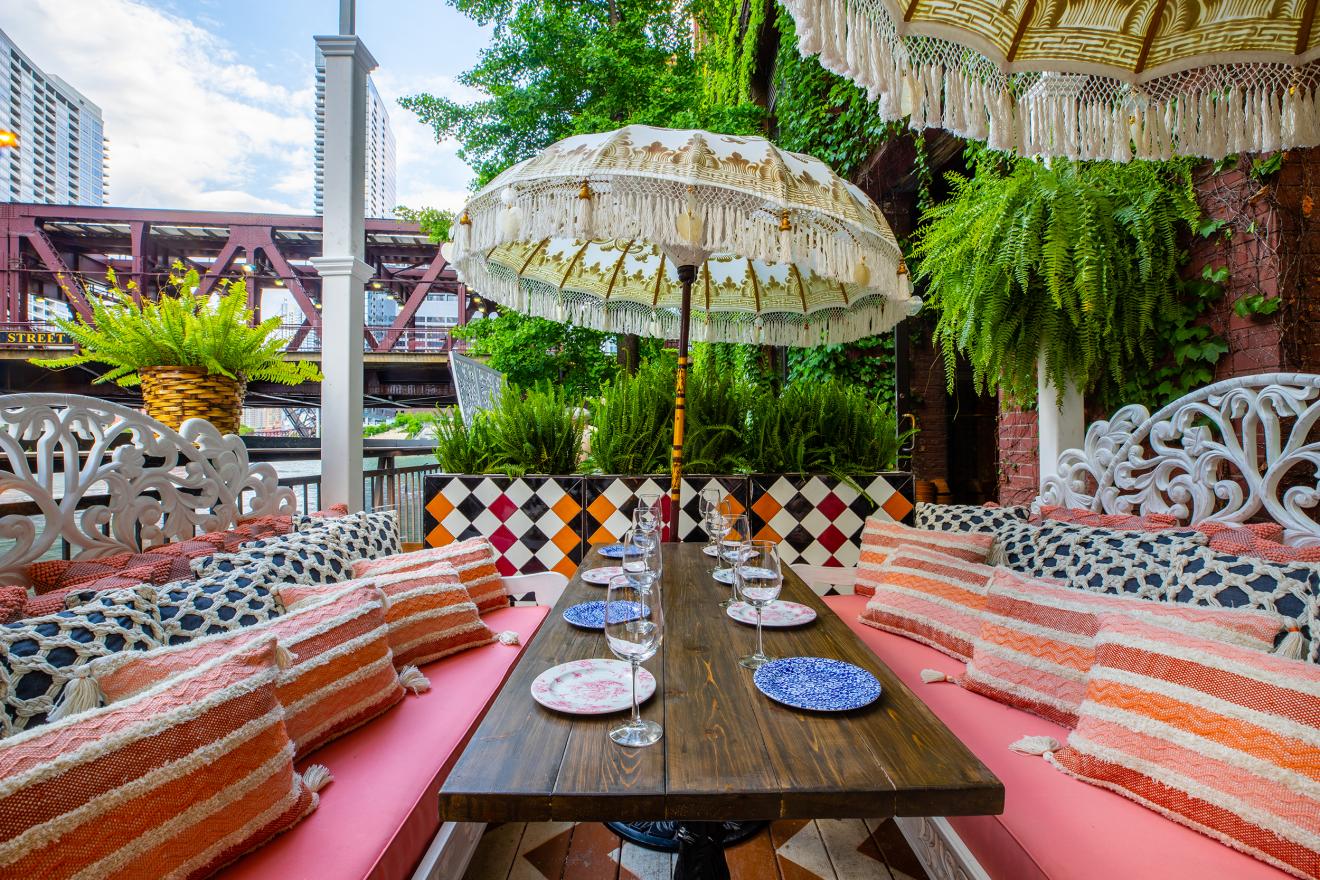 Formento's serves you the fresh and light flavors of Italy. The earthy brick walls and terracotta tile gives the restaurant a rustic Italian look. There are plenty of vegetarian pasta options to choose from. Savor the cacio e pepe or bucatini. Or try the strozzapreti with spring onion pesto, spring vegetables, goat cheese, and 'nduja breadcrumbs.
You Might Be Interested In: