Performance Schedule – Lake-Randolph
11 a.m.-8 p.m. – The Freakeasy (in Couch place alley)
11 a.m. – Fit and Fly Fitness
3 p.m. – DJ set by DJ Lady D of D'lectable Music
3:30 and 4:30 p.m. – BreakSK8 performance
3-8 p.m. – Open skating for experienced street skaters who bring their own equipment and safety gear
Performance Schedule – Randolph to Washington
11 a.m. – Seasonal Frequency
2 p.m. – Millar Brass Ensemble
6 p.m. – Pop Up Karaoke
Performance Schedule – Washington-Madison (on stage)
11 a.m. – Global Booty Dance
Noon – Comedy Sportz
1:45 p.m. – Highland Park Players
3 p.m. – The Dynamix-Ultimate Classics Cover Band
4 p.m. – Porchlight Music Theatre
6 p.m. – Andre Gibson & SoulJazz Revue
7 p.m. – DJ set by Joe Shanahan of Metro Chicago and Smartbar
Arts and culture
1Evalution – business and life coaching, with a space for discussions on how to move forward and make choices to live your best life
American Writers Museum – a celebration of Ray Bradbury's legacy with biographer Sam Weller for a 2 p.m. presentation
Amoz of Art LLC – artworks for sale that highlight love and Black culture
Andre Gibson & SoulJazz Revue – performing an all original array of compositions in soul, jazz and Chicago style steppers groove
Brown Books and Paint Brushes from 11 a.m.-2 p.m. to celebrate the life and legacy of Toni Morrison as part of the Free Black Children's Library summer pop-up series
Ballet Folklorico de Chicago – musical performance of all ages
Be The Match – a bone marrow drive that can help save a life
Cabinet of Curiosity – water-themed spectacle with motorized boat and quirky surprises
Chicago Doctor Who Meetup – a Cosplay Congregation in which Doctor Who fans can socialize, interact and enjoy shopping
Chicago Mobile Makers with Global Citizenship Experience Lab School – a series of short educational workshops/discussions centered on project-based and real-world learning, like demonstrating donut economics, building models with Chicago Mobile Makers, exploring sustainable design or public art
Chicago Queer Creations – a welcoming space for those who are in the LGBTQ+ community, and those who would like to support a queer human
Chicagoland Lutheran Educational Foundation – a kid-friendly space with different summer science projects for all ages
CIRCLE Foundation/Innovations High School – gaming station to help build community awareness of their school and other services, with swag giveaways
Comedy Sportz – improve comedy troupe with a competitive twist
DJ Lady D - DJ set by D'lectable Music/DJLadyDChicago.com, an international DJ, producer, label owner
The Dynamix-Ultimate Classics Cover Band – a group of musicians age 16-20 who perform hits from the '50s-'80s
eATLAS – free self-guided tours and treasure hunts in the Loop using the eATLAS app
Family-ism Face Paint Factory – professional face painting and a photo backdrop for selfies
The Freakeasy – an art collective inspired by the Burning Man Arts Festival, which will be bringing their Augmented Reality Sandbox and The Freakeasy Lounge, in addition to special music performances by Freakeasy Resident DJs
Freelife Records / A Logic Electric – State Street Collective Cyphers podcast, featuring intern hosts with a culturally uplifting, no-violence music mandate
Free Lunch Academy – live performances of their touring stage play entitled "Be A Buddy Not A Bully," which addresses the various types, leading causes, and how to intervene and even prevent bullying-related behaviors
Gene Siskel Film Center – selling popcorn outside the theater
Haute Society – live cooking classes to create healthier habits while creating time for friends and family to connect
Highland Park Players – Broadway-style performance, including song snippets from their upcoming production of "Matilda the Musical!
Illinois Science Council – examine real brains from different animals up close, enjoy an exotic insect "petting zoo," chat with scientists (e.g. soil ecologist, neuroscientist, immunologist, etc.) and learn about science outreach opportunities in Chicago
Jimmy Williams Gallery & Studio – pop-up abstract art gallery
Joe Shanahan of Metro Chicago and Smartbar – DJ set
K Elizabeth Décor – demonstrations on how to make home decor items using repurposed and/or recycled items
Kraneil Fine Art - live painting
LeonMechelle Artist Studios – 3D interactive artwork
M.A.D.D. Rhythms – tap jams, a gathering of tap dancers who come together in a cypher/circle and just jam
Metrix, Chicago's New Hero – book promotion for a child-designed, mother-supported comic book superhero named Metrix, along with a youth literacy campaign
Millar Brass Ensemble – live light classical, pop and jazz music
OperaGram.com – mini-concert of operatic arias, followed by an improvised operatic number with audience participation, and a free singing telegram awarded to an audience member
Paint the City – 1970s-themed disco photo booth and BreaksK8 interactive performance
Plein Air painters – artists live painting an iconic Loop scene – the Chicago Theatre and State/Lake 'L' station
Pop Up Karaoke – karaoke for all in the street
Porchlight Music Theatre - popular Broadway and pop songs sung live
ReadySetLearn.io – an interactive computer science workshop where youth can learn about binary numbers by creating their own bracelet or necklace and other activities with small technology prizes for winners
Revolution Club – activist group advocating for equality among different people, cultures and languages
Sarah J Wilson art – pop-up art show of work depicting painted signage and painted stickers/everyday objects from around Chicago
Seasonal Frequency – electronic music
S.H.E. Gallery – Pop-up live painting, along with merchandise benefitting mental health and wellness workshops
THUG Hippie – a gently guided drum and dance circle that embraces diversity and models what true inclusion looks like
Tours with Mike – free, 20-minute architecture and history tours of State Street from Lake to Madison, from 2-5 p.m.
Workers Center for Racial Justice – opportunity for public dialogue on how neighborhoods can create real safety and commit resources toward achieving a vision of equity, opportunity, and liberation
Zaller Brothers – affordable entertainment for kids and adults meant to build confidence
Active recreation
BreaksK8 – audience interactive roller skating performances, as well as an open skating area from 3-8 p.m. for experienced street skaters who bring their own equipment and safety gear
CHI-SOCIETY – outdoor fitness classes featuring workouts from Chicago's top fitness instructors in cycle, boxing, yoga, Pilates, strength, barre and meditation
Dzika Fitness – Chicago-made, trademarked training program bringing pop music-fueled fitness classes to the street
Fit & Fly Fitness, LLC – Hula Hoop demonstrations and fitness classes from 11 a.m. to 2:30 p.m., along with handmade, padded weighted hoops and apparel for sale
Global Booty Dance – movement classes to help empower and encourage people to dance and move again
Playbound – kids' activities like tag, chalk, music and dancing, all led by counselors
Reign Body Fuel – fun photo opportunities and complimentary samples of Reign Body Fuel, a performance drink, along with complimentary workout classes
YogaSix – yoga classes for every body
Food and drink
Adams Street Brewery – beer and root beer sales from the Berghoff's sister brewery
CForce Bottling Company by Chuck Norris – premium alkaline water giveaways
City Water Hard Seltzer – new hard seltzer flavors for sale with giveaways
Cynthia's Gumbo Express – Louisiana-style food truck serving seafood, chicken, turkey and vegan gumbo
The Fat Shallot – classic sandwiches food truck
Good 2 Go Veggie – wholesome vegetarian food
Happy Lobster – lobster rolls food truck
Harold's Chicken – food truck
Ms. Tittle's Cupcakes – dessert food truck, serving your "Favorite Cake in a Cupcake"
Pita Heaven – Family-owned, local Greek restaurant
Rose's Aguas Frescas – two stands serving non-alcoholic fruit- and rice-based drinks with authentic tacos
Staypineapple, an Iconic Hotel – pineapple treats like pineapple shortbread ice cream sandwiches and pineapple lemonade for sale
Sundays on State beer tent – Goose Island beer and seltzer favorites
thrd.coffee company, LLC – mobile coffee bar
The Walnut Room – alcoholic beverages and customer favorites, like Mrs. Hering's chicken pot pie available as a walking pot pie
Retail
Activate Your Impact – pop-up shop for AYI Beauty, offering product samples and complimentary skincare consultations and job opportunities
Aspire Brands, Inc. – ASPIRE Healthy Energy Drinks and live music
AT&T – pop-up shop featuring brands like Samsung, FirstNet and AT&T services
Barb-N-Gear – African jewelry, apparel, hand bags, cell phone cases and commercial jewelry
The Body Shop – sidewalk shop with new beauty product releases and demonstrations and kids coloring activities
Book Driver – a book display promoting this free book and media donation pick-up service in Chicago
Botanica Chicago – education on cannabis history, safety, consumption methods and how to grow at home
Brewja Co. – art, merchandise and coffee for sale
Broadway In Chicago – collectable banners from past shows for sale
Brown Babies Books, LLC – an online children's bookstore specializing in children's, teen and young adult literature written by authors of color will have a storytime space with readings from select books
Brown Girl Loves Vintage – a pop-up boutique part of the Vintage Village network with unique jewelry, accessories and fashions
BWYB Life – a new apparel brand ("Black-White-Yellow-Brown") designed to bridge racial divides, stop racial hate and bring good people together regardless of their race, culture or ethnicity
Chanellie – a self-care DIY day where you can make your own coffee clay masks, use their paint and sip kit, write on their Tanuki writing kits and be in a safe space to decompress, mingle and self-care
Chicago Cannabis Company – cannabis education and DIY infusion demonstration
Chitiva by Prescribd – a CBD pop-up shop with infused products, tinctures, drink additives and more
Chicago Independent Venue League (CIVL) – a pop-up shop with exclusive merchandise with proceeds helping preserve 14 of Chicago's most iconic independent entertainment venues
Divinity Seven Apparel – pop-up boutique with hanging apparel racks, mannequins and tables displaying apparel
Dunbar College Barbers – live haircuts right on State Street
Equal Clothing – a minority-owned urban fashion line geared toward empowering a generation to speak out for, fight for and strive for equality
Giveashirt – hand screened designs by local artists and musicians, with 100 percent of profits donated to Streetwise
Half Day CBD – educational sessions and one-on-one consultations around hemp-based CBD products
Herbal Maintenance – natural organic products for the entire body
Highly Unique – Chicago-based streetwear clothing brand that showcases Chicago-inspired designs and graphic tees that express individuality and uniqueness
Indelible Bliss Candle and Soap Co. – candles and other products for sale that carry a message/mantra serving as a daily reminder to the user
Insurance Navy – free giveaways and representatives to answer insurance questions
It's Oksana – a pop-up store based in linen fabrics, featuring Ukrainian-based products
Lady Kai-hi Clothing & Accessories – jewelry and women's clothing
Lolita's Bodega – BIPOC small business pop-up featuring 5-10 small businesses and artisans
Loop Wear – a leading online destination for men and women's contemporary fashion and streetwear
Macy's – pop-up sidewalk shop
nineteen99art – an up-and-coming community-based clothing company with an emphasis on giving creatives of all forms a spotlight and platform
Nordstrom Rack – a sidewalk sale in front of the store featuring their best grab-and-go, festival-ready items
Old Navy – a summer pop-up shop with exclusive discounts.
Open Profile – an online boutique that curates a selection of vintage women, men and children's clothing.
Passion Lily Boutique – women's clothing, accessories and sandals
Piel Bella by Jazz – a Mexicana-created eco-conscious and sustainable beauty boutique selling 100%-handcrafted, plant-based body and face oils, scrubs, and hair care products
PinkPoshBeautyWorld – beauty products and accessories with inspired diamonds for decoration and lots of pink
PRIMERICA – a financial services company for families
Rahalah – bespoke vintage fashion and one-of-a-kind shoes
Staypineapple, an Iconic Hotel – free photo booth with pineapple props like coffee mugs, hats, robes and Dash, the Pineapple Pup, plus Pineapple treats like pineapple shortbread ice cream sandwiches and pineapple lemonade for sale
Sylvia's BackRoom – a collaboration of vintage sellers all in one place, bringing you the best in vintage, artsy and oddities. Find one-of-kind treasures from days gone by including racks of clothing and accessories, art, textiles, jewelry, accent furniture, home decor, eyewear and so much more.
The Water Station – a health and wellness pop-up shop offering kidney health books, seamoss gel, alkaline water and personal consultations
Walgreens - offering walk-up COVID-19 vaccinations in front of their State and Madison location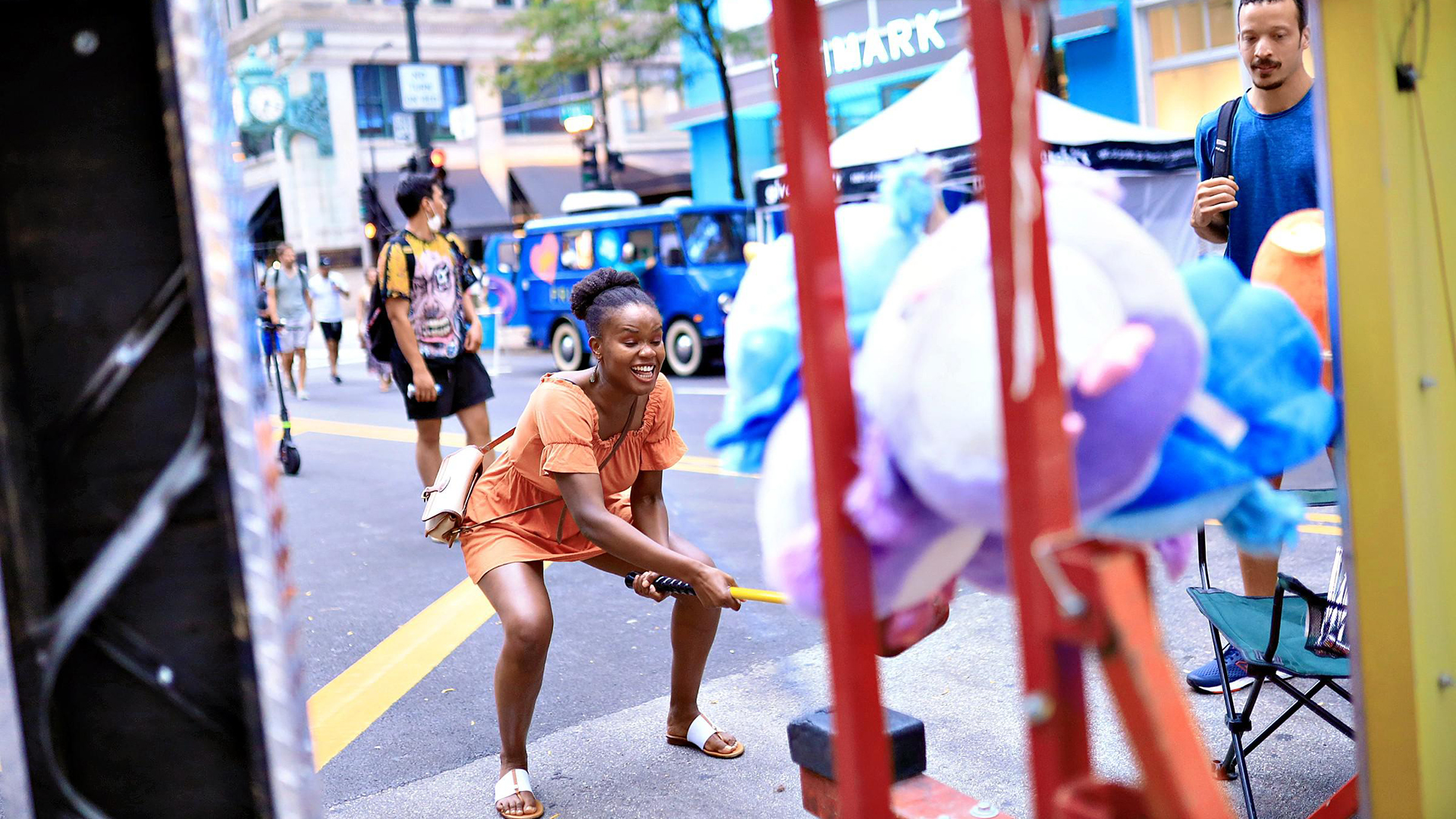 East-west streets within the program area will remain open so that retail, hotels, restaurants and residential spaces will still have access by vehicle. Signage about the street closure will be placed at the sites of the closure and two blocks out to provide ample notice to vehicles. State Street from Wacker to Lake will be used as a drop-off zone. Sundays on State will follow public health guidelines in place at the time of each event.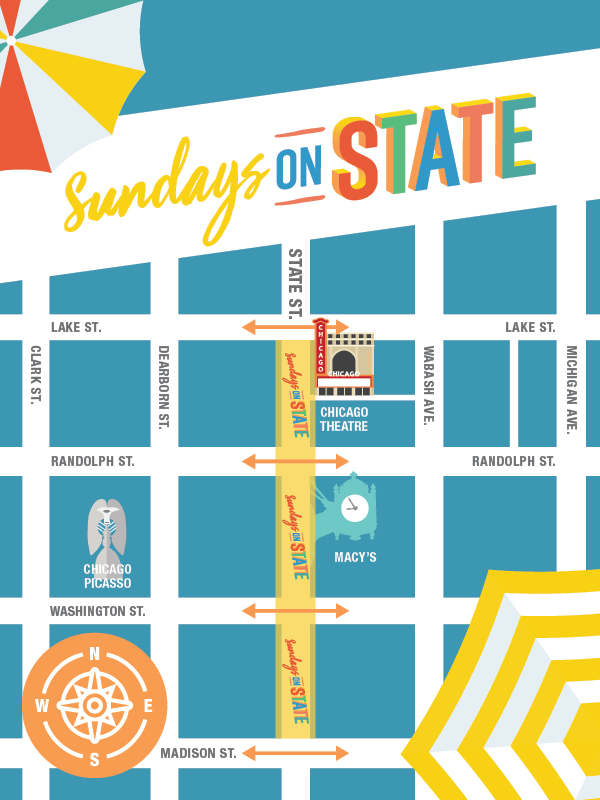 Sundays on State is planned to occur rain or shine. In the case of inclement weather during the events, Chicago Loop Alliance encourages guests to take a moment to enjoy the bountiful indoor shopping, dining and attractions on State Street and throughout the Loop including special discounts and promotions available at LoopChicago.com/LoopDeals.
Sundays on State is a project of Chicago Loop Alliance in partnership with Chicago Loop Alliance Foundation, City of Chicago, and SSA#1-2015. Event sponsors are Hilton, Allstate, Macy's, PNC, Target and Walgreens. Community sponsors are Block 37, Cabrera Capital, Clayco and Millennium Garages. Captivate, The Chicago Crusader, Chicago Sun-Times, Chicago Tribune, Firefly, Me-TV FM, Power 92.3, Rejoice 102.3, Soul 106.3, Vocalo, WBEZ, WGN, WLS-AM 890, 94.7 WLS-FM, 101WKQX and WVON are media sponsors. Star Events is the event production company for Sundays on State.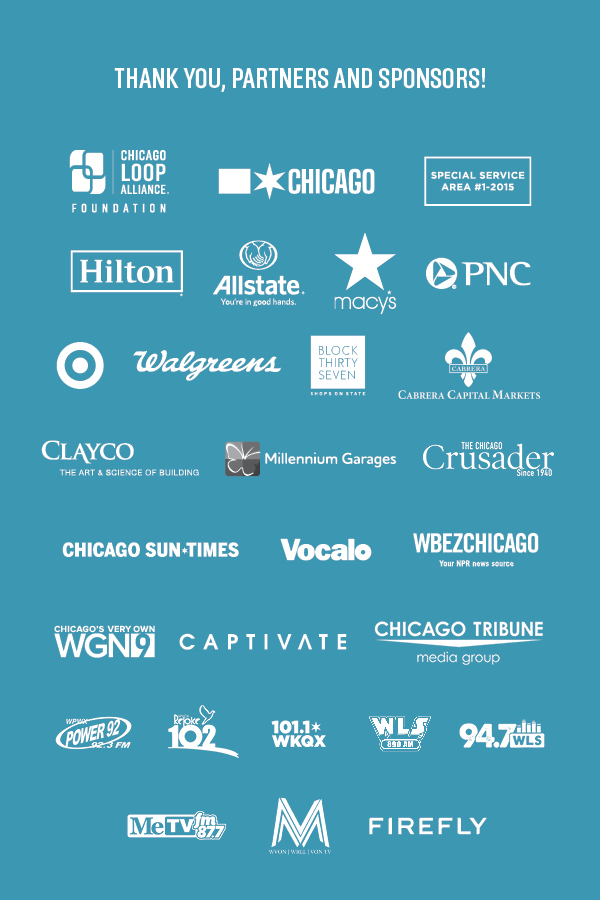 You Might Be Interested In: