Press contact: Jessica Cabe | PR and Communications Manager, Chicago Loop Alliance jessica@chicagoloopalliance.com | 815-713-8909
MEDIA: View and download photos and videos here.
SOCIAL: #BackInTheLoop #inTheLoopChi
@loopchicago @ChicagoLoopAlliance @ChiLoopAlliance @Chicago-Loop-Alliance
FOR IMMEDIATE RELEASE | April 13, 2021
CHICAGO—Since July, Chicago Loop Alliance has been collecting monthly survey data from its member businesses and stakeholders to track operations during COVID-19, and today released its March report. View the full March report here. Some highlights include:
There is a steep uptick in pedestrian activity and parking volumes, likely due to improved weather conditions, the vaccine rollout, and looser restrictions on businesses.
CTA ridership data for March is not yet available, but the CTA increased their capacities from 15 people to 20 people per bus, and from 22 to 33 people per large bus and rail car, indicating increased demand and use.
Only 18 percent of survey respondents reported zero employees working on-site in the Loop (compared to 26 percent in February).
Public transportation—including CTA trains, CTA buses, and Metra trains—is the most popular way to get downtown.
Employers are feeling far more confident in a return to the office. Only 69 percent of respondents indicated "unsure" or "other" when asked when their full staff would return to the Loop for work (80 percent in February). 14 percent said all staff would return in Q2 (9 percent in February); and 17 percent said Q3 or later (11 percent in February). 2 percent said all staff returned in Q1.
Dining, shopping, and visiting a park are the most popular Loop activities respondents reported participating in in March.
"We're beginning to see real improvements in the state of the Loop," said Chicago Loop Alliance President and CEO Michael Edwards. "In addition to the quantitative data in this report, we received comments from survey respondents remarking on fuller sidewalks, more restaurants opening back up, and excitement around the new Primark store on State Street. Some State Street retailers are reporting sales above their projections for March. We hope with more beautiful spring weather and the vaccine rollout that these positive trends continue."
For those interested in learning more about what a Loop recovery may look like, Chicago Loop Alliance will host a virtual panel event called Downtown Futures Series: The Loop's Comeback from 10-11 a.m. Central on Wednesday, April 14. The free event will feature Claire McCombs, First Deputy for Economic and Neighborhood Development for the City of Chicago's Office of the Mayor; Janice R. Thomas, Chief of Staff for Metra; and Kimberly A. Carter, Managing Director of Environmental, Health and Safety Services for Hygieneering, Inc. It will be moderated by David Broz, Principal at Gensler and Chicago Loop Alliance board member. Register at LoopChicago.com/DFS.
Chicago Loop Alliance invites people to share their experiences downtown on social media using #BackInTheLoop.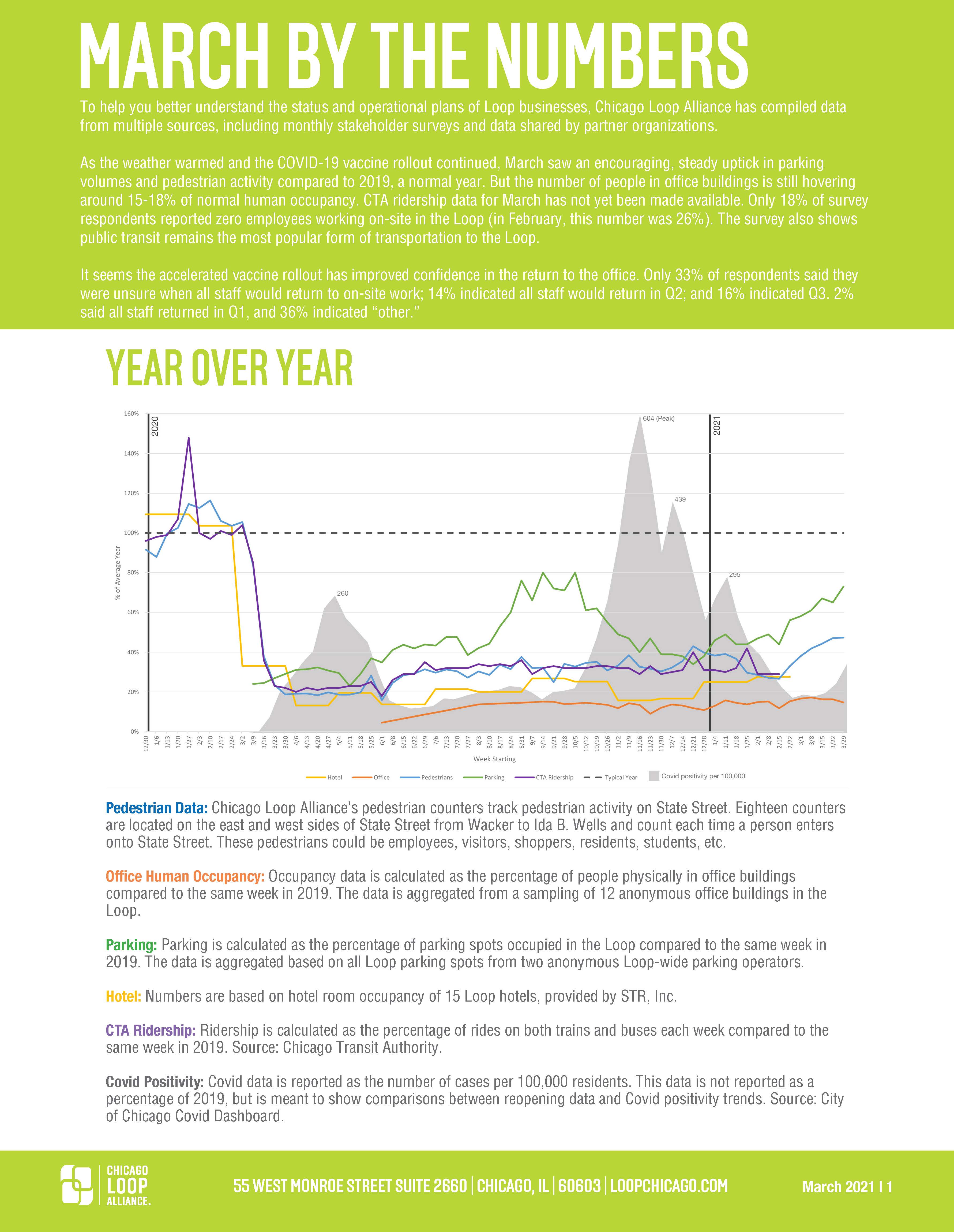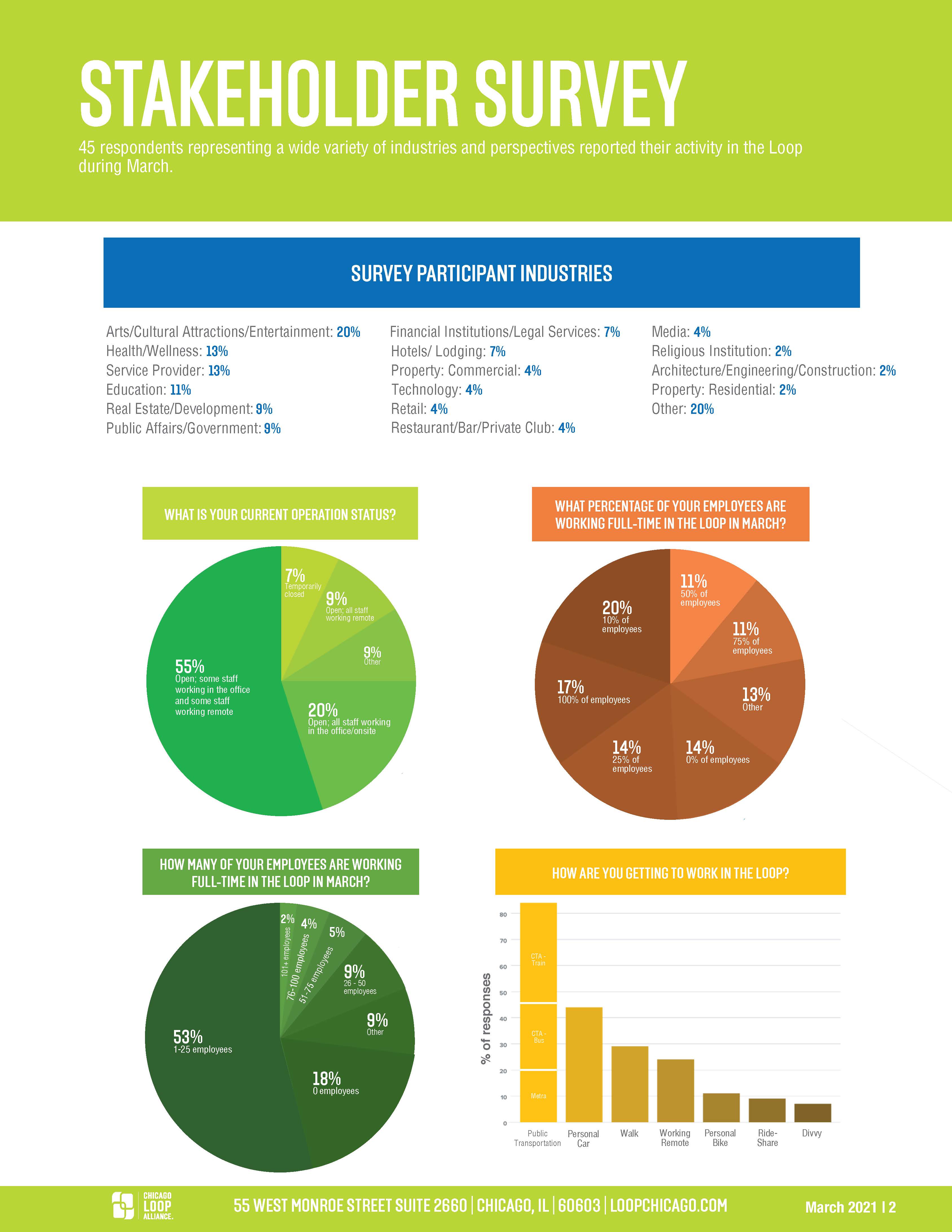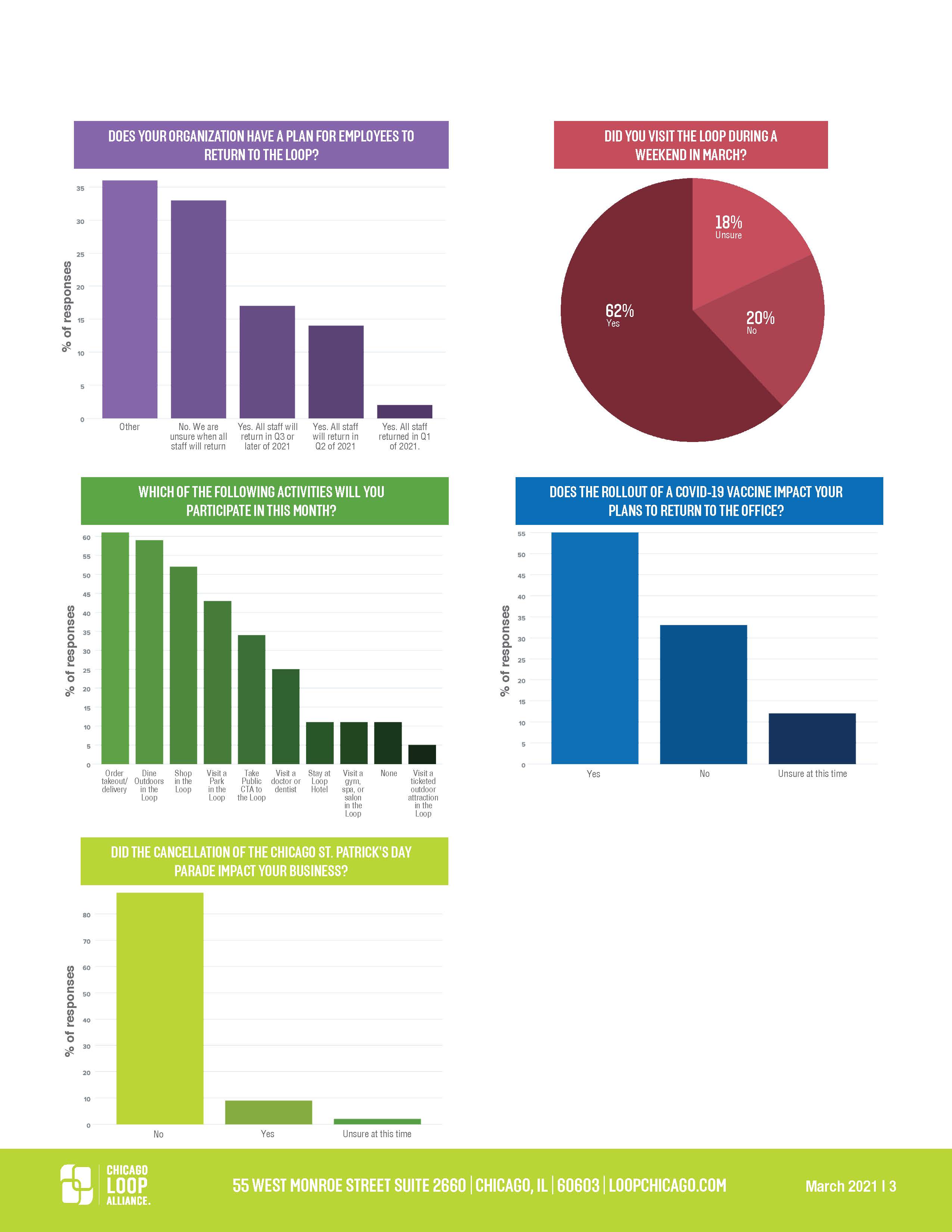 About Chicago Loop Alliance
Chicago Loop Alliance (CLA)'s mission is to create, manage and promote positive and inclusive programs that attract people to the Loop and accelerate economic recovery. CLA is a membership organization as well as the sole service provider for Special Service Area#1-2015, and the Chicago Loop Alliance Foundation produces public art projects and events. For more information, please visit here.
###