PERFORMANCE SCHEDULE – LAKE TO RANDOLPH
11 a.m.-8 p.m. The Freakeasy
PERFORMANCE SCHEDULE – RANDOLPH TO WASHINGTON
11 a.m.-2 p.m. DJ Seasonal Frequency
2-4 p.m. Macy's fashion show in the store's iconic State Street windows
PERFORMANCE SCHEDULE – WASHINGTON TO MADISON (ON STAGE)
11 a.m.-noon The Bar Method Gold Coast (bring your own mat or towel)
12:30-1:30 p.m. John Primer & Steve Bell
1:30-2:30 p.m. Lil Ed and Mike Scharf
3-4 p.m. Mr. Pope
5-6 p.m. Kyle Paul
6-7 p.m. Anne & Mark Burnell
7-8 p.m. The Handcuffs
Arts and culture
American Writers Museum – writing activations including typewriters from the personal collection of John Hughes for attendees to use, their My America: Immigrant and Refugee Writers Today exhibit with luggage tags for attendees to write their family's immigration story, and special guest Nestor Gomez from noon to 1 p.m., who will share a few stories for all ages, including from his new book Your Driver Has Arrived

Anne & Mark Burnell – vocal harmonies, piano, jazz, blues, American songbook and a cappella
Be The Match – a bone marrow drive that can help save a life
Brazilian Cultural Center of Chicago – a broad spectrum of traditional Brazilian games, dance demonstrations and several interactive board games, as well as an experiential learning station where people of all ages can play an ancient board game developed in the Indigenous Xingu community in the Upper Amazon Rainforest
Cabinet of Curiosity – music, bubbles and spectacle
Caricatures by Mary Ellen – live caricature artist
Center for Decision Research, University of Chicago Booth School of Business – a pop-up behavioral science discovery center where attendees can participate in research studies on the processes by which intuition, reasoning and social interaction produce beliefs, judgments and choices
Chicago Cabaret Professionals –singers and advocates for the art of Cabaret, featuring the Great American Songbook, parodies, Broadway, pop, jazz and blues sets
Chicago Doctor Who Meetup –a Cosplay Congregation in which Doctor Who fans can socialize, interact and enjoy shopping

Chicago Film Society – projecting movies on the side of the Gene Siskel Film Center

Chicago Public Library – interactive showcases of projects created in YOUmedia (teen space) and Maker Lab (adult space), as well as offering library cards and additional resources
Chicagoland Lutheran Educational Foundation –a kid-friendly space with different summer science projects for all-ages
The Climate Reality Project – raising support and awareness for moving to a clean, green future
CIRCLE Foundation/Innovations High School – gaming station to help build community awareness of their school and other services, with swag giveaways
DJ Seasonal Frequency – electronic music
eATLAS – free self-guided tours and treasure hunts in the Loop using the eATLAS app
Family-ism Face Paint Factory – professional face painting and a photo backdrop for selfies
The Freakeasy – an art collective inspired by the Burning Man Arts Festival, which will be bringing their Augmented Reality Sandbox and The Freakeasy Lounge, in addition to special music performances by Freakeasy Resident DJs
Freelife Records / A Logic Electric – State Street Collective Cyphers podcast, featuring intern hosts with a culturally uplifting, no-violence music mandate
Gene Siskel Film Center – selling popcorn outside the theater
The Handcuffs – bold, sexy rock and roll songs with memorable melodies and unexpected twists

Illinois Science Council – Examine real brains from different animals up close, enjoy an Exotic Insect "petting zoo," look for sunspots through a telescope with a solar filter, chat with scientists about whatever science you like, and learn about science outreach opportunities in Chicago

Jimmy Williams Gallery & Studio – pop-up abstract art gallery
John Primer & Steve Bell – the real deal blues
K Elizabeth Décor – demonstrations on how to make home decor items using repurposed and/or recycled items
Kyle Paul –live music within the traditions of Chicago music
Lil Ed and Mike Scharf – Chicago blues musicians
LeonMechelle Artist Studios – 3D interactive artwork
Metrix, Chicago's New Hero – book promotion for a child-designed, mother-supported comic book superhero named Metrix, along with a youth literacy campaign
Mr. Pope – inspirational rap music and a dialogue about self-love and self-care
The Original Sixty Fourth Street Beach Drummers – four conga drummers will teach the art of hand drumming and lead drum circles with dancing
Poems While You Wait – a collective of poets and their vintage typewriters who provide their patrons with custom-made, one-of-a-kind original poems based on their name and a topic of their choice
Pop Up Karaoke – karaoke on State Street
Pritzker Military Museum and Library –family-friendly interactive activities that showcase the museum's new exhibit, collections and upcoming programs
Sarah J Wilson art – pop-up art show of work depicting painted signage and painted stickers/everyday objects from around Chicago
THUG Hippie – a gently guided drum and dance circle that embraces diversity and models what true inclusion looks like
Tour Through A Lens – 60-minute street and urban photography tours, all cameras and smartphones welcome
Tours with Mike – free, 20-minute architecture and history tours of State Street from Lake to Madison, from 2-5 p.m.
Turning the Page – an education non-profit that works with North Lawndale elementary schools will have a bookstore pop-up with sales funding their nonprofit work
Water Tower Guy Studios – live mural painting of the character "Water Tower Guy"
Active recreation
The Bar Method Gold Coast – a barre workout incorporating elements of Pilates, yoga and other strength training workouts (bring your own mat or towel)
Dzika Fitness – Chicago-made, trademarked training program bringing pop music-fueled fitness classes to the street
Mathew Churney – playing and teaching hacky sack with the goal of reducing violence
Playbound – kids' activities like tag, chalk, music, and dancing, all led by counselors
Reign Body Fuel –fun photo opportunities and complimentary samples of Reign Body Fuel, a performance drink, along with complimentary workout classes
YogaSix – yoga classes for every body
Food and drink
Adams Street Brewery – beer and root beer sales from the Berghoff's sister brewery
El Ranchito Tacos – Mexican taco truck
The Fat Shallot – classic sandwiches food truck
Happy Lobster – lobster rolls food truck
Harold's Chicken – food truck
Ms. Tittle's Cupcakes – dessert food truck, serving your "Favorite Cake in a Cupcake"
Sundays on State beer tent – Goose Island beer and seltzer favorites
thrd.coffee company, LLC – mobile coffee bar
The Walnut Room – alcoholic beverages and customer favorites, like Mrs. Hering's chicken pot pie available as a walking pot pie
Retail
AT&T – pop-up shop featuring brands like Samsung, FirstNet and AT&T services
The Body Shop – sidewalk shop with new beauty product releases and demonstrations and kids coloring activities
BWYB Life – a new apparel brand ("Black-White-Yellow-Brown") designed to bridge racial divides, stop racial hate and bring good people together regardless of their race, culture or ethnicity
Chanellie –a self-care DIY day where you can make your own coffee clay masks, use their paint and sip kit, write on their Tanuki writing kits and be in a safe space to decompress, mingle and self-care
Chicago Cannabis Company – cannabis education and DIY infusion demonstration
Chicago Culture Gear – a pop-up shop for this brand that celebrates the city allegiance, neighborhood pride and unique style inherent to being a Chicagoan

Chicago Highend – authentic Arabian incense and accessories

Chitiva by Prescribd – CBD product demonstrations

Divinity Seven Apparel – pop-up boutique with hanging apparel racks, mannequins and tables displaying apparel

Giveashirt – hand screened designs by local artists and musicians, with 100 percent of profits donated to Streetwise
Half Day CBD – educational sessions and one-on-one consultations around hemp-based CBD products
Helen Helene – summer transitional wear for women
Indelible Bliss Candle and Soap Co. – candles and other products for sale that carry a message/mantra serving as a daily reminder to the user
Insurance Navy – free giveaways and representatives to answer insurance questions
It's Oksana – a pop-up store based in linen fabrics, featuring Ukrainian-based products
Macy's – pop-up sidewalk shop, and from 2-4 p.m. the iconic windows will come to life with an interactive experience as models highlight looks found exclusively at Macy's, including versatile new looks from And Now This
M.A.D. Scrubs LLC – fashionable, comfortable uniform scrubs line created by a registered nurse
Nordstrom Rack – a sidewalk sale in front of the store featuring their best grab-and-go, festival-ready items
Nubastyle – apparel and accessories representing inner peace and outer love
The Ocean Bay Cosmetics – aquatic-themed lash line
OutCold for Primark – vintage 1963 Metro Mite vehicle for photo ops, cornhole games, fashionable mannequins and product giveaways
PRIMERICA – a financial services company for families
Send Some Chicago – customize a 5, 7 or 10 item Chicago-themed gift box with local/iconic Chicago products
Staypineapple, an Iconic Hotel – free photo booth with pineapple props like coffee mugs, hats, robes and Dash, the Pineapple Pup, plus Pineapple treats like pineapple shortbread ice cream sandwiches and pineapple lemonade for sale

Sw1's Exotic Reflections – handcrafted jewelry featuring Swarovski crystals, healing products using a variety of gemstones, exotic sterling silver, handcrafted artifacts, and more

Sylvia's BackRoom – a collaboration of vintage sellers all in one place, bringing you the best in vintage, artsy, and oddities. Find one-of-kind treasures from days gone by including racks of clothing and accessories, art, textiles, jewelry, accent furniture, home decor, eyewear, and so much more.
Walgreens - offering walk-up COVID-19 vaccinations in front of their State and Madison location
Event Details
"Our Sundays on State events have so far been a great success," said Chicago Loop Alliance President and CEO Michael Edwards. "Attendees have provided overwhelmingly positive feedback, and most have said they spent money at a Loop business while downtown for the event. Foot traffic has jumped significantly during Sundays on State, and it's been wonderful to see our Loop retailers benefiting from the increased activity. Not only are there fantastic things to do in the event area itself, but there's also great shopping at State Street stores like Target, Macy's, Walgreens, Block 37, UNIQLO, Primark, DSW, Blick, the Jordan Store and more. Sundays on State offers a great opportunity to come downtown, enjoy the event, and get all your shopping done on 'that great street.'"
East-west streets within the program area will remain open so that retail, hotels, restaurants and residential spaces will still have access by vehicle. Signage about the street closure will be placed at the sites of the closure and two blocks out to provide ample notice to vehicles. State Street from Wacker to Lake will be used as a drop-off zone. Sundays on State will follow public health guidelines in place at the time of each event.
Sundays on State is planned to occur rain or shine. In the case of inclement weather during the events, Chicago Loop Alliance encourages guests to take a moment to enjoy the bountiful indoor shopping, dining and attractions on State Street and throughout the Loop.
Event rules
What's allowed?
Leashed, well-behaved dogs
Strollers
Bicycles, scooters, skateboards, etc.
Lawn chairs, blankets, and other seating -- whatever you find comfy, bring it! (Some seating will be provided)
Outside food and non-alcoholic beverages

Vaccinated guests may choose whether or not to mask up, but unvaccinated guests are required to wear a mask. Chicago Loop Alliance will provide complimentary masks and hand sanitizer upon request, while supplies last. See event staff if interested.
What's not allowed?
Outside alcohol
Weapons (bags are subject to search)
Cars, trucks, motorcycles, mopeds, etc.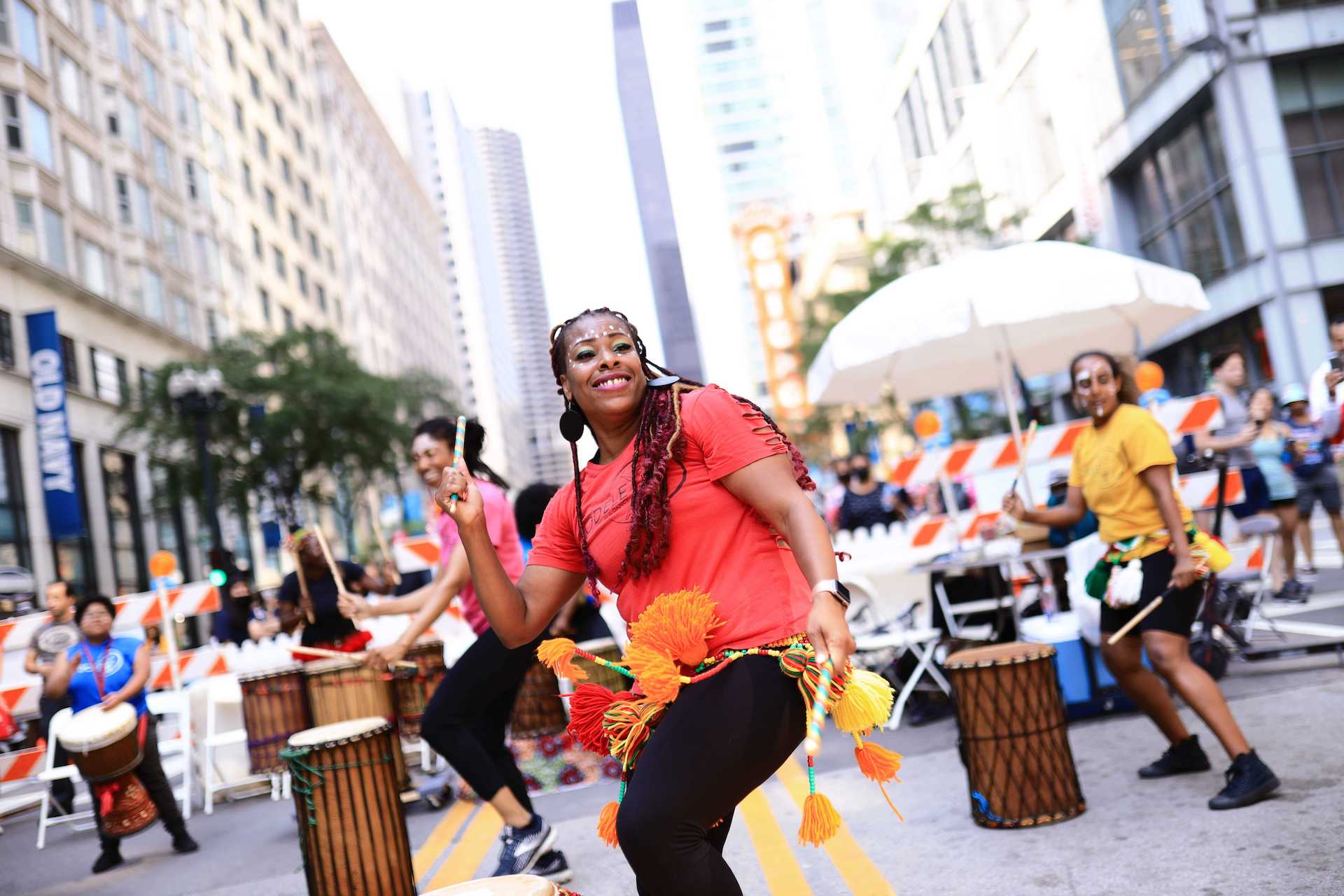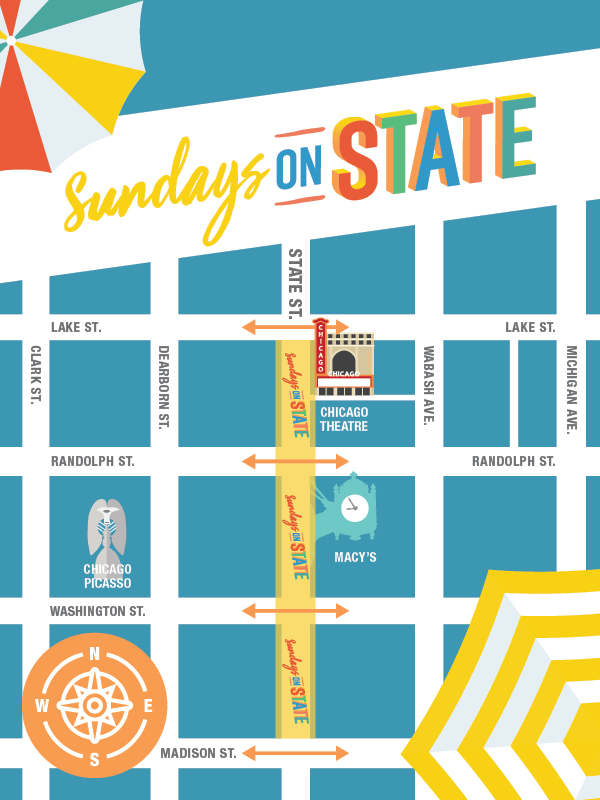 PARTNERS AND SPONSORS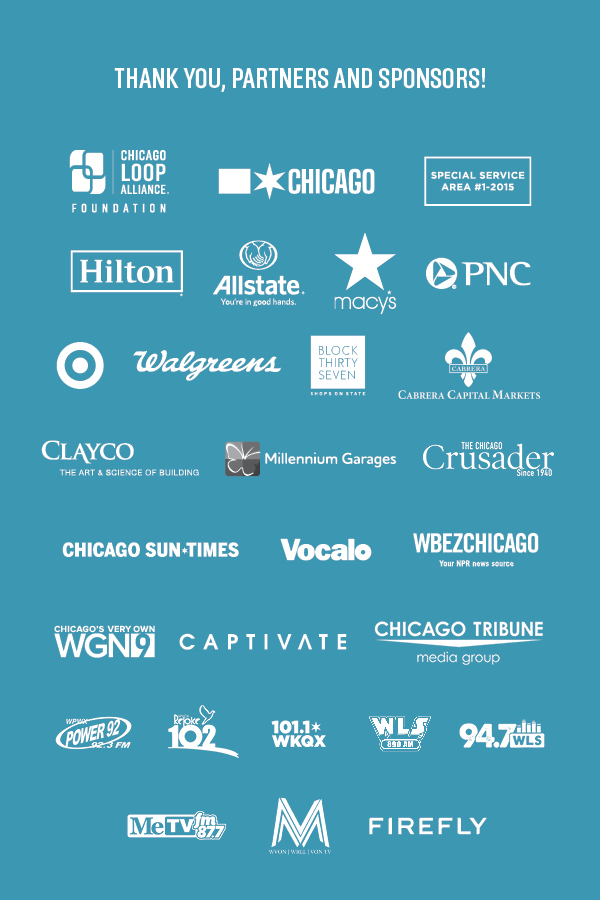 Sundays on State is a project of Chicago Loop Alliance in partnership with Chicago Loop Alliance Foundation, City of Chicago, and SSA#1-2015. Event sponsors are Hilton, Allstate, Macy's, PNC, Target and Walgreens. Community sponsors are Block 37, Cabrera Capital, Clayco and Millennium Garages. Captivate, The Chicago Crusader, Chicago Sun-Times, Chicago Tribune, Firefly, Me-TV FM, Power 92.3, Rejoice 102.3, Soul 106.3, Vocalo, WBEZ, WGN, WLS-AM 890, 94.7 WLS-FM, 101WKQX and WVON are media sponsors.
You Might Be Interested In: