State Street comes indoors for a magical shopping experience with local artisans and Sundays on State small businesses.
---
Market hours:
Fridays, Saturdays, Sundays
Now - December 18
(11 a.m.- 6 p.m.)
Santa hours:
Fridays, December 2, 9, and 16
(2:30-5:30 p.m.)

35 S. State Street

FREE
The merriment of the holiday season is alive at the State Street Holiday Market. Beloved small businesses from the award-winning Sundays on State series take the party indoors with local artisanal materials, festive gift options and more. Support local Chicago artists and small businesses while soaking in all the joy of Holidays in the Loop. Weekly entertainment and fun seasonal activities await.
The State Street Holiday Market is a project of Chicago Loop Alliance made possible through a Chicago Department of Business Affairs and Consumer Protection (BACP) Small Business Storefront Activation Program grant, and all small businesses are Chicago businesses who have been negatively impacted by the pandemic.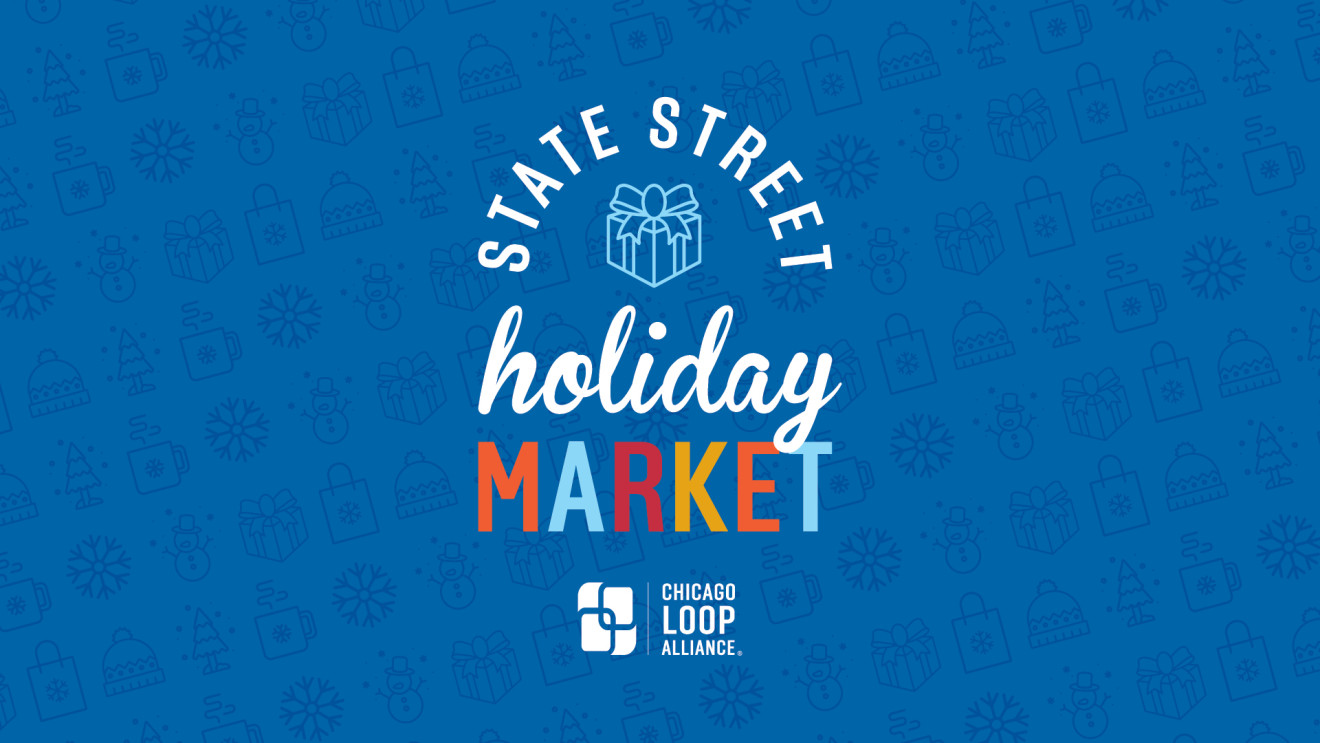 Vendors
Apparel
Grazie Grace Boutique/Paparazzi
Kustomz By Shug LLC
Wallock International Group LLC / BWYB Products
Gosha Imports
Calandra's Handbags and Things
M.A.D. Scrubs LLC
Giveashirt/Streetwise
Rett's Personality Charms
Desired fashion
A Versatile You, LLC.
IAmDad365 Inc
Shop Confidence
ART
GeorgeBlakemore
JIMMY WILLIAMS GALLERY AND STUDIO
K Elizabeth Art & Decor
aaronpierrebrown.com
Artisan Handmade Goods
FromBupkis
I Find Cool Stuff
Meraki Collection LLC
Lulu Ranch & Co.
Barb - N - Gear
Waterlemon Kay Jewelry Co.
Sw1's Exotic Reflections
Sky Lyte Candles
Design2Rave LLC
Model Esteem LLC
Soular Powered
Pasele Señito
Scent 2 Me Candles
Twenty Thou
Beauty and Self-Care Products
BeYOUtifully Abundant LLC
Beyond Beautiful- Books & Beauty
Rites of Wellness, LLC
Gro Tress Essentials, Inc.
Sacred Goddess Oasis LLC
Bullocks Butters & Soy Scented Candles and more
Big Mouf Cosmetics
Bedewed Skin
Herbal Conjure
Solo Beauty Supply
Tori Prince Beauty
Vintage Items
Onomatopoeia Vintage
Antique Rose
Dirtysouth vintage
Book Driver
CLOTHE ME Thriftique
Vintage Finds & Gems
Authentos
Vintage Attack Finds
Sylvia's BackRoom
Christophers Attice
The Vintage Frill
Shop The Thrifty Fashionista
….and more!
Black Plant Lovers
Da Book Joint
The Stylish Bundt Bake Shop
Spliff Society, LLC
You Might Be Interested In: