Press contact: Jessica Cabe | PR and Communications Manager, Chicago Loop Alliance jessica@chicagoloopalliance.com | 815-713-8909
MEDIA: View and download photos and videos here.
SOCIAL: #BackInTheLoop #inTheLoopChi @loopchicago @ChicagoLoopAlliance @ChiLoopAlliance @Chicago-Loop-Alliance
FOR IMMEDIATE RELEASE | Nov. 15, 2021
CHICAGO—Since July 2020, Chicago Loop Alliance (CLA) has released monthly reports on downtown activity using a variety of data sources to track operations during COVID-19, and today released its October report. The report tracks COVID-19 positivity rates, pedestrian activity, parking volumes, hotel occupancy, number of office workers on-site and more. View the full October report here. Some highlights include:
Pedestrian activity on State Street reached its second-highest level yet, at 62.4 percent of 2019 numbers. This is likely due to increases in office workers, as well as major downtown events like the Chicago Marathon and the Arts in the Dark Halloween Parade.

The Arts in the Dark Halloween Parade down State Street on Oct. 30 saw over 36,000 pedestrians, a 35 percent week-over-week increase, a 104 percent increase compared to the same timeframe in 2020, and a 9 percent increase compared to the same timeframe in 2019.

Chicagoland's office human occupancy rose to 37 percent of normal, the highest rate since the pandemic began. Chicago is exceeding occupancy levels in New York and San Francisco, and is on par with the Los Angeles and Washington, D.C., metros. This is likely due to the gradual decline in COVID-19 positivity, students returning to the classroom and growing confidence that businesses and workers are feeling in the safety of in-person work.

The number of COVID-19 cases per 100,000 people continued to decline from recent peaks in August but began to tick up slightly toward the end of the month. With vaccine approval for children 5 and older, COVID-19 rates may decline further, and office human occupancy rates may continue to increase.

Digital parking bookings have been over 100 percent for an entire quarter. In October, bookings posted their second-highest weekly rate, but trended downward in later weeks, possibly due to some inclement weather. Downtown parking garages also saw a slight decline compared to September and were at 56 percent of 2019 levels this month.

Preliminary CTA data suggests that ridership has remained steady at around 54 percent of 2019 levels.

Hotel occupancy in September rose to 55 percent, the second-highest rate since March 2020. This hotel data is always provided one month behind.
According to HomeCo Chicago, a boutique residential real estate company serving all of Chicagoland, the Loop's residential real estate market is recovering rapidly from the 2020 downturn and, in fact, is currently stronger than pre-pandemic.
"In September 2021, closed residential sales in the Loop were up 83 percent year over year from 2020, indicating that the exacerbated slowdown in the downtown market caused by the pandemic seems to be lessening," said HomeCo Co-Founder and Realtor Tony Mattar. "Median sale price in September was also up by 16 percent year over year from 2020, a good sign of economic recovery and renewed activity in the Loop. Inventory was down 42.4 percent, another excellent indicator for market strength. Comparing this year's September data to a pre-pandemic September 2019, closed sales are up 26.5 percent, and median sale price is up 22 percent—what this shows is that the Loop residential market is currently stronger than pre-pandemic."
For those Loop workers who continue to return downtown, Chicago Loop Alliance has created a Back to Work Toolkit that can be found at LoopChicago.com/BackToWork. The toolkit includes insider tips for working downtown in the Loop for those who never left, as well as those who are returning for the first time. Find useful information on how to safely get downtown; what's new in the Loop; what the Loop looks like these days; lunch and happy hour spots; and more.
Chicago Loop Alliance invites people to share their experiences downtown on social media using #BackInTheLoop.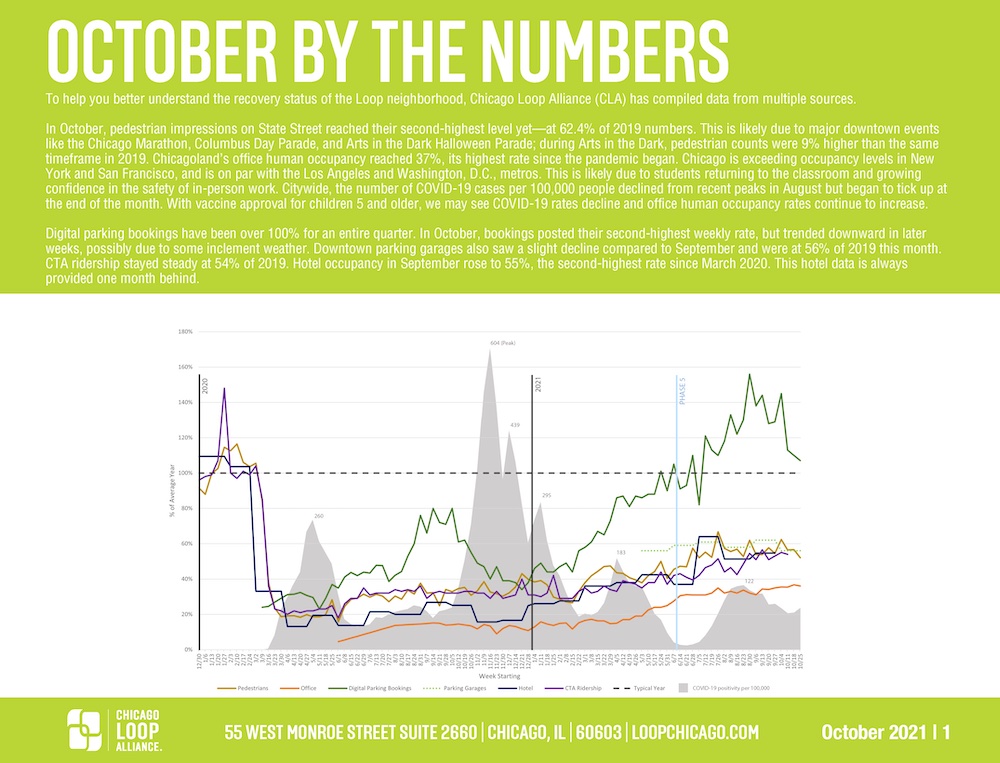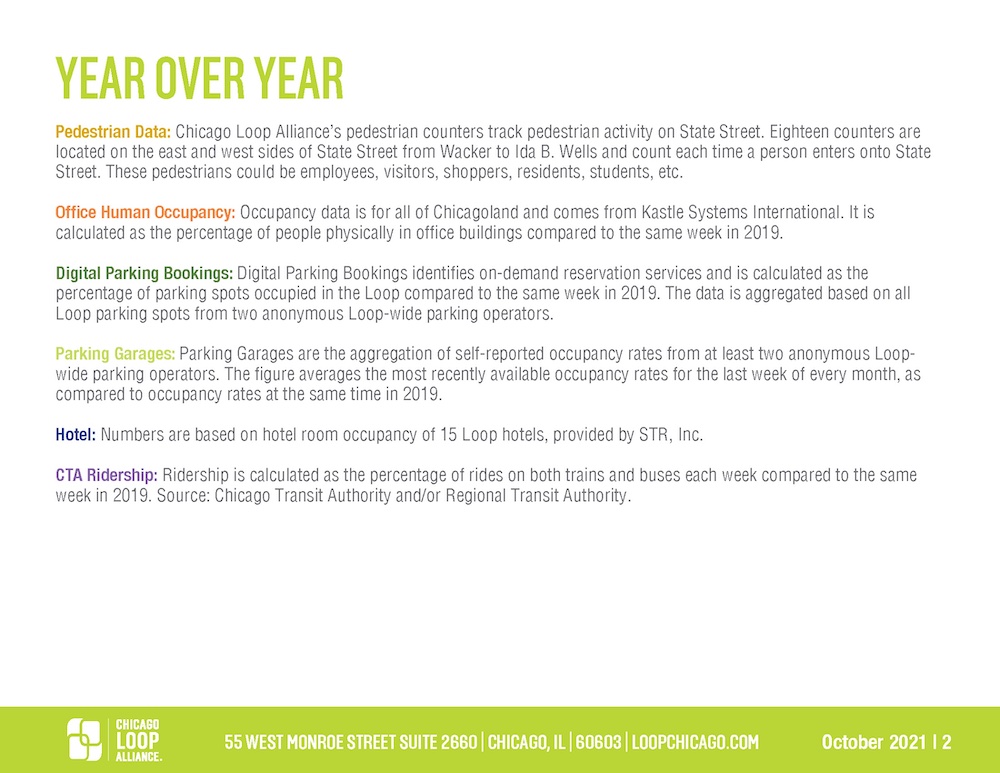 About Chicago Loop Alliance
Chicago Loop Alliance (CLA)'s mission is to create, manage and promote positive and inclusive programs that attract people to the Loop and accelerate economic recovery. CLA is a membership organization as well as the sole service provider for Special Service Area#1-2015, and the Chicago Loop Alliance Foundation produces public art projects and events. For more information, please visit here.
###