Press contact: Jessica Cabe | PR and Communications Manager, Chicago Loop Alliance jessica@chicagoloopalliance.com | 815-713-8909
MEDIA: View and download photos and video here.
SOCIAL: #inTheLoopChi
@loopchicago @ChicagoLoopAlliance @ChiLoopAlliance @Chicago-Loop-Alliance
FOR IMMEDIATE RELEASE | April 8, 2020
CHICAGO—As Chicagoans continue to stay home in an effort to curb the transmission of COVID-19, the Chicago Loop is feeling the impact. Chicago Loop Alliance is monitoring pedestrian activity, closures and cancellations during this time. For a list of Loop impacts, visit LoopChicago.com/Advisories.
Based on data from Chicago Loop Alliance's pedestrian counters, footfall in the Loop declined by 81 percent on Tuesday, April 7, compared to Tuesday, April 9, 2019 (year over year). The chart below shows changes in footfall for the full week of March 30-April 5 compared to the previous year as well as the previous week in 2020. And the second chart visualizes total weekly pedestrian activity comparing 2020, 2019 and 2018.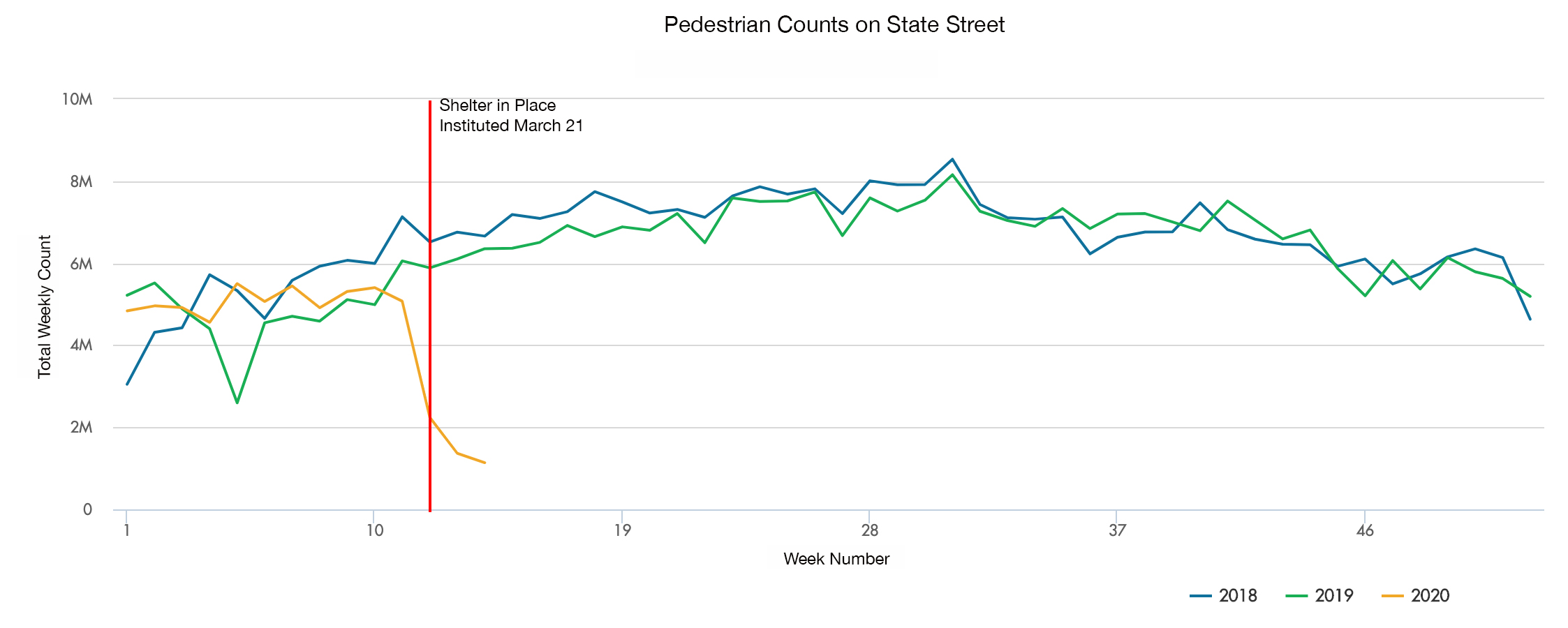 "There's no doubt that activity across the city is declining, but when you have a neighborhood like the Loop, with 370,000 workers and tens of millions of annual visitors but only 20,000 residents, a stay at home order hits hard," said Chicago Loop Alliance President and CEO Michael Edwards. "While we are certainly very concerned about the impacts COVID-19 is having on the Loop, we understand the most important thing right now is staying home and saving lives. We are eager to welcome our workers and visitors back to downtown Chicago, and the more we cooperate and come together as a city, the sooner that will be."
Chicago Loop Alliance's pedestrian counters, by the U.K.-based company Springboard, track pedestrian activity in certain parts of the Loop. Eighteen counters are located on the east and west sides of State Street from Wacker to Ida B. Wells drives. Additional counters are at Michigan and Wacker, Michigan and Washington, and in the Pedway.
­About Chicago Loop Alliance
Chicago Loop Alliance (CLA)'s mission is to create, manage and promote high-performing urban experiences, attracting people and investment to the Loop. CLA is a membership organization as well as the sole service provider for Special Service Area#1-2015, and the Chicago Loop Alliance Foundation produces public art projects and events. For more information, please visit www.loopchicago.com.
###