4 MIN READ - What will be the new normal for retailers in a COVID-19 world? That's the question Chicago Loop Alliance explored with its June 25 Downtown Futures Series: Retail Reset webinar. View a recording of the full presentation here.
---
Panelists Michael Berne (President, MJB Consulting), Tamala Ballard (Retail Property Manager, Catalog at Willis Tower, EQ Office), and I Ying Tsai (Area Manager for Illinois, UNIQLO) addressed hundreds of virtual attendees from around the world and answered questions moderated by David Broz (Principal for Gensler and member of the Chicago Loop Alliance Board of Directors).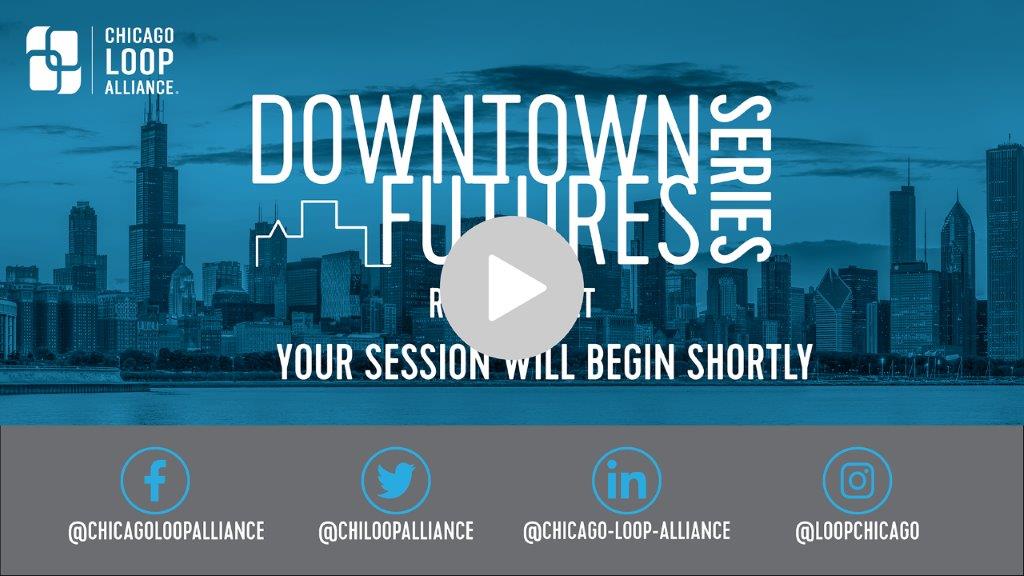 The event began with Berne examining the current retail landscape, both in the Loop and nationally, and what that landscape may look like in the future. While retail in the Loop seems bleak—given that much revenue comes from tourists, workers, and students who are largely not in the Loop now because of the pandemic—downtown Chicago is actually in a better position than many retail districts. The Loop has national and international chains with relatively strong balance sheets. The stores in the Loop are also accessible, with moderate price points that will serve consumers well during a recession. Some stores in the Loop, like TJ Maxx and Ross, don't even offer online shopping and rely instead on the "treasure hunt" experience of browsing and buying in-store.
And while much has been said about brick and mortar retailers losing out to online shopping, Berne said e-commerce is in fact a money loser due to costs of shipping, customer acquisition, and returns. Even Amazon barely ekes out a small profit on e-commerce, and that Amazon has opened physical locations should be a sign that online shopping is not the end-all, be-all. So while shopping online for delivery and curbside pickup was a necessary adjustment for retailers to make during the COVID-19 pandemic, Berne said in-store shopping is likely here to stay in the long-term.
After Berne's presentation, Tamala Ballard offered an update on the development of Willis Tower. Construction has continued during COVID-19 on the Wacker lobby, Jackson entrance, new retail space, tenant amenities, and building modernization projects including a full redesign of its vertical transportation. The terrace will be open to the public late this summer—perfect timing for people seeking safe, outdoor places to spend time.
And last, I Ying Tsai spoke on the adjustments UNIQLO has made and continues to make in response to COVID-19. She shared a timeline beginning March 16, when Illinois stores closed completely. Toward the end of April, non-essential businesses were allowed to offer curbside pick-up. Tsai said while customers were already familiar with this experience—popularized by places like Target, grocery stores, and restaurants—UNIQLO had never offered it before. In the end, they began offering pickup in early May with special attention paid to a safe and comfortable customer experience. Now, stores are open for in-store shopping with strict guidelines in place.
Tsai said the most important thing was to be aware of what customers needed in order to feel safe, and to not only carry out those things, but communicate them through in-store signage, the UNIQLO website, and other marketing and communications. UNIQLO has also created a shopping experience that is as simple as possible, to allow for customers to get in and out quickly.
After presentations, David Broz led a question-and-answer session with all three panelists, using questions submitted by attendees. The Q&A delved into the idea of online tools and in-person experiences working together rather than against one another; the responsibility of building owners and managers to work with retailers to keep them open; tech's role in managing lines to get into stores; and more.
The conversation ended on the topic of retail's role in social justice issues. The killing of George Floyd and other unarmed Black people, and the subsequent protests and unrest, have impacted individuals as well as businesses of every sector, including retail. Ballard said retailers not only have a responsibility to hire Black employees, but to train those employees and provide opportunities for advancement. Additionally, retailers have work to do to ensure a diverse demographic feels welcome and safe in their stores.
In the case of business districts like the Loop, possible store closures and vacancies caused by COVID-19 may provide an opportunity to reshape the retail landscape of downtown Chicago in a way that prioritizes diversity, equity, and inclusion. Downtown management organizations like Chicago Loop Alliance have a responsibility to work with retailers and other business professionals to ensure the district serves a wide variety of needs. Not only is it the right thing to do, but it's just good business.
You Might Be Interested In: