3 MIN READ - Chicago Loop Alliance is announcing the full lineup of artists and activations for Sundays on State. Now in its second year, the award-winning event series closes the most iconic parts of State Street in the Loop to vehicle traffic on select Sundays this summer. Free and open to the public, this year's events will fill an expanded footprint on State Street from Monroe to Lake on July 24, August 7 and 21, and September 4. Those who register to attend Sundays on State are automatically entered for a chance to win a $1,000 Loop staycation package, including a stay at theWit Hotel Chicago. Learn more and register for free here.
---
Sundays on State is a project of Chicago Loop Alliance in partnership with Chicago Loop Alliance Foundation, City of Chicago, and SSA#1-2015. Supporting sponsors are Macy's and Target. Event sponsors are Allstate, Divvy and Walgreens. Community sponsors are Block 37, Clayco + Lamar Johnson Collaborative, Comcast, Millennium Garages, Shoreline Sightseeing and Streetplus. Star Events is the event production company for Sundays on State. The official hotel partner is theWit Hotel Chicago.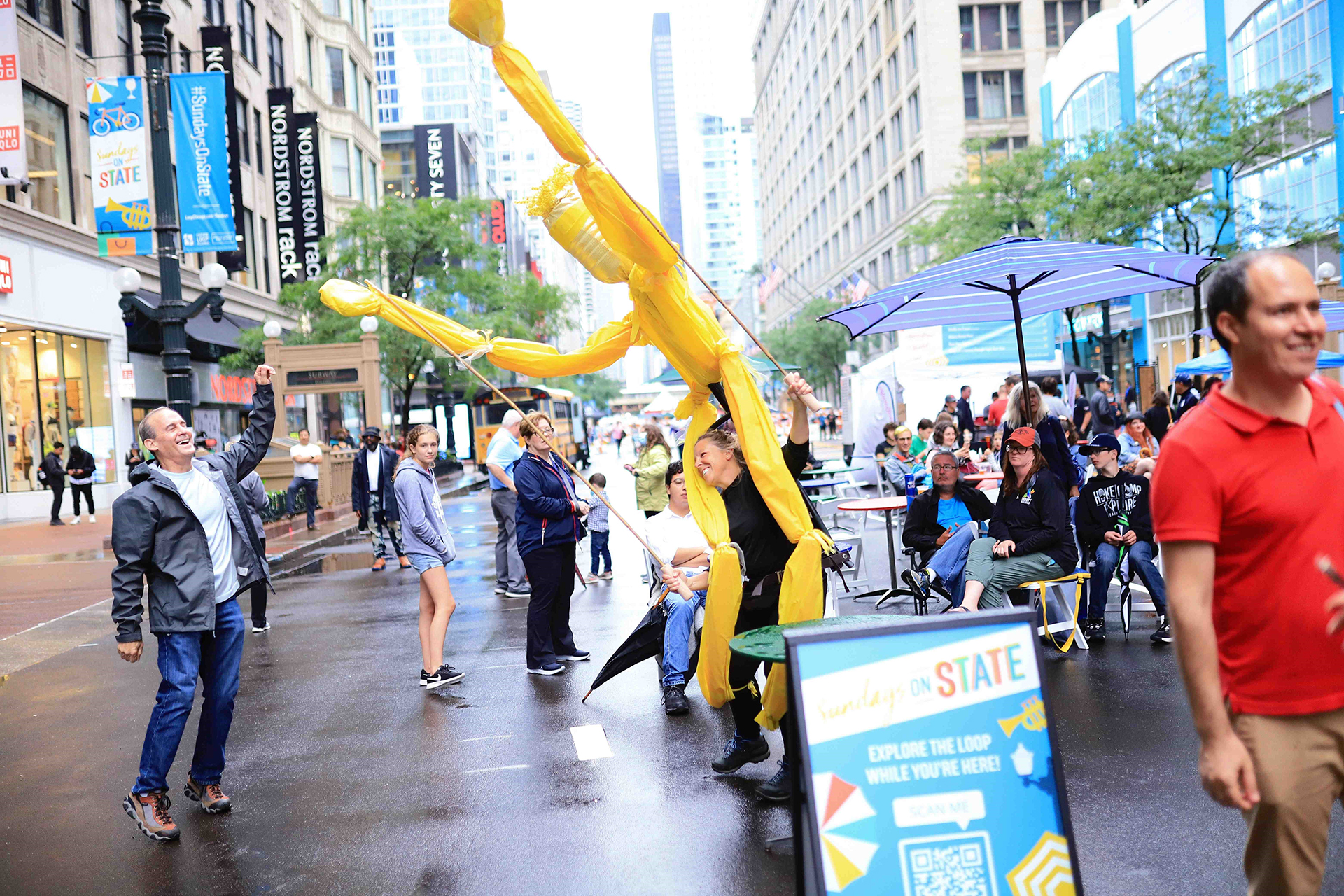 Named "Best New Event of the Year" by Time Out Chicago and one of the "eight great spots [in Chicago] to hit while the weather's hot" by The New York Times, Sundays on State will feature over 250 on-street activations this year. Showcasing the largest and most diverse range of offerings of any free city-wide public festival in Chicago, participants will once again fill portions of State Street with active recreation, food, drink, shopping, and entertainment in the heart of everyone's neighborhood – the Loop. The full list of performers and street activations can be found here.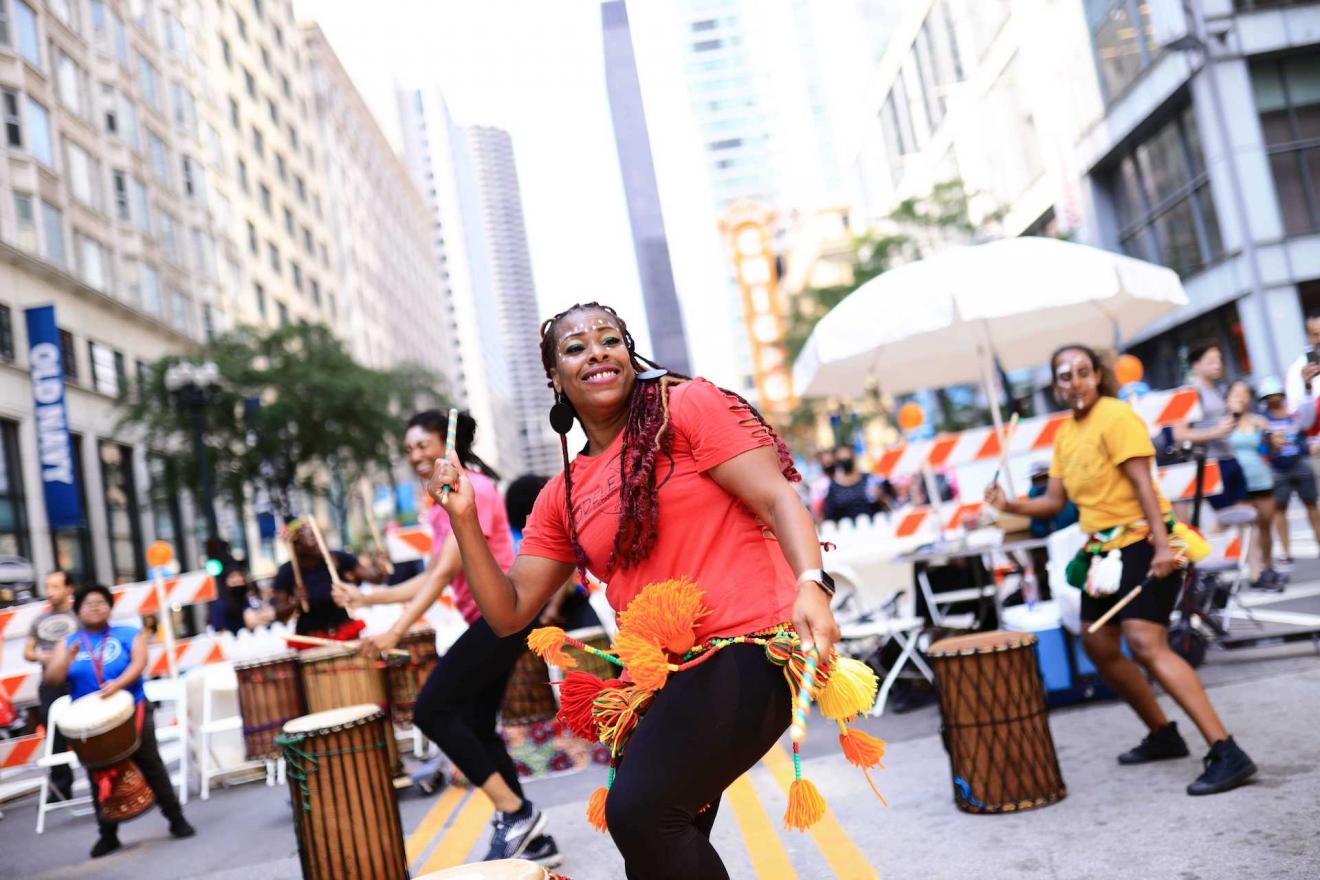 The chosen street activations were submitted by members of the Chicago community and beyond, and feature over 79% underrepresented business owners, including 59% women-owned businesses, 52% minority-owned businesses, 11% LGBTQ+-owned businesses, 4% veteran-owned businesses, and 1% disability-owned businesses with overlaps in several categories.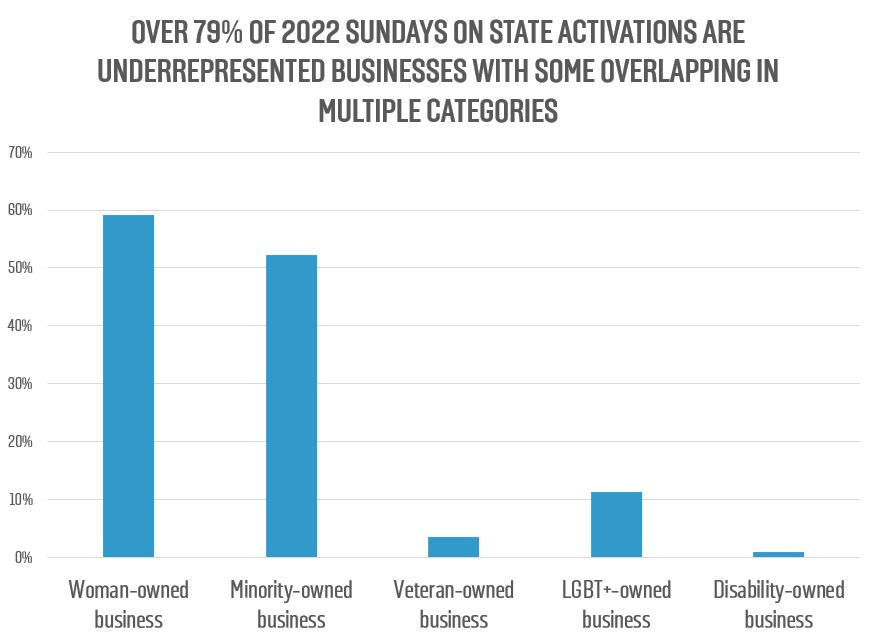 Sundays on State performances will showcase a wide variety of Chicago's world-class entertainment industry including blues, house, soul/funk, classical, reggaeton, ballet, musical theatre and hip-hop. Stage acts include The Joffrey Ballet, Ballet Folklorico Xochitl, Freakeasy Chicago, Andre Gibson and the SoulJazz Revue, Broadway In Chicago's Teatro ZinZanni, Black Ensemble Theater, Porchlight Music Theatre, Trinity Irish Dancers, Brazilian Cultural Center, THE Hive Dance Studio, TurnUp the Volume, Petra's Recession Room and more. The full list of performers can be found here.
The selected street activations showcase the diversity of Chicago's local artists, entrepreneurs, small businesses, and iconic brands. On-street options for attendees include children's activities, circus, dance and fitness classes, games, live painting, mental health education, science demonstrations, tennis, wellness workshops, soccer activities with Chicago Fire FC, and bike and scooter demonstrations by Divvy. Retail options include handmade goods, self-care products, local art, clothing, accessories, CBD, vintage items, and a custom streetside experience from Macy's. Food and drink options will showcase over fifteen local restaurants and breweries. The full list of street activations can be found here.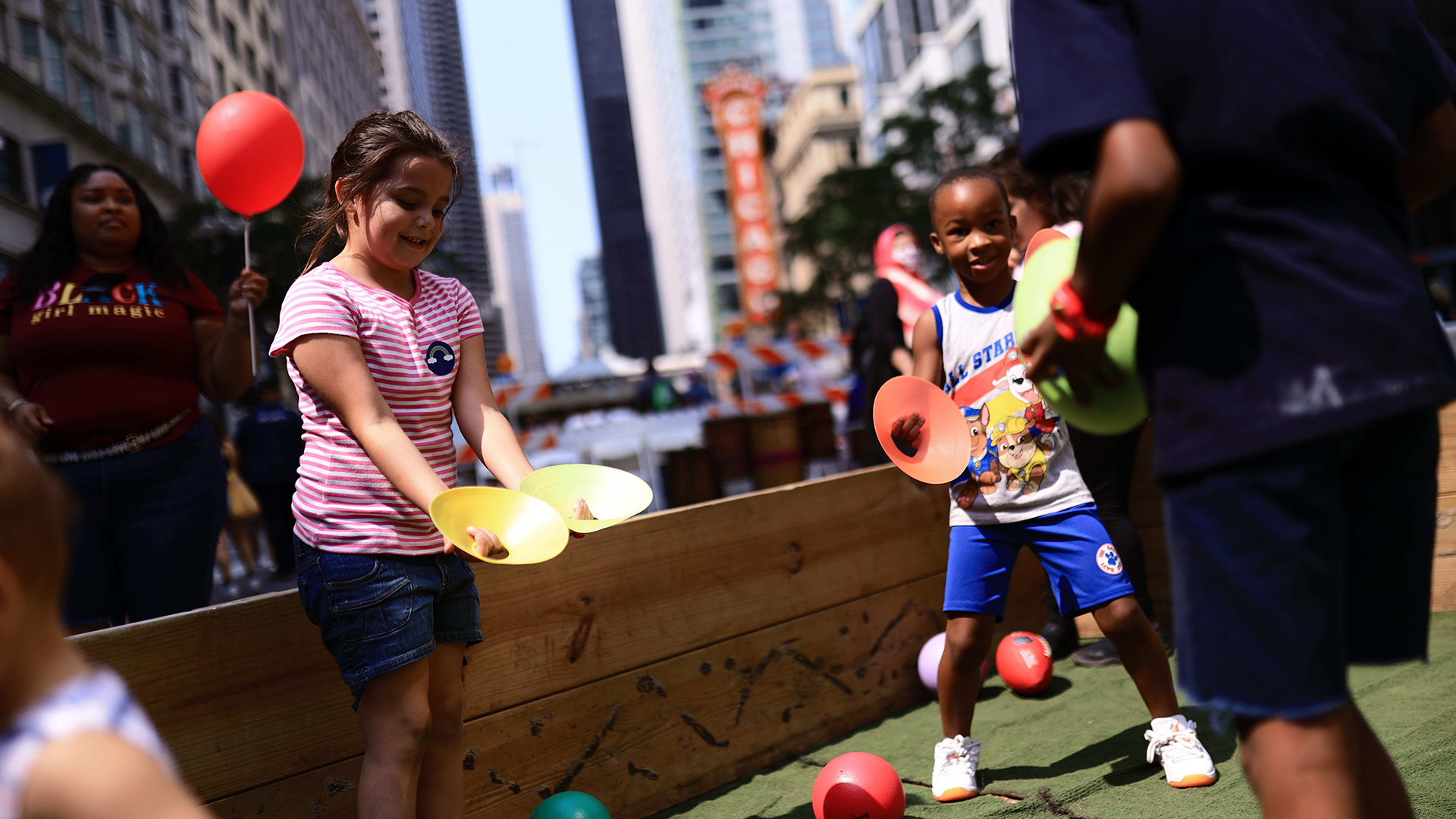 "The excitement for Sundays on State's return is palpable throughout the Loop and city of Chicago, and this lineup confirms Chicagoans are ready to experience an enlivened State Street this summer," said Chicago Loop Alliance President and CEO Michael Edwards. "Programming and activations continue to accomplish our goals of accelerating the city's economic recovery efforts, uniting the community, and creating joy."
"In only its second year, Sundays on State has cemented itself as a go-to for family-friendly fun that the entire city can enjoy," said Chicago Mayor Lori E. Lightfoot. "With activations from organizations and groups that offer authentic Chicago offerings like house music and blues to restaurant staples form across the City, Sundays on State is an event series that embodies the diversity of our communities. It also enlivens our central business district as a hub for entertainment and recreation. We hope that residents and visitors alike recognize Chicago's allure through experiences like this one."
The program utilizes State Street from Monroe to Lake. Chicago Loop Alliance previously announced Madison will be closed to vehicular traffic; however, Randolph will now be closed east and west instead. Monroe, Madison, Washington, and Lake will remain open east-west.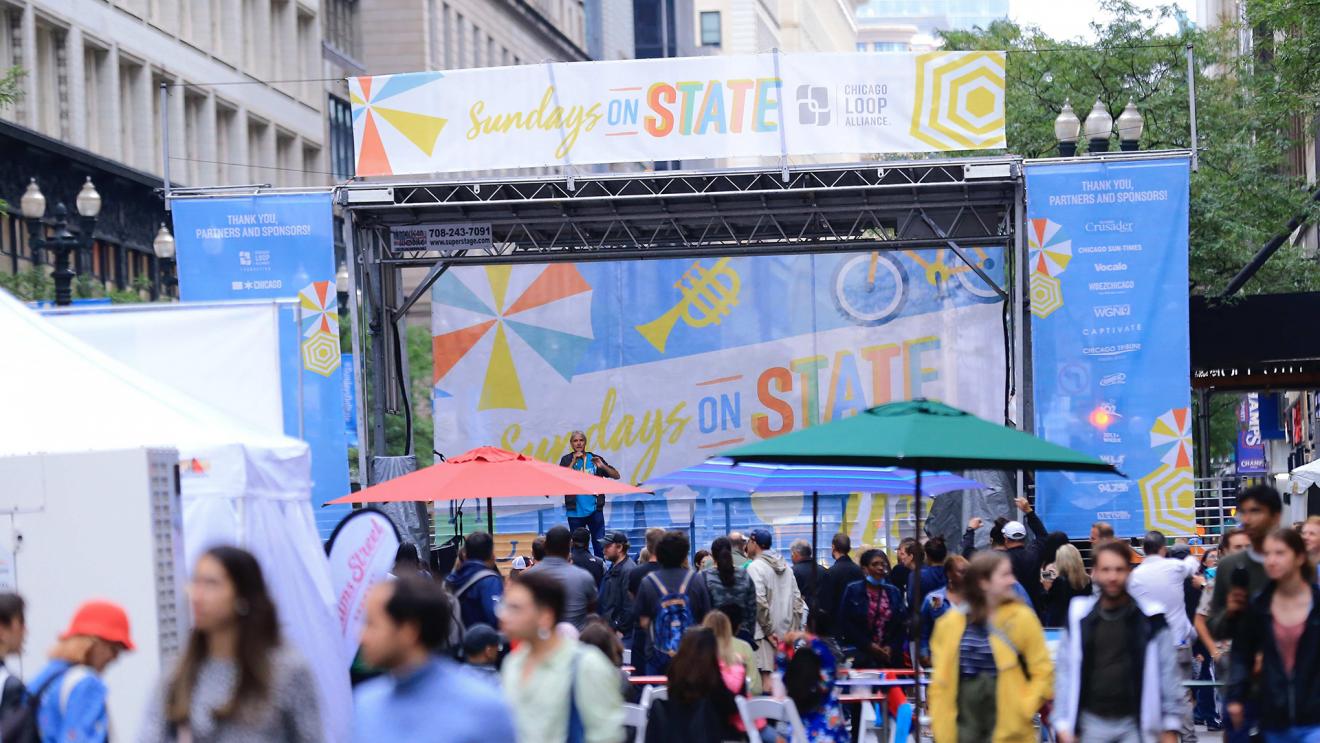 In addition to on-street programming, Chicago Loop Alliance will offer a variety of discounts and coupons called Loop Deals throughout the summer to all Sundays on State attendees and the general public, which will include exclusive packages from Millennium Garages and theWit Hotel Chicago. View all Loop Deals here.
Last year's events drew over 500,000 attendees from every zip code in the city of Chicago and over twenty states and resulted in an economic impact of well over 12 million dollars. In addition to accelerating the economic recovery, the goals of the event are to unite the community, create joy, and positively impact the public perception of downtown Chicago. The full impact data for the 2021 events can be found here.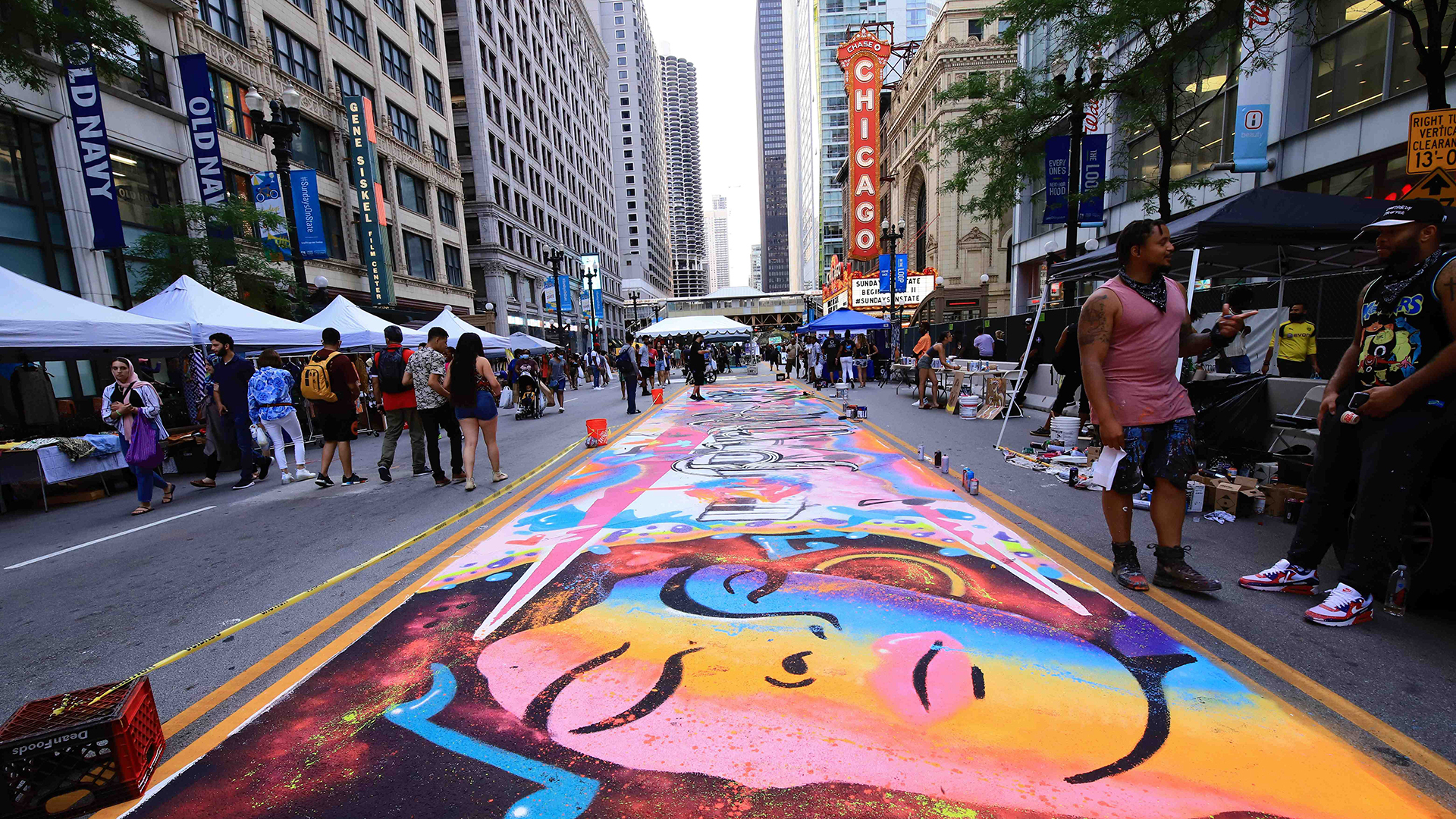 Media partners for Sundays on State include CBS Chicago, Chicago Tribune, Concorde New Media, The Crusader Newspaper Group, ESPN 1000, Firefly, Heritage Outdoor Media, Midway Broadcasting Corporation, NDIGO, OUTFRONT, Power 92.3, Reflejos Publications, Rejoice 102.3, Soul 106.3, Uber OOH, Univision Chicago Local Media, View Chicago, LLC, Vocalo, WBEZ, and WGN Radio.
You Might Be Interested In: